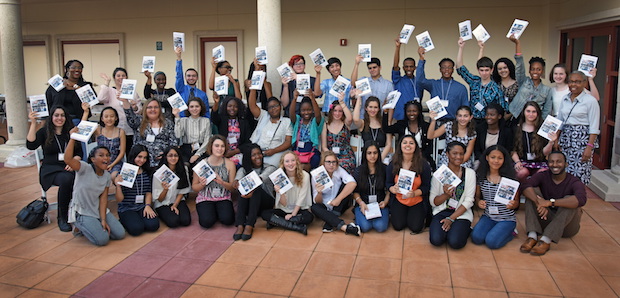 In recent years, the printing and publishing industries have mounted a series of broad-outreach campaigns aimed at securing the future of the printed word. All of them have been sincere and worthy promotional efforts. But, ultimately, whatever growth the audience for print manages to achieve happens one mind at a time.
This is what distinguishes Canon Solutions America's Future Authors Project, an initiative that makes small groups of young people fall in love with print by enabling them to take a hand in creating it. Now in its tenth year, the program introduces student writers not just to authorship, but also to print production—a synergy that cements their faith in print at the time in their lives when it is most crucial to win them over.
Superintending the Future Authors Project is Eric Hawkinson, who was executive director of Dscoop from 2005 until 2013 when Canon hired him as its senior director of marketing for production print solutions. The project, he says, got started in Palm Beach County, FL, as a collaboration between local educators and representatives of print systems supplier Océ North America (now part of Canon) in Boca Raton.
The idea was to create a writing workshop for middle- and high school students in which the reward for completion would be the token that every writer aspires to: a professionally printed and bound copy of one's meticulously chosen and crafted words.
Fourteen Palm Beach County students signed up for the first workshop. Today, says Hawkinson, about the same number from the school district are selected from the hundreds who regularly apply. The participants spend eight days during their summer break in intensive sessions of writing, editing, and critiquing. Their volunteer coaches are district language arts teachers and visiting professional writers with impressive publication credentials.
"There's no filter" to what the students can write, says Hawkinson—anything that emerges from the turbulence of the tween and teen years can be grist for the authorial mill. Each student contributes three pieces to a compilation that becomes a "piece of themselves" as a document of the thoughts and emotions they have verbalized for publication in hard-copy form.
That happens courtesy of GlobalSoft Digital Solutions, a provider of multichannel marketing communications services in Mahwah, NJ. GlobalSoft prints the interior pages on an Océ VarioPrint 6250 cut sheet monochrome press and the color covers on a Canon imagePRESS 7011VP. Hundreds of books are printed and perfect bound as keepsakes for the writers and as copies that Canon sells for about $5 apiece (with all proceeds going back to the Future Writers Project).
The crowning event is something else that writers dream about: a signing ceremony. This year, the students who co-wrote the 288-page volume they titled Words inscribed books for family members and friends at a gathering in Boca Raton's Spanish River Library, where the town's deputy mayor was on hand to congratulate them.
Canon says that to date, the program has made published writers of more than 500 students. Some have gone on to become contributors to mainstream publications such as The Huffington Post and Cosmopolitan.
Because the basis of the Future Authors Project is short-run, digital print-on-demand, the program helps Canon demonstrate the advantages of the technology. But marketing, says Hawkinson, isn't and never was the objective. Inspiring a passion for print that the students can carry with them and share with others is the hope that keeps the Future Authors Project going.
Hawkinson watches the passion come alive when he hosts student groups for tours of Canon's Customer Experience Center in Boca Raton. He says, "Nothing is more humbling than their asking me questions I can't answer" about the technical fine points of the printing systems they are seeing. He believes that their deep curiosity is "that first step" toward a lifetime affinity with print—precisely the bond that Canon is striving to create.
So far, except for a version conducted in Kenya five years ago, the Future Authors Project has been available only to students in Palm Beach County. That will change next year, says Hawkinson, when a pilot program comes to a school district in Long Island, NY, where Canon Solutions America is headquartered. After that, the company will look into offering it in its other U.S. customer zones.
It's often assumed that young people instinctively prefer mobile screens to printed pages and that because of this, the market for printed books can do nothing but slump from now on. But, as reports like this one indicate, publishers and booksellers are discovering otherwise. The demand for books in print remains strong, and it isn't age-delineated: the desire to possess and read them spans all generations.
Like the digital printing technologies it relies upon, the Future Authors Project transmits the message to its young writers in a personalized, one-to-one kind of way. The program should be welcomed with open arms wherever Canon decides to establish it.