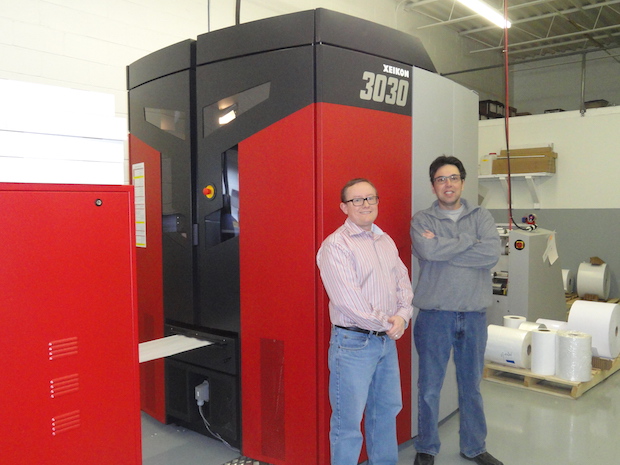 Co-owners Gary Moody (left) and Dave Frias with the Xeikon 3030 digital label press at Premier Markings
It's become routine to speak of digital printing technologies as "transformative," but the truth is that nothing gets transformed until the machine is in the plant and the printer starts doing disruptive things with it. In Mississauga, ON, a small but visionary label shop practicing what it calls "R&D" with a Xeikon press is showing just how transformative label manufacturing can be when there are digital alternatives to the norms of conventional production.
When Gary Moody started Premier Markings in this Greater Toronto municipality seven years ago, he knew that he eventually would want the shop to become a source of high-end, digitally produced labels. Initially, though, he drew upon the 25 years of experience he already had in the label printing industry to build the business around flexography.
The foundation laid by Moody and co-owner Dave Frias, who came on board two years after the launch, was solid. Moody expects that this year, after growing sales by 30% over 2014, he and his eight employees will turn out $2.5 million worth of labels of almost every kind at a pace that shows no signs of letting up.
Premier Markings is a custom manufacturer that finds ways to come up with whatever its customers need in the way of labels and decals for food and beverages, consumer and industrial products, and promotional end-uses. Its printing stocks run the gamut from simple papers and films to reflective and metallic substrates for special effects. Custom diecutting also is a specialty. For those who prefer to do some of it themselves, Premier Markings is a one-stop source for thermal label printing systems.
Early on, the company had digital label capability in the form of a tabletop printing and finishing system for small quantities. Moody fulfilled his high-end ambitions by adding a Xeikon 3030 digital color press to the mix last year, and the business hasn't been the same since.
The press has been the reason for what he says is a "big sway" in production from flexo to digital, with the latter process now accounting for about 60% of output volume. The machine also has been a vehicle for an ongoing learning experience about the choices that have to be made in a printing shop when there is more than one way of getting the work done.
Moody says that although flexography will always be cost competitive for long-run work on the plant's 10- and six-color Mark Andy 2200 presses, it can be tricky to pinpoint where flexo's territory begins and digital's leaves off. The example he uses is that of a job to be printed in four colors on 8,000 linear feet of stock within a small area of coverage in each label. The overall length might indicate that the job would be produced most cost efficiently on a flexo press. But, that would mean imaging the plates, making the press ready, washing it up afterwards, and incurring all of the costs that these steps entail.
Why do this, he asks, when it is "just that easy" to run the job on the Xeikon and let the speed, simplicity, and quality of digital production counterbalance whatever cost advantage the analog method might yield? In another test case, the job is in two colors on 10,000 feet of stock, and it goes on a flexo press—unless it has fine screens, small reverse type, or some other challenging feature that makes digital printing the better way to go.
Making run-length decisions is one part of the learning curve that Moody and his staff have been pursuing since the Xeikon 3030 was installed. The other is exploring the technical limits of what the press can do. Described by Xeikon as the entry-level model in its 3000 series of narrow-web label and packaging presses, the toner-based 3030 prints webs from 7.9" to 13" wide in five colors at speeds up to 31.5 feet per minute, Resolution is 1,200 x 3,600 dpi with variable dot density.
Given all of that capability, "the R&D is very time consuming," Moody says. Having just one digital press to experiment with "is a little bit handcuffing" because the machine also has to be used for work waiting to be printed. The challenge, Moody says, is in simultaneously "trying to have R&D time and keeping the production flowing."
One thing that the R&D has made clear is the Xeikon 3030's usefulness as a proofing device. Designed for variable data printing (VDP), the press can run multiple versions of labels in the same layout on metallic, white, or laminated stocks—whatever combinations of designs and substrates the customer wants to evaluate. The VDP capability, Moody says, also yields big cost savings in production runs consisting of multiple SKUs.
This kind of flexibility is just what a label printer needs in order to keep up with markets that have fast-changing, short-run labeling requirements. One of them, says Moody, is the design-intensive craft brewing industry, which now comprises hundreds of microbreweries and home brewers across Canada.
"We never realized just how many there were," he says, noting that word-of-mouth referrals from brewer to brewer are what bring these customers to Premier Markings. The company serves them with digital runs of 500 to 50,000 beer bottle labels that can have multiple versions at a fixed unit price as long as materials and finishes stay the same.
The "vape" market for e-cigarettes is another vertical that has been giving Premier Markings plenty of opportunity to push the limits of R&D in short-run variable printing. Here, the labels are for the "tanks" (vials) of flavored liquid that fuel the vaporizing inhalers.
In one such run, the Xeikon press printed 190 copies each of 162 different label SKUs with the designs reversed out of four colors plus white on metallic stock. Another job consumed only 2,000 feet of stock, but printed on the short web were 150 SKUs in three sizes.
Moody says that the costs of work like this would be "absolutely ridiculous" on a conventional flexo press given the numerous plate changes and other machine-stopping adjustments the run would involve. The Xeikon 3030, on the other hand, "can do it for pennies" in one go thanks to its multiple-up VDP capability.
Custom production at Premier Markings isn't exclusively about printing. In finishing, made-to-order flat magnetic dies impart unique shapes to labels for containers of organic ice cream, yogurt, and other food specialties. Moody says that although Premier Markings doesn't promote itself as a graphic design shop, it supports its customers with creative advice and, where needed, guidance for complying with regulatory requirements such as bilingual labeling.
Some customers—for example, retail food purveyors like bakeries and butcher shops—change label data frequently enough to warrant having in-house label printing equipment that lets them update ingredient panels or barcodes on the fly for outgoing packages in small batches. Compact thermal labeling systems are ideal for this, and Premier Markings sells a wide range of them in setups that provide everything the customer needs to get started: hardware, software, thermal ribbons, and label stocks (blank or preprinted with the customer's logo and space for the variable data).
While equipping customers to make their own labels might appear to be a contradictory business for a label printing company to be in, Moody points out that it establishes relationships—connections he can leverage when the do-it-yourselfers' labeling needs move beyond what they can do with simple thermal printers.
Matching services to customer requirements is the source of the momentum that has carried Premier Markings from its start-up days to its well established present position as a diversified, high-end label printer. Short runs, new design possibilities, and rapid turnarounds on the Xeikon press create new levels of expectation, but that is exactly how Moody wants the company to be perceived.
When a printer lets its customers know it can do more for them and is prepared to keep on doing it, "people don't forget that," he says. "It's not all about selling on price."