In a far corner of the Mandalay Bay Convention Center, at the International Sign Association's Sign Expo, a sign shop owner was eyeing a possible capital investment. This particular item was not a high-productivity flatbed printer; it was not an electronic display; nor was it even a piece of software. It was a crane truck, an essential tool for installing signs. Being as print-centric as we are, we tend to look at these shows from the perspective of ink-on-substrate, but there are so many disparate elements that make up "signs," from the highest-tech wide-format printers to the lowest-tech plastic channel letters—and everything in between. Ask any sign shop owner and you'll often find that printing is the easy part; it's finishing and installation that can pose the biggest challenges.
Still, no matter how you cut it, the sign and display business is booming.
"What we love about this business is it's growing," said Catherine Monson, CEO of FastSigns International.
"The forecast looks good for large-format printers," said David Hickey, VP of Government Regulations for ISA, in a presentation that highlighted some of the ISA's recent and in-progress research initiatives including the Quarterly Economic Report. If the slightly longer-term outlook—2016 into 2017—doesn't look quite as rosy as the past couple of years, it is only because the phenomenal growth the sign and display industry has been seeing is likely to moderate a bit.
"The show is an amazing success," said Lori Anderson, President and CEO of ISA. This year's Expo is the largest show in ISA history, a history that dates back to 1947, when wooden signs were the standard and neon and electric signs were the hot new technologies. This year, wide-format printing is driving a lot of the growth in the signage industry, as well as "specialty inks and printing on various surfaces," said Anderson. "You can stop by Roland's booth and see printing on footballs. Fabric printing is also very important and growing in the signage area. It's a very exciting time to be in the sign industry."
Not only print but also Dynamic Digital Signage (DDS), for some the enfant terrible of the signage industry, is—for the third year—a strong and growing part of the Sign Expo, and DDS is well on its way toward, if not maturity, than certainly a healthy adolescence. DDS is one of those things that is going to very quickly need to be part of any signmaker's arsenal of abilities.
There is a growing sense that the Sign Expo is not just about signs, and that the "and display" part of the phrase "sign and display" can encompass a great many things, in much the same way that the phrase "& Beyond" allows Bed, Bath & Beyond to carry a bewildering variety of items for every room in the home—and beyond. Likewise, "display" can include things like packaging displays, which is all the rationale HP needs to introduce its latest Scitex Corrugated Press at the Sign Expo. The fact that the same equipment that can be used for signage can be used for many other things as well—the watchword of today's wide-format equipment is versatility—it means that exhibitors can show off dye-sub- or inkjet-printed T shirts or, indeed, UV-printed footballs and guitar cases (as Roland was showcasing on its recently introduced and now shipping VersaUV LEJ-640FT Flatbed UV Printer) at a sign show. The same industrial-strength flatbed printer than can produce signage can also produce a lot of other things, which means that companies that produce signs aren't just locked into being a "sign shop." This also works in the other direction, and other types of print providers can produce signage without necessarily being considered "sign shops."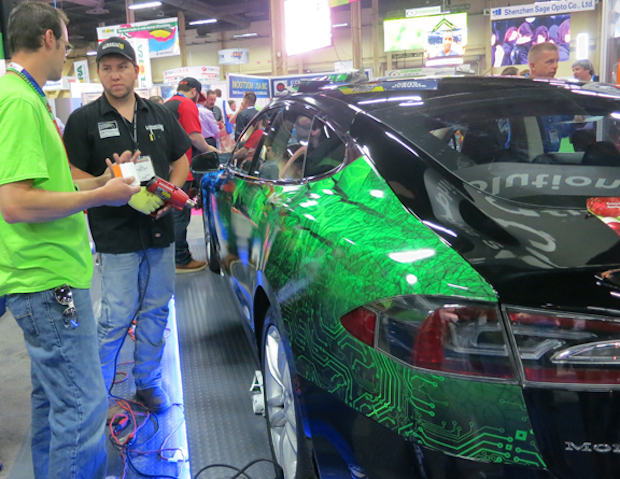 3M, manufacturer of a wide variety of specialty substrates, featured vehicle wrap installers and experts.
(This does cause problems when trying to gauge how big the sign industry is. David Hickey's session had presented data from Ernst & Young that did attempt to size the industry; they estimated about 17,000 sign companies, although that only includes companies that self-identify themselves to the Census Bureau as NAICS 339950 Sign manufacturing, and indeed that 17,000 almost certainly underestimates the entirety of the sign industry.)
Such is the growing importance of this market—and this show—that some of the biggest equipment manufacturers are now using ISA as the forum to make major new product announcements—although it could just be fortuitous timing with spring announcements these folks were going to make anyway.
As reported earlier, HP made some extensive new product announcements, the HP Latex 370, the HP Scitex FB550 and FB750, HP Scitex 11000 Industrial Press, and HP Scitex 15500 Corrugated Press; Agfa introduced two new UV wide-format hybrid presses, the Jeti Mira and Jeti Tauro; Durst made the North American debut of its Rhotex 180 TR Textile Printer; Epson launched new additions to its SureColor S-Series 64-inch solvent printers, the SureColor S30675, S50675, and S70675; Mimaki introduced its CFL-605RT compact flatbed cutting plotter. And that's just the hardware; there were also new inksets to broaden color gamuts, and new substrates for all applications great and small.
And the crane trucks. Let's not forget the crane trucks.
All in all, it was a busy show, though there were—as ever—some lulls, and Saturdays in Vegas are inevitably sluggish, for a variety of economic and metabolic reasons.
Next year's Sign Expo heads to its East Coast location in Orlando, Fla.