As recently reported by Screen USA and my WhatTheyThink colleague Pat Henry, Screen USA gathered together about 30 of the industry's leading press and analyst professionals for a briefing on its digital printing technology advances with an updated corporate overview. Also featured was guest speaker Ron Gilboa from InfoTrends who shared insight into industry trends, especially as it relates to inkjet printing. Also available for our inspection were three new products and an update on the company's Equios workflow solution.
Mike Fox, President of Screen USA, a wholly owned subsidiary of Dainippon Screen of Japan, spent a few minutes reminding attendees about some of Screen's history of innovation. The company got into CTP in 1995 with the debut of the PlateRite product line, which continues to be important to the company and industry but is now primarily sold through OEM channels. It introduced the Truepress 544 digital offset press in 1998 (which it still sells) as the beginning of the Truepress line. In the 1990s, Screen also brought to market the first browser-based workflow product, Trueflownet, which has evolved into today's Equios offering.
Its first inkjet press, the Truepress Jet 520, was introduced in 2006, at a time when there was really only one other competitor in the market (Kodak Versamark). Its continuous-feed full color production inkjet press is also sold by Ricoh (formerly Infoprint Solutions, a joint venture between IBM and Ricoh) under the Infoprint brand.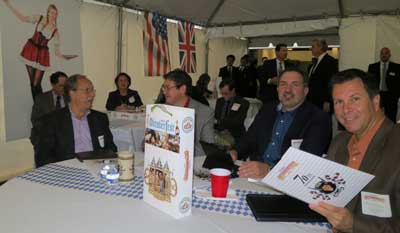 Screen is determined not to stand still or rest on its laurels. The company proudly unveiled three impressive new products to the group: The Truepress Jet L350UV, the Truepress Jet W3200 and the Truepress Jet SX. I won't go into detail about the products here, since Patrick Henry did an excellent job of that in his earlier article. Rather, I wanted to use this opportunity to highlight an industry trend I find quite interesting.
In addition to the Screen briefing, I have recently attended two other briefings presented by Japanese companies: Komori and Canon. All three companies have shown what seems to me to be a renewed energy level and an increased focus on innovation. Screen's tagline is a good example: Fit Your Needs. Fit Your Future.
During the session, Fox not only highlighted past innovation at Screen, but also spent a great deal of time talking about the future. For example, Screen's Equios workflow will be using the new Adobe APPE3 core and supporting the PDF/VT standard for variable and transactional printing which has an emphasis on job portability. Fox said, "Equios is a single workflow that will drive all of our devices, including flexo. We have been an Adobe partner for many years, and worked closely with Adobe on PDF/VT. We also believe that production inkjet will continue to improve in quality and will challenge offset." Screen is clearly positioning itself to meet that challenge with an array of inkjet offerings, which we can only expect to expand in the future.
Inkjet also plays a key role in the transformation of both Canon and Komori. But more importantly, all three companies seem to be undergoing an interesting cultural transformation that is necessary for them to succeed in a future that is increasingly digital and dynamic. This requires faster decision making, more autonomy at the local level, and deeper engagement with all stakeholders. We saw this at Canon's new facility, both in terms of the way it is structured and the solutions in its demo room, including its Mixed Reality solutions. In Komori's case, its aggressive move into inkjet in partnership with both Konica Minolta and Landa is a sign of its transformation. And at Screen, we saw a renewed energy and excitement about its current portfolio and its prospects for the future.
Many times, the legacy companies in our industry—and in others—are saddled by bureaucracy which can seem almost insurmountable in terms of facilitating change. That's one of the reasons why upstarts such as Amazon and Google were able to drive such dramatic change … they had no bureaucracy to overcome. That's exciting. But to me, it is even more exciting to see more mature companies reinventing themselves right in front of us. We saw indications of that at the Screen media briefing, as well as at Canon and Komori.
Personally, I am looking forward to next year's Screen event. Will they truly live up to the challenge that they have set for themselves and that the market is demanding? I think so … but we'll have to wait and see!