It would be impossible to speak for very long about the evolution of digital printing without bringing Frank Steenburgh's name into the conversation.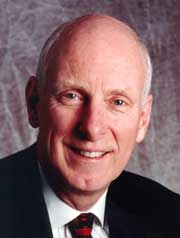 That name is nearly synonymous with those of DocuTech and DocuColor iGen 3, the groundbreaking production systems that he and his team brought to market for Xerox during his stint of nearly 40 years with that company. In fact, he was so strongly identified with these systems that his Xerox friends in Rochester still refer to him as "DocuFrank." He also has held a senior executive position with Indigo and has been a member of the Presstek board of directors.
Although his days on the vendor side are behind him—he retired from Xerox at the end of 2005—it's equally impossible to think of Steenburgh without an ongoing role in the digital printing marketplace that he did so much to bring into being. He remains fully involved as a consultant in business development, as a speaker, and as author and subject of numerous articles for the graphic communications trade media.
Not content to rest on this list of engagements, he has just taken on a new assignment: that of a partner in New Direction Partners (NDP), a consultancy to the printing industry in investment banking, valuation, finance, and management. It's a relationship that will blend his long perspective on the progress of the industry with NDP's expertise in bringing printing businesses together—a combination that defines a survival strategy for printing firms trying to deal with accelerating technological change and relentless economic pressure.
Prescription for "Trouble"
The industry has been moving steadily in an analog-to-digital direction for more than 20 years, and today, according to Steenburgh, the maturing of digital technologies dominates the outlook for printing businesses of every kind. "If you're only in offset today, you're in trouble," he says, citing book publishing as a prime example of a segment struggling to escape the "built-in obsolescence and inventory costs" of traditional production and distribution.
In publishing, Steenburgh says, e-books, Amazon, and other game-changing developments have pushed production to a point where "offset-only is a going-out-of-business model." The same kind of transformation has occurred in photo processing, an application that now bears little resemblance to what it was in its silver-halide days.
Steenburgh agrees with NDP's often-repeated advice that, given the industry's present condition, every printing company owner should be thinking about entering an M&A transaction either as a buyer or as a seller. Printers who haven't changed along with their markets, he says, can still exit them securely in the type of M&A transaction known as a tuck-in. Printers in growth mode, on the other hand, can afford to be aggressive in their pursuit of additional expansion by acquisition.
Steenburgh urges owners in either situation to think of planning for an eventual M&A as a natural part of their business strategy. The first step is valuating the company's principal assets to determine how they would figure in the planning of an M&A. "Doing a valuation surfaces everything," says Steenburgh, adding that the exercise can be beneficial even if it doesn't lead to a purchase or a sale.
He also notes that when NDP carries out a valuation on behalf of a client, it can draw upon a comparative database of more than 200 successfully completed M&A transactions. "Anybody can come in and do a valuation," says Steenburgh, but he's impressed by NDP's unique ability to conduct them against a deep background of industry knowledge and experience. When NDP sets out to establish a company's value in this way, he says, "they are brilliantly honest in telling you what the implications are.
"Everybody Wants Global"
Steenburgh has assumed his partnership at NDP while continuing to serve as chief consultant to ColorCentric Corp., a Rochester, NY, provider of content printing and fulfillment. In that capacity, he is helping to set up a "prInternet" network of printers for the global delivery of content on the distribute-and-print model. This consists of sending job data via the Internet to a digital production site located near the point of end-use, and then printing the job on demand at that remote plant—a reversal of the traditional print-and-distribute method of printing and shipping from a centralized facility.
Nine digital printing companies make up the ColorCentric network now, according to Steenburgh, and more are on the way. The growth of the network indicates, he says, that "everybody wants global": a dimension that he also expects to bring to his role at NDP. Besides consultation in M&As, Steenburgh also will offer NDP clients strategic guidance in business planning, marketing, production, and sales. In this capacity, he'll draw upon an international base of industry contacts including many in the Asia-Pacific region.
Opportunity Still Exists
When Steenburgh first joined Xerox in 1967, the printing industry was two to three times the size it is today in terms of number of establishments. He thinks that although the general economy is improving, the industry will continue to shed firms as some go out of business and others merge. Nor will there be much new business formation in most segments of the industry, given the high cost of setting up a printing operation.
Nevertheless, Steenburgh is convinced that opportunities still exist for firms that position themselves to take advantage of the new value chains. The businesses that succeed, he says, will be the ones who "live with the customer and understand their requirements," always seeking new ways to take cost out of print manufacturing with automation and other process improvements that help their customers grow their revenue.
The lesson for printing businesses that want to avoid the dead-end model is straightforward, Steenburgh says: "Pick a market. Study its value chain. Study the impact of digital. Then decide how much change your business will have to make in order to leverage the disruption you find there." It's a strategy he's looking forward to explaining in detail as he opens the latest chapter in his long career as a pioneer of digital printing.
Steenburgh can be reached at mobile 315-521-7226 or by e-mail at [email protected].