At the recent PODi AppForum conference, keynote speaker Ken Schmidt spoke passionately about the need to create a compelling message for your business – a message that connects emotionally with prospects and stands out from the crowd. Too often, Ken says that companies say what makes them great is quality, service and reliability when these items are merely givens - table stakes. And what's worse, it's a boring message that causes prospect's eyes to glaze over. It eventually leads to competition based solely on price – and there go your profit margins.
Two interesting presentations at the conference were from Allegra Network and AlphaGraphics. Each of these demonstrated compelling and creative ways to engage their prospects. Both of these franchise operations are in the midst of helping their franchisees become marketing services providers and both offered compelling messages to engage prospects.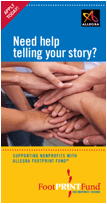 Allegra Network, which supports the brands Allegra Marketing • Print • Mail, Insty-Prints, American Speedy Printing and Zippy Print,decided to target the non-profit sector because it is one of the top vertical markets for direct mail with large budgets for marketing/advertising expenditures. Direct mail remains the gold standard for donor acquisition in the non-profit arena. So,how do you market to this industry? And, how can you stand out and compete in this sector?
Jessica Eng, Allegra Network's VP of Marketing described an ingenious program called the FootPRINT Fund®. The fund is a turnkey program offering free printing and marketing services to eligible non-profits. Since its introduction in the fall of 2003 more than $2.5 million has been awarded network-wide.
How many marketing services providers calling on non-profits can say they have given over $2.5 million to non-profits with a process that any non-profit can use to get free printing services? Talk about a compelling message. The program provides the following additional benefits:
Builds relationships among current customers
Provides numerous networking opportunities
Increases visibility
Creates opportunities for increased sales
Limits random in-kind print donation requests
Jessica stated, "This program is a way for us to make a difference, one step at a time. We have helped thousands of deserving non-profit organizations leave their 'footprints' in their community and that's really important to us as a network." Testimonials from participating franchise members include: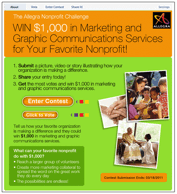 "For the actual dollar investment, the return makes it without question the most successful campaign we have ever done."
"Because we asked for marketing budgets on the application, we were also able to identify organizations that need additional printing and marketing assistance."
"I have never done anything that has been so widely recognized by the public. It has truly made me a player in my community from a philanthropic standpoint."
The AlphaGraphics franchise in the Cultural District (Pittsburgh) wanted to increase awareness of their comprehensive capabilities. They developed a multi-channel self-promotion campaign to educate their clients about the true power of direct mail, especially when approached as an integrated, multimedia marketing campaign. The overarching objective was to position AlphaGraphics as thought leaders in direct marketing and full-service providers not only of print, but also design, mailing, and a broad spectrum of marketing services.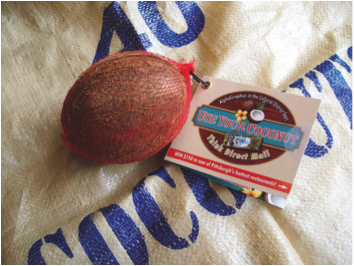 Because the focus of the campaign was mailing, AlphaGraphics wanted to demonstrate the use of a number of mailing formats and multiple touches. Since a high-profile marketing event was to be the culmination of the campaign, AlphaGraphics determined that they needed to mail an invitation, preceded by at least two other touches that would effectively engage and excite the guests.
With an audience that is sometimes hard to reach (high level executives often get their mail screened by "gatekeepers"), the marketing team decided on a dimensional mailer. While a dimensional mailer is more expensive than other formats it is capable of delivering a higher response rate and ultimately a better return on investment.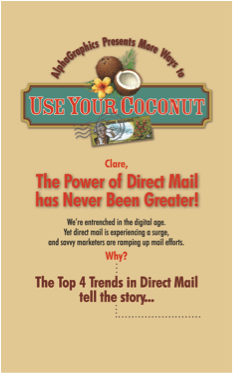 Here's where the creativity really kicked in. AlphaGraphics took "thinking outside the box" to a whole new level when someone remarked, "Did you know you can mail a coconut?" Having heard that it was possible (but not knowing how one does it), they concocted a campaign theme, "Use Your Coconut", which invited the target audience to use their coconut both literally (referring to the furry brown fruit that grows on tropical trees) and figuratively (as in, using your brain for thinking and learning).
The coconut mailer certainly grabbed attention. Packaged in a nylon net with a hangtag that contained factoids on direct mail, the package invited recipients to go to their Personalized URL. Respondents answered survey questions that gave AlphaGraphics valuable information on customers' mailing needs.
With the buzz building, it was time to launch the second phase of the campaign. About two weeks after the coconuts were mailed. AlphaGraphics' strategy was to continue to explore attention-grabbing direct mail formats, so they mailed an oversized "lumpy and bumpy" envelope that contained a personalized insert sheet, a four-page brochure, and a tent card "freemium."
The culmination of the campaign was an executive marketing workshop that was an interactive demonstration of the power of direct mail combined with multi-channel marketing. With the "Ultimate Power Lunch," AlphaGraphics sought to gather many of their most valued partners in one room for an event designed to educate, inspire, energize, and drive new business.
The AlphaGraphics' "Use Your Coconut" campaign was fun and memorable but most importantly it drove results. The campaign won PODi's 2012 Best Practices Award in the Self-Promotion category.
Specific results for this campaign were:
The first and second phases of the campaign achieved a 46% response rate – more than double the original goal
Welcomed over 40 guests to executive marketing workshop – for almost a 50% conversion rate
The campaign led to several new multi-channel marketing campaigns plus many new leads. Preliminary ROI calculations show that Alpha Graphics could realize more than 200% ROI from the direct mail campaign
Both are impressive examples of companies who are finding ways to create compelling messages that stand out from the competition and connect on an emotional level with customers. Companies like this won't find themselves competing solely on price.