The first time someone thought to write on a tablet that could be lifted and hauled rather than writing on a cave wall, print became the ultimate portable media. Today, mobile media devices such as mobile phones and iPads have become a primary source of portable media from which we can obtain information and communicate. Over the past several weeks, the market has seen tremendous examples of how print and mobile technologies are combining to deliver enhanced value.
Look Around You and Experience the Signage... It's Interactive !
As part of an ad campaign promoting its jeans, Calvin Klein incorporated QR codes on select billboards throughout New York and Los Angeles. Three billboards (at Houston and Lafayette Street in New York, at West 20th Street and 10th Avenue in New York, and at Sunset Boulevard and Havenhurst Drive in Los Angeles) displayed a Calvin Klein QR code that gave device users access to a mobile video featuring models in the company's latest X jeans. The QR code included in Calvin Klein's billboards enabled consumers to scan at street level to view the exclusive :40 spot on their mobile devices.
Figure 1: QR Code for Calvin Klein's X Jeans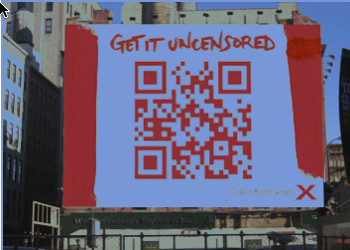 Figure 2: Calvin Klein QR Code Video
Once the video played, viewers could share the QR code with friends on Facebook and Twitter. The use of a special QR code to access this exclusive Calvin Klein Jeans video was another way for the brand to deliver engaging content to consumers in an interactive way, blending print and mobile. One of the biggest advantages of QR codes is brand activation. QR codes activate traditional and digital media by providing an opportunity for the consumer to engage directly with the brand at the time of viewing. The ease of consumer experience is another advantage. By leveraging mobile barcodes, consumers are able to simply scan the code and immediately be directed to their desired information, application, call center, coupon, or video without having to enter long URLs or phone numbers from their mobile devices. In the case of Calvin Klein, the QR codes were a means of optimizing advertising real estate. By embedding a mobile bar code on billboards, Calvin Klein was able to include more information in a single visual code than it would have been able to if it included the product information. In addition, Calvin Klein will have analytics that will enable the company to measure statistics around consumers' interactions with the advertisements.
The Package: Twist TXT Save
The Coca-Cola Co. is ramping up its mobile loyalty initiatives in North America through a partnership with a Canadian wireless carrier to drive participation in its "Twist TXT Save" program. In conjunction with Toronto-based Rogers Wireless, the beverage giant issued mobile calls to action via e-mail, its Website, the carrier's site, and printed on packages. The partners are running an under-the-cap SMS promotion along with the "Summer's Sweetest Moments" MMS sweepstakes.
Coke highlights its Twist TXT Save promotion on its printed bottle labels. It then prints a unique PIN under the bottle cap that acts as a proof of purchase.
Figure 3: Coca-Cola's Printed Call to Action
Rogers subscribers who text the under-the-cap PIN number to the short code 42653 get $0.75 off their mobile phone bill or $1,000 iCoke points. Coca-Cola single-serve bottles in stores across Canada carry the following mobile call-to-action:
"This bottle gets you $0.75 off your Rogers Wireless bill. Get PIN under cap & text to 42653 to redeem or get 1,000 iCoke Points @ iCoke.ca. Max 10 discounts/customer/week."
Figure 4: Coca-Cola's Twist TXT Save Program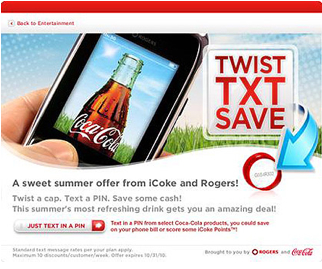 A Magazine that Sings
Time Out New York Magazine (TONY) released its August cover enhanced with mobile augmented reality. The August TONY Kids` issue will actually sing from the newsstands. Users can point their smartphones at the magazine cover and enjoy a video of P.S. 22, the Webby Award-winning fifth-grade chorus from Staten Island, which has found national fame on YouTube.
The magazine cover exploits the latest advances in augmented reality to unlock video and 3D content at the click of a smartphone. In its simplest form, augmented reality allows consumers to use their mobile devices to experience print products in a new and exciting way. An image that was once static on a page now comes to life, enabling consumers to see and hear the content for themselves.
Figure 5: Augmented Reality from TONY Kids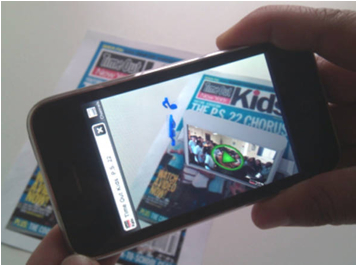 Since TONY was seeking ways for readers to engage creatively with its product, creating a cover that implements augmented reality was a no-brainer. This strategy reflects the spirit of fun that TONY Kids seeks to create on a monthly basis. The cover literally sings to readers, enabling them to experience firsthand why the editorial team chose to feature the talented students of the P.S. 22 Chorus in the first place.
Better Together
The examples in this article prove that print and mobile can be used synergistically. When combined, these two technologies give brands more meaning, provide a more interesting and interactive customer experience, and get people talking about the end products and services that companies are delivering. In today's market, it is clear that the consumer is in charge. Print and mobile technologies will always be readily accessible, and these two media forms are better together!