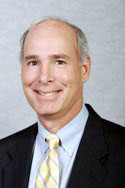 Ralph Nappi, president of GASC, recently briefed WhatTheyThink about the McCormick Place situation and related issues that he's confronting as the show company-an expo producer owned jointly by PIA, NAPL, and NPES-prepares for Graph Expo 2010 (October 3-6). He spoke candidly about the evolving nature of Print and Graph Expo, shifts in exhibitor attitudes, and his own reactions to comments from some quarters about the recent history and future of direction of the shows.
A break with a frustrating past is precisely what GASC hoped to achieve when it joined several other expo-producing trade associations in testifying last month before the Illinois legislature about the hardships of exhibiting at McCormick Place-a venue notorious for high costs, restrictive work rules, and heavy-handed behavior by a unionized work force. The groups warned the lawmakers of pressure from their members to abandon McCormick Place if conditions did not improve.
A New Deal and A Bill of Rights for Exhibitors at McCormick Place
(Note: the following is an edited version of a statement provided to WhatTheyThink by Chris Price, vice president, Graphic Arts Show Company.)
Highlights of Illinois Senate Bill 29 (also passed by the House of Representatives) include the following:
Unions: Maximum crew size was set at two people. All stewards will be working. Contractors may request individual workers by name.
Overtime: Straight-time shifts include any eight consecutive hours between 6 a.m. and 10 p.m. Monday through Friday. The graveyard shift and Saturdays are time-and-a-half. Sundays and holidays are double time. Labor charges are based on a half-hour minimum. (Currently, straight time is 8:30 a.m. to 4:30 p.m. Monday through Friday.)
Exhibitors: Exhibitor staff will be allowed to do much of the light work on their booths during move-in and move-out regardless of booth size. However, they will not be allowed to use forklifts or other motorized devices to move freight. Work rules permit exhibitors and their employees to:
- use hand/power tools and ladders
- set up and dismantle exhibits displayed in McCormick Place
- assemble and disassemble materials, machinery or equipment at McCormick Place
- install signs, graphics, props, balloons, decorative items, drapery and skirting of tables.
- in a booth of any size, to deliver, set up, plug in, interconnect and operate electrical equipment, computers, audio-visual devices and other equipment
- in a booth, to skid, position and re-skid all exhibitor material, machinery and equipment
McCormick Place will designate areas where exhibitors may unload and load exhibitor materials from privately owned vehicles with the use of non-motorized hand trucks and dollies.
Food & Beverages: Exhibitors may bring food into McCormick Place for personal consumption.
Electric and Utilities: Show managers may retain an approved electrical contractor to provide electrical services on the premises. This eliminates the exclusive highly marked up Focus One offerings.
Audits: An auditor will conduct a "financial statement audit and compliance attestation examination" twice per year. The goal is to ensure that savings from the "exhibitors' rights" provisions are passed on to the exhibitors.
A Case for Staying Put
The warnings were taken seriously. On May 7, the Illinois House of Representatives and the Senate passed a bill that gives exhibitors broad leeway to control costs by doing much of their own work and making their own choices about the provision of key services. It also changes rules for union overtime pay in their favor and mandates twice-yearly audits to protect exhibitors' rights (see sidebar at end of story).
GASC believes that if Illinois Governor Pat Quinn signs the bill as is, the cost of exhibiting at Print and Graph Expo will be reduced substantially. The bill also lets Nappi make a stronger case for keeping the shows in Chicago, his intention all along.
He acknowledges that even with the help of legislation, McCormick Place will need time to rehabilitate its image: "It took them 30 years to develop a reputation for being a challenging place to exhibit, and that won't change overnight." But he also insists that little would have been gained by a mere change of geography. Orlando, for example, offers a somewhat better cost structure for a trade show, but not enough to make a real difference. Besides, says Nappi, Orlando isn't "where our heart is" as an industry. That distinction belongs to Chicago, and that's why he says GASC "really wants to make things in Chicago work."
As it did at Print last year, the show company will bind itself to this pledge with its purse strings. For exhibitors of running equipment whose Graph Expo space rental fees are paid in full by May 15, GASC will cover unlimited machinery handling costs from loading dock to booth at the start of the event and from booth to dock when it closes. The payment is offered both to encourage live equipment demonstrations and to show, as Nappi says in a notice announcing the incentive, "that we understand and appreciate the challenges still existing in the marketplace for our exhibitors."
"Painfully Slow," but in the Right Direction
As always, one of them is the set of conditions prevailing in the print equipment market when the show takes place. Although NPES data showed that the fourth quarter of 2009 was the best in the last six for U.S. print equipment sales, Nappi is realistic about what the picture is likely to be when Graph Expo 2010 opens.
He says that while there's reason to be cheered by the "macro and industry signs" of growth now being seen, the recovery of the print equipment market will be "a steady, painfully slow movement up." This means that some attendees won't be coming with checkbooks in hand, especially in light of the fact that access to cash for capital investment remains tight.
"There were too many stories of companies that were ready to buy at Print 09, but couldn't find the financing," Nappi says. "Unfortunately, that experience probably will be repeated at Graph Expo."
One aspect of Graph Expo 2010 that makes it different from previous editions is the fact that three of its mainstay press vendors-Heidelberg, Komori, and Mitsubishi-are taking the year off as exhibitors. Nevertheless, Nappi doesn't think that their absence will diminish Graph Expo's importance as a venue for conventional production.
"There will be offset presses at the show," he says, noting plans by KBA and Presstek to display litho equipment. Nappi also points to the fact that commercial printers (including those with digital presses) continue to represent the largest attendee segment at the GASC shows. He says that although the lingering effects of recession may have put a damper on some printers' spending plans, "those who do come will be serious" about investing in the conventional side of their business.
They're Here for the Hardware
What about exhibitors that take booths but refrain from putting hardware in them, as Kodak did for the first time at Print 09 and as manroland has been doing for a number of years? Do these and other machinery-free booths signal a change in the character of the GASC shows?
"The 'model' of no equipment is not a trend," insists Nappi, adding that his contacts at Kodak "clearly have indicated to us that they'll be bringing equipment to Graph Expo." He acknowledges that cost is a concern for all exhibitors and that some of them "may have to leave something home, depending on their objectives." But, given that 73% of those who attended Print 09 said that they came to see running equipment, the expectations for Graph Expo are clear. "It is an equipment show," Nappi says.
Like the definition of "printing," the definition of "equipment" has changed dramatically over the last 10 years. The GASC shows, says Nappi, have adapted by staying "a half a step to a step ahead" of transformative trends. He notes that Graph Expo and Print have outlasted events like the Seybold conferences because they showcase not only technological developments but also emerging market opportunities such as mailing and fulfillment, wide-format printing, and packaging.
In October, these and other specialty areas will share the spotlight with the debut of News Print, a pavilion dedicated to the convergence of the newspaper and commercial printing production models. Nappi predicts that this cross-market addition will be "one of the shining stars of the show."
"A Substantial South Hall Show"
Nappi hopes that when potential exhibitors and attendees make their decisions about coming to McCormick Place this fall, they'll realize that "we're still talking about a substantial South Hall show" with plenty of machinery to see and lots of networking opportunities to take advantage of. He also points out that when it comes to forecasting the size of the show, the benchmark to use isn't Print 09-a quadrennial, international event-but the more comparable Graph Expo 2008.
"We're 30% behind Graph Expo 08 in terms of space sold, and we expect it to stay there," Nappi says, adding that 70% of Graph Expo 08 is far from a bad thing to be-with its 600-plus exhibitors and 26,000 attendees, the show of two years ago was one of the strongest Graph Expos on record.
Print 09, on the other hand, was a study in disappointment when measured against Print 05, which drew many more exhibitors and attendees than last year's event. The numbers from Print 09 and memories of its often empty aisles have prompted some people to question whether the industry needs or wants a yearly printing trade show in Chicago-a line of thinking that Nappi takes sharp exception to.
"It would be terribly irresponsible to make a decision about the future of Graph Expo and Print based on the worst year our industry has ever seen," he says, noting that Print, as an international show, draws visitors from around the world who do not attend Graph Expo. He also says that because Print, along with drupa, IPEX, and IGAS, is an anchor of the four-year trade show cycle that the global printing industry has grown used to, "I don't think that we give up the brand that easily."
Sticking with What Works
As Nappi knows all too well, free advice about re-strategizing the GASC shows is almost as abundant as complaints about work rules at McCormick Place. Some, for example, have raised the idea of organizing the events around vertical markets and specific applications, not systems and equipment. This approach, its advocates say, would add value for regular showgoers and draw in print buyers as well.
Nappi doesn't dismiss the idea out of hand, but he says that if GASC tried to implement it, "too many companies would have to have too many booths in too many areas of the hall"-a situation that would only multiply costs for exhibitors as it missed the point of the trade show experience for attendees.
"Nobody goes to a show just for one technology," Nappi contends, "and they don't mind walking the floor to see other things." He notes that Graph Expo's dedicated pavilions sharpen the focus by clustering vendors of specialties such as RFID technologies and sustainable solutions. The Print Buyers Forum and Print Buyers Boot Camp seminar programs will offer targeted content to this important attendee segment.
Nappi says that show frequency is one of the topics in a "strategic discussion" that GASC and NPES, which represents many of the principal exhibitors, are having about the future direction of the Chicago shows. But for the moment, his main concern is making sure that Graph Expo 2010 will be seen for what it still is-a timely, relevant, and essential event that deserves to receive, at the very least, the benefit of the doubt from everyone in the industry on whose behalf it is being produced. For more information, go to http://www.graphexpo.com.