May 28th, 2009 -- With the increased focus on interactivity and multi-channel communications, marketers want to integrate online media with documents to enable a cohesive and unified marketing tool. At the same time, however, fully executing these multi-channel programs is often elusive. Although technologies like text messaging, short message codes, and PURLs are seen as promising, they lack a quick, precise, elegant encoding system to efficiently transport the recipient from paper to an online experience.
Marketers are beginning to explore QR (Quick Response) codes as the ultimate answer. A QR code is a high-density barcode readable by cell phones and simple PC cams. Recipients can quickly and easily interact with the QR-enabled documents they receive. By simply pointing their camera at the QR symbol, they are instantly connected to a QR-encoded Web page without ever having to remember or type in numbers and promotional codes—they just point and shoot.
On Wednesday, May 20, 2009, I opened the USA Today that was dropped off at my hotel room. The business section featured two start-up companies that are dedicating their businesses to QR codes. The first was ScanLife. Founded in 2000, ScanLife is dedicated to making QR barcodes a mainstay of the modern experience. ScanLife requires a Web-enabled phone and works on 400 different combinations of handsets and phone plans. Individuals can use their phones to download the free application from www.getscanlife.com, then use that application to scan ScanLife barcodes. The application opens the individual's mobile browser and connects him/her to a designated Web link. ScanLife also enables consumers to create personal bar codes tied to Web links of their choosing. Teenagers can have a barcode linked to their Facebook page taped on a dorm room wall or silkscreened on a t-shirt. This will make QR codes viral.
The other company that was featured was Jagtag. Jagtag doesn't require a Web-enabled phone—anyone using a Verizon or AT&T phone camera phone with text messaging can access the content. The consumer takes a photo of the tag and then sends it to 524824. If the person is an iPhone user, the code is mailed to [email protected]. In response, the user receives a picture message that may contain an image, video, or audio.
QR Codes… It's Time to Think Hard about the Possibilities!
Already a big part of mobile culture in Japan and Korea, it is not uncommon to see a QR code in a magazine, on a poster, or even online. More than 40% of mobile users in Japan regularly use their mobile phones to scan QR codes in advertisements. In fact, a lot of mobile phones in Japan come preloaded with the application required to scan such codes.
This has helped mobile advertisers a lot in Japan and Korea. Mobile users find it easier to scan codes to obtain information versus sending a text message or making a call. Scanning minimizes effort on the mobile user's part and makes the job of the mobile advertiser easier than ever.
As mobile technology advances, it is time to imagine the possibilities and the ability to integrate print with smartphones. InfoTrends projects that 89% of new mobile phones shipped in the U.S this year will have cameras. Scanning a QR code with a camera-embedded smartphone will enable users to access Web sites and get real-time information. Using QR codes, business transactions can take place anywhere—users can download information from a movie poster while standing at a bus stop, access a Web site while reading an advertisement in a newspaper, or view a listing and take a virtual tour after coming across a home for sale.
Reality is Beginning to Set In
While the U.S. is off to a slow start, there are some "real world" examples and practical applications that effectively leverage print and mobile technology. It's time to look at the multi-channel market and print differently.
During last year's U.S. Open, Ralph Lauren introduced QR codes into its print ads, direct mailers, and store windows to send traffic to its new mobile commerce site. When scanned with a mobile phone with QR software, the codes directed the phone's browser to a Web site where the consumer could shop for RL products.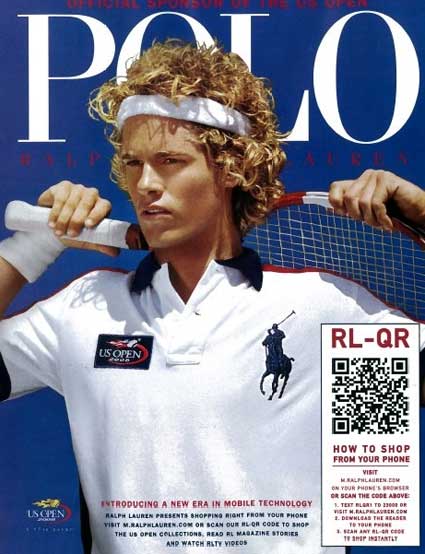 A Japanese magazine called Tada Gets (things for free) started to put out issues composed almost entirely of QR codes. By scanning these codes, the reader can link up via cell phone to free ringtones, decorations, games, music, pictures, and other kinds of content. The magazine's approach to the print media market has been aided by the fact that many young readers now get unlimited data plans on their cell phones and can download and scan barcodes from the print magazine without incurring huge charges.
Combining the power of QR codes, mobile Internet, and camera phones, Spektacle is the world's first magazine to provide readers with fresh content daily for the next 2 months after purchase. In its own words, Spektacle bridges the gap between the world of offline and online content. Published in the U.K., this special magazine explores the world of fashion, design, and music. Readers use their camera phones to take shots of QR codes in the magazine, and the content in each QR code changes ever day for the next two months. The unique selling proposition is that while a printed magazine becomes outdated after a single read, Spektacle readers have two months' worth of articles to look forward to, bringing them extra value.
The short-run label market represents a tremendous opportunity for QR codes and promotions. Coca-Cola Japan is giving away free bottles of its two new teas with a QR code promotion. Coca-Cola Japan sells a lot of bottled tea and many cans of coffee. Consumers who see the advertisement (example picture below) can snap the QR code with their mobile device, then bring their mobile device to a vending machine to obtain the free tea. The vending machine recognizes the scanned coupon as payment. (Consumers can pay vending machines with their cell phones in Japan, and these machines have built-in cameras.)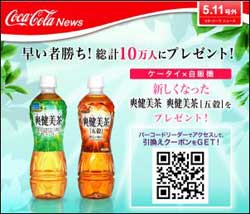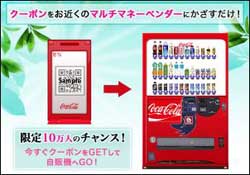 QR codes transform packages into multi-channel documents, and the applications and opportunities are limitless. In another example, two Portuguese wineries are using QR codes and labels to build out a social network called Adegga. This is an online community of wine lovers that dubs itself a "social wine discovery" service. Consumers that scan a QR code on a wine label will be taken to a special page on adegga.com dedicated to that particular wine. They can read other people's comments about it, check prices, and read comments from the winemaker.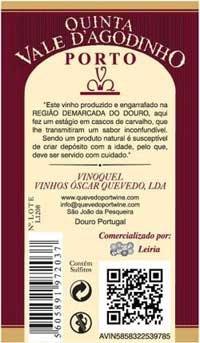 Printed maps are using QR codes to better guide tourists. The Regional Tourism Promotion Council for the Japanese prefectures of Iwate and Akita has produced a tourist map with QR codes. This is an area of mountains, rivers, and forests with many naturally occurring hot springs, temples, and historical sites. The QR codes provide a link to a mobile Web site where the user can select a particular interest (e.g., history, accommodations, temples, museums), and a Google Map is displayed with the relevant locations highlighted.
Canada's National Post, a 200,000 circulation daily newspaper, has begun placing ScanLife codes on some print stories so readers can use their handsets to follow developing news coverage from the newspaper's Web site.
Finally, if those examples aren't enough, I came across a posting about barcode tombstones in Japan. This truly illustrates the public acceptance that 2D barcode technology has received in Japan. A QR code is inscribed onto a tombstone, enabling visitors to the grave to access the biography and photos of the deceased person and leave a personal message. This concept will probably take some time to get used to, but it could certainly be argued that it adds some value for cemetery visitors. There's only so much information that can fit on a tombstone, and QR codes provide a way of telling a person's life story to those that truly want further information!
What Does All this Mean?
The USA Today article that I came across provides evidence that QR codes have a place in the U.S. market. I firmly believe that the marriage of print, QR codes, and mobile technology are the ultimate in multi-channel communications. While some are running away from print and putting all their eggs in the online basket, savvy marketers will consider going offline and getting their BRAND in front of the consumers on the street. They will reach consumers who are unchained from their home computers and connect with them via signage, packaging, interactive magazines and newspapers, catalogs, and direct mail. Graphic communications service providers need to realize that print is not dead… it is interactive!