The importance of education, the death of offset, and more
Today, November 6, 2007, Robert C. Tapella will be sworn in by Congress as the nation's 25th Public Printer and will lead more than 2,200 employees at the U.S. Government Printing Office. Tapella chose to make WhatTheyThink the venue for his press debut with this exclusive interview. Among other things, Tapella shares with WhatTheyThink his own educational background, his entry into the printing and publishing industry at a very early age, and his thoughts about the need for education, both for young people entering the industry, and for ongoing training once employed. Tapella brings a refreshing perspective relative to the role of the Public Printer, the GPO, and the future of the printing industry.
---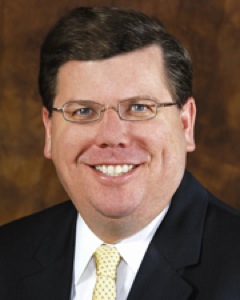 ROBERT C. TAPELLA
Public Printer
WTT: Bob, congratulations on your appointment by President Bush, and thank you for speaking with WhatTheyThink as you formally begin your new role. Can you provide us with some background on your involvement with the printing industry and the GPO?
RCT: The history of my relationship with the printing and publishing industry goes back to junior high school, where I was required to take calligraphy two days a week. As it happens, I turned out to be pretty good at it, as was one of my classmates, Mark Barbour, who is now the Executive Director of the International Printing Museum in Los Angeles. This led to my first professional experience—as a freshman in high school, I was a calligrapher with New Scribes, a design firm located in San Jose, California. We focused on menu design, and you could be sure that there was a high probability that I did the calligraphy on almost any nice menu in Silicon Valley in those days.
WTT: You were quite the entrepreneur at an early age.
RCT: Yes. I started my own business at age 14 as an independent contractor. New Scribes went out of business in a year or so, and I started my first real company—TapellaGraphics. By the time I was in college, I had a number of people working for me, starting in design. What I learned while I was in college was that I could actually make more money if I bid out the printing as well and started providing more services to my customers rather than just being the designer. I latched on to a couple of printers, and much like GPO, would buy excess capacity, selling it to customers at a markup.
WTT: Where did you go to college?
RCT: I chose Cal Poly in San Luis Obispo for my college education. Printing actually wasn't my first choice; I wanted to be an architect, mostly because my parents didn't think I could make a decent living and feared I might become a struggling artist. I had no idea there was something called graphic communications, and I initially went to Cal Poly to look at their architecture program. After sitting down with the head of the architecture department, I found that I really didn't want to be an architect after all. I just happened to wander through the graphic communications department. They had a great program that would allow me to stay in design and production yet still get the business degree my parents felt was important.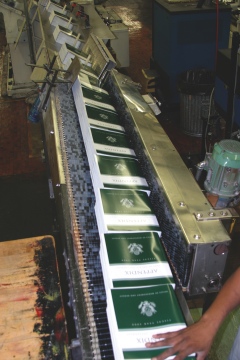 The Federal Budget has been produced by GPO for nearly 150 years.
WTT: You also have a political and government service aspect to your background. The blend of politics, government service and printing plays nicely to your role today. How did you get started in politics?
RCT: In 1985, in addition to going to school full-time, I was still running my own business, which by then had migrated into brokering both print and direct mail. I also did some work for Congressman Bill Thomas to earn Political Science credits for school. Towards the end of the year, I lost my biggest customer for TapellaGraphics due to the recession, and I wasn't quite sure what I was going to do to supplement that income. Coincidentally, I got a call from the Congressman offering me a job, which I started in January of 1986. By June, I was his District Representative and working full-time. Although it delayed my graduation, it was great experience for me. I didn't graduate until 1991, eight years after entering Cal Poly.
WTT: Bruce James brought you into the GPO when he took office. What was the connection there?
RCT: As my career progressed, I continued to be involved in politics and government, focusing on the communications end of it with direct mail and the like. In 1996, Bill Thomas offered me a job with the House Oversight Committee, so I packed my bags and moved to Washington D.C. I was involved in the Bush campaign, and when President Bush was elected in 2000, I was asked whether I wanted to continue to work in the government and what type of assignment I would like. The only thing I was interested in was the GPO. In my roles with Congress, I had been a customer of the GPO. I was back in California in 2002 and got a call from Bruce James after he had agreed to become the Public Printer. I was on the must-hire list from the White House, but he really wanted to source his own people rather than depend on these lists. At that point I was commuting between Washington D.C. and California. We met, and we hit it off right away. We realized we had similar interests and backgrounds. One thing he and his team were lacking was an understanding of the GPO as an institution and its role in servicing its number one customer, the United States Congress. That was something I brought to the table, and I had also done a lot of strategic planning in my past. So in spite of the fact that I was on the lists, he decided to hire me. This was all prior to his official confirmation.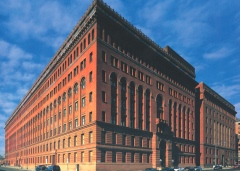 GPO headquarters is located at 732 North Capitol Street in Washington D.C., just down the street from the United States Capitol.
In November, I was driving across the country on an extended vacation with my dog. I wanted to take the time to see the country and visit friends and family. I got a phone call from Bruce the Wednesday before Thanksgiving, and he said, "The Senate just confirmed me; when can you be in Washington?" I suggested January, he suggested the following Monday. So we compromised, and I cut my road trip short and drove to Washington D.C. to begin work at the GPO on December 2nd.
WTT: As you look over the past five years, what do you see as the high points?
RCT: As I look at my accomplishments from a personal standpoint, my proudest accomplishment is my involvement in the creation of our Strategic Vision for the Twenty-First Century. The vision was published in December of 2004, and though it is almost three years old, it is still absolutely as relevant and vibrant today as it was then, and that is exciting. I never anticipated being Public Printer. That quite honestly surprised me. But to have been involved in the development of a new vision, and then having the opportunity to run the organization and continue to implement that strategy and vision is unique.
In 1999, I had worked for the Clerk of the House of Representatives, and during that period, I helped develop the plan for the infrastructure to replace the Legislative Information Management System and the House document management system. Part of the reason Bruce and I hit it off so well is that in many ways, what I developed for the Clerk of the House is very similar to what we Bruce envisioned for the GPO with FDSys. What we have done here is broader, of course. I pulled out one of my old journals looking for something specific and I came across the concept drawing I had made for the House Document Management System. It was very similar to what we did with FDsys.
WTT: What is FDsys?
RCT: It started out standing for the Future Digital System for the GPO. Now that we are in beta mode, rather than rebrand it, we just changed the name behind the acronym to Federal Digital System. FDSys was one of Bruce's and my top priorities. I traveled the country for a year looking for the architect that could turn our idea into reality, and Mike Wash, now our CIO, has done an incredible job. Having gotten to beta mode with FDsys is a great accomplishment.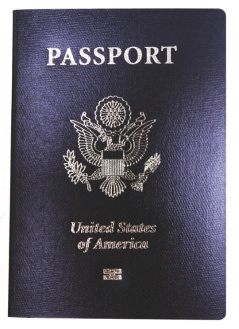 GPO produces the e-passport for the Department of State. GPO employees also designed the pages inside.
WTT: What about the new GPO building project Bruce initiated?
RCT: The building project is something I am very interested in. One of my most important undertakings as Public Printer will be to work with the Joint Committee on Printing to determine how we can provide proper facilities for our employees without it being a burden to taxpayers. This is a priority. Our current building is aged, and it costs way too much to run. We have people that spend half their days riding up and down the elevators to get their work done because we operate on too many floors. We need a modern manufacturing facility. Our workforce is comprised of 70% skilled and semi-skilled labor with the remainder being knowledge workers. That means that 70% of our workforce is working in a factory environment that is not conducive to the work they are doing. The knowledge workers that comprise the other 30% are also working in areas that are not conducive to the type of work they do. This is a factory whose newest building was built in 1940—and there were not too many knowledge workers at that time.
So my priority is to provide adequate, proper facilities for our employees to do their jobs more easily, better and faster. And I would also like to save the taxpayers some money.
WTT: Why is this project taking so long?
RCT: The Public Printer can say no to a new building, but does not have the authority to say yes. It requires working with Congress to come up with a plan that is palatable to them and that works. We had a terrific plan that went to Congress, but plans of this nature are first scored by the Congressional Budget Office based on a number of criteria. The score this project ended up with meant that there was no way we would be able to get it approved. It is a priority, but I am also a realist. I know it will take a couple of years to get the legislation through with a plan that makes sense for everyone.
WTT: In addition to the building, what are your other priorities as Public Printer?
RCT: My number one priority is service to Congress. Congress is our most important customer. The GPO was founded as a Congressional printer and we play an integral role in the legislative process. In fact, out of the 27 steps in the legislative process, the GPO is involved in 12 of them. That is pretty remarkable. So my number one priority is service to Congress.
Number two in my mind is service to the State Department and the new electronic passports. As we look at the accomplishments during Bruce James' time, there were many. It was under his watch that the GPO went from producing a paper passport document to a digital document that has an integrated circuit in it. The GPO plays a critical role in our national security by producing U.S. Passports. Five years ago, we were producing seven to eight million passports per year. In Fiscal 2007, we produced more than 19 million passports. Next year, we anticipate it could be as high as 28 million passports, and we do not see that number going down anytime in the future. The passport has become the most important identity document in the U.S. and the GPO is producing it.
My third priority is the continued roll-out of FDSys to all of our stakeholders.
WTT: We talked about how important your educational experience ultimately was to your career. As we focus on the needs of the graphic communications educational institutions this week on WhatTheyThink, can you share your thoughts and let us know how the GPO works with our educational institutions?
RCT: I believe that there are two ways you can recruit people from the private sector into government service—at the beginning of their careers and at the end of their careers. Early in a person's career, we can compete, and I put a focus on recruiting at the college campuses. I don't necessarily believe everyone should spend their entire career in government service. We should have rotation in and out to keep the workforce fresh. I have spent a lot of time over the past several years at college campuses, making presentations to students about why government service is a good thing to do. I personally believe that every American should serve their country in some capacity at some point in their lives, whether in the military, the Peace Corps, in government service, or in some other way. We also have an internship program to give students the opportunity to gain firsthand experience with us.
The other group is comprised of individuals like Mike Wash and our CFO, Steve Shedd, who have had successful private sector careers and are willing to do something in government service, generally for a lot less money. They feel, as I do, that they have a duty and obligation to serve their country.
WTT: Once graduates have joined the GPO, what opportunities are there to continue their education?
RCT: Another major accomplishment on Bruce James' watch was a change in the focus on training at the GPO from being job centric to mission centric. It used to be that the only training an employee got was for the job that they held today, and we spent virtually no money on even that narrow scope. In December of 2002, when we submitted our budget request, we asked for $1 million in training funds for our employees, and we determined that we would not only spend money on training, but we would allow employees to train both for what they are currently doing and other opportunities within GPO. At this point, we are spending several million a year on job training and skills assessments to help people know where they need training and to deliver that training.
We also place a great deal of emphasis on leadership development. We want to be sure our employees are prepared to compete for leadership jobs. This year, we inaugurated a two-year Leadership Development program. Employees compete to get in; we have participants that are straight out of college as well as folks that have been at GPO for some time. We also have people from other agencies that work a two-year rotation in the GPO. We are training them to be the next generation of mid-level management, and we want them to know our entire business, not just a silo. This took several years to build up, and I am very pleased with the program.
WTT: What message do you have for the print service providers who are reading this interview?
RCT: As you look at the landscape of printing, we are obviously seeing consolidation. The big printers are getting bigger and the gap between the biggest printers and the next level down is widening. If you look at the Printing Impressions top 400 companies, the top 15 or so are in the billion dollar range, and then there is an enormous drop-off in revenues, so that you are at half a billion by the time you get to Number 21, and it drops steeply from there. I find that startling.
The largest companies are offering integrated services. RR Donnelley, as an example, prints directories and catalogs, but also does distribution, web sites and more. They are offering a complete package and not just printing a catalog. We are seeing that demand for packaged services from our GPO customers. A great example of that is what we are doing with the U.S. Census. It is not just printing the forms, but there are a lot of value added services we provide, including the integration of computers and technology. That is an interesting proposition for the GPO, and it is where our business is going. Federal agencies and other buyers of print are looking for ways to get more bang for their buck in this world of multichannel communications.
Unfortunately, this shift means that many of the smaller printers are going out of business. They are facing new pressures based on the fact that people don't print in the same way they used to, and it can be difficult to adjust, especially for a small business. The good news is that there are many printers at all levels that have adjusted and are successful by offering a range of services beyond simply printing.
So my message to print service providers is that they need to be looking at the bigger picture to understand where printing fits in the new world of business communications. More print is being produced in the home and in offices as the quality of those devices increases. And federal agencies, like other buyers, are simply not printing as much as they used to print. In fact, over half of the documents we are placing in FDSys are electronic only and may never get printed by the government.
WTT: What do you see as the next major change coming our way?
RCT: The question in my mind is how long offset will stick around. It was before my day in printing, but as offset was coming into the market several decades ago, many people claimed it would never displace the letterpress, but it has. The same thing is true today. Offset will be replaced by inkjet or toner, one or the other, because there are very few things that are printed today that need to last for centuries. Most of what is printed today is throwaway. So I think we will see that change. That is why Xerox, Kodak, HP and others are looking at what that next generation will be. I am looking forward to drupa, because I want to see what the advances are. Everyone will be releasing their next generation products and ideas, and I think we will see some interesting things.