Just for fun, I clocked the distance from the back of the Print 05 show floor to the press room, where industry analysts and journalists could access press kits, Internet connections, and of course, lunch. It was half a mile. Print 05 is simply a huge show, so it would be impossible to cover every company. I did discuss a number of neat products, including those from smaller companies, last time. In this article, I'll throw out a few more from the major players.
Two of the themes consistently seen on the floor were automation — bigger, better, and more comprehensive — and modularity, which allows printers to invest in new workflows gradually and build on existing automation over time.
One of the many companies offering increased automation in the POD finishing environment was Standard Finishing Systems, which is using what it calls "the Windows strategy" in its icon-based user interfaces. LCD touchscreen displays use a standard arrangement of category tabs across the top, with tasks illustrated by symbols. This interface is standardized across all of the company's equipment, creating a commonality that makes it easier to set up jobs.
Brand new at the show was the Standard Horizon AFC-544 FKT Folder, which has an unparalleled level of automation, from the feed heads to the side guides, to the gap sets and fold plates. The folder stores 16 of the industry's most common fold patterns. Plus, the machine can memorize up to 100 customer jobs for easy recall.
"Folder operators are the hardest to find and retain because of the specialized skill set required," notes Mark Hunt, marketing director for Standard Finishing. "By automating these processes and using the icon-based interface, it's much easier to train them. Once they learn one piece of equipment, that knowledge is more easily transferred to another Horizon machine."
Also at the show was the world premiere of the Standard Horizon BQ-470 fully automated four-clamp perfect binder. Like the AFC-544 FKT Folder, the BQ-470 requires minimal operator training. It produces up to 1,350 perfect bound books per hour, with four clamps that travel on a vertical elliptical track. The most impressive new feature is operator-interchangeable glue pots to support both hot-melt EVA and PUR applications.
Although Xerox is big on automation, what most impressed me about its extensive display of binding and finishing equipment, as well as monochrome and full-color printers and presses, is the thought that has gone into modularity.
For example, Xerox was displaying the CP Bourg DS 5000 high-capacity stacker between its Nuvera and CP Bourg Bookletmaker. This way, if the bookletmaker goes down for any reason, the Nuvera isn't held up. The DS 5000 can handle both 11x17 and 8 1/2 x 11 paper. The finishing transport module (FTM), between the Nuvera and CP Bourg BDFx, can rotate the paper automatically, allowing printers to handle different sized books. The BDFx can produce either a cassette stitch or Hoehner heads.
In another configuration, the stacker is connected to the GBC Fusion Punch II. This also adds flexibility to the workflow. If the printer wants to use the Nuvera only, it can output to the stacker. If it wants to punch, the paper can run inline through the stacker to the Fusion Punch II. Plastic comb binding can be done offline.
In its bookletmaker series, Xerox is offering an option for creating square edges. The Xerox SquareFold Booklet Maker with optional cover insertion module squares the spine of booklets like a book. While thin books can be squared to a certain extent, the process works better on thicker books. The Square Edge capability is also available with the Bourg BDFx.
Xerox was also anxious to show off the Powis Parker Fastback 15xs, an offline tape binder that binds from three to 350 sheets in 30 seconds. An interesting feature is that the tape adhesive is set in bars, like a barcode. In fact, it acts like a barcode so the machine can automatically adjust the temperature and time for the strips. This is a neat little product for one-offs and short runs, both paperback and hardback. It comes with a spine printer for adding titles and logos; and printing can be done in a variety of fonts and colors. For inline binding, Xerox was showing the DocuBinder 120-D inline with one of its four-color machines.
Because Xerox has so many printing and binding solutions, a particularly helpful brochure called "Xerox & Partner Finishing Solutions" is now available. This brochure lists Xerox' full-color, monochrome, and highlight color printers and all of its bookletmaking, perfect binding, stitching, and other finishing solutions in chart form, indicating which finishing products are enabled for which printing devices.
"The big issue is that these machines are interchangeable," notes Abraham Pniel, Xerox segment manager, finishing. "If you want to go up in speed, you can take the same finishing line with you. If you have a monochrome line and want to add color; or if you have a color line and want to add a Nuvera, you can take them with you. You just invest in a new transport module. This offers major savings as printers grow and invest in new applications."
The DB 120 Bookletmaker is the only machine that doesn't cross over to all families. It cannot be used with the iGen3 or DocuTech family.
In my last binding and finishing round-up, I commented that, while many booths at the show were sparse, U.S. Counters was consistently busy. In this environment, when keeping a line on costs is more important than ever, counting machines are in high demand. I saw the same thing at the booth of B&R Moll, which manufactures counters and glue controllers. At the time I hung around the booth, every executive or sales person was busy with customers and I couldn't talk to anyone. Counting equipment is clearly a good business these days.
Another busy booth was Flint Ink. Flint was offering a variety of interesting products, including its new Arroweb Ink System, which it calls its "most robust, consistent, and affordable" ink series for heatset printing. "When we designed these inks, we asked our chemists to forget everything they know about ink," says Kathy Marx, director of marketing for Flint Ink. "We asked, if you were going to start from scratch, what would you do differently? This was the result."
Also new at the show were Arrowstar UV inks, which are specially formulated for high-level performance on sheetfed and forms presses. Because Arrowstar UV is very low tack, it can print well, even on very lightweight papers and recycled stock.
But the product of most interest to booth visitors, according to Marx, were Flint's ArrowLith UV inks, which enable coldset web printers, such as newspapers, to print quality commercial work. "It's amazing how much interest there has been in these inks at the show," says Marx. "It's the number one thing people have asked about—and Print 05 is not a newspaper show!"
ArrowLith UV is the industry's first UV ink system for coldset web applications, allowing printers to print full-color, high-end, high-volume projects on coated and supercalendered paper, as well as newsprint stocks. Applications include newspaper inserts, Sunday sections, tabloids, and other special projects. Flint also hopes newspapers will use the inks to experiment with new business models, such as printing the front, back, and centerfold pages in full color. After all, if you have the inks, why not?
Just for fun, I want to conclude by mentioning Flint's aromatic inks. These inks are more durable than scratch-and-sniff, and unlike scratch-and-sniff, they require only light rubbing to release the scent. They can capture nearly any fragrance. At Print 05, Flint was showing off a print with pear fragrance, and in fact, it did smell remarkably like pears. Considering that Flint was one of my last stops before heading to the airport, it was a nice to leave on a high note.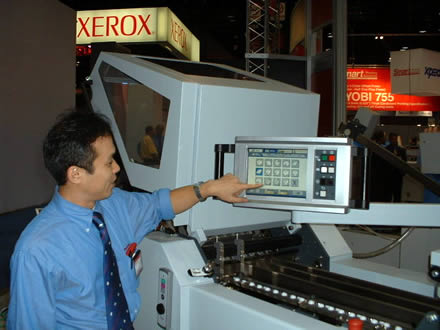 Hiroki Yamamoto, folding engineer, sets up a job on the Standard Horizon AFC-544 FKT Folder.