Gil Hatch is president of the Production Systems Group at Xerox Corporation. He was named to this position in January 2003. Hatch also is a corporate senior vice president, appointed October 1999. He is responsible worldwide for production monochrome and color systems for the production publishing and transaction printing environments, including the DocuTech, DocuPrint and DocuColor product lines.
Most recently, Hatch was president of Xerox Office Systems Group where he was responsible for the design, manufacturing and marketing of Xerox's Document Centre and WorkCentre Pro product lines as well as Omnifax, a Xerox sales and service company. Since joining Xerox in 1969, Hatch has held a number of senior technical and general management positions in the United States and United Kingdom.
Noel Ward, WTT [email protected], caught up with Gil late last week to do this interview which frames some of Xerox's positioning and strategy in digital production printing.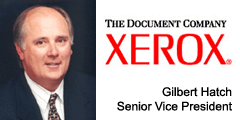 WTT: Xerox has a wide range of products for digital color printing, but competitors have made this a crowded market at pretty much every level. What are some of the key issues Xerox has to address in retaining and growing market share in today's digital printing market?

Gil Hatch: Fundamentally, we have to keep listening to our customers and provide the feature sets and solutions support they need. We also must keep developing technologies that give us a competitive advantage in the market, like the image quality and processor control capabilities of the DocuColor iGen3 Production Press. Last year, these strategies helped us regain the number-one position in production color devices 41 pages per minute (ppm) and faster with a share that grew from 45.2 to 47.7 percent, according to IDC.

Another way to view market share is by page volume. We're very committed to helping print providers build print volume, and we have two key approaches in this regard. One is to help print providers develop full integrated digital workflows that give them the flexibility and agility they need to respond quickly, accurately and reliably to their customer's requirements. These integrated workflows also provide a foundation for developing new applications that deliver profit and growth.

Our other key volume-building initiative seeks to create demand all along the value chain – people like creatives, designers and print specifiers. We educate them about the capabilities of digital printing, building demand that our print provider customers can fulfill.
WTT: No print provider just buys a box anymore: they buy a complete solution. This drives two questions: First, to what extent is Xerox going into a customer from the very beginning and trying to learn about that customer's needs and trying to provide a complete solution instead of just selling a box? And second, how is Xerox communicating the value of its solutions to customers?

Gil Hatch: Xerox has a decades-old heritage of probing its production printing customers and prospects and meeting their needs with solutions, rather than just boxes. This approach began to emerge in the late 1970s when Xerox initiated production printer sales to data centers running transactional applications. Partnering with companies that develop software, and networking and finishing equipment helped us construct the complete systems many customers sought. In 1999, Xerox formalized these production-printing efforts by organizing around industry groups responsible for developing application-specific solutions, and this sensibility continues to drive the Xerox Production Systems Group today.

Xerox also has a longstanding tradition of communicating value that goes beyond print speed and other box capabilities to promote the value of automated systems that produce complete, finished documents. In recent years, we've communicated this value under the theme of "The New Business of Printing." This phrase refers to the transformation that traditional printing is undergoing through digital technologies and systems that enable just-in-time printing, one-to-one marketing programs and integration with the Internet and electronic media to deliver new value that improve efficiencies and foster profit and growth.
WTT: Anne Mulcahy recently said people need to change the way they work to get the most benefits of technology. Can you give any examples of how Xerox will be supporting changes in work processes in production color and monochrome printing?

Gil Hatch: At On Demand, we'll talk about a new workflow strategy that will provide unprecedented support for developing fully integrated production printing workflow process. We will be renewing our commitment to an open, scalable and modular architecture. And we'll offer a framework for viewing workflow that will put workflow challenges and solutions in stark relief. But that's all I'll say until next week. Stay tuned!
WTT: Many equipment and software companies are focusing on vertical markets this year. The typical ones mentioned are insurance, finance, education, legal, government, pharmaceutical and publishing. How do you see Xerox differentiating itself from other companies in these markets?

Gil Hatch: Xerox has been focusing on these and other vertical markets for a decade or more. Today, we have hundreds of installations in these and other vertical markets, running applications tailored for specific customer and industry needs. Our extensive experience in vertical markets and the knowledge we have gained from this experience is what truly differentiates Xerox from the competition. We deliver this advantage through our experienced and knowledgeable sales force, our many reference accounts, and our wide range of open, partner-based, industry-specific solutions offerings.
WTT: What are the areas where you see the greatest potential in partnering with other companies? What kind of solutions do you see being developed and offered to the market based on partnerships?

Gil Hatch: The greatest opportunities we see for partnerships are in developing fully integrated digital workflows, spanning business processes, output management and shop process management. Fully integrated digital workflows provide the underpinnings for developing any number of solutions that optimize the application of digital printers and related services.

More specifically, we categorize our solutions offerings by industry and by three major solutions groupings within each industry: just-in-time production, one-to one marketing and integration with electronic or Web-based deliverables. Partners play a role in nearly all of our solutions offerings, and so does workflow, which we believe is the key to competitiveness among today's print providers.
WTT: There are those in the industry who say Xerox is so focused on digital color printing that it is paying less and less attention to the monochrome market. With 25,000 DocuTechs out there this is certainly an overstatement, and black and white is clearly a profitable venture for Xerox. How do you see this market changing and what will Xerox be doing to address these changes?

Gil Hatch: Monochrome printing will have a place in the market as long as it offers a cost advantage over color printing, and it will continue to offer a cost advantage for the foreseeable future. That said, as color continues to become more and more affordable, it will be the technology of choice for documents that are more graphically sophisticated and those that need to make a strong visual impression. More and more, monochrome will be reserved for applications that make the most sense for black-and-white output, such as books and text-only documents. That's still a huge market, and it will continue to account for more page volume than color digital printers for some time to come. Xerox continues to develop print engines, workflow components and solutions specifically for black and white printing. Frankly, there's still a lot of runway for monochrome.
WTT: The recent decision to stop selling the DocuColor DI machines was not really much of a surprise to anyone. What was Xerox able to learn from the installations of these machines you did have, and how do you see that knowledge shaping the way you will market and sell the iGen3?

Gil Hatch: While the Xerox DocuColor DI series didn't develop as much business as we'd hoped, many outcomes of our relationship with Presstek have been positive. Organizationally, we learned a lot about the commercial printing market through our efforts to build and support the business. We've built relationships in the industry that will help us sell our current and future products, including DocuColor iGen3. And we've seen digital offset direct imaging technology from the inside, so we know its strengths and weaknesses, and this will help us in our day-to-day sales efforts and long-term planning.
WTT: What do you think print-for-pay customers (commercial printers, service bureaus, direct mailers, quick printers, etc.) need in terms of market development support, and how Xerox is going to provide additional market development support for these customers?

Gil Hatch: Different segments of the print-for-pay market have very different marketing support needs, and we're doing a great deal to meet them. Since 1999, the Xerox Worldwide Graphic Arts Industry Business has addressed the specific needs of data center service bureaus, quick printers, commercial printers and pre-press organizations, publishers and creative services firms. Programs for each segment focus on business development through training, seminars and toolkits that can help develop and sell print applications. In addition, Xerox has a tremendous commitment to creating demand for digital printing, by working with designers, creative agencies and print specifiers to build their awareness of the capabilities of digital printing. These segment-specific programs are ongoing and regularly refreshed to make sure they stay relevant and current.

Xerox sales reps and specialists also frequently play a role in assisting with marketing support, and Xerox occasionally supports special events, such as open houses, to help print-for-pay customers develop their market.
WTT: What are the key messages for attendees at the On Demand Show?

Gil Hatch: It's about workflow, which is the most critical business process for modern print providers. Digital print engines are now on the market with quality that serves as a suitable alternative to offset. They can deliver the reliability, productivity and low operating costs that support profitable graphic arts providers. To get the most out of these engines and related digital-based services, print providers need to develop fully-integrated digital workflows that enable them to flexibly meet customer needs, and to develop the new applications that enable profit and growth. I'll leave the rest of the workflow excitement for the show. By the way, We're also making a number of product, solution and partner announcements at the show.
WTT: HP is making a big deal out of its presence in corporate America, and hopes to leverage that presence and mind share into digital color production printing. Xerox also has many copiers and printers in corporate environments. So two things: How do you see Xerox using its high brand awareness and its technology to compete in the office space? And second, to what extent do you think that awareness can also support production printing?

Gil Hatch: Xerox has made great headway in the office by leveraging our brand; our leadership technology for printing, scanning and sharing documents over networks; and our superior services that improve document management efficiency. These are the same types of strengths we bring to the production space, except that document sharing and services capabilities are applied to professional-level workflow and business development. These strengths have helped us to achieve a leadership position in most segments of the production printing market, including quick printing, service bureaus, data centers and corporate reprographic centers. So, in those segments, our challenge is not to build, but to maintain awareness. Certainly, brand strength and technology leadership play a role, as does our extensive knowledge of these operations and the needs of their customers.

Commercial printing is the one segment where our brand, technology strengths and decades-old production printing leadership have had less resonance. There, we are working with commercial print savvy partners like Creo to develop our reputation as the leader in digital printing and the value associated with The New Business of Printing that enable print providers to profit and grow.
WTT: We all know the economy is a big challenge these days, and that has a big effect on capital investments such as print engines and presses. Is Xerox doing anything in particular to make it easier for customers and prospects to buy Xerox equipment?

Gil Hatch: We have a range of financing and service offerings and price plans that give our customers flexibility to buy in the way that makes the most sense for them. In the last year or two we have expanded those options to better meet the preferences of commercial printers, in particular.

Acquisition options include outright purchase, leasing and outsourcing of operational staff as well as equipment. Service options include monthly service plans based upon volume and, for some products, self-service. Competitive financing options are available through our global financing partners, including GE Capital North America and much of Europe.

Thank you, Gil, we wish you success in your new position!
For more information, visit www.xerox.com