You have to give it up for HP on showmanship. The hotel in Marina del Rey was total class and the main event took place in a large white tent in the back lot of a big print facility that's home to a panoply of offset and digital print technology. And this being LA, the show was just a notch or so down from Hollywood proportions.
In a cavernous room lit by swooping lights, rock music blared from loudspeakers as HP unveiled a machine that looked like something off the set of Battlestar Galactica. Analysts and journalists were herded into groups to get up close, if not personal, with the 10-foot high, 80-foot long, 20-foot deep beast. Further back, an array of semi-custom near-line finishing systems and a roomful of servers supported the Brobdingnagian black and gray creature that inhaled one-ton rolls of 30-inch-wide paper and spewed it out at 400 feet per minute. All that was missing was Sting singing about this being a brand new day and the set piece would have been complete.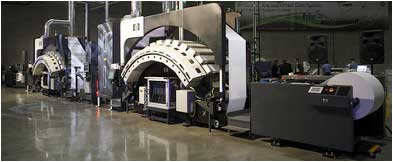 Such was the scene last Tuesday in Los Angeles when HP and O'Neil Data Services opened the doors on the premiere installation of HP's Inkjet Web Press. This is the system announced in March 2008 and rolled out a year ago at drupa. Now the story has a deeper layer.
Developmental Alliance
HP and ODS have forged an alliance that combines O'Neil's need to begin shifting its offset production to digital and HP's need to continue development on the groundbreaking system before rolling it out to general availability early in 2010. HP and ODS are sharing time on the machine, which is set up to handle just about any type of document it is likely to see in real world production. The system front-end for example, runs a PDF workflow based on the SmartStream servers used for composing photo books on HP Indigo presses, but in this configuration comprises a whopping 48 blades. That's the kind of processing power required to stream print data to a system running at the speed (and width) this device can handle.
Still, with the press by no means in full-time production operation, HP is quick to admit that they are yet to run the system hard enough to get a realistic sense of operating costs and key issues such as printhead life. So those numbers have to wait for another day. Even so, we got to see a few examples of the applications HP has in mind for this press, including books, trans-promo materials and newspapers.
At ODS, the HP press is being used for transactional and some offset replacement applications. Jame Lucanish, president and CEO at ODS sees it as a game changer for his company and his customers. "You can print a full-color, two-up statement and a personalized full-color envelope all at once. Add that to the speed and this can make trans-promotional documents a reality a lot sooner." Lucanish has plenty more in mind, so ODS is a place to watch.
Targeting Books
Books have long been a target of digital presses and as high speed inkjet systems penetrate the market the dynamics of publishing are going to change. HP claims the system fits well for up to 3,000 copies of a given title. This is roughly the same metric used by other purveyors of digital presses who seek to address the book production market and it seems a reasonable figure, but I suspect there's more opportunity between the covers and dust jackets. I have recently seen how that can work at another location in LA, but that's a story for another day.
Print quality from the HP inkjet was adequate for softcover books, even on fine details in charts and graphs. The quality should be fine for the trade paperback publishers this system is initially likely to target. But more importantly, the speed, capacity and color capability of the press offers publishers and book manufacturers the opportunity to change their business models --assuming they have the vision to realize business as usual is not going to work very much longer.
A Digital IBD
The newspaper that was delivered to the hotel room doors of those attending the event was the Tuesday morning issue of Investor's Business Daily. ODS prints the southern California portion of the paper's circulation each day on a venerable, two-level GOSS press. Part of the Tuesday edition attendees received was printed on the old GOSS while part ran on the HP Inkjet Press. The latter section content had some mildly targeted content, showing the potential for this oft-touted attribute of digital newspapers. (Just how well this would work in the real world is a very open question.) On the broadsheets of IBD, print quality was merely okay, but this was partly a function of the thin, relatively low quality paper used by that publication. There were conflicting reports about to what extent ODS will ultimately shift publication of the paper to the digital press, but it was clear that it was certainly within the realm of possibility.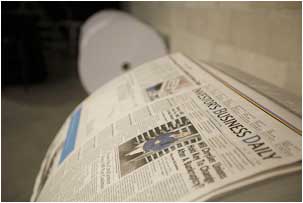 We also got a look at some transpromo documents with color images. Quality was adequate for "business color" applications and similar to that of some high-speed toner systems used for transactional documents, but from what we saw is not yet a threat to offset presses or those of inkjet competitors InfoPrint, Kodak or Océ.
Big Thinking
What the open house clearly demonstrated was the amount of energy and end-to-end thinking put into this system by HP and its numerous partners.
"We are working with a wide range of partners, ranging from pre- to post-press," says Aurellio Maruggi, vice president and general manager for HP high-speed production solutions. "They are addressing the end-to-end needs of a variety of types of customers. The capability of these partners have been a key part of our strategy from the very beginning."
Few existing digital finishing systems, for instance, can keep up with the output of this device, so those at ODS are set up as near-line operations. This might be a little disconcerting for toner-based digital shops accustomed to inline finishing, but for many offset shops this is pretty much business as usual. We saw live examples of what's to come from CMC, EMT, Hunkeler, MBO/EHRET, Muller Martini, Pitney Bowes, Timsons, and Ultimate. It wasn't all totally new stuff, but it shows how the integration with some existing systems can work with the big HP device. And looking ahead, as 30-inch-wide systems like the HP Inkjet Web Press or the Océ JetStream 2800 begin to penetrate the market, inline finishing options may become available for some applications, assuming they can connect without slowing down the press.
Heads Up
A lot of thinking time had clearly been spent on the machine's printheads, which HP terms a Scalable Printing Architecture. There are 140 heads in all, each one 4.5 inches long and sporting 10,560 nozzles. The heads are combined in printbars, each containing seven heads, which span the width of the paper roll to provide a 29-inch print width. Two printbars are used for each color, with their abundant nozzles aligned to provide redundancy and fault tolerance should any clog or misfire. The system has the smarts to know when a nozzle isn't working properly so others can take up the slack. And when that time comes, changing a head is pretty much the same as for a desktop inkjet printer, except that the actual alignment of the new head is an entirely automated process.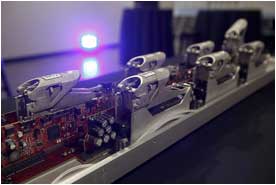 A fifth set of print heads is for the Bonding Agent, a unique HP approach to ensure ink will adhere to a wide range of uncoated stocks. The Bonding Agent, or BA, is applied like an invisible color only where ink will be applied, helping ensure ink adhesion. It's followed by Black, Yellow, Magenta, and Cyan. (BA, K, Y, M, C.)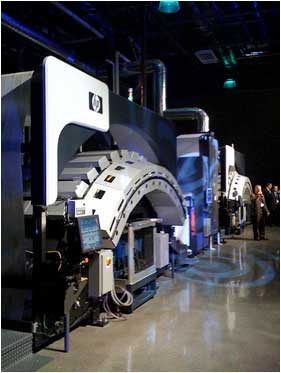 One of the more compelling visual features of the system is the long arch that holds the printheads. But it's not there just for looks. The arch ensures the paper remains under tension as it passes beneath the heads. And there's also space in that arch for two more print bars, either a spot color or possibly MICR ink. Given HP's focus on the commercial side of the market, a spot color would seem more likely and could be a valuable feature. While the thermal head technology used on this device is fine for HP pigmented inks, one has to wonder whether it can be adapted to work with MICR inks which contain incredibly fine metallic particles. Time will tell. Presently, the Océ JetStream family is the only inkjet system that can print using MICR ink.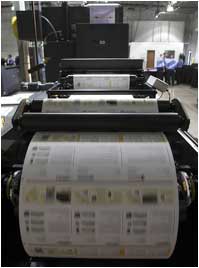 Scalability
One of the most interesting aspects of high-speed inkjet printing is scalability. While shown in LA as a 30-inch wide system, a 40-inch version of HP's Inkjet Web Press is in the works and sources say a narrower version, probably about 20 inches wide, is also likely. Certainly, a narrower width offers an alternative to toner-based machines and the wide one could challenge full-web offset presses. Timing is still unknown. After all, the 30-iinch machine is still under development. "The market will drive print width," explains Maruggi. "the product can be expanded in the direction the market requires."
The Secret Sauce?
A key ingredient for HP is that the company is the sole supplier of virtually all the key elements of the press: inks, printheads, substrates, and servers. And while mechanical sub-assemblies may come from various suppliers, HP builds the press itself. The company claims this total integration is a key advantage in bringing the system to market with the levels of control necessary for a digital print system of this magnitude. This is an arguable point, but that's HP's story and they're sticking to it.
HP says further beta/developmental installations are coming later this year, citing Consolidated Graphics, Courier, and France-based CPI. All see the width and speed of this device as a transformational and game-changing approach for their businesses. It certainly appears to offer print providers a new way to think about what can be done, and the scope of applications that can run on various width inkjet systems shows that these machines are the next waves in a sea change of how words and pictures are put on a page.

Email |

Print |

Order Reprints
Noel Ward is available for speaking engagements and consulting projects. To get more information contact us here.
Please offer your feedback to Noel. He can be reached at [email protected].
Noel Ward is a consultant, editor, speaker, and author with over 20 years of experience in digital printing and marketing communications. His primary focus is on helping companies use digital printing as a driver for business growth, productivity and efficiency.
Noel uses this industry knowledge and understanding when creating and producing corporate videos, white papers, case studies, and speeches for industry-leading printing equipment and software vendors. He is Executive Editor of OnDemandJournal.com, and Director of Trade Show Coverage for WhatTheyThink.com. Formerly editor-in-chief of three printing magazines, Noel has written hundreds of articles and columns on industry trends, digital printing technology, and how print providers can develop strategies for applying digital technology in their businesses and print operations. He has been a guest lecturer at Rochester Institute of Technology and is co-author of the book, Hiring and Managing for the 21st Century Print Shop.
A believer in using technology to gain efficiencies and competitive advantages, Noel's business motto is "If you're not the lead sled dog, the view doesn't change."
WhatTheyThink Full Disclosure Statement: Our editors work with several companies within the industry and may have ongoing projects or discussions with companies named in articles. These companies play no role in the direction of these articles. The views expressed by our contributing writers are their own and may not reflect those of WhatTheyThink.com. WhatTheyThink.com may have formal business dealings with companies named in Premium Access articles. However, these relationships play no role in the editorial content at this site. See our complete editorial policy by clicking here.