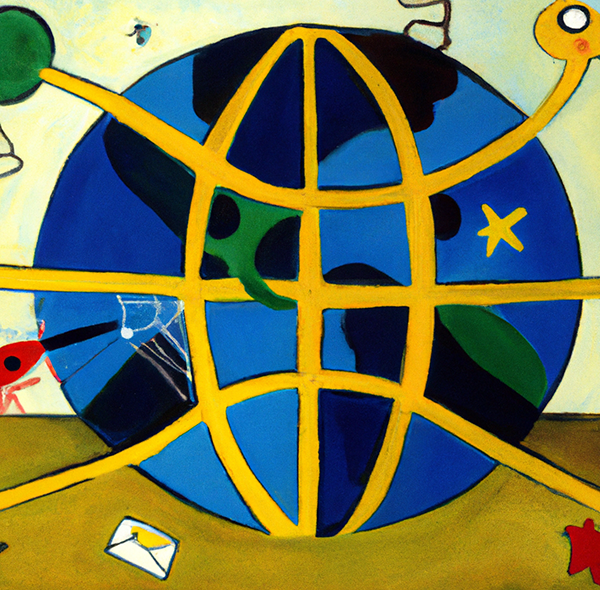 The Kindness of Strangers
Monday, November 13, is World Kindness Day and while our Newsfeed recently featured Signarama's Kind Sign Collection, other graphic arts pros are seeking to help make the world a kinder place—at least for a day. Via Print magazine, Fight for Kindness aims to highlight kindness through typography. What does that mean? Designers were encouraged to submit artwork that contains an inspirational message for a more empathic, inclusive and positive world.
This year's response has been overwhelming. The team received 300 entries using 11 different scripts and languages created by illustrators and visual artists from around the globe.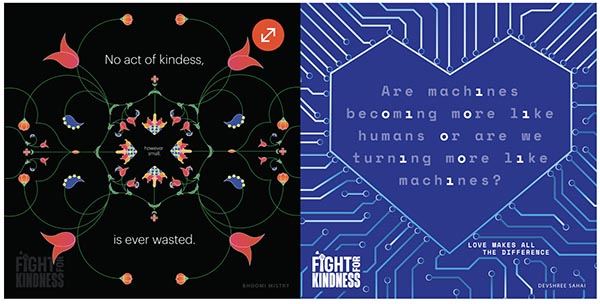 View the online poster gallery of this year's submissions.
L'Eggo My Logo
Earlier this year, to commemorate its 125th anniversary, International Paper underwent a rebrand, to "align with its strategic vision to Build a Better IP through sustainable, profitable growth and accelerated value creation." However, Lynda Decker at Print magazine is unimpressed:
The original International Paper logo, designed by Lester Beall and Richard Rogers in 1960, is emblematic of mid-century modernism. It is an ingenious combination of the letters "I" and "P" with a pictogram of a tree. Its utility, whether spray-painted on trees or printed on reams, is a testament to its functional brilliance.

And the new logo is:

So what's the problem?
The Beall logo's pine tree was a visual haiku; the new design, comprising eight rounded parallelograms (representing the negative space between tree branches), is a baffling riddle. Intended to symbolize progress and environmental consciousness, these concepts are lost in translation.
…The company's decision to abandon a logo considered one of the best, without a clear explanation, represents a concerning disregard for over six decades of brand heritage. The old logo's connection to the product and its wide recognition are assets that the new design fails to capitalize on. The entire effort feels like a C-Suite vanity project.
International Paper's rebranding serves as a poignant example of the intricate balance between innovation and tradition in logo design. The company's shift seems to disregard the powerful legacy of the classic logo while failing to provide a compelling or clear new visual identity.
Think about it, won't you? Thank you.
And So On
Via Laughing Squid, Patrick Foote of Name Explain traces the origin of the ampersand—aka the "and" sign (&).
The Latin word for "and" was simply et. This is still the French word for "and" too. …..Ampersand started life as the e and t of ET being mushed together into one character before becoming the symbol it is known as today.
Slugfest
Here is a fashion design trend we never saw coming: snails. Yes, apparently the gastropods have been oozing along fashion runways and insinuating themselves into design motifs. Says the New York Times:
In September, at Prada's spring 2024 women's show, models walked between translucent curtains of pink slime that dripped from the ceiling and pooled on the floor. The brand referred to them as "fluid interruptions," a concept that was echoed in the collection's flowing organza dresses and fringed skirts. Above all, though, it evoked the secretions of a snail, an animal that has recently been crawling into the realms of design and fashion.
Part of the snail appeal is that it moves through the world slowly—a refreshing tonic in an accelerated age. It is also an environmental statement as at least 1,100 species of land snails are on the endangered list…
so it's only natural that the fashion companies celebrating snails in their designs are usually those that limit waste or rely upon recycled materials: The British label Story Mfg. sells crocheted, snail-encircled hats made with organic cotton yarn and plant-based dyes. Online Ceramics, the company known for its small runs of psychedelic T-shirts, collaborated with the North Face to produce a recycled nylon rain jacket printed with a smiling snail.
And related to snails are slugs, which are just snails that have evolved away an external shell, and they're getting some fashion love as well.
The New York-based ceramist Marc Armitano Domingo, 27, makes gold-rimmed porcelain plates with three-dimensional versions trailing iridescent lines of slime. For her solo show at New York's Deli gallery in September, the London artist Anousha Payne, 32, arranged maroon ceramic mollusks in a spiral on one wall.
So would a male model sporting snail-themed fashion be considered a "snail male"?
The Shipping News
Do you like shipping containers? Do you think they would make a great interior design aesthetic? If so, check out the Container DS series of storage cabinets, by German furniture brand Magazin, which was inspired by shipping containers. Via Core 77:
"Synonymous with storage and transport: the container with its archetypal surface made of folded steel. We offer this cabinet furniture in the miniaturized form of overseas containers in four different versions."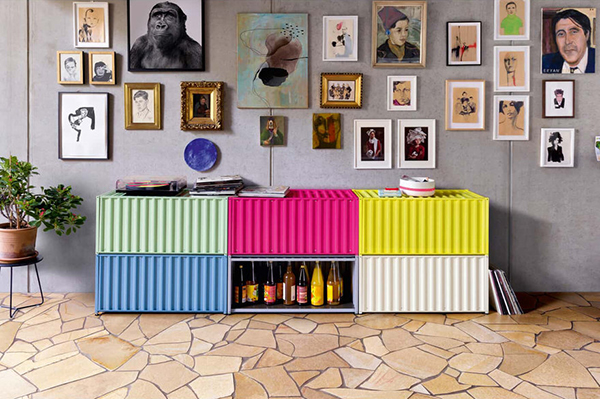 They are available in all sorts of configurations. And they're probably great of you move a lot. Check out the full collection here.
Rat App
If you live in a major city, chances are you rely on mass transit to get around, and may even rely on transit apps to plan your routes, check train/bus statuses, etc. In New York City, many subway riders use the Transit app which has added a new feature: a rat detector. Basically, it's a rodent-centric crowdsourcing tool. Or would that be ratsourcing?
More than 1.2 million New Yorkers use Transit every month to get around, relying on features like GO, our step-by-step navigator.
GO tells you when to leave for your stop, when to transfer, and more. When we detect that you've arrived at a subway station? We ask if you see any rats.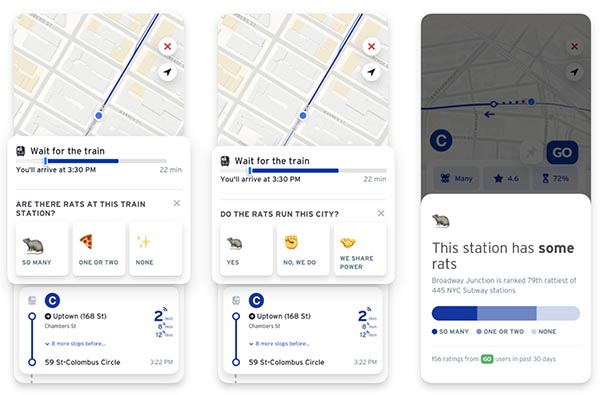 The app also offers a "Ratistical Analysis" of the rattiest subway stations (191 St.) and a "Rat(e) My Ride" feature to report transit quality. Now, if you happen to like rats, this could be a useful guide to tell you where to go.
Cover Story
Let's see if we can spot the over-50-year-olds out there. Does this guy look familiar?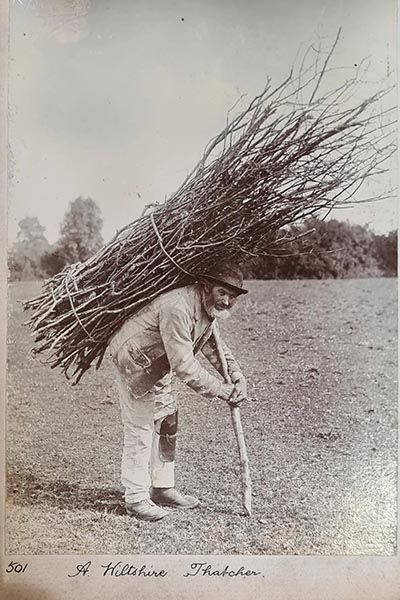 Maybe putting it in context might help: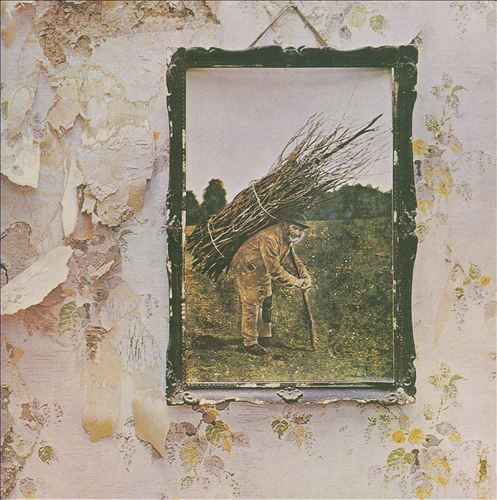 Yep, he was the star of one of the most iconic covers of one of the most iconic albums of all time, Led Zeppelin's fourth album (spoiler alert: it's the one with "Stairway to Heaven"), often referred to as Led Zeppelin IV—the official title was actually the famous four symbols which referred to the bandmembers themselves (hey, it was the 70s).
Earlier this year, a researcher named Brian Edwards was browsing through an album of Victorian-era photographs when he came across the image at the top of this item. He thought it looked familiar. And, yes, as a long-time Zeppelin fan, it soon came to him. Says the New York Times:
This was indeed the image on the cover of one of the most epic musical releases of his teenage years. He then called the Wiltshire Museum, where he curated an exhibit in 2021.
The museum bought the photo album for 420 pounds (about $515), according to the auctioneer's website.
As Zeppelin lore goes, the image used for the cover was found by Robert Plant and/or Jimmy Page in an antique store in the village of Pangbourne. That image—as you can see on the cover—had been a hand-colored version of the original photograph, which had seemingly been lost. Until Edwards came across it in a photo album.
Based on that information, Mr. Edwards researched the origins of the photo album and was able to conclude that the photographer was a man by the name of Ernest Howard Farmer.
… Because the photographer, Mr. Farmer, was also a teacher, Mr. Edwards said, one plausible theory is that he used the picture to teach colorizing to his students. One of those versions may have ended up in a frame in an antique shop. That colorized version of the picture seems to have been lost.
And who was the actual guy? His name was Lot Long, a Wiltshire roof-thatcher who was 69 at the time and probably never figured in a million years that his photo—if not his roof-thatching—would end up in millions of homes.
Edwards announced his find on Wednesday, November 8, the 52nd anniversary of the album's release.
Now, as for Houses of the Holy…
A Font Is Born
In somewhat more contemporary music news, indie rock band Wilco have released a unique kind of merch. Not content with T-shirts, baseball caps, or hoodies, they opted to release…their own typeface. Says Pitchfork:
Made with SimpleBits, Wilco Loft Sans is an "all-caps, high contrast sans serif," the band says on its store. They also shared a custom icon for each band member, based on an instrument they play at Chicago venue The Loft, which hosts the Guitar Fun sign that inspired the font.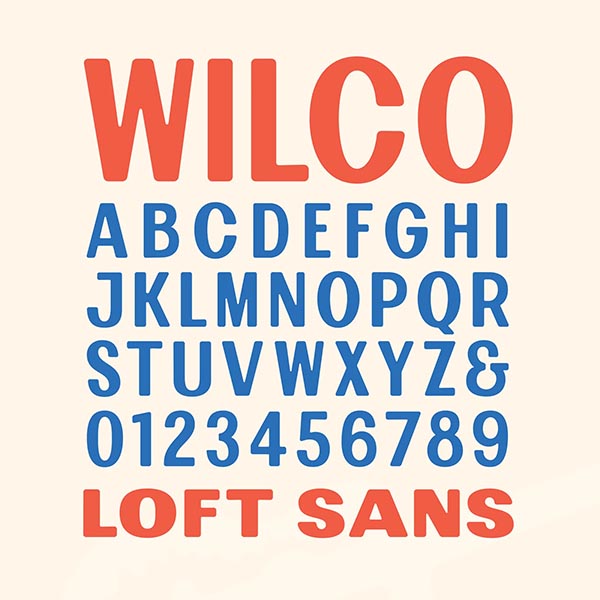 Only $30, cheaper than many bands' T-shirts, baseball caps, or hoodies.
Graphene See the Light
Was it a good week for graphene news? It's always a good week for graphene news! Researchers used light to accelerate proton transport through graphene. From (who else?) Graphene-Info:
Proton transport is a key step in many renewable energy technologies, such as hydrogen fuel cells and solar water splitting, and it was also previously shown to be permeable to protons. The recent study has shown that light can be used to accelerate proton transport through graphene, despite the fact that it was previously thought that graphene was impermeable to protons. The researchers found that when graphene is illuminated with light, the electrons in the graphene become excited. These excited electrons then interact with protons, accelerating their transport through the material.
Exciting news!
A Little Bit Mondrian
Interesting new design for auditorium seating, via Core 77:
This Mono auditorium seating is by Finnish industrial designer Philip Kronqvist.
"MONO chair appears as a rectangular case and opens up into a back, seat and armrests in only one movement of the hand. When closed, the chair is only 12 cm deep. The seat is spring-loaded, and returns to the casing simultaneously with the backrest and armrests."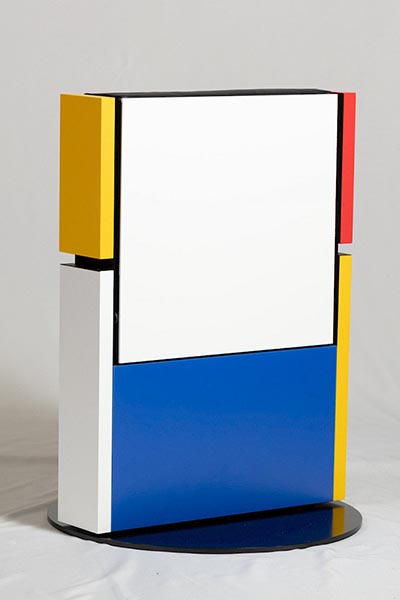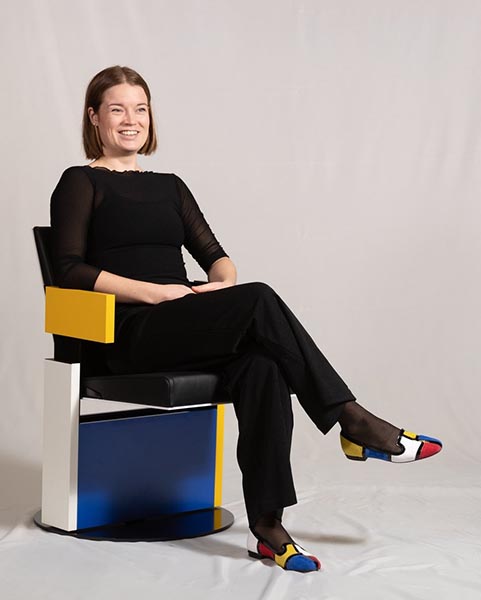 This would have been perfect for Partridge Family concerts.
Our Dystopian Future Part the First: "Oops"
You've heard of "The Man Who Mistook His Wife for a Hat"? Well, robots can do even better. Here's a telling headline from the Daily Beast: "Robot Kills Man After Mistaking Him for Box of Vegetables."
A robot meant to lift boxes at a pepper sorting plant in South Korea mistook a man for a box of vegetables and crushed him…
The man in question was actually an employee of the robotics company performing a diagnostic test on the 'bot.
As the employee worked late into the night to make sure the robot would function smoothly, the robotic arm grabbed him and forced him onto a conveyor belt, crushing his body.
Supercalendaring
It's almost time to break out the advent calendars and see if you can make it through the entire month without eating and/or drinking all the items in it in one sitting on December 1. As always, Aldi doesn't make it easy, and has a whole slew of advent calendars available this year. Says Food & Wine:
If you love tiny servings of cheese and chocolate, you're in luck, because the German retailer is bringing back those customer faves, and it also has four booze-filled calendars too, with more on the way as the Big Day gets closer.
Some of the food-and-beverage focused calendars for this year include the Barissimo Coffee Advent Calendar ($13.99), Bay Island's popular Hot Sauce Advent Calendar ($14.99), Choceur's chocolate-filled 24 Day Advent Calendar ($8.99), Choceur Kids Advent Calendar ($1.49), the Emporium Selection Advent Cheese Calendar ($16.99) and the Moser Roth Luxury Advent Calendar ($15.99) for those who like posh chocolate.
As for the calendars you may be more interested in:
The Beer Advent Calendar (listed at $49.99, although the actual price of the calendars may vary by location) contains two dozen 12-ounce cans of 12 different brews, including six different varieties of ale, one Hefeweizen, seven IPAs, three Lagers, three Pilsners, one Porter, two stouts, and a Cherry Kolsch.
Aldi's Holiday Magic Wine Advent Calendar ($59.99) contains 24 different kinds of wine, each in a 187 mL (6.3 ounce) bottle. This year's selection includes over two dozen varietals and blends from Bulgaria, France, Hungary, Italy, Portugal, Romania, and Spain. The store also offers a Make It Sparkle Sparkling Wine Variety Pack ($29.99), which includes six 200 mL (6.76 oz) bottles of six French sparkling wines.
Finally, cider lovers can try to score the Wicked Grove 12 Days of Cider - ($19.99), which is filled with a dozen 12-ounce bottles of cider, including three apple flavors, Berry Ginger, Blueberry, Cinnamon, Cranberry, Pear, Pineapple, Raspberry, Rose, and Spiced Plum versions.
Remember, though, as the man once sang, "the Christmas Spirit is not what you drink."
This Week in Printing, Publishing, and Media History
November 6
1814: Belgian-French instrument designer and inventor of the saxophone Adolphe Sax born.
1869: In New Brunswick, New Jersey, Rutgers College defeats Princeton University (then known as the College of New Jersey), 6–4, in the first official intercollegiate American football game.
1935: Edwin Armstrong presents his paper "A Method of Reducing Disturbances in Radio Signaling by a System of Frequency Modulation" to the New York section of the Institute of Radio Engineers—basically inventing FM radio.
1947: Meet the Press, the longest running television program in history, debuts.
1958: American actor, puppeteer, producer, comic, and screenwriter Trace Beaulieu (Mystery Science Theater 3000) born.
November 7
1665: The London Gazette, the oldest surviving journal, is first published.
1837: In Alton, Ill., abolitionist printer Elijah P. Lovejoy is shot dead by a mob while attempting to protect his printing shop from being destroyed a third time.
1874: A cartoon by Thomas Nast in Harper's Weekly is considered the first important use of an elephant as a symbol for the United States Republican Party.
1897: American director, producer, and screenwriter Herman J. Mankiewicz (Citizen Kane) born.
1913: French novelist, philosopher, journalist, and Nobel Prize laureate Albert Camus born.
1914: The first issue of The New Republic is published.
1929: The Museum of Modern Art opens to the public in New York City.
1943: Canadian singer-songwriter and guitarist Joni Mitchell born.
1967: U.S. President Lyndon B. Johnson signs the Public Broadcasting Act of 1967, establishing the Corporation for Public Broadcasting.
1981: American historian and philosopher Will Durant (The Story of Civilization) dies (b. 1885).
1994: WXYC, the student radio station of the University of North Carolina at Chapel Hill, provides the world's first internet radio broadcast.
2016: Canadian singer-songwriter and poet Leonard Cohen dies (b. 1934).
November 8
1602: The Bodleian Library at the University of Oxford is opened to the public.
1674: English poet and philosopher John Milton dies (b. 1608).
1847: Irish novelist Bram Stoker (Dracula) became undead born.
1898: Canadian-American actress and singer Marie Prevost born. (Despite the story in Kenneth Anger's Hollywood Babylon (and a song by Nick Lowe) Prevost was not eaten by her dog.)
1918: German typographer and calligrapher Hermann Zapf born.
1972: HBO launches its programming, with the broadcast of the 1971 movie Sometimes a Great Notion, starring Paul Newman and Henry Fonda.
1973: The right ear of John Paul Getty III is delivered to a newspaper together with a ransom note, convincing his father to pay US$2.9 million
November 9
1818: Russian author and playwright Ivan Turgenev born.
1914: Austrian-American actress and inventor Hedy Lamarr (not Hedley) born. (During World War II, Lamarr and composer George Antheil developed a radio guidance system for Allied torpedoes, unused at the time, but the principles of which were incorporated into Bluetooth technology and are similar to methods used in legacy versions of CDMA and Wi-Fi.)
1934: American astronomer, astrophysicist, and author Carl Sagan born.
1953: Welsh poet and author Dylan Thomas dies (b. 1914).
1967: The first issue of Rolling Stone magazine is published.
November 10
1728: Irish novelist, playwright and poet Oliver Goldsmith born.
1947: English singer-songwriter, guitarist, and producer Greg Lake born.
1969: National Educational Television (the predecessor to the Public Broadcasting Service) in the United States debuts Sesame Street.
1983: Microsoft introduces Windows 1.0.
November 11
1675: Gottfried Leibniz demonstrates integral calculus for the first time to find the area under the graph of y = ƒ(x).
1821: Russian novelist, short story writer, essayist, and philosopher Fyodor Dostoyevsky born.
1855: Danish philosopher, author, and poet Søren Kierkegaard dies (b. 1813).
1922: American novelist, short story writer, and essayist Kurt Vonnegut born.
November 12
1945: Canadian singer-songwriter, guitarist, and producer Neil Young born.
1980: The NASA space probe Voyager I makes its closest approach to Saturn and takes the first images of its rings.
1990: Tim Berners-Lee publishes a formal proposal for the World Wide Web.