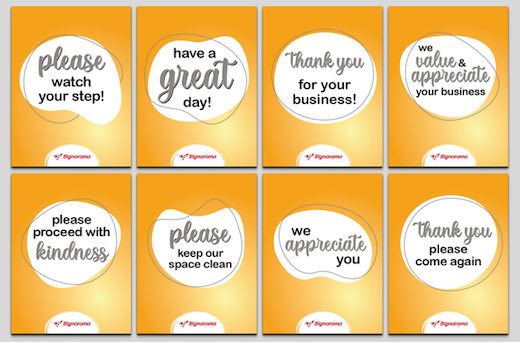 A Kindness Movement Inspired by Much Needed Signs of Our Time
WEST PALM BEACH, FL – Signarama, the world's leading sign and graphics franchise, created The Kind Sign Collection to help businesses, schools and community organizations join the growing movement to make the world a better place by connecting people through kindness. The Kind Sign Collection will debut on World Kindness Day, November 13, and will be available at Signarama locations nationwide.
Signarama's Kind Sign Collection is designed to inspire positive feelings and encourage people to keep passing them on. The collection features eight new signs, leveraging compassionate phrases such as "We appreciate you" to "Please proceed with kindness" to "Thank you for your business!" Businesses and consumers are encouraged to join the movement by using the hashtag #kindsign when they use or see a sign that promotes positivity through compassionate phrases.
"It's amazing how reading a few positive words, even more than hearing them, can change your day. We want to give that feeling to as many people as possible," said A.J. Titus, President of Signarama and Starpoint Brands. "With our network of stores and the creativity and skill of our production teams, we can offer engaging signage beyond this collection that communicates the message that kindness is everyone's business. We hope our Kind Signs Collection will also kickstart a movement that inspires compassion and caring in every community."
Researchers have found a strong connection between kindness and health (both physical and mental). According to research released by the Mental Health Foundation, acts of kindness can make the world a happier place for everyone by boosting feelings of confidence, being in control, happiness and optimism. Acts of kindness may inspire people to "pay it forward" by repeating the kindness they experienced – all of which contributes to a more positive community.
Signarama is a member of Starpoint Brands, a constellation of trusted, award-winning brands that provide products and services known for quality, reliability, and value.
For more information on purchasing the Kind Sign Collection for your organization, visit www.signarama.com