Missed WhatTheyThink's Fourth Annual Technology Outlook Week? We'll be sharing the highlights in trends, technologies, and products from our Tech Outlook presentations on labels and packaging, software and workflow, wide format and signage, textiles and apparel, and finishing.
Today we kick off with coverage of the first presentation, "A Framework for Automation," sponsored by Canon, covering commercial digital printing hardware. This session was moderated by Richard Romano and presented by WTT European section editor and Inkjet Insight contributor, Ralph Schlözer. (You can watch the entire webinar here.)
Schlözer opened with a look at cut sheet and continuous inkjet placements and forecasts.
Cut Sheet Inkjet Placements
According to IT Strategies, cut sheet inkjet placements have seen, and will continue to see, significant growth between 2020 and 2028. This includes the pandemic years of 2020-2021.
Schlözer notes that growth is projected in all categories—A3, B1, B2, and B3. In the A3 market, OEMs will drive the lower volume placements, targeting shops producing a wide mix of business and publishing applications. In the B3 market, placements will increasingly move into commercial, driven by higher quality output and support for coated paper.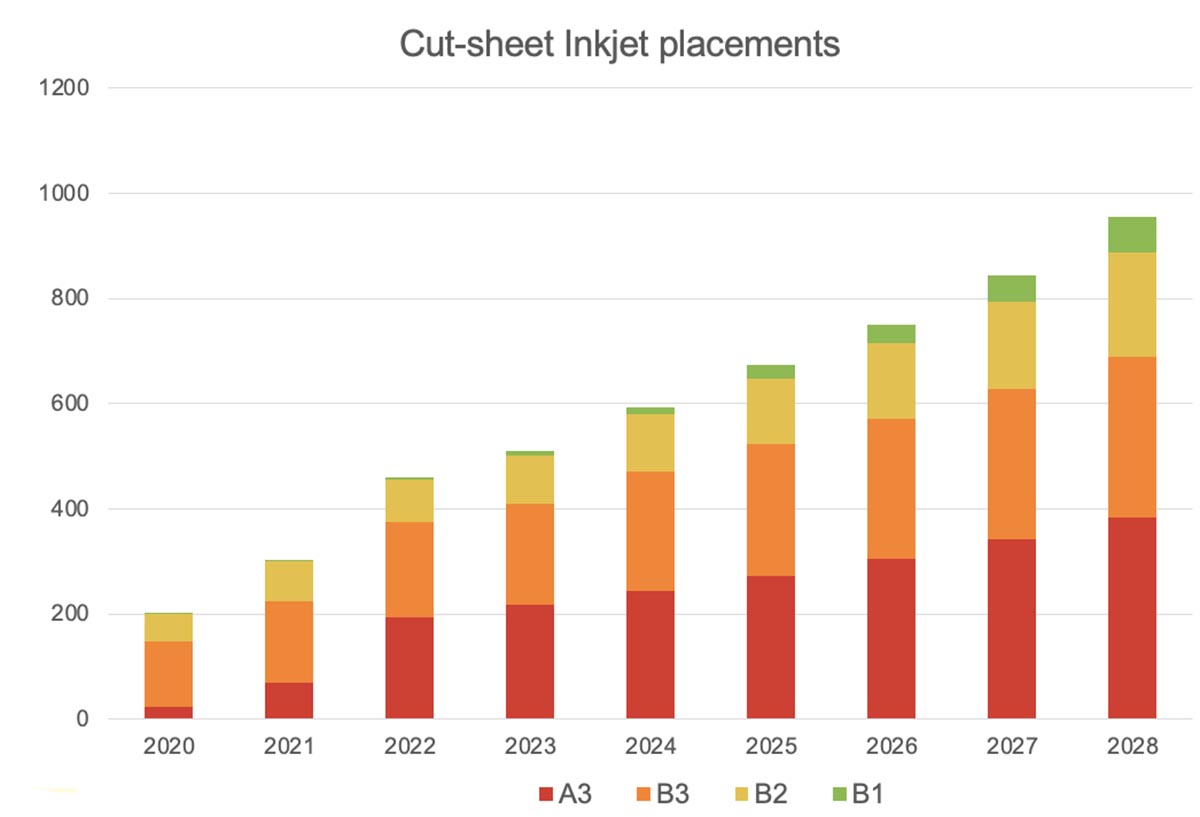 Data based on the number of engines.
Source: IT Strategies
CF Inkjet Placements
On the continuous inkjet side, Schlözer pointed to a market that has reached maturity (with a peak of 611 engines sold in 2017) but that continues to grow. Towards of the end of the IT Strategies forecast, he notes continued growth in all segments, although not reaching 2017's high. This growth is expected to come primarily from larger format devices, as more options come into that market.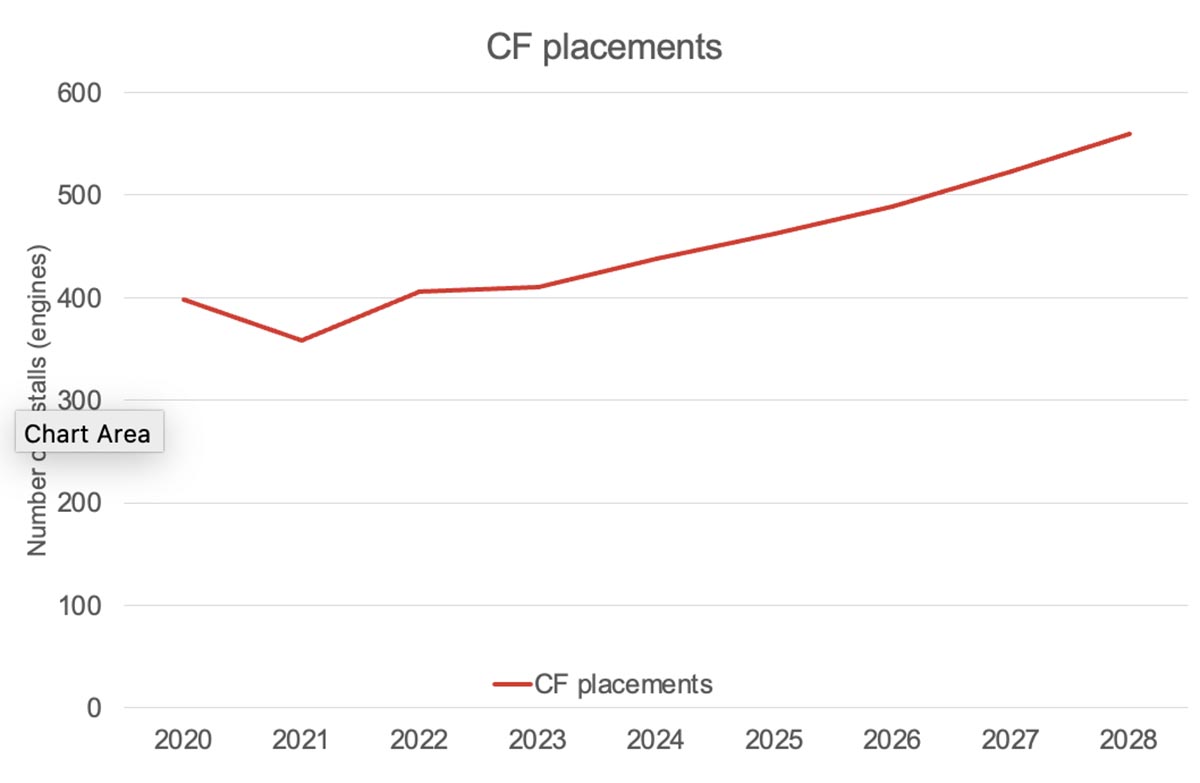 Source: IT Strategies
"Despite the CF placement numbers being relatively flat, it's important to point out that these machines have long lifetimes, much longer than probably even the manufacturers of these devices expected," notes Schlözer. "Even when the growth numbers slow, the installed base overall continues to grow."
As the commercial printing market for CF inkjet continues to mature, Schlözer sees most of the installation activity moving toward labels and packaging, as well as industrial and decor printing. "
"Even so, inkjet volume will continue to chip away at [commercial] offset," he says, "even if it's at a slower pace."
Key Hardware Launches
Looking to the last 12 months, Schlözer noted that the number of launches has been limited as the commercial market reaches a level of maturity. Activity remains higher in labels and packaging, as well as, to a lesser extent, industrial and décor printing.
In the past 12 months, there have been three primary product launches:
Canon ProStream 3000 (replacing the ProStream 1000 series). The ProStream 3000 offers two speeds: 133 m/min or 80 m/min (436 fpm or 262 ipm); reduced setup and service times; lower energy consumption; and improved splice handling. It also offers a completely new dryer design, wider paper range, and improved speed for heavy stocks. These improvements have allowed the machine to take up a smaller footprint, reducing the machine's energy requirements and making it more competitive.
"It is available now," says Schlözer.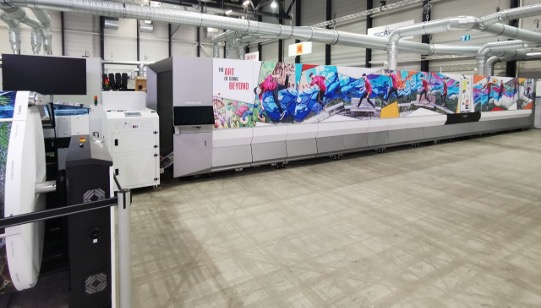 Canon ProStream 3000
HP Advantage 2200. This machine, too, is completely redesigned. It offers a high-quality mode at 500 fpm / 152 m/min and one to three dryers, giving users a lot of flexibility. The Advantage 2200's Smart Workcell Controller enables intelligent batching and imposition. The redesign also offers new, innovative web handling and relocated printing bars that enable the machine to be very compact.
While the machine's specs are similar to previous HP Advantage two-up models, Schlözer notes that if you stand in front of the device, the redesign becomes apparent. "It really is a completely different kettle of fish," he says. "With the variability and the dryer design, it's highly flexible in the types of applications that can be served."
The Advantage 2200 can now offer the full speed in the high-quality mode as well, which will serve the growing demand for the commercial side of the inkjet market. "So it's not just about the specs," says Schlözer. "It's really important to have a look at the device itself."
The HP Advantage 2200 is also sold by Bluecrest as the Intellijet.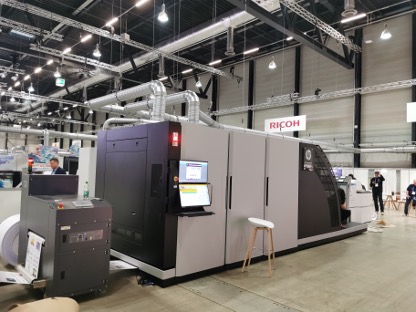 HP Advantage 2200
Kodak Prosper 7000. The Kodak Prosper 7000 offers speeds of 410 mpm or 1345 fpm (5,523 ipm in turbo mode). Schlözer notes that, while not having the productivity of a four-up press, in terms of pure web speed, the Prosper 7000 is now the fastest CF inkjet press on the market. It also has a wide range of paper options, including both coated and uncoated papers from 42 to 270 gsm.
With a maximum resolution of 600 x 900 dpi at 650 fpm, Schlözer sees the Prosper 7000 really shining in the high volume end of the market (with the first installation going to Mercury Print).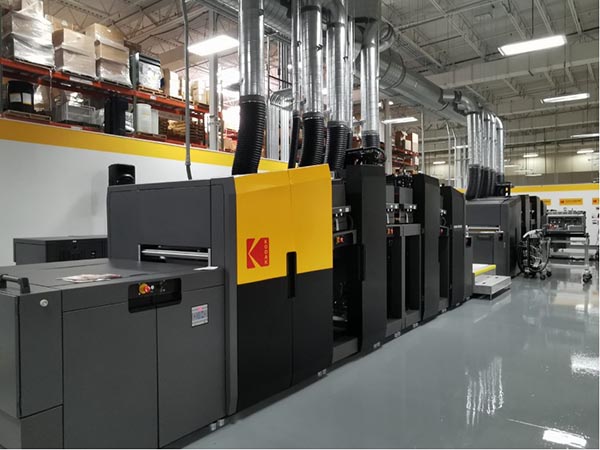 Kodak Prosper 7000
Cut-Sheet Launches
On the cut sheet side, Schlözer noted that Hunkeler innovationdays saw the launch of the MGI AlphaJet (although the press was officially launched in October 2022), primarily for specialty applications, and the first showing of the Ricoh Z75, with availability and beta sites in Japan. RISO also introduced its upgraded Valezus high-end A3 printers with faster speeds (330 ipm, up from 320 ipm) and a single-engine version.
Other launches include:
HP PageWide T485 HD (new inks and heads)
Kodak UltraStream 520 (shown publicly for the first time)
Ricoh Pro VC70000e (shown publicly for the first time)
Miyakoshi MJP20EXG (two-up, compact and affordable). "Currently, this is available only in Japan, but Miyokashi machines tend to pop up under OEM names later on," says Schlözer.
Schlözer noted that there were also launches from several Chinese manufacturers shown earlier, at China Print 2023.
EP Developments
On the EP side, Canon showed its new imagePRESS V-Series, which replaces the old imagePRESS Series launched in 2006. "Canon has now launched this new top speed of 135 ppm, putting it in the same category as devices from Ricoh, Fujifilm, Xerox, and Konica-Minolta," says Schlözer. Specs include 2400 x 2400 dpi imaging, new fusing and cooling, and ability to handle heavier papers up to 400 gsm.
Announced in October 2022, the press is now available. Canon has launched more light production models, as well.
Canon imagePRESS V-Series
Also new in EP:
Fujifilm's light production color machine, the ApeosPro C-Series. ("Although previous editions were sold under the Xerox PrimeLink name, this version is exclusive to Fujifilm," says Schlözer.)
Konica Minolta AccurioPrint 850i and 950i for mono light production.
Xeikon SX20000/30000 (Sirius), previously announced but shown in action for the first time at Hunkeler innovationdays. The machine has improved speed and quality.
Don't like any of these? Then look to Memjet's DuraBolt, which allows printers to build their own. Features include:
Inkjet solution out of the box, including inks, fluid, and maintenance system, electronics, DFE.
Can be purchased directly from Memjet.
Process color up to 324/12.7" width.
Monochrome print bar up to 990mm/39".
Resolution up to 1600 x 1280 dpi.
Speed settings from 68 m/min (225 fpm) to 137 m/min (450 fmp).
Pigment ink.
"There are plenty of custom integrators out there now," says Schlözer. "Printers have more options than ever."
Keep an Eye on Fujifilm
Schlözer rounded out the section by encouraging the audience to keep an eye on Fujifilm in the digital printing space. While the company has historically supplied EP hardware to Xerox, after ending its resales agreement with Xerox in 2019 and renaming as Fujifilm Business Innovation, it now offers a broad range of digital presses, including commercial inkjet, commercial EP, LFP, packaging, industrial, and custom integration, and is scaling up its sales and service around the world. This includes in the UK.

'
FujiFilm JPress
Schlözer also expects to see new launches from Fujifilm in European markets. This includes the B2 Revoria, the first dry toner B2 press. Speeds are planned at 2,500 sph with a target volume of 300k/month and space for six colors.
"Word is that the B2 Revoria will be more affordable than the inkjet B2, although with slightly slower speeds and lower volumes, and with the option to go up to six colors," says Schlözer. This includes metallics or specialty toners. "This really sets the EP devices apart from inkjet: the ability to do these kinds of specialty colors."
Not shown but talked about were two Fujifilm CF devices based on the JetPress inkjet imaging engine using new inks and a different web transport (currently being sold in the AP market). Also look for an announcement on the CF side, focused on offset coated paper for the high end commercial market, this fall.
It's All About Automation
Finally, Schlözer turned to the subject of automation. While not a new trend, he pointed out that it is become all the more pressing in light of the industry's labor shortages. He noted how, over time, the emphasis has shifted from automating individual elements of the machine itself to automation of the entire production line.
"That was really the topic of the Hunkeler innovationdays this year," he says. "In fact, I believe that is that the most important topic in commercial printing hardware right now. It's not just automation of the machine itself. It is optimizing the whole chain, from job creation to end customer and everything in between."
Giving a nod to workflows like JDF that never really took off, he added, "Today, it's being taken more seriously. Vendors will continue to bring out solutions that work in mixed environments and stand the test of real production."
What are the automation technologies Schlözer sees as key?
Vision Systems for high-end inkjet presses. This includes all of the automation wrapped around them, including software and AI for improved setup and problem-fixing.
"There are precious few facts about what improvements these systems offer in real numbers," Schlözer acknowledges. "But it's a good sign that they are becoming more and more a standard on the high quality inkjet presses and at least an option on the others."
Auto-splicing for improving efficiency. "The presses themselves are getting prepared to handle the splices better. This is a sign that optimization is happening across the board," says Schlözer. "It's not just enough to have an auto splicer. You also have to be able to process that in the printer and the finishing line. So we're seeing automation all across the process."
Robotics. Schlözer points to companies like Bobst, MBO, Heidelberg, and Komori that are putting more focus on robotics (on the packaging side, Bobst recently acquired a robotics company). As an example, he pointed to Hunkeler's sorting system for its book finishing lines. "We see all sorts of robotics — sometimes with a little arms grabbing stuff, but also sorting in trays and helping to cut down on the logistic steps in between," he says. "Of course, all of that requires all of the software and the control options in between."
Looking Forward
So what's coming up? Here's Schlözer's forecast:
New players continuing to enter the market for both EP and inkjet.
While CF inkjet matures, options for cut sheet inkjet will continue to grow. Look for the A3/B3 inkjet choices in the shorter term, with B2/B1 coming, but with a longer ramp up. (Even drupa 2024 might be too soon.)
Print quality has arrived and will no longer be a discussion point.
Increasing focus on environmental properties, including trackability and C02 accounting; bringing waste to zero; reducing drying energy; and supporting environmentally friendly materials. "Brands, publishers and governmental entities are increasingly putting pressures on printers in this area," says Schlözer. "Even if printing will never be fully carbon-neutral, the trackability will need to be there — to be able to show improvements and how to mitigate the impact."
Continued improvements in the supply chain, but with prices remaining high.
Automation will remain in focus, especially connecting all process steps.
"Automation will remain focus for a variety of reasons already discussed, especially connecting all the process steps," Schlözer concludes. "This means not only optimizing a single device, but looking at the whole chain. This will really drive the total uptake of digital printing and drive opportunities in a competitive media market with a wide range of applications."