The number of players jumping into the AI copywriting game is exploding. In addition to the Big Gorillas ChatGPT, Copy ai, and Jasper, other notables include Microsoft, Google, and Grammarly. Then there are the smaller players like AI Writing Assistant and Notion AI, all playing in the arena of general copywriting. That's why Hoppy Copy grabbed our attention.
Unlike these other players, Hoppy Copy isn't trying to be everything to everyone. Its focus is on creating sales and marketing copy for email, social media, and newsletters. The potential for PSPs is intriguing. PSPs are already producing these applications. Helping customers make them better and more engaging is a natural next step.
Recently, we had an opportunity to sit down (virtually) with Josh Bluman, co-founder of Hoppy Copy, and get some more insight and background into this interesting upstart.
WhatTheyThink: When did you start Hoppy Copy and how did it come about?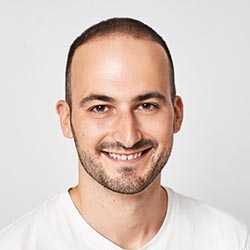 Josh Bluman: About a year ago. At the time, some large companies like Jasper and Copy AI were already doing well. My background is in marketing, and I had tried using their tools and was impressed with how far and fast the technology had come. I wondered, "Is there a niche here where people aren't doing things as well, where I can build a product that solves a very specific problem?"
As I thought through that, email marketing seemed like a great niche to tackle. It is something that so many businesses struggle with, but none of the tools at the time really did a good job of producing it. Businesses know they need email marketing, but they don't know where to start, what to include, when to send, or what tone to use. I thought, "What if we could build something that would solve this problem?" So I built a product that I would want to use myself and would want my team to use.
WTT: How did you find the AI expertise to develop the platform?
JB: Once I decided I wanted to jump into this arena, I located a forum for startups. I posted who I was, my background, and that I was looking to do. I got a surprising number of responses. I chatted with a few, and one of them—now my partner—felt like a very natural fit. Our discussions focused less on how we could work together in the future and more on how we could start collaborating right now. So we started building something, and we had a prototype within a surprisingly short period of time.
WTT: You started building a product without a contract?
JB: Yes, it was a risk. However, after just a few weeks of working closely with someone, you can gauge whether the partnership will be successful or not. We started brainstorming, constructing the product, and gathering feedback from users. Within a few weeks, we had a prototype. Eventually, we were like, we have something here, let's formalize this. It was super organic.
WTT: What was the specific need you were addressing?
JB: Streamlining the process and making it more intuitive to use. Based on the models we use and how the user can customize it, we're getting very different results from other platforms. Plus, it eliminates much of the learning curve. If you want a certain result out of ChatGPT, you have to learn how to ask the right questions and give it the right prompts. Not everyone has the time or the ability to figure out how to do that. We have templates that guide you toward the right results right out of the gate. We have other tools integrated into the platform, as well, such as spam check, team collaboration, and competitor monitoring so you can see and learn from what your competitors are doing.
WTT: How can you possibly know what other companies are emailing?
JB: We have a way to subscribe to their lists and collect more emails than anyone could typically on their own. Then you can take the results and organize, sort through, and analyze them all in one place. Now that we have been doing this awhile, we have access to their historical emails, as well. If you want to do a Valentine's Day email, for example, you can look at all the previous campaigns in our database.
WTT: Kind of like Who's Mailing What! for email?
JB: Yes, exactly. Plus, we have a document editor, which Chat GPT doesn't have. If you need to quickly make edits, you can do that. You might tell the platform, "add emojis" or "make the content more engaging." You can also tweak only certain sections of the content by highlighting them.
WTT: What about print applications like direct mail or brochures? Isn't that sales copy, too?
JB: Absolutely. We're already offering a sales letter template, so whether you use that for email or a printed letter doesn't matter. Hoppy Copy provides text, so you can use it anyway that you want. All direct marketing has a similar tone and style. You could use the copy for pretty much anything, including direct mail, brochures, catalogs, postcards.
WTT: What about more technical content? AI does seem to struggle with the nuances of industry-specific copy.
JB: That's why you always want the person using any AI copywriting platform to have the ability to look at the copy, evaluate it for accuracy, and have the skills to tweak it if necessary. AI writing tools are just that—tools. They make things faster and more effective and engaging, but they aren't a replacement for a skilled human user.
WTT: What's your favorite aspect of the platform?
JB: It's actually something we recently added. It's a comments feature. In Google Docs, you can add a comment and give feedback to a writer. In this case, the writer is Hoppy Copy. You highlight a section, such as an introduction, and say, "Hey, can you make this sound more interesting and engaging? Or, "Can you add examples?" and it will add them as if you have a personal writer working right next to you.
WTT: What's next for Hoppy Copy?
JB: We'll continue to dig even deeper into the email use case. Next, we are building a feature that allows you to research ideas for a newsletter and put them into an idea file that gets sent to you every week. Every week, you go into the app and see the ideas sourced specifically for you. You can select the stories you want, and it will spit out a newsletter based on them. I used this feature myself recently, and I created a great newsletter in about 45 minutes.
WTT: One of the things AI is known for is making things up. So if you're offering customers the opportunity to create a newsletter curation, how can be sure that the ideas and the information in them are accurate?
JB: One way is to pull from a feed like Reddit or Twitter, summarizing the most trending stories. We are also looking to add a fact checker. There are already some tools experimenting with that. AI tools are so powerful that they can easily mislead, so having verification—both now and in the future—will be really important. That should eventually be a default feature in all these tools, not just ours.
WTT: Fascinating stuff, Josh. Thanks for your time.
Josh: Thank you, as well. This is a really exciting space, and we're really only just getting started.