Pen Is Not Mightier
Here is a case where someone has developed a great technology and device, but screwed up the implementation. Via Core77, Dutch company Nuwa has created an ink-on-paper pen that comes with an app that allows you to digitize your handwriting and sketches. The text is even said to be searchable.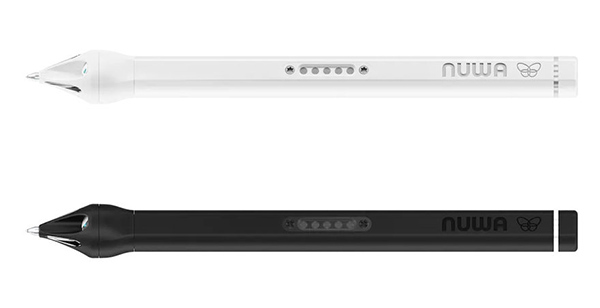 Rather than being an OCR-esque device that scans your handwriting and converts it, the pen uses the on-board camera and "AI-powered technology." Uh huh. Anyway, here's the catch:
While exporting notes is free, converting it to text requires a $2.99/month subscription. And frustratingly for designers, who are likely to be interested in exporting sketches on paper into digital form, there's no word on what resolutions, file formats and export options beyond their app you'd have.
Yes, you have to subscribe to a pen. Don't tell the folks at Bic about this.
The Nuwa Pen has been successfully funded on Kickstarter, with 27 days left to pledge at press time. Buy-in starts at $197, and they throw in a free year of their aforementioned subscription service.
Type Tour
Have you ever wanted to travel, Fantastic Voyage-like, into a mechanical typewriter? No, we haven't either, but now, having done so, it is pretty neat. Via Laughing Squid, Jake O'Neal of Animagraffs offers a tour of a mechanical typewriter. The visual simulation is based on an early 20th century Underwood typewriter (Models 5 and 6).
E(lastic) Ink
Our Mount Monadnock media maven sends us this story about a team of Korean researchers who have developed a conductive elastic ink that can 3D print self-supporting structures. From 3D Print.com:
So far, printing conductive elastomers has been limited to a 2D plane because the rheological properties of most inks can't support their weight immediately after printing. However, if a material could print free-standing structures while also being flexible enough to move with a person's body, it could maximize the fidelity of the wearable devices and achieve the complex circuits needed to match the morphology of an individual patient.
And this is just what they did.
The KIST researchers used an emulsion system that consisted of a conductive elastomer composite (silver, Ag, multi-walled carbon nanotubes, MWCNTs, and polydimethylsiloxane, PDMS), an immiscible solvent (diethylene glycol, DEG), and emulsifying solvent (chloroform, CHCl3). Turns out, the DEG was the key ingredient to getting the proper rheological properties as it stopped the filler from settling in the dispersion and gave it pseudo-plastic and lubrication attributes which prevent nozzle clogging allowing for stable prints.
The goal is more accurate and comfortable wearable devices.
The researchers created a skin-mountable temperature sensor using their new emulsion conductive ink as wiring, mini LEDs, and a microcontroller unit with a temperature sensor. The sensor's matrix-type stretchable display easily reads the temperature of the air around it and can be seen changing from 25°C to 32°C when a researcher first touches the device, and from 33°C to 42°C when a warm glass was introduced.
Sorry, graphene was not involved.
Van Rjin's Express
Do you like Rembrandt? Tattoos? If yes, then good news! If you're in Amsterdam this June, be sure to stop in to the Rembrandt House Museum, former home and studio of the famed Dutch master Rembrandt van Rijn. Says the Guardian:
In one of the more extreme attempts to attract a younger audience post-Covid, the newly renovated museum in Amsterdam is launching a "poor man's Rembrandt project" for a week in June. Celebrated tattoo artists from the studio Schiffmacher and Veldhoen will be "artists in residence", offering original tattoos costing from €100 to €250, inspired by the 17th century Dutch master's etchings, self-portraits and signature.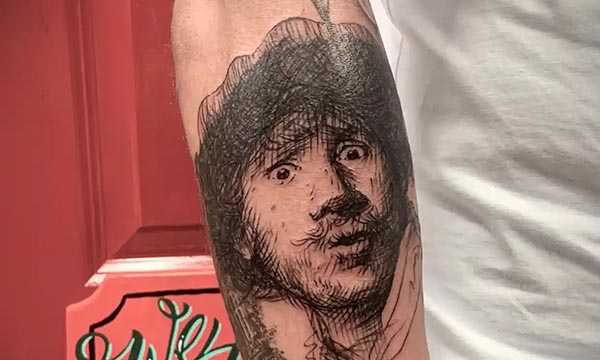 Henk Schiffmacher & Veldhoen/Museum Rembrandthuis
Reserve your spot now:
Time slots from 19-25 June are filling up fast. "It's a huge success already," said Schiffmacher. "Next on the list is the studio of Francis Bacon!"
Hmm. If you say "I want a tattoo of Bacon" or "I want Bacon on my arm," that could lead to some serious misunderstandings.
Concrete Savings
Was it a good week for graphene news? It's always a good week for graphene news! Graphene-enhanced concrete helps reduce CO2 emissions. From (who else?) Graphene-Info:
Versarien has shared that trials of a precast concrete containing its Cementene water-based graphene mixture were shown to maintain its strength with 20% of the cement removed.
The initial results, carried out in tests at the accredited laboratory of Ireland-based Banagher Precast Concrete, "demonstrate the significant potential to reduce CO2 emissions without impacting the performance of the concrete", the AIM-listed company said. This is because producing 1kg of ordinary Portland cement emits around 0.8-0.9kg of CO2 and roughly 500kg of cement is used per cubic metre of Banagher's precast concrete. Producing 1kg of Cementene is estimated to generate a higher level of CO2 emissions, at 1.44 kg, but Versarien said because only around 5kg of Cementene is used per cubic metre of concrete and allows the removal of 20% of cement in the precast concrete mix, this would equate to a net saving of almost 73kg of CO2 emissions per cubic metre of concrete poured.
Eight Arms to Hold You
If you've ever lamented the fact that you only have two arms, here is some good news. Via Core77, researchers at the University of Tokyo's Somatics Lab/Prototyping & Design Laboratory have developed wearable robot arms.
Called Jizai Arms, the system consists of a back-worn device with six sockets, all of which can have an arm plugged into them; they do not mention how the arms are controlled, or even if the wearer is the one controlling them.
Well, that'd be pretty freakish, having someone else control your arms.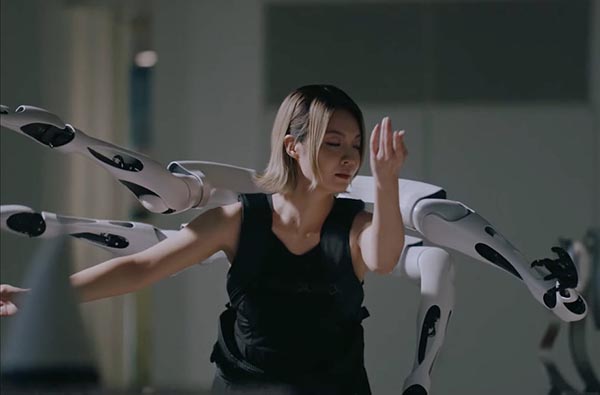 Bummer:
While the development of Jizai Arms would surely interest those who have lost limbs, disappointingly the applications appear to be artistic rather than practical, judging by this short description and the demo video below:
Still, we bet you could have some really cool light saber duels.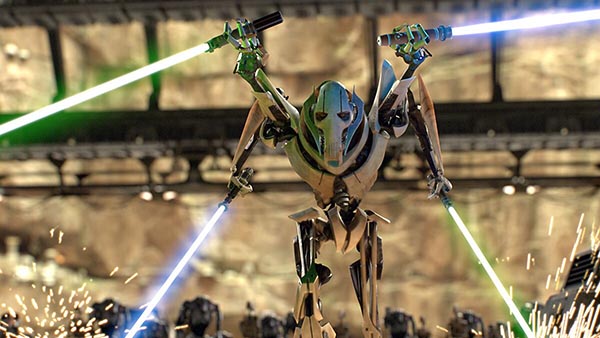 Heavens to Bitzee
Remember Tamagotchi? It was a kind of "virtual pet" that was vaguely popular with kids. Apparently it now still exists, but Gizmodo is anticipating that this coming holiday season will see a run on a new "digital pet"— Spin Master's Bitzee. Say what?
Bitzee instead comes in a purple clamshell case that opens to reveal a full-color, 8-bit pixellated character that appears to float in mid-air, almost like a hologram, but without the need for smoke, mirrors, or video projection.

The Bitzee's display is made up of a thin strip of strobing, color-changing LEDs that rapidly flaps up and down to create a persistence of vision effect. The flap moves up and down fast enough to appear like a blur to the naked eye, which makes the animated Bitzee character generated by the flashing LEDs look like it's floating. It's a fun effect, and while the flapping mechanism isn't silent, it is quiet, and will remind those of us old enough to be considered ancient of the sound of an old film projector.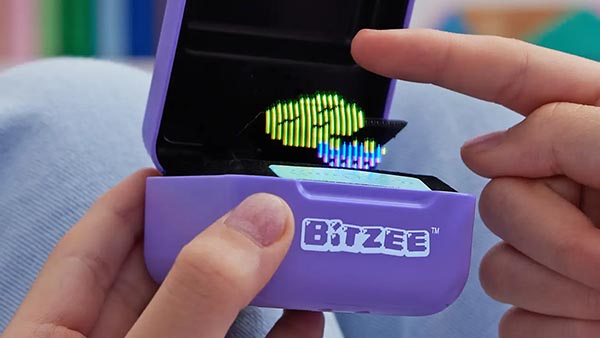 Spin Master
Kids are cautioned to be careful with the flapping strip of LEDs and not poke or pull it, as it's not as durable as modern touchscreens, but they are encouraged to interact with their digital pets by gently tapping them on the head. Kids can also interact with the Bitzee characters by shaking the device, tilting it, or by swiping their finger back and forth on a touch sensitive strip on the toy's base, which is also used to navigate the toy's basic menu system.
This would probably last for about 30 seconds, if that.
Delta, Where Is Thy Sting?
If one flies enough, one will experience a bewildering variety of reasons for flight delays. "We forgot about the flight and there is no plane available"; "The pilot's chair is loose"; and we have it on good authority from a Southwest flight attendant that the phrase "mechanical difficulties" is, nine times out of 10, a euphemism for "the bathroom is broken." But, via Boing Boing, this is a new one on us: a swarm of bees prevented a Delta flight from taking off from George Bush Intercontinental Airport in Houston.
The bees gathered for a rest on the tip of the airplane's wing and even blowing exhaust on them didn't motivate the insects to move. After several hours, the pilot fired up the engines and the bees took that as their cue to buzz off, according to one passenger who livetweeted her experience.
Close up of the bees on the wing pic.twitter.com/XodD4Z2kgi

— Anjali Enjeti (she/her) (@AnjaliEnjeti) May 3, 2023
No word if the passengers received free jars of fresh honey.
Off the Radio
Do you regularly listen to AM radio? If yes, bad news. It may go the way of the 8-track tape, at least in cars. Says Boing Boing:
BMW, Volkswagen, Mazda, and Tesla have already started pulling the plug on AM radios in their new electric vehicles because it causes interference from electric engines. Ford is going a step further by removing AM radios from all of its vehicles, whether they run on electricity or gas.
Not that AM radio fans aren't putting up a fight. Via the Washington Post:
In a last-ditch campaign to keep AM in cars, broadcasters are teaming up with conservative activists, first-responders and liberals who view AM as a vital source of diversity in media. Seven former Federal Emergency Management Agency leaders joined in a letter to Transportation Secretary Pete Buttigieg saying that removing AM radio from cars is "a grave threat to future local, state, and federal disaster response and relief efforts."
If we could get 8-track players back, too, that'd be great.
Sign O' the Times
The late music icon Prince (né Prince Rogers Nelson) is getting a highway named after him. Says AP:
Purple signs will soon go up along a seven-mile stretch of State Highway 5 in the Minneapolis suburbs of Chanhassen and Eden Prairie — designating it the Prince Rogers Nelson Memorial Highway. Prince's friends and fans are footing the bill, said the lead sponsor, Republican Sen. Julia Coleman, of Waconia.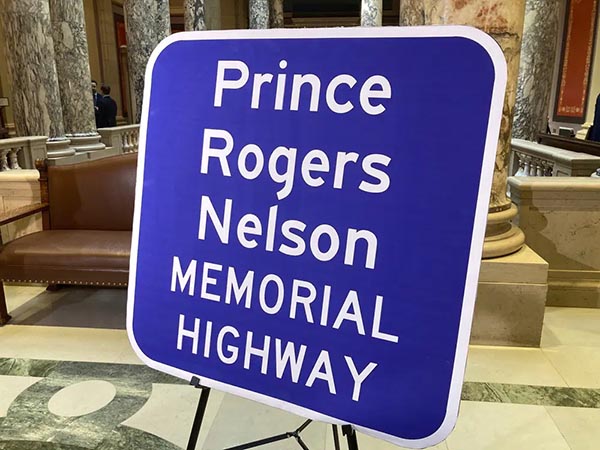 And you can see this joke coming from several miles down that highway, but it would be the perfect road on which to drive a little red Corvette.
Star Sign
Here's an interesting headline: "Is Betelgeuse getting ready to explode?" Red giant star Betelgeuse* is ~8-10 million years old—which is not old by star standards—and is normally the 10th brightest star in the sky, but has brightened in recent years to 7th. His is after it dimmed appreciably three years ago. Scientists aren't sure, but it's possible it is on the verge of going supernova. From Big Think:
At some critical moment, Betelgeuse will exhaust its core's nuclear fuel, dying in a type II supernova. When this occurs, it will reach a maximum brightness of 10,000,000,000 Suns. Several millions of neutrinos will appear in Earth's neutrino detectors. In Earth's skies, this explosion will match the full Moon's brightness, but be concentrated at a single point.
When will this happen?
It could happen tomorrow, or up to ~100,000 years from now.
Ah.
* The name "Betelgeuse" itself has been mistranslated as "armpit" but the original meaning in Arabic is "hand of Orion," so let's give the star some dignity in its waning days.
Frank Talk
The Oscar Mayer "Wienermobile" is no more—or at least not by that name. Says Marketing Dive:
Oscar Mayer is rebranding its signature hotdog-shaped motor vehicle from the Wienermobile to the Frankmobile, according to a news release.
This is the first such change for the roving, elongated vehicle since it debuted in 1936. The Kraft Heinz marketer said the overhaul promotes its all-beef frank products, which have recently switched up their recipe for a more balanced, flavorful taste.
We wonder if Peter Adams, the writer of the article, could get this sentence out without bursting into hysterics:
Changes also affect Oscar Mayer's Wiener Whistles, which are now Frank Whistles, and Hotdogger drivers, who will be referred to as Frankfurters.
Here's an idea:
As part of the rollout, Frankmobiles will dole out coupons for a free pack of hot dogs to customers who have Frank in their name.
Does the Frankmobile go to Museum of Printing?
Truffle Is My Business
Do you like mac and cheese? Truffles? If yes, then good news! In one of those, "You got your chocolate in my peanut butter…" moments, Velveeta has partnered with Los Angeles-based chocolatier Compartés to come up with the TruffVel. We've got a bad feeling about this… From Food & Wine:
The TruffVel, as described in an announcement, is "Compartés sweet white chocolate paired with the creamy delicious bite of Velveeta for a unique sensation unlike any other. The iconic custom shell shape is made to mirror Velveeta Shells and Cheese and was created by infusing Velveeta cheese Sauce into Compartés award-winning chocolate to create a match made in culinary heaven."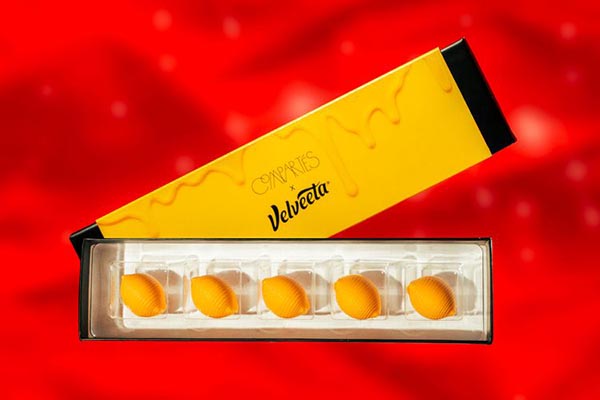 Velveeta X Compartã S
Kraft—makers of Velveeta—have been doing all sorts of unusual cheese pairings which we have linked to before, such as the Veltini (yes, a Velveeta martini) and cheese-scented nail polish.
The box of five Velveeta x Compartés TruffVels will be available (while supplies last) starting today, May 9, for $24.95 at compartes.com.
Consider yourselves warned.
Did anything catch your eye "around the Web" this week? Let us know at [email protected].
This Week in Printing, Publishing, and Media History
May 15
1813: Danish philosopher, author, and poet Søren Kierkegaard born.
1856: American novelist L. Frank Baum born.
1858: The present Royal Opera House in Covent Garden, London, opens.
1886: American poet and author Emily Dickinson dies (b. 1830).
1905: Las Vegas is founded when 110 acres, in what later would become downtown, are auctioned off.
1905: American businessman, amateur photographer, and creator of the "Zapruder film" Abraham Zapruder born. (Funny, he never made another movie after that.)
1923: American photographer Richard Avedon born.
1926: English playwright and screenwriter; works included Equus and Amadeus Peter Shaffer born.
1928: Walt Disney character Mickey Mouse premieres in his first cartoon, "Plane Crazy."
1948: English singer-songwriter, keyboard player, and producer Brian Eno born.
May 16
1866: The United States Congress establishes the nickel.
1888: Nikola Tesla delivers a lecture describing the equipment which will allow efficient generation and use of alternating currents to transmit electric power over long distances.
1891: The International Electrotechnical Exhibition opens in Frankfurt, Germany, and will feature the world's first long distance transmission of high-power, three-phase electric current (the most common form today).
1929: In Hollywood, the first Academy Awards ceremony takes place.
1946: English guitarist, songwriter and producer Robert Fripp born.
1960: Theodore Maiman operates the first optical laser (a ruby laser), at Hughes Research Laboratories in Malibu, Calif.
May 17
1792: The New York Stock Exchange is formed under the Buttonwood Agreement.
1875: Aristides wins the first Kentucky Derby.
1900: L. Frank Baum's The Wonderful Wizard of Oz is first published in the United States.
1902: Greek archaeologist Valerios Stais discovers the Antikythera mechanism, an ancient mechanical analog computer.
1949: English drummer, songwriter, and producer Bill Bruford born.
1977: Nolan Bushnell opens the first Chuck E. Cheese's in San Jose, Calif.
1983: The U.S. Department of Energy declassifies documents showing world's largest mercury pollution event in Oak Ridge, Tennessee (ultimately found to be 4.2 million pounds), in response to the Appalachian Observer's Freedom of Information Act request.
May 18
1048: Persian mathematician, astronomer, and poet Omar Khayyám born.
1593: Playwright Thomas Kyd's accusations of heresy lead to an arrest warrant for Christopher Marlowe.
1822: American photographer and journalist Mathew Brady born.
1872: British mathematician, historian, philosopher, and Nobel Prize laureate Bertrand Russell born.
1912: The first Indian film, Shree Pundalik by Dadasaheb Torne, is released in Mumbai.
1931: American cartoonist Don Martin born. (Splork!)
1949: English progressive rock keyboardist and songwriter Rick Wakeman born.
May 19
1743: Jean-Pierre Christin developed the centigrade temperature scale.
1864: American novelist and short story writer Nathaniel Hawthorne dies (b. 1804).
1941: American director, producer, and screenwriter Nora Ephron born.
1963: The New York Post Sunday Magazine publishes Martin Luther King Jr.'s Letter from Birmingham Jail.
May 20
1570: Cartographer Abraham Ortelius issues Theatrum Orbis Terrarum, the first modern atlas.
1609: Shakespeare's sonnets are first published in London, perhaps illicitly, by the publisher Thomas Thorpe.
1660: English-American printer William Bradford born.
1799: French novelist and playwright Honoré de Balzac born.
1806: English economist, civil servant, and philosopher John Stuart Mill born.
1851: German-American inventor, and inventor of the Gramophone record, Emile Berliner born.
1873: Levi Strauss and Jacob Davis receive a U.S. patent for blue jeans with copper rivets.
1891: The first public display of Thomas Edison's prototype kinetoscope.
1908: American actor James Stewart born.
1983: First publications of the discovery of the HIV virus that causes AIDS in the journal Science by Luc Montagnier.
1985: Radio Martí, part of the Voice of America service, begins broadcasting to Cuba.
2019: The International System of Units (SI): The base units are redefined, making the international prototype of the kilogram obsolete.
May 21
1471: German painter, engraver, and mathematician Albrecht Dürer born.
1688: English poet, essayist, and translator Alexander Pope born.
1703: Daniel Defoe is imprisoned on charges of seditious libel.
1927: Charles Lindbergh touches down at Le Bourget Field in Paris, completing the world's first solo nonstop flight across the Atlantic Ocean.
1932: Bad weather forces Amelia Earhart to land in a pasture in Derry, Northern Ireland, and she thereby becomes the first woman to fly solo across the Atlantic Ocean.
1981: Transamerica Corporation agrees to sell United Artists to Metro-Goldwyn-Mayer for $380 million after the box office failure of the 1980 film Heaven's Gate.
1992: After 30 seasons Johnny Carson hosted his penultimate episode and last featuring guests (Robin Williams and Bette Midler) of The Tonight Show.