don't touch that, it's my emotional support stack of unused notebooks

— emery lord (@emerylord) June 22, 2022
Paper Kisses
Our New Hampshire correspondent and Mount Monadnock Media Maven points us to Colossal's profile of Wales-based artist Polly Verity, whose media of choice are watercolor paper, canvas, and wire mesh which she folds into "into elegantly suggestive sculptures."
The minimal works are carefully molded through a series of bends, twists, and slight folds that contour pursed lips or a rose grazing a nose, and each curve subtly alters the figure's expression. Alongside her facial silhouettes, Verity also shapes fragmented torsos and voluptuous limbs, an expansion of her practice that connects the "sensual and yielding" material more directly to the subject matter.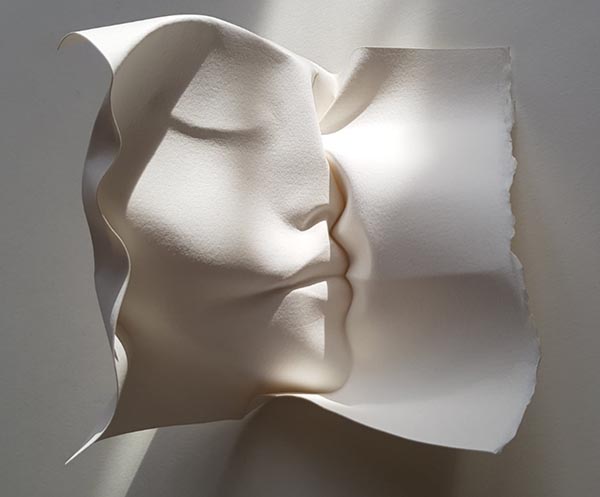 Graphene Can Handle the Pressure
Was it a good week for graphene news? It's always a good week for graphene news! Now we can have graphene embedded in our skin with a new graphene-based e-tattoo developed by researchers at The University of Texas at Austin and Texas A&M University. No, it's not a mermaid or a heart that says "Mother" (or even a red dragon) but rather it is an electronic tattoo that can be worn on the wrist to, says Graphene-Info,
deliver continuous blood pressure measurements at an accuracy level exceeding nearly all available options on the market today. This could signify an alternative for the currently used cuff-based devices that constrict around the arm to give a reading, as well as improve accuracy levels.
… The continuous monitoring of the e-tattoo allows for blood pressure measurements in all kinds of situations: at times of high stress, while sleeping, exercising, etc. It can deliver thousands of measurements more than any device thus far.
… The newly developed device takes its measurements by shooting an electrical current into the skin and then analyzing the body's response, which is known as bioimpedance. There is a correlation between bioimpedance and changes in blood pressure that has to do with blood volume changes. However, the correlation is not particularly obvious, so the team had to create a machine learning model to analyze the connection to get accurate blood pressure readings.
We're waiting for graphene-based tattooing to take over conventional tattooing.
Bye, Bye, Browser
Microsoft officially discontinued Internet Explorer this week (although if you are on a Mac, it was discontinued in 2005), and to commemorate this solemn occasion, South Korean software engineer Jung Ki-young erected a suitable gravestone.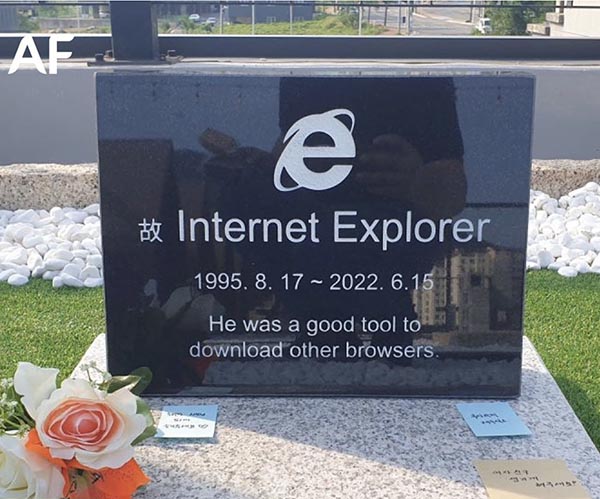 Ikea Idea
Printing industry pundits who have one eye on interactive print often touted Ikea's old print catalogs that used augmented reality (AR) so you could visualize Ikea furniture in your own home. Now, via the Verge, Ikea has launched a new "virtual design tool" that "deletes your furniture and replaces it with Ikea's." (A couple of thugs and a moving van could accomplish much the same thing.)
Ikea is launching a new virtual design tool today that can make it easier to imagine how its furniture might look in your home. Ikea Kreativ's Scene Scanner feature lets you scan a room using Ikea's iOS app, erase your existing furniture, and then place virtual furniture in its place. If you don't want to scan your own home, there are also over 50 virtual showrooms to place furniture in. Naturally, the process is designed to encourage you to order this furniture for real after browsing the virtual versions.
… Unless you're furnishing an empty room, the first step with Ikea's virtual designer is to empty out existing furniture. The effect is very similar to the Magic Eraser tool found in Google's Pixel 6 devices, and much like Google's Magic Eraser tool, the results can be inconsistent. In the image below, for example, Ikea's software hasn't understood where my rug should end after deleting the armchair obscuring it, and it also has trouble filling in the concealed left side of the TV cabinet.
Ikea Kreativ is now live in the US and can be accessed via Ikea's existing app or via its website.
Laugh and the World Laughs With You…But Differently
LOL, LMAO, ROTFL…Since the advent of the Internet, there have been numerous ways of expressing laughter online. But the ones we are likely familiar with are very US/English-centric. Language learning site Preply has created a cool map showing how to laugh online in 26 languages.
Some interesting ones:
Thai: "55555" is the most curious graphic representation and the reason behind it is because the number 5 in Thai is pronounced "haa". To laugh a lot you will see 55555555+(+) adding the "+" sign.
Hindi: in the most widespread language of India men laugh with "haha" and women have a laugh with "hehe". A fascinating example that doesn't fall into any gender category is the "EK number", which roughly translates to "for me this is a number 1" ("EK" means "one" in Hindi). This is commonly used as a yes answer to a joke. If you find something funny, you can always write "haha" or "hehe" in India, but you can also show your enjoyment by replying "EK number".
Scandinavian languages: Norwegian uses funny spelling like "Høhøhø" and "Hæhæhæ" in Denmark. In Sweden they use "*asg*" which is short for "asgarv" which means "intense laughter".
Ukrainian: in Ukraine they write "????????" for normal laughter. For sarcastic laughter, they use "?????" written like this in Cyrillic characters.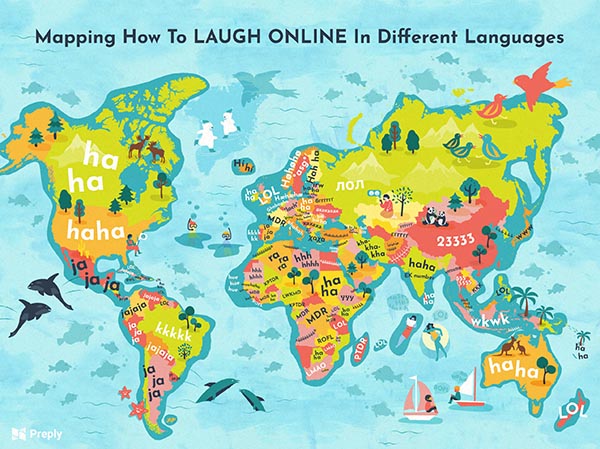 "Bargain Brand"
We're surprised we missed this, but last year marked the 50th anniversary of Nike's "swoosh" logo. Print magazinerecently discussed its origin story:
[Phil Knight, co-founder of Blue Ribbon Sports (BRS), which evolved into Nike] wanted to differentiate BRS' custom product [sneakers] from the ones they were importing from Onitsuka in Japan: "… so Knight turned to a graphic design student he met at Portland State University two years earlier." One day in 1969, the student, Davidson, was approached by Knight and offered $2 per hour "to make charts and graphics" for his business. For the next two years Davidson managed the design work on BRS. "Then one day Phil asked me if I wanted to work on a shoe stripe," Davidson recalled. The only advice she received was to "make the stripe supportive of the shoe." Davidson came up with half a dozen options. None of the options "captivated anyone," so it came down to "which was the least awful."
Davidson was paid $35 for what became one of the most iconic trademarks in history. Sometimes designers just can't catch a break.
Down the Drain
First of all, "smart Jacuzzi" is a phrase to be reckoned with, but even more crucially, it appears that it is vulnerable to hacks. Says Vice:
The Jacuzzi brand SmartTub has the same simple selling point as all internet of things (IoT) devices: you can use your phone or SmartHome hub to control the settings of your tub from afar.
Isn't the point of a hot tub to, you know, be in it? We continue.
Security researcher EatonWorks noticed several security vulnerabilities in their own SmartTub and decided to dig into it. They documented the experience on their website.
Essentially, they "discovered a security vulnerability in SmartTubs that gave them access to the personal information of anyone in the world who used the software." Oopsie.
According to Eaton, the worst thing about the hack was the exposure of personal data. "As for remotely controlling tubs, I think the worst you could probably do is turn the heat all the way up and change the filtration cycles," they told Motherboard.
Sounds like those movies where the villain tries to kill the hero by turning a steam bath or whatever up to a lethal temperature—although why a sauna would have a lethal temperature is a question best answered by Hollywood screenwriters.
"Then in a few days you could have a hot, stinky soup. There are no chemicals to control—you have to do that by hand. Changing another user's data would have crossed a line, so this is just speculation on my part."
They did inform Jacuzzi about the problem. Remember, though, as the article cautions: "Always be careful when sharing your personal info with your hot tub." Truer words have never been spoken.
Sic Transit ISS
Astronomers professional and amateur alike eagerly track the two planetary transits: Mercury and Venus. (A transit is when a planet or other object can be seen passing across the Sun.) However, the next transit of Mercury won't be until 2032—and the next transit of Venus won't be until 2117—so we'll have to make do with the transits of other objects, like the International Space Station (ISS). Via the BBC, British photographer and amateur astronomer Jamie Cooper captured the transit of the ISS on June 17 when it became visible in his home of Whilton, near Daventry, Northamptonshire. It was quite a stroke of luck to capture it:
"There's a very narrow band where you, the space station and Sun are all in a straight line and it's about three miles wide," he said. "I'd checked the data three days before and it was going to miss my house, I checked the day before and it was going to be over my house, so I was lucky."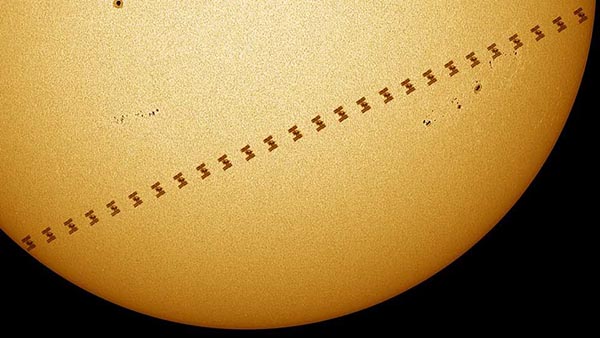 Jamie Cooper Photography
Finger Food
It is not uncommon for some of us—especially the less graceful among us (and we know who we are)—to become a cheesy mess when eating nachos or similar finger foods. However, via Adweek, Velveeta is now trying to make getting cheese smeared all over one's fingers a status symbol. OK, first of all, how anyone can write a phrase like "pivot Velveeta from a cheese-adjacent product to a lifestyle brand" without collapsing into hysterics boggles the mind. Anyway, welcome to—dear Lord—La Dolce Velveeta, a play on the Italian phrase "la dolce vita" or "the sweet life." And it's too weird for Fellini film:
the pasteurized cheese product has partnered with U.K. beauty brand Nails.Inc to produce its first-ever cheese-scented nail polish, which is now available on NailsInc.com and Amazon.com.
The Velveeta Pinkies Out Polish collection includes a nail polish duo in the shades La Dolce Velveeta yellow and Finger Food red—but be warned: the product page notes the scent appears only when nails are fully dry—as well as nail stickers, which include dripping cheese and the words "drip" and "creamy."
Another spit-take-inducing line:
As Adweek previously reported, Velveeta melts evenly and therefore behaves more like a liquid, so dripping is very much on brand.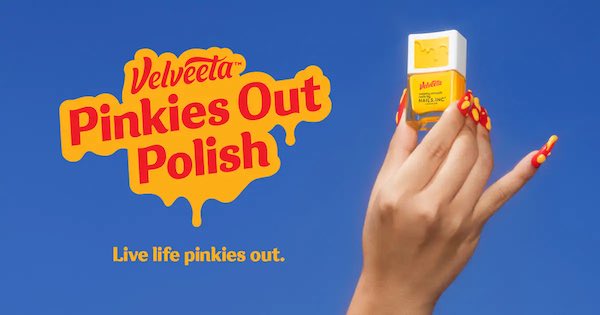 However, one downside (if that's the right word to use):
Pinkies Out Polish is "(unfortunately) not made of Velveeta. Please don't eat it—that's what cheesy, melty Velveeta is for," the product page says.
We can't wait to see how Cheez Whiz responds.
Or Kraft:
Don't Do It!
Two successive headlines recently on CNN: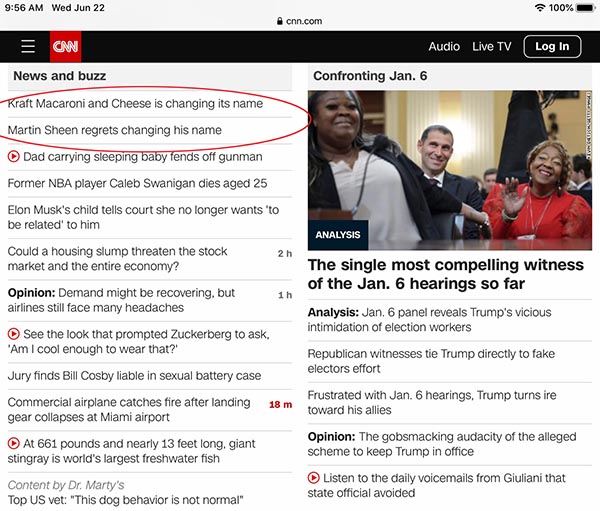 There could be a lesson here for Kraft: they may regret changing the name of Macaroni & Cheese.
Hmm…when will Kraft come out with its Mac & Cheese nail polish?
Addicted to Spuds
Artem Mayer of Copper Guitars in Moscow has created a Les Paul-style electric guitar out of McDonald's french fries. Says Laughing Squid:
Mayer cut out the guitar frame and then cleverly put a wire cage around it to hold all the fries, which he then glued in place. He then attached the frame, the electronics, the neck, and a distinctive red container to complete the entire look. He also decorated the headstock and truss with the same theme.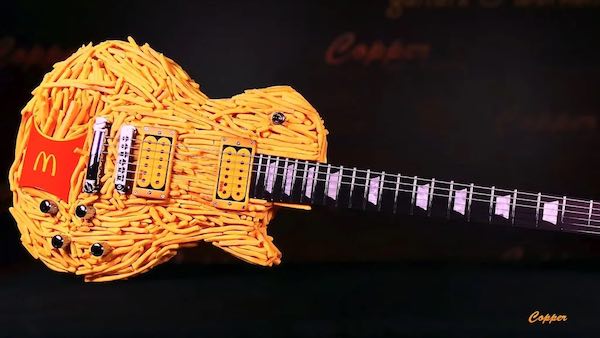 Hmm… A modern Jimi Hendrix, instead of setting it on fire, could pour melted Velveeta on it to create cheese fries. Now that would be a showstopper, especially if they had the cheese-drenched fingernails to match.
Hounds of Love
Although some of us here in the Around the Web Cultural Accretion Bunker have not yet seen the latest series ofStranger Things, we have noticed that it appears to have ignited an interest in the music of Kate Bush. As Kate fans since the early 80s, we could not be happier that "Running Up that Hill" is running up that chart.
The 1985 song now holds the record for longest time taken for a single to reach number one, while Bush boasts the longest-ever gap between chart-toppers – 44 years after "Wuthering Heights" first revealed her astonishing talents to the world. [Link added because it's brilliant. —Ed.]
… "It's such a great series, I thought that the track would get some attention," she told BBC radio in the interview, which was recorded Tuesday and broadcast Wednesday.
"But I just never imagined that it would be anything like this. It's so exciting. But it's quite shocking really, isn't it? I mean, the whole world's gone mad."
We're partial to her 1982 "crazy" album, The Dreaming.
This Week in Printing, Publishing, and Media History
June 20
1840: Samuel Morse receives the patent for the telegraph, which becomes the dominant communication method. Until...
...1877: Alexander Graham Bell installs the world's first commercial telephone service in Hamilton, Ontario.
1928: American saxophonist, flute player, and composer Eric Dolphy born.
[year withheld]: Frank Romano born. Shortly thereafter, was visited by three "iMagi" bearing gold from Gutenberg's goldsmith shop, a line of type from Ottmar Myrrh-genthaler, and he'll be Frank-incensed if he reads this.
1975: The film Jaws is released in the United States, becoming the highest-grossing film of that time and starting the trend of films known as "summer blockbusters."
2003: The Wikimedia Foundation is founded. The Wikimedia Foundation is a nonprofit charitable organization dedicated to encouraging the growth, development, and distribution of free, multilingual, educational content, and to providing the full content of these wiki-based projects to the public free of charge. Most notably, it operates Wikipedia.
June 21
1903: American caricaturist, painter and illustrator Al Hirschfeld is born.
1905: French philosopher and author Jean-Paul Sartre born.
1944: English singer-songwriter and guitarist Ray Davies born.
1957: American author, illustrator, and creator of the Bloom County comic strip Berkeley Breathed born.
1973: WTF: the Supreme Court hands down the decision in Miller v. California 413 US 15, establishing the Miller test for obscenity in U.S. law.
1978: The original production of Tim Rice and Andrew Lloyd Webber's musical Evita, based on the life of Eva Perón, opens at the Prince Edward Theatre, London.
June 22
1906: Austrian-born American director, producer, and screenwriter Billy Wilder born.
1969: The Cuyahoga River catches fire in Cleveland, Ohio, drawing national attention to water pollution, and spurring the passing of the Clean Water Act and the creation of the Environmental Protection Agency.
June 23
1860: The United States Congress establishes the Government Printing Office.
1868: Christopher Latham Sholes receives a patent for the "Type-Writer."
1910: French playwright and screenwriter Jean Anouilh born.
1912: English mathematician and computer scientist Alan Turing is born.
1926: The College Board administers the first SAT exam.
1969: IBM announces that it will start pricing its software and services separately from hardware—thus creating the modern software industry.
1991: Sonic the Hedgehog is released to American audiences, then to PAL and Japanese audiences a month later, kickstarting the successful Sonic franchise.
2013: American author and screenwriter Richard Matheson dies (b. 1926).
June 24
1842: American short story writer, essayist, and journalist Ambrose Bierce born.
1930: American businessman, founder of Ziff Davis William Bernard Ziff Jr. born.
1947: Kenneth Arnold makes the first widely reported UFO sighting near Mount Rainier, Wash.
1949: The first television western, Hopalong Cassidy, is aired on NBC starring William Boyd.
1957: In Roth v. United States, the U.S. Supreme Court rules that obscenity is not protected by the First Amendment.
June 25
1848: A photograph of France's June Days uprising, "Barricades on rue Saint-Maur," becomes the first photograph used to accompany a newspaper story, launching the practice of photojournalism.
1903: British novelist, essayist, and critic George Orwell born.
June 26
1927: The Cyclone roller coaster opens on Coney Island.
1929: American illustrator and graphic designer Milton Glaser born.
1948: Shirley Jackson's short story The Lottery is published in The New Yorker magazine.
1974: The Universal Product Code is scanned for the first time to sell a package of Wrigley's chewing gum at the Marsh Supermarket in Troy, Ohio.
1997: Oh, FFS: the U.S. Supreme Court rules that the Communications Decency Act violates the First Amendment to the United States Constitution.