Kudos: praise given for achievement. Deriving from Greek, kudos entered English as slang popular at British universities in the 19th century. In its earliest use, the word referred to the prestige or renown that one gained by having accomplished something noteworthy. The sense meaning "praise given for achievement" came about in the 1920s. —Merriam Webster Dictionary
It amazes me how many printing companies, marketing agencies, and vendors to the graphic communication business are all selling the use of print to their clients yet do not employ print themselves to market their services.
Kudos to the Great Lakes Graphics Association, sponsor of the Graphics Excellence Awards, to my knowledge the largest regional contest for print quality in North America.
Sure, GLGA sends out daily email blasts to their membership, but they also publish a quarterly magazine. When their annual contest entry deadline rolled around recently, I not only received the usual email notifications but also a mailed invitation with a handwritten note from the director inviting me to enter again this year.
But wait, there's more. I received an oversized postcard with a color picture of my winning entry from last year on the front and details of my award. Variable data printing at its finest, truly personalized with useful information.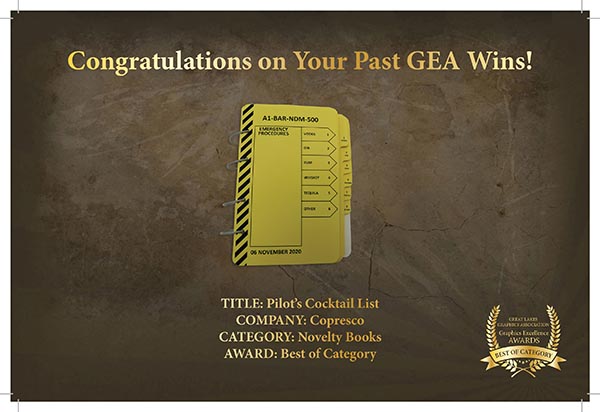 Instead of telling me that I could be a winner, this mailer reminds me that I already have what it takes, and shows me. You bet I'm inspired to enter again this year.
In many cases your best prospects are your current customers. Great Lakes Graphics knows this, and so does American Express, who recently sent a big-budget mailer to their current cardholders extolling the virtues of additional financial products such as banking and insurance.
Amex has the data to know who the big spenders and big earners among their clients are, so they spared no expense soliciting new business using print. This 6"x9" mail piece unfolds to 18"x27" and uses diecutting, clever folding, gluing, and personalized messaging. It opens to what is essentially five different panels, one for each product, each with its own headline, ad copy, and QR code.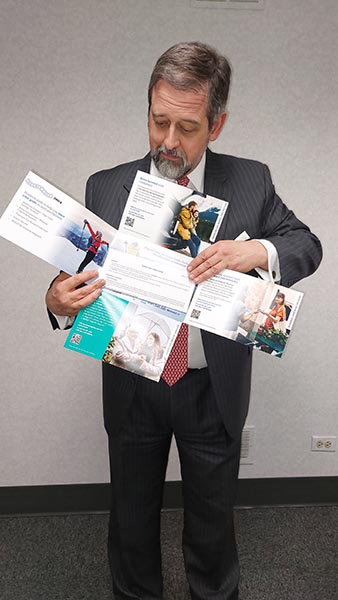 The fine print (required for financial offerings) is relegated to a legal-size sheet double parallel folded, glued, and nested inside the folded mailer where it doesn't interfere with the glossy messaging.
Of course Amex already touts these services via email blasts, statement inserts, user apps and customer dashboards, none of which have nearly the pull of a good old-fashioned well-designed mailer. They're going after the big money, and they're willing to spend more to make more.
Print isn't cheap. Done properly, it looks, feels, and even smells upscale. Of course, elegance comes with a price, but there is an exception to this rule: you.
If you are reading this in WhatTheyThink magazine, you are quite likely a printer yourself. For the price of a little paper, you can produce the most extravagant of marketing pieces.
Go wild. Showcase your abilities. Demonstrate your excellence by showing as well as telling. Let prospects and clients see for themselves that you practice what you preach.
Share your work with me and you may even earn kudos from Johnson's World.