A Road Map for Maps
A few weeks ago, our Friday data slice'n'dice included counts of map publishers, and we had remarked, "Printed maps are almost entirely replaced by GPS/Google Maps, but there is somewhat of a market for historical maps." But, as it turns out, in recent years, sales of paper maps—and not just historical ones—are soaring. From Axios:
AAA produced 123% more maps in 2022 than 2021, the Wall Street Journal reports.
"Digital maps, while powerful, aren't perfect navigational tools: Phone batteries die, cell signals fail," the Journal's Kate Morgan writes.
"And though a smartphone can easily direct you to the quickest route, taking it often means you'll miss the best scenery. A paper map ... can provide a bigger picture."
Case in point: Tony Rodono, owner of Map Shop, a store in Charlotte, North Carolina, told WSJ his sales have been rising 20–30% every year.
And it's not just for navigation. People are buying maps as gifts or to hang on their walls as art. Artists on Etsy will hand-draw custom maps of neighborhoods with beautifully illustrated landmarks.
Of course, it's not as easy to update printed maps, as those of us who still travel around using a 2004 Rand McNally Road Atlas have found out.
Wrap Star
Chrome vehicle wraps are apparently hot now, so when rap star Snoop Dogg saw a wrapped 1970 Buick Skylark on Huntsville, Ala. car-customizer Spokes-N-Vogues' Instagram account, he decided he had to have it—but with a different color. SAays Alabama.com:
The Skylark was with one of S-N-V's clients over in Gulfport, Miss., and the rapper tasked them with purchasing it for him. Within 24 hours or so, he sent the funds to do so.
"We went and got the car," Adams says. "And he was like, 'Man, I want one of those wraps. I want to blow everybody out the water.'"
…The wrap for Snoop's Skylark was done in a color called "tangerine orange chrome." The "Gin and Juice" legend liked his new ride's new hide enough the Skylark's in the next music video from his rap supergroup Mount Westmore, for the song "Motto." Mount Westmore also boasts Ice Cube, Too Short and E-40. No cars less than awesome allowed in that company.
(It's best to run this article through Google Translate.)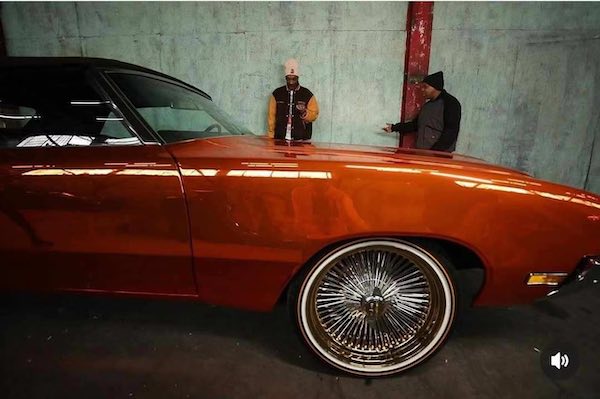 And it wasn't just the exterior.
There's funk inside the trunk, too. When the Skylark's trunk is popped, the inside of the lid displays the name of Snoop Dogg's 1998 album "Da Game Is to Be Sold, Not to Be Told" in neon letters. In Texas car culture, this is called a "pop trunk."
Everywhere else, it's called "kinda weird."
AI-Yi-Yi, Part the Infinity: AI, Regulate Thyself
Via our Mount Monadnock Media Maven, here's an interesting idea that raises some questions. Two Massachusetts elected officials decided to try to regulate artificial intelligence technology, so they drafted some legislation, helped by (wait for it…) ChatGPT. Says the Boston Globe:
Last week, state Senator Barry R. Finegold and Representative Josh S. Cutler used the controversial computer program, which has swept the Internet in recent months, to help draft two separate proposals to regulate its usage, moves that are believed to be among the first of their kind.
Finegold's bill, called "An Act drafted with the help of ChatGPT to regulate generative artificial intelligence models like ChatGPT," would put a series of protections in place, including requiring companies to disclose information about their algorithms to the attorney general's office, conduct regular risk assessments, and program the models to include distinctive watermarks to help detect plagiarism, according to the proposal.
It was more of an experiment than a shortcut. But did it work?
"I thought it was pretty good. I thought it was OK," said Finegold, chairman of the Legislature's Joint Committee on Advanced Information Technology, the Internet, and Cybersecurity. "[ChatGPT] got us about 70 percent there."
Curtis said it took a few tries to get the program to understand its assignment. At times, ChatGPT had difficulty cobbling together information and language that mirrored a bill written by a human being.
Well, a politician, anyway. Our correspondent asks an existential question: "What if ChatGPT had refused to write a bill that would limit its use?"
The day that happens is the day we re-adjust the Doomsday Clock—which we've already done once already this year (see below).
(In other AI writing news, the Superbowl is coming up, and as always the commercials are perhaps even more anticipated—and even watched—than the game itself. But here's the question AdAge posed: could AI write a Superbowl ad? If you subscribe to AdAge, check it out.)
Oh, and the Daily Mail adds: "AI will take 20% of all jobs within five YEARS." So it looks like future human job growth may be in unemployment offices.
All This Has Happened Before and All This Will Happen Again
They say predictions are hard, especially about the future, but a 1923 cartoon eerily predicted 2023's AI image generators. Says Ars Technica:
In 1923, an editorial cartoonist named H.T. Webster drew a humorous cartoon for the New York World newspaper depicting a fictional 2023 machine that would generate ideas and draw them as cartoons automatically. It presaged recent advancements in AI image synthesis, one century later, that actually can create artwork automatically.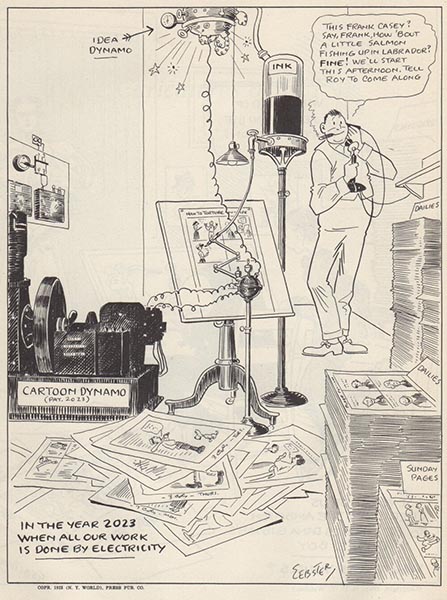 It's entirely possible that before long AI image generators will be making their own cartoons. It'll be worth paying attention to what they say about humans.
Pulling the Wool Over AI's Eyes
And we mean that quite literally. Do you want to become invisible to AI? (At this point, we'd prefer the reverse. But anyway…) If so, try wearing an ugly sweater. Says The Verge:
We've known for years that certain visual patterns known as 'adversarial images' can't be seen by AI object recognition algorithms. A few individuals and organizations have made T-shirts with these patterns, but Italian startup cap_able is the first we know of to try knitwear.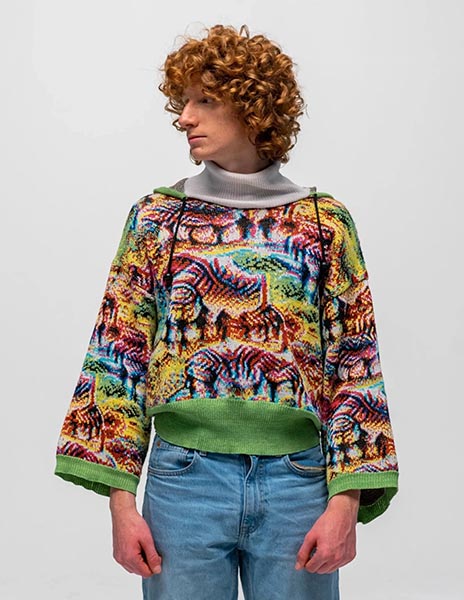 It's a small price to pay for anonymity—or is it? That sweater will run you €420.
2 Minutes

90 Seconds to Midnight

Well, Iron Maiden will have to re-record their classic song. From NPR:
The world is closer to catastrophe than ever: the Doomsday Clock, the metaphorical measure of challenges to humanity, was reset to 90 seconds before midnight on Tuesday.
The science and security board of the Bulletin of the Atomic Scientists said the move — the closest to widespread calamity humanity has ever been judged to be — was "largely, though not exclusively" due to the war in Ukraine.
The Chicago-based Bulletin of the Atomic Scientists was founded in 1945 by Albert Einstein and other scientists who helped develop the first atomic weapons. The so-called Doomsday Clock was started in 1947.
The clock created a stir when it was set to 100 seconds to midnight in 2020, the first time the famous clock had gone down to seconds rather than minutes. At the time, the Bulletin's scientists said we were "at doom's doorstep." It remained at 100 seconds to midnight in 2021 and 2022.
…Of the new update, Mary Robinson, former U.N. High Commissioner for Human Rights, said: "The Doomsday Clock is sounding an alarm for the whole of humanity. We are on the brink of a precipice. But our leaders are not acting at sufficient speed or scale to secure a peaceful and livable planet."
Core Competency
Well this can't be good: the Earth's core has stopped spinning. Discovered in 1936 (although they must have some idea that it existed), the Earth inner core is about 7,000 km wide and consists of a creamy nougat solid (mostly) iron center encased within a liquid (mostly) iron outer core. As iron from the outer core solidifies on the surface of the inner core, the density of the outer core changes, all of which makes the core "spin" which is what is responsible for maintaining the Earth's magnetic field, among other things. Says Nature:
The liquid outer core essentially decouples the 2,400-kilometre-wide inner core from the rest of the planet, so the inner core can spin at its own pace. In 1996, Song and another researcher reported2 studying earthquakes that originated in the same region over three decades, and whose energy was detected by the same monitoring station thousands of kilometres away. Since the 1960s, the scientists said, the travel time of seismic waves emanating from those earthquakes had changed, indicating that the inner core rotates faster than the planet's mantle, the layer just beyond the outer core.
Subsequent research has found conflicting data on how fast the rotation is and whether it is constant, or changes over time.
Now, Yang and Song say that the inner core has halted its spin relative to the mantle. They studied earthquakes mostly from between 1995 and 2021, and found that the inner core's super-rotation had stopped around 2009. They observed the change at various points around the globe, which the researchers say confirms it is a true planet-wide phenomenon related to core rotation, and not just a local change on the inner core's surface.
The data hint that the inner core might even be in the process of shifting back towards subrotation. If so, something is probably happening to the magnetic and gravitational forces that drive the inner core's rotation. Such changes might link the inner core to broader geophysical phenomena such as increases or decreases in the length of a day on Earth.
Mind you, none of this will have any of the effects depicted in the 2003 disaster film The Core. But surely the Earth's core suddenly not spinning can't be a good thing, right? Adds Vice: "While the core's rotation influences Earth's surface environment, scientists think this periodic spin switch is a normal part of its behavior that does not pose risks for life on our planet." In other words, it did not play into the decision to change the Doomsday Clock.
Graphene Says, "Whoever Smelt It Dealt it"
Was it a good week for graphene news? It's always a good week for graphene news! Researchers have developed graphene-based sensors to detect odor molecules. From (who else?) Graphene-Info:
Olfactory sensing is an integral part of many industries like food, cosmetics, healthcare, and environmental monitoring. Currently, most commonly utilized methods for detecting and evaluating odor molecules is called gas chromatography–mass spectrometry (GC–MS). While GC–MS is effective, it has certain limitations like confined sensitivity and heavy setup. As a result, researchers are in the search of user-friendly and highly sensitive alternatives.
In the past few years, graphene field-effect transistors (GFETs) have started being used to come up with highly sensitive and selective odor sensors. This was done by combining with olfactory receptors, also called electronic noses.
So…basically AI for the nose?
Off the Wall
Reddit's embroidery forum (we were not aware there was such a thing) recently held its 2022 awards, and an Axios journalist picked one up. Says a proud Axios:
Congratulations to Erin Davis, a visual journalist at Axios, who got the top prize on Reddit's embroidery forum's 2022 awards for her piece "Ten piece chicken wings with fries."
Erin picked up embroidery during the pandemic. "The process is really meditative, and I get in a lot of podcasts while doing it."
On her scrumptious choice: "I generally love the juxtaposition of traditional embroidery and unusual subjects."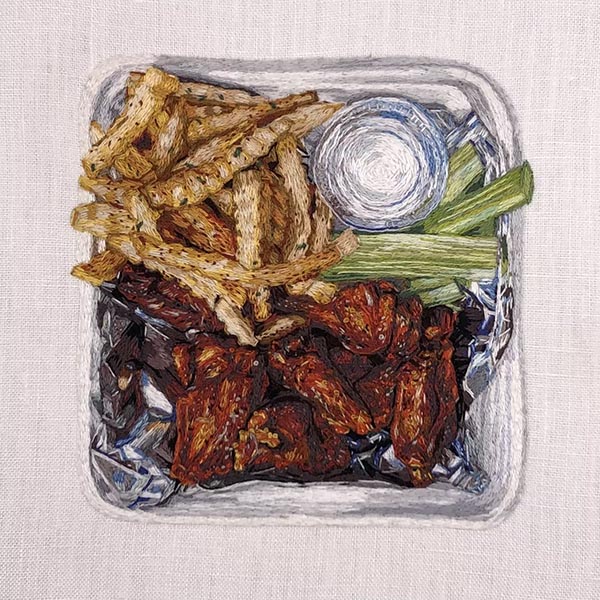 All the Marble
Is your working or living area chilly in winter? Do you need a space heater? But do you want one that's more in keeping with what the ancient Greeks or Romans would have had? Well, then, why not heat up your space like the ancients with this marble space heater. Says Core77:
Design professor Claudio Larcher, director of the catch-all Design Department at Milan's New Academy of Fine Arts, designed Heatty, this unusual marble space heater: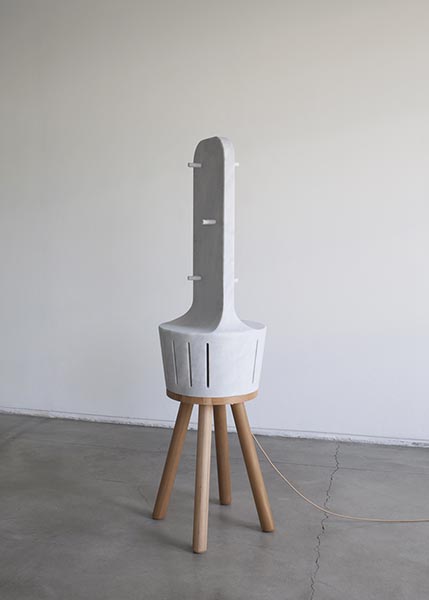 It's apparently electric, but other than that, very little information is available.
There's no word on what those little hooks are for, what the interface is, how much heat it puts out, et cetera. And while it was apparently designed for an Italian brand called Clique Editions, their listing for the object mentions neither price nor whether it's in production.
Still, it'd would have been great to have it in the shape of some classic statuary.
School for Scandal
Here's a headline to conjure with. Says Gizmodo: "Video Game-Playing Fish Commit Credit Card Fraud In the Ultimate Phishing Scam"
you might now have to stress over your pet fish making online purchases you didn't approve—at least if you run a YouTube channel where you live stream your pet fish playing video games like Pokémon.
What. The. Hell. Are you talking about?
According to SoraNews24, the Mutekimaru YouTube channel's hook is using an aquarium filled with a handful of fish to play video games. These aren't fish that have been carefully trained to interact with a submerged controller, or even to operate a panel of waterproof buttons. Instead, a webcam pointed at the aquarium is connected to a PC where software tracks the fish's movements. A grid of controller inputs sits underneath the fish, and the webcam correlates where the fish are above the grid to inputs in-game. In this instance, if a fish pauses for a moment in the upper left corner of the screen, an A button input is sent to the Nintendo Switch.
Whatever floats your boat fish.
As you can probably imagine, the fish don't bring much strategy to the games they play. The inputs are more or less completely random, but that doesn't mean the fish don't eventually win. Back in 2020, a team of Mutekimaru's fish successfully finished Pokémon Sapphire, a feat that would take human players about 30 hours of gameplay to accomplish, but took the fish over 3,000 hours.
So where does the phishing scam come in?
But because their inputs are completely random, and no one is monitoring their gameplay 24/7, instead of starting up Pokémon again, the fish managed to first find their way into the Nintendo Switch's settings, and then the eShop, where the console owner's login and credit card info were saved for easy access.
The team of fish managed to add a whopping 500 yen to the console's eShop account, which is about $3.80 in US dollars.
Not sure $3.80 or the equivalent in yen is "whopping," but maybe for fish it is. Still, you probably might want to check and see what the cat is up to.
Don't Do the Dew
In case you missed it, last Sunday, January 22, was National Hot Sauce Day and for the occasion Mountain Dew released its first hot sauce. This is of course not a product one normally associates with Mountain Dew. Says Food & Wine:
Made in partnership with iBurn, a hot sauce shop out of Houston that also has a thriving e-commerce shop, the new spicy offering aims to merge the "iconic tropical lime flavor of the beloved Mtn Dew Baja Blast with habanero peppers, green chiles, and jalapeño peppers," the company shared in a statement provided to Food & Wine.
"There is, however, a catch with this 'hot' new food item" because of course there is.
You can't buy it. Instead, you must enter to win one of the 750 limited-edition bottles. Starting today, January 19, hot sauce fans can enter on the company's official site here. The contest runs from now through February 8 at midnight.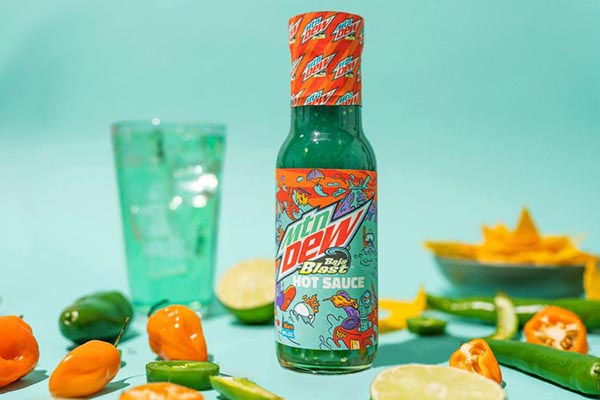 It probably won't just be the caffeine that keeps you up all night.
Did anything catch your eye "around the Web" this week? Let us know at [email protected].
This Week in Printing, Publishing, and Media History
January 23
1546: Having published nothing for 11 years, François Rabelais publishes the Tiers Livre, his sequel to Gargantua and Pantagruel.
1656: Blaise Pascal publishes the first of his Lettres provinciales.
1783: French novelist Stendhal (né Marie-Henri Beyle) born.
1832: French painter Édouard Manet born.
1919: American actor, game show host, and TV pioneer Ernie Kovacs born.
1957: American inventor Walter Frederick Morrison sells the rights to his flying disc to the Wham-O toy company, which later renames it the "Frisbee."
1998: Netscape announced Mozilla, with the intention to release Communicator code as open source.
January 24
1670: English playwright and poet William Congreve born.
1947: American singer-songwriter Warren Zevon born.
1984: Apple Computer places the Macintosh personal computer on sale in the United States.
January 25
1507: Swiss printer Johannes Oporinus born.
1759: Scottish poet Robert Burns born.
1783: English-American businessman and philanthropist and founder of Colgate-Palmolive William Colgate born.
1858: The Wedding March by Felix Mendelssohn is played at the marriage of Queen Victoria's daughter, Victoria, and Friedrich of Prussia, and becomes a popular wedding processional.
1881: Thomas Edison and Alexander Graham Bell form the Oriental Telephone Company.
1882: English novelist, essayist, short story writer, and critic Virginia Woolf born. Who's afraid?
1915: Alexander Graham Bell inaugurates U.S. transcontinental telephone service, speaking from New York to Thomas Watson in San Francisco.
1937: The Guiding Light debuts on NBC radio from Chicago. In 1952 it moves to CBS television, where it remains until September 18, 2009.
1947: Thomas Goldsmith Jr. files a patent for a "Cathode Ray Tube Amusement Device," the first ever electronic game.
1949: The first Emmy Awards are presented; the venue is the Hollywood Athletic Club.
1960: The National Association of Broadcasters reacts to the "payola" scandal by threatening fines for any disc jockeys who accept money for playing particular records.
1961: In Washington, D.C., President John F. Kennedy delivers the first live presidential television news conference.
1961: 101 Dalmatians premieres from Walt Disney Productions.
1964: Blue Ribbon Sports is founded by University of Oregon track and field athletes, which would later become Nike.
1996: American playwright and composer Jonathan Larson dies, in far too untimely a fashion (b. 1960).
January 26
1918: American author Philip José Farmer born.
1926: The first demonstration of the television by John Logie Baird.
January 27
1756: Austrian composer and musician Wolfgang Amadeus Mozart born.
1785: The University of Georgia is founded, the first public university in the United States.
1832: English novelist, poet, and mathematician Lewis Carroll (né Charles Dodgson) born.
1851: French-American ornithologist and painter John James Audubon dies (b. 1789).
1880: Thomas Edison receives the patent for the incandescent lamp.
1813: Italian composer and philanthropist Giuseppe Verdi dies (b. 1813).
1908: American journalist and publisher William Randolph Hearst, Jr., born.
1922: American journalist and author Nellie Bly dies (b. 1864).
1944: English drummer, songwriter, and producer Nick Mason born.
2009: American novelist, short story writer, and critic John Updike dies (b. 1932).
2010: American soldier and author J. D. Salinger dies (b. 1919).
January 28
1613: English diplomat and scholar, founder of the Bodleian Library Thomas Bodley dies (b. 1545).
1706: English printer and typographer John Baskerville born.
1754: Sir Horace Walpole coins the word "serendipity" in a letter to a friend. What a stroke of luck.
1813: Jane Austen's Pride and Prejudice is first published in the United Kingdom.
1873: French novelist and journalist Colette (née Sidonie-Gabrielle Colette) born.
1878: Yale Daily News becomes the first daily college newspaper in the United States.
1939: Irish poet and playwright, Nobel Prize laureate W. B. Yeats dies (b. 1865).
1956: Elvis Presley makes his first national television appearance.
1958: The Lego company patents the design of its Lego bricks, still compatible with bricks produced today.
1965: The current design of the Flag of Canada is chosen by an act of Parliament.
January 29
1737: American revolutionary and pamphleteer Thomas Paine (Common Sense, et al.) born.
1845: "The Raven" is published in The Evening Mirror in New York, the first publication with the name of the author, Edgar Allan Poe.
1860: Russian playwright and short story writer Anton Chekhov born.
1886: Karl Benz patents the first successful gasoline-driven automobile.
1888: English poet and illustrator Edward Lear dies (b. 1812).
1923: American author and screenwriter Paddy Chayefsky born.
1963: American poet and playwright Robert Frost dies (b. 1874).
1980: The Rubik's Cube makes its international debut at the Ideal Toy Corp. in Earl's Court, London.