Commercial printing giant R. R. Donnelley recently made a splash with its Optichannel Opportunity Report with marketers' predictions for their spending in 2023. The report, based on the survey responses of 300 marketers, casts a fairly rosy picture of the next 12 months. But is it the complete picture?
Before answering this question, let's look at some highlights:
54% of marketers expect their organization's marketing budget to increase this year.
73% see opportunity to gain market share through increasing spend.
68% have adjusted their digital marketing budgets as a result of large-scale changes in social media platforms.
Of these, 71% have reallocated portions of their digital budgets to direct mail, brochures, signage, and other print materials.
89% are increasing their use of QR codes; 66% are using triggered messaging; and 44% are using RFID to augment the power of print.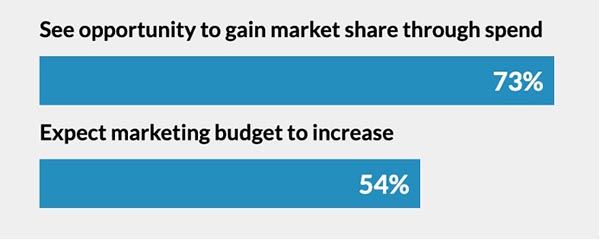 Source: R. R. Donnelly "Optichannel Opportunity Report"
We don't know, of course, who these 300 marketers are. Most likely, they are customers of RRD, and if so, they are marketers that are already using print. If this is the case, it's not a random sample. So how do the results compare to the larger marketing community?
Neil Patel's Global Study of 8,023 Marketers
One study to which we can compare is Neil Patel's "How Marketers Are Spending Their Money." The study of 8,023 marketers across the globe paints a little different picture than RRD. Not contradictory, but complementary. Let's take a look.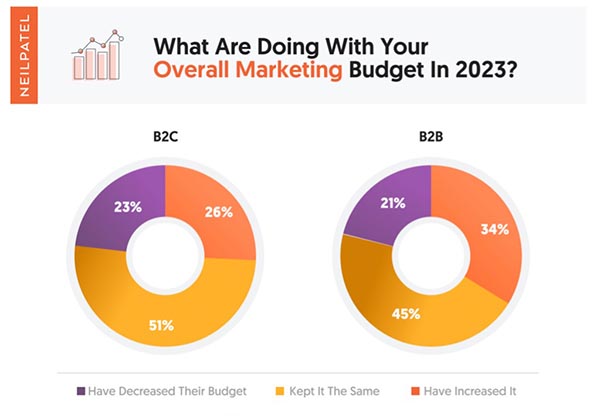 1. Overall marketing budgets are up.
In the B2C world, 77% of marketers are maintaining or increasing their marketing budgets for 2023. In the B2B world, this rises to 79%. The percentage of marketers increasing their budgets, specifically, is higher in B2B than B2C, however—34% vs. 26%.
2. SEO budgets are up.
Sixty-eight percent of marketers are increasing their SEO budgets. The number one reason they give is that SEO provides higher ROI than paid advertising. If marketers aren't planning to increase their budgets, it is due to financial constraints or uncertainty about ROI.
3. Organic search budgets are down.
The plurality (42%) of marketers surveyed are reducing their spend on organic search. The reason? They don't see it providing ROI as high as it used to. Nearly one-third (32%) of marketers are increasing their spend on organic search, primarily due to the impact of Apple iOS changes.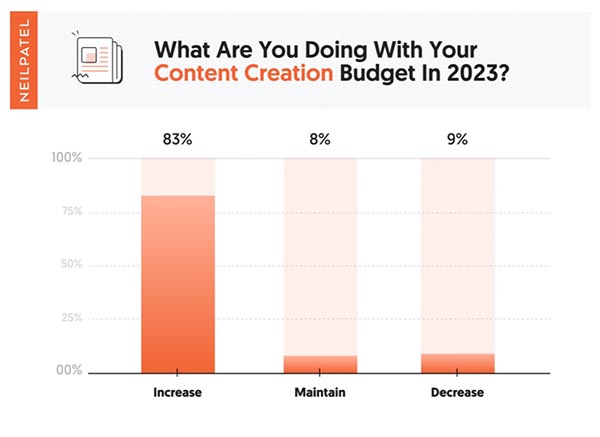 4. Content creation is booming.
A whopping 83% of companies are increasing their content production budgets. The number one reason? The exploding number of formats in which content is needed. The 8% maintaining their budgets feel limited by funds, not desire, and the 9% decreasing their budgets are doing so because they are investing in AI tools to help bring down the cost.
5. AI is the one thing everyone agrees on.
From GTP-3 to ChatGPT, AI is all the rage. Nearly every company in the survey (98%) is planning to leverage AI to create their own tools or make their marketing more efficient. Some of this could be for chat functionality, not content creation. But regardless, everyone is doing it.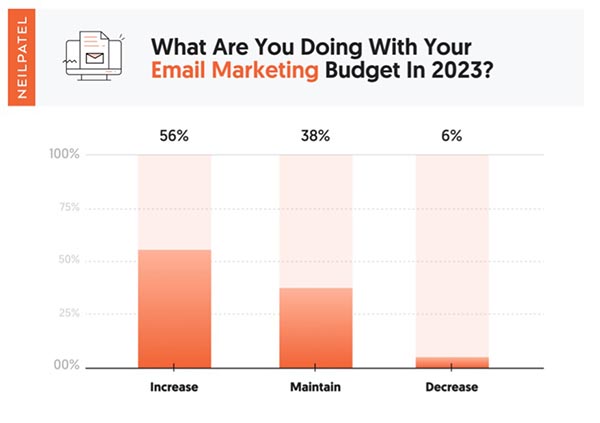 6. Email continues its steady climb.
More than half of companies (56%) are increasing their email marketing budgets. The reasons for this fall into three camps:
Their email lists are growing.
They are spending more to comply with privacy laws.
They are investing in more marketing automation.
Among the 6% decreasing their budgets, their reasons split between pruning their lists of inactive subscribers (allowing them to save money) and switching email marketing software providers (also allowing them to save money).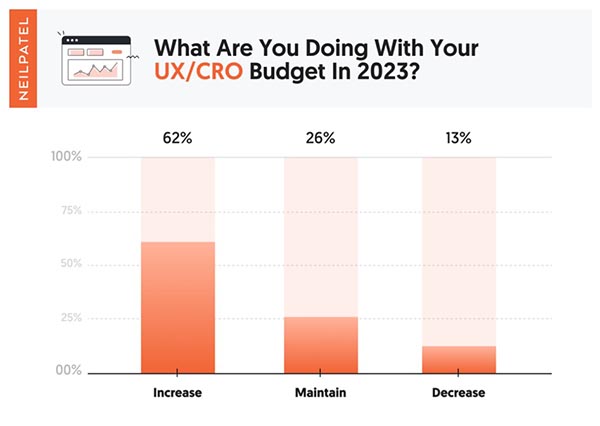 7. Focus stays on user experience (UX).
Nearly one-third (62%) of companies plan to increase their UX/CRO budgets. The reasons? CRO helps improve ROI, and UX is critical to the overall marketing experience.
8. Podcasting is hot.
Another thing marketers agree on—podcasting is hot. Ninety-two percent say they are increasing their podcasting budgets for the coming year. The reason is simple: Podcasting isn't saturated yet, so it's seen as an area of untapped opportunity.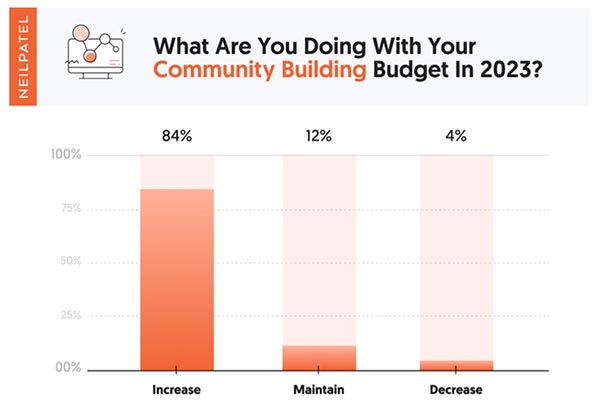 9. Community building is on the radar.
Eighty-four percent of respondents say they are increasing their investment in community building. This focus on community is a theme we saw in HubSpot's Inbound Marketing Report 2023, as well. More and more brands are building online communities around their products.
10. Search ad budgets are up, too.
Fifty-nine percent of respondents are planning to increase their paid search with Google and 47% are planning to increase their paid search with Bing. The reason? In their view, search ads provide a clear ROI compared to other channels.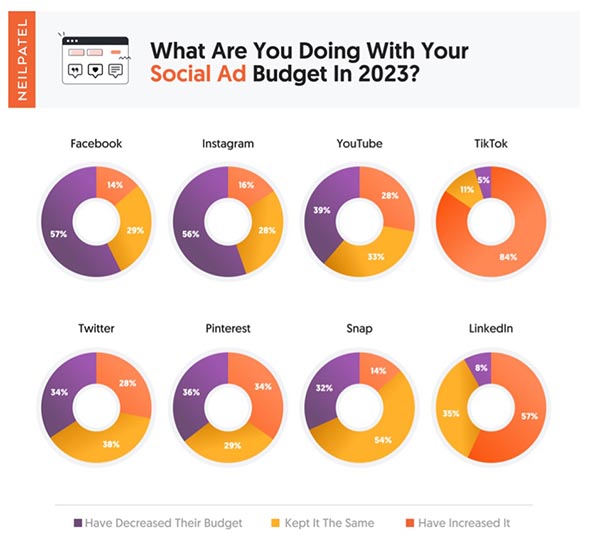 11. Social ads are declining.
With all these increases, it would make sense that something has to be declining, and paid social ads seem to be taking the hit. Marketers are pulling back on Facebook (-57%); Instagram (-56%); YouTube (-39%); Twitter (-34%); and Pinterest (-36%). Even SnapChat is down 32%. The number one reason? Apple IOS privacy changes. Marketers can't generate the same ROI from these channels as they used to.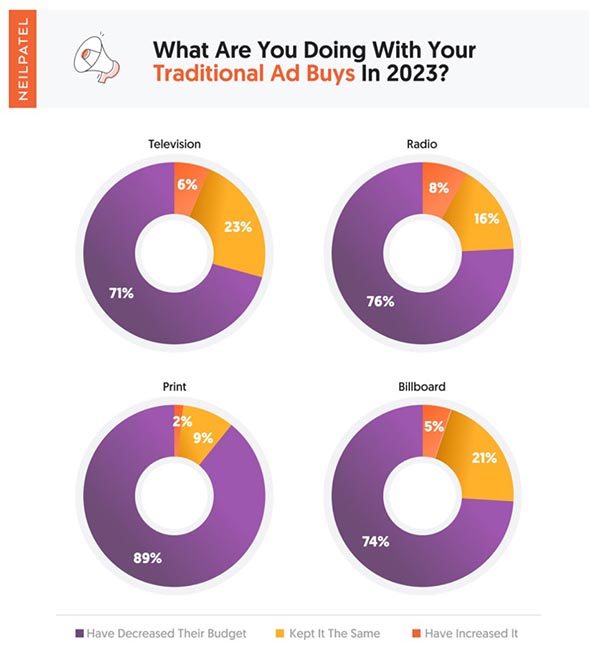 12. Traditional ads are taking a hit.
You know what else is declining? Traditional ad buys. This includes television (-71%); radio (-76%); print (-89%); and billboards (-74%). This is specifically ad buys on these channels, however, and not all print (as in the RRD survey, which sees growth in direct mail, brochures, and signage). But the reasons for the decline are the same: marketers' challenge in tracking ROI.
This last piece is the common thread that runs throughout all of these data points. Marketers aren't biased toward one channel or another. They are equal opportunity favorers and detractors based ROI. If they can prove it, they invest in it. If they can't, they don't. It's a pretty simple formula. When it comes to print, the takeaway is clear—dust off those tracking mechanisms and keep them front and center in those client conversations.