Every year, What They Think offers insights into the print production outlook for our industry. This year was no exception. Our webinar "The Print Production Outlook: The Digital Transition Continues" looked at production technology shifts and the trends driving them. Sponsored by Canon Solutions America, the webinar was moderated by Richard Romano with presenter WhatTheyThink European Section Editor Ralph Schlözer.
Here are the highlights:
1. The print production equipment market is rebounding.
According to Smithers, the print production equipment market is expected to reach $15.86 billion in 2021, up nearly 20% after several years of pandemic-driven drops. The market, both offset and analog, is expected to remain flat through 2026.
2. Digital production continues to replace analog, but at a much slower pace than some expected.
Despite all the chatter being about digital these days, most of the print volume is still being done by offset. Digital production is growing, and the pace has accelerated, but still at a lower pace than expected.
Even so, between 2017–2027, the value of analog printing is expected to drop from $734.5 billion to $721.4 billion, according to Smithers. In the offset market, however, the drop is being mitigated by volume being picked up from gravure. As magazine and catalog runs continue to decline from 23.8 trillion A4 prints to 21.1 trillion between 2015–2019 (thanks to consumer migration online), offset is picking up some of the short-run volume.
Meanwhile, the value of digital print (both inkjet and toner) is forecast to grow from $123 billion to $190 billion. This is credited to largely to high-speed inkjet. Overall, digital is forecast to see growth of 5.7% until 2027.
In the analog markets, any growth will come from flexo and offset in the packaging markets.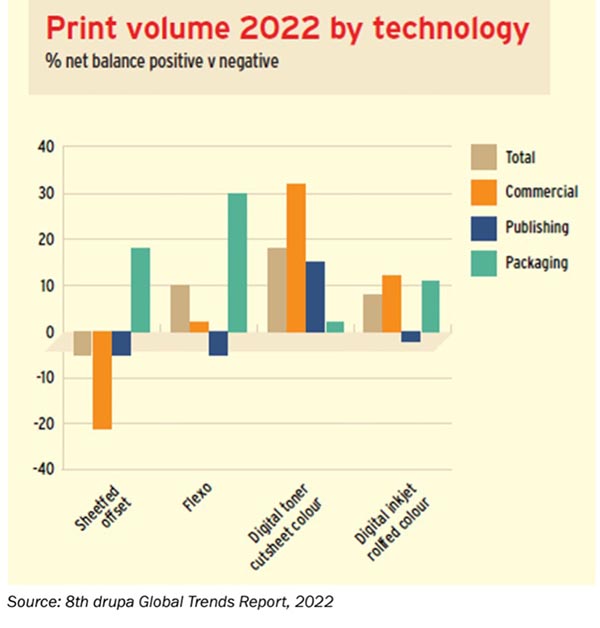 3. On the digital side, with the exception of specialty applications such as packaging, toner is holding its own.
Printers are investing in a steady stream of upgrades to their toner-based equipment. While the improvements in the color market are incremental, the overall toner market is still seeing fairly significant upgrades in monochrome, particularly in the area of speed.
Overall trends include:
Constant stream of upgrades that no longer capture public attention.
Incremental improvements to existing lines.
Serving a large installed base.
Still the best all-around solution for mid-market production.
Special colors remain an opportunity.
"The speeds of these presses are longer doubling the way they once were," notes Schlözer, "but they are creeping up. Machines are getting faster, with more paper support, so there is quite a bit of improvement there." Schlözer points to the Indigo V12, in particular, which brings a whole new level of speed (120 linear feet per minute) to toner printing.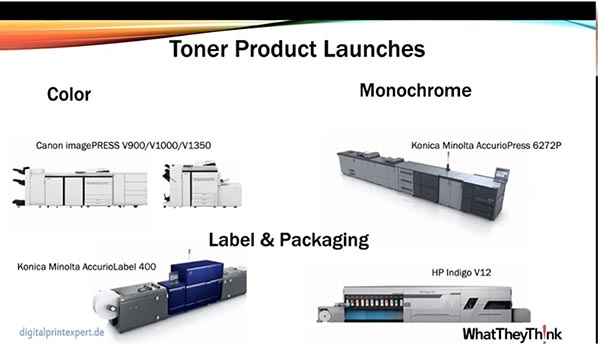 4. In the digital market, the focus remains on inkjet. "There's a quite a big succession of new models coming out all the time," says Schlözer. "An expanding range of tiers and applications—faster, slower, all around presses, graphic arts presses, targeting certain applications. Inkjet is now in a wide variety of segments, with a lot of specialization in these devices."
Among the key launches:
Kodak, with its Prosper 7000 Turbo, which claims to be the fastest two-up inkjet press.
Crossover devices like the HP Advantage 2200 and Miyakoshi MJP20EXG.
New, very compact printers for more decentralized printing.
Launch of the MGI Alphajet (really this time), with its first installation.
Multiple introductions in the label and packaging space, both corrugated and in the hybrid label space (EFI Nozomi 14000 LED, HP Pagewide T700i, Bobst Digital master, Gallus One).
To help printers sort through the options, What They Think is releasing a set of helpful guides. Production Inkjet Shopping Guide 1 – Entry Level has been published, with three more parts to follow.
5. There is a rebound in unit sales of digital presses following the 2020 crash resulting from the pandemic.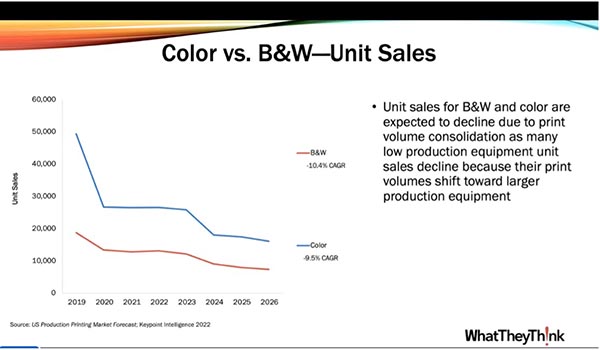 These numbers are expected to stabilize with another dip once the industry is through the post-COVID, then stabilize again. This dip is not expected to be due to reduction in demand but to investment in higher end devices that will consolidate volume once produced on smaller devices.
These numbers are both inkjet and toner combined.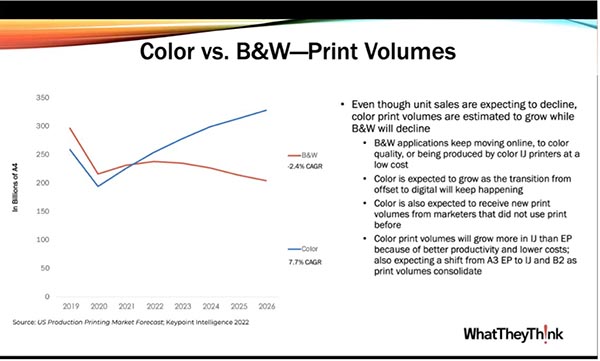 Next are the volumes of BW vs. color toner devices. Schlözer notes that while black-and-white volumes have been declining for some time, those volumes are still substantial. "Color volumes also had a dip during the pandemic, but they are now back on a growth trajectory," he says. "That is driven by inkjet, especially the high-volume CF inkjet presses in the larger sizes."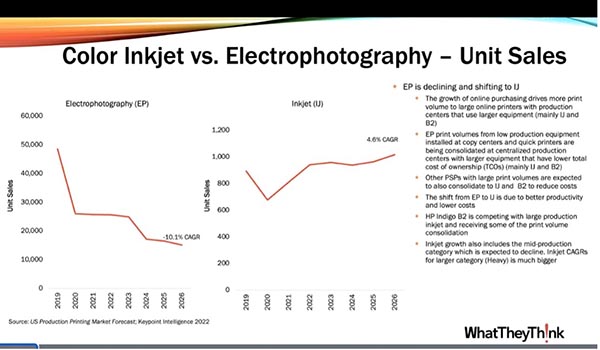 Next, Schlözer turned to the breakdown between electrophotographic and inkjet. The data show a sharp decline in EP, and remaining in decline due to continued drops in black-and-white volumes in the later years of the forecast (although color volumes will continue to grow). Meanwhile, inkjet is the real growth story, showing a dip followed by a steady recovery and future growth in the later years of the forecast.
6. High-speed inkjet is finally coming into its own. The WhatTheyThink Print Business Outlook 2022 survey shows that investment in high-speed production inkjet is at its highest level since the start of these surveys. Printers are finally starting to see more business opportunities in acquiring this type of equipment, and WTT will share that data once it's finalized in the 2023 report.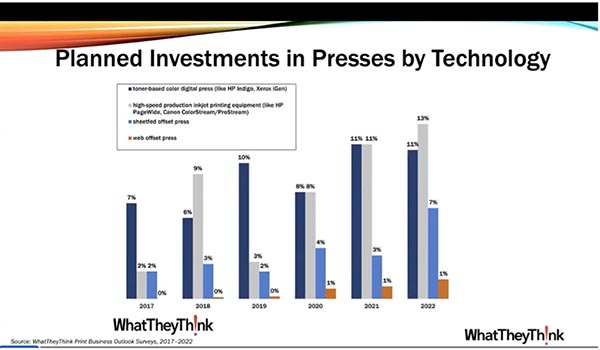 7. In the packaging market, label presses top the installs. The installed base of digital presses in the folding carton, flexible packaging, and corrugated markets remains fairly small, according to IT Strategies, about 3% of the total label volume. "But we're just talking about volume here," says Schlözer. "The revenues are much higher."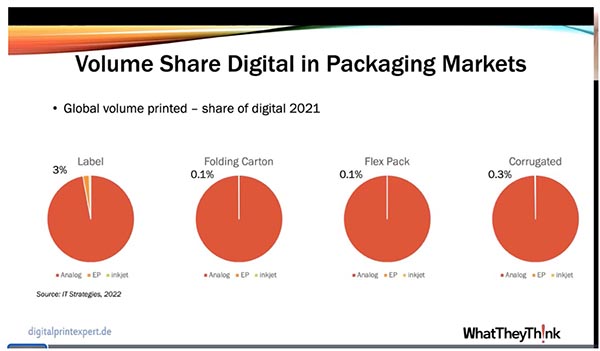 What Is the Outlook for Next Year?
Looking forward to the next year, what can we expect? According to WTT's 2023 Outlook, here are the top takeaways:
Insecurity reigns: The market will remain difficult to predict because so many unknowns remain: the supply chain, the markets, and Russia's war in Ukraine among them. While the market will likely remain "a bit more stable," uncertainty and insecurity will be one of the key themes for next year.
Printers are moving ever closer to completely "lights out" production: This means having no hands on the production floor for key tasks. "There has been a lot of progress in workflow, in automation, and even in robotics," says Schlözer. "Automation is a big topic, and that is being driven by the shortage of labor, which—outside the current shortage of paper—remains one of their perpetual concerns."
Sustainability concerns remain high: While sustainability has long been a topic in the printing industry, Schlözer sees a "fundamental shift" in that brands are setting more environmental goals that they are pushing through the supply chain. "They are asking suppliers, packaging printers, publishing printers, and commercial printers to work on their environmental credentials," he observes. "This is more than just 'being nice' or catering to a market. As big brand set these goals, they will trickle down to the rest of the market."
What should printers focus on first? According to Schlözer, tracking your emissions and coming up with an environmental footprint calculation. For one company's approach, see WhatTheyThink's article, "Is It Possible to Have Carbon-Neutral Direct Mail?"
Trade shows are back: Miss the old days of pushing your way into the exhibition hall, racing around the venue gathering materials before dashing to the next demonstration? They're back! Not only are trade shows back, but so are the presses side by side, in operation, complete with finishing lines. Whether it's the Hunkeler Innovationdays (February 2023), Interpack (May 2023), or Labelexpo Europe (September 2023), look forward to seeing machines operating side by side again. Look forward to some "really interesting" launches on the high-speed inkjet side, as well as digital packaging.
Investment is back, too: "This is underpinned by research from the Global Trends report that reveals that companies are increasing their investments rather than decreasing them, as in the past," says Schlözer. "There is quite a big positive net balance for investing next year. In fact, the forecast for 2023 is showing the biggest net increase (across all segments) that the survey has produced so far."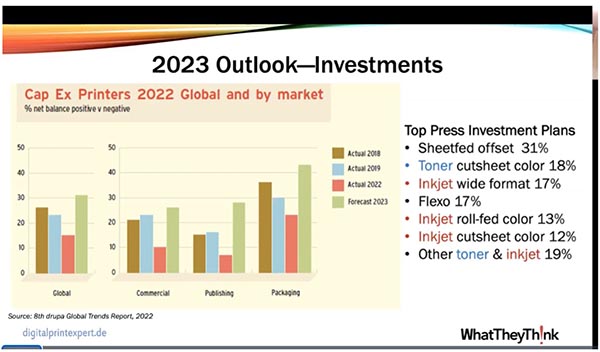 Schlözer points that out, while sheetfed comes out on top of the planned investments data, that is because of digital is broken into so many categories. "If you add up all up, including inkjet, then there's a lot more interest in investing in the digital technologies than sheetfed offset. But flexo also ranks very high, driven by the packaging market."
The webinar was rounded out with questions, and attendees were invited to download the slides for further analysis.
Watch the webinar recording here.
Sponsored by Canon Solutions America, "Print Production Outlook: The Digital Transition Continues" is the latest installment in WhatTheyThink's monthly half-hour LunchNLearn webinar series.