Your Friday Ragtime Piano Cover of Radiohead's "Paranoid Android"
Squeezing Out Sparcks
Via Core 77, Sparck Technologies a Dutch manufacturer of packaging equipment tasked their engineers to come up with an automated packaging system specifically for online retailers who need to ship objects of all kinds of different shapes and sizes. The key elements: "Minimize packaging waste and the need for 'void fill'—those crumpled-up wads of paper or inflated plastic film—by creating the smallest possible box that uses the minimum amount of material." And they did.
The room-sized solution the engineers came up with is this CVP Impack, an in-line automatic packaging machine that Sparck reckons replaces as many as 15 individual packaging stations. A human worker drops the goods-to-be-shipped onto a conveyor belt. A laser 3D-scans the goods, and a custom-fit, not-one-inch-wasted box is created on the fly. The box is automatically folded around the goods, and the box gets labeled and taped shut on the way out.
The company says retailers can reduce shipping volume by up to 50% and use up to 20% less corrugated board. Check it out:
Art In Action
Looking for a unique set of action figures for your kids—or let's be frank, yourselves? Via Gizmodo, check out Good Smile Company's Figma line of action figures derived from the world of fine art. Michelangelo's David, Botticelli's Venus, the Venus de Milo (with arms added!), Munch's Scream guy, King Tut, even the giant moai of Easter Island are all available as posable action figures. The Scream guy looks quite jaunty: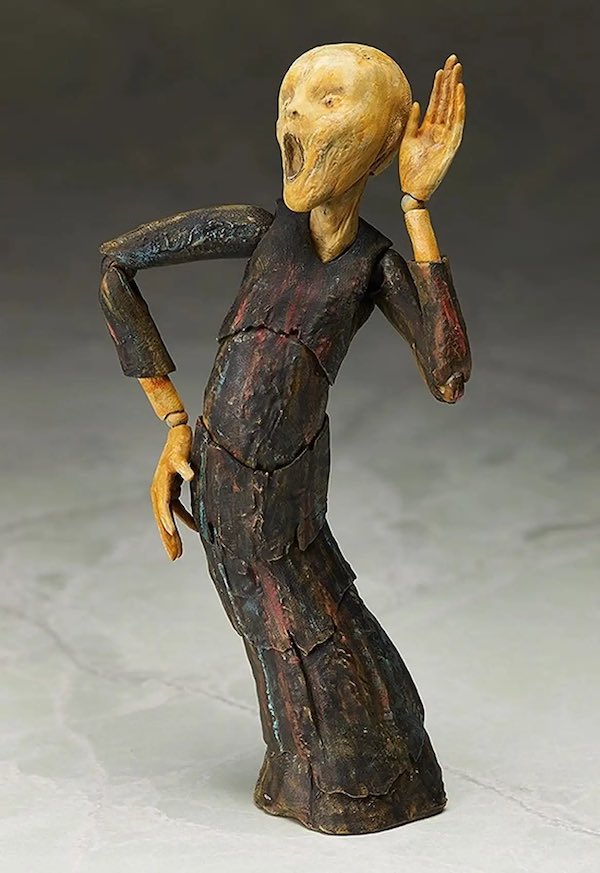 Image: Good Smile Company
And with accessories, you can create some interesting tableaux.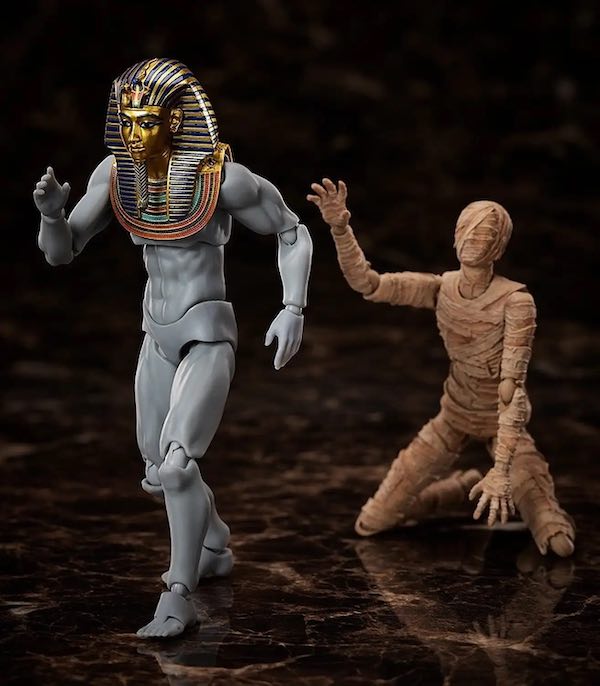 Image: Good Smile Company
Your Mov—Hey!
One doesn't normally associate chess with violence (Monopoly, yes; chess, no), but one popular news story this week told of the chess-playing robot that broke the finger of its seven-year-old opponent. Says The Guardian:
Last week, according to Russian media outlets, a chess-playing robot, apparently unsettled by the quick responses of a seven-year-old boy, unceremoniously grabbed and broke his finger during a match at the Moscow Open.
Commented Sergey Lazarev, president of the Moscow Chess Federation, with a flair for understatement, "This is of course bad."
Naturally, blame for the incident varied, depending on whom you ask.
"There are certain safety rules and the child, apparently, violated them. When he made his move, he did not realise he first had to wait," [Sergey Smagin, vice-president of the Russian Chess Federation], said.
Or:
Lazarev had a different account, saying the child had "made a move, and after that we need to give time for the robot to answer, but the boy hurried and the robot grabbed him". Either way, he said, the robot's suppliers were "going to have to think again".
The child, named Christopher, was not overly traumatized by the incident and finished the tournament the next day, albeit with his finger in a cast.
Phoning It In
Back in May, we linked to a story about the last pay phone being removed from New York City and taken to the Museum of the City of New York. Now, we learn that there is an online Pay Phone Museum that features photos of pay phones that still exist in the wild.
With the increase in use by cellular telephones, the use of payphones has declined drastically in recent years. Pay Phones are now an "endangered species" in the world of telecommunications. In an effort to preserve their memory, this digital museum featuring pictures of various pay phones has been established.
For the full immersive experience, you can also listen to a recording of the operator saying "Please deposit five cents."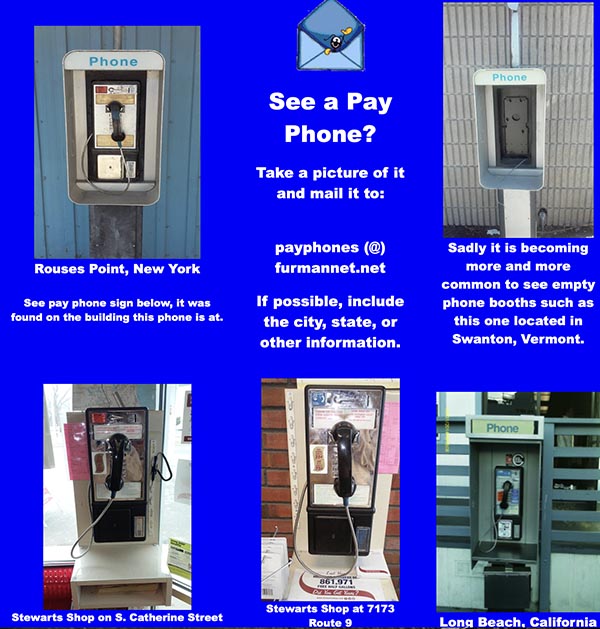 Amacing Graze
Via Boing Boing, now you can be cleft in two or clobbered by a mace in grand style with these Delft blue ceramic weapons.
Helena Hauss (previously at BB) created this amazing set of handpainted Delft blue ceramics: "An approach to represent the inner strength and fury that comes with being a woman, in contrast to an appearance of delicacy we're too often branded with."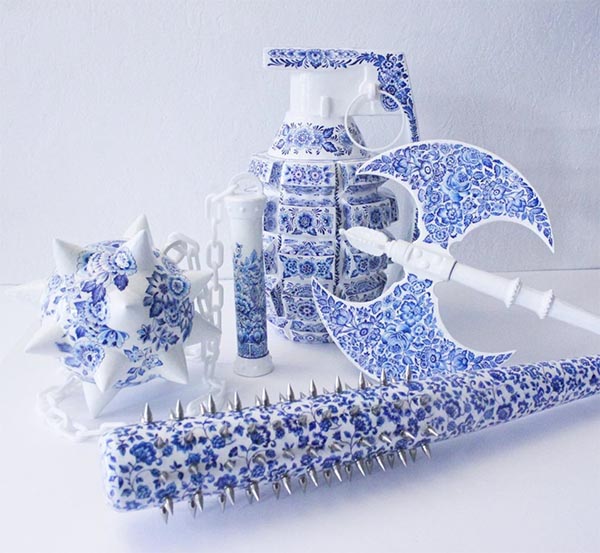 They certainly would have made Game of Thrones more entertaining.
What's That Again?
Do you ever find that you need to say the same thing over and over again—but don't want to just keep repeating yourself verbatim? Try this handy Sentence Rephraser from Ginger Software. It offers a number of options, although you may have to phrase it carefully before it rephrases.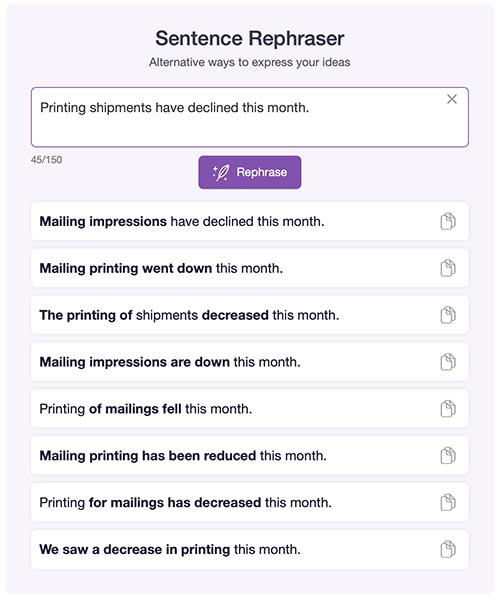 Kind of like a thesaurus for entire sentences.
Diagnosis: Graphene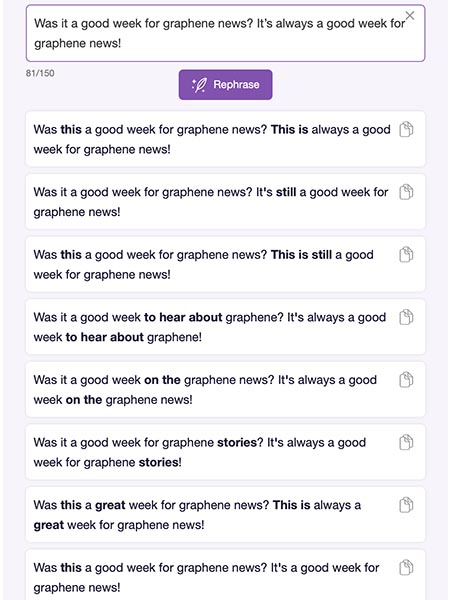 Paragraf is working on developing a new generation of graphene-based diagnostic systems that will provide results within a few minutes. Says Graphene-Info:
Malcolm Stewart, Paragraf Diagnostics Business Development Director, said: "This graphene-based diagnostic test is expected to become the first test in the world to give clinicians the ability to identify patients who need an antibiotic treatment within the space of a regular 15-minute clinic appointment. It encourages antimicrobial stewardship by giving clinicians the insight into when not to prescribe antibiotics as the test result differentiates viral from bacterial infections. Paragraf will go on to deliver a series of high sensitivity, rapid tests for disease biomarkers in areas including cardiovascular disease, oncology, and infectious diseases".
They are looking to complete this project by the end of May 2024.
Come Fly Away
If you were a reader of Popular Mechanics in 1977, you may have been intrigued by the cover of the September issue which featured a "flying camper."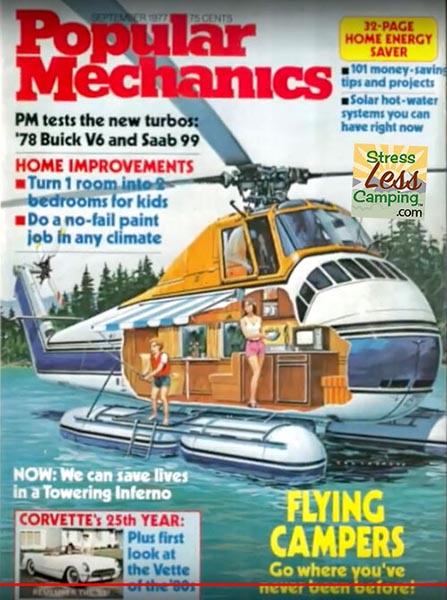 Now, for some of us, "flying camper" immediately beings to mind the flying Winnebago scene from Escape to Witch Mountain, but a flying Winnebago was a real product. John Hanson was the founder of the company that would be renamed Winnebago in 1960 and was a pioneer in the brand new field of "recreational vehicles"—basically, homes on wheels. The RV market took off in the 60s and 70s, and Winnebago soon became synonymous with RVs. Even during the gas crisis of the 1970s, RVs remained popular, and Winnebago wanted to take the market a step further, for both publicity purposes as well as to lure well-heeled RVers to more exotic campers.
At the same time, the U.S. military was in the process of selling off its fleet of Sikorsky S-55 and S-58 (aka "Choctaw") helicopters. They were robust, relatively easy to operate, and roomier than you would expect a helicopter to be—enough space for a kitchen, beds, and all the other luxuries of an RV. So…you have the RV and you have decommissioned military helicopters. Why not combine the two?
Decommissioned Sikorskys were already being bought and used for civilian purposes, particularly by a man named Fred Clark and his company Orlando Helicopter Airways, who also came up with the initial idea of a flying camper van called the Heli-Camper. The marketing folks at Winnebago saw Orlando's publicity materials and approached them to co-develop what would become the Heli-Home. The Popular Mechanics cover feature was actually a test drive of the prototype, and it had a kitchen, bathroom (with shower and chemical toilet), fridge, furnace, and plenty of sleeping space—all the things you would expect in an RV.
Needless to say, it was not a runflyaway success; although a few companies bought one for business purposes, only one was sold as an actual flying camper (for $300,000 in late 1970s dollars, $1.4 million today). Then again, it wasn't something that Winnebago was all that interested in selling, being more of a promotional gimmick than anything—and it worked, driving people into Winnebago showrooms.
Calum Gillies' YouTube channel takes a deep dive into the development of the Heli-Home—including an interview with Clark. It's really quite fascinating.
Squeezing Out Sporks
Looking for a good way to help reduce plastic or even paper waste? One company is working on edible utensils. Says Axios:
"We're trying to revolutionize the way we eat our food by replacing single-use plastic with edible cutlery," says the founder of Incredible Eats, Dinesh Tadepalli, whose company makes spoons and sporks in flavors like chocolate and oregano chili. (His favorite: a vanilla spoon with butter pecan ice cream.)
Other "edibles" are made from things like rice and sugar, and include strawberry-flavored drinking straws, oat-and-grain coffee cups, and black pepper-flavored spoons. There is a foodie angle here in that the edible utensils pair with the food they are used to eat. And, admittedly, "edible" is more of a marketing hook than the real expectation that consumers will chow down on a spork or cup, but the idea is that these items are at least compostable.
They are also turning up in more retail and entertainment venues.
Disney, Busch Gardens, Carnival cruises and Tropical Smoothie Cafes offer Sorbos edible straws — which come in eight flavors (including ginger, chocolate and cinnamon) but don't flavor your drink unless you bite them.
T.J. Maxx, Marshalls and Home Goods are selling Incredible Eats spoons, made from a mix of wheat, oats, corn, chickpeas and brown rice.
Lavazza coffee is being served in edible cups from Cupffee, which boasts that its vegan coffee cups stay crunchy and crispy for up to 40 minutes — and are only 56 calories.
"You will soon see our straws in thousands and thousands of fast-food restaurants in the U.S.," Ove Fondberg, a co-owner of Sorbos, tells Axios.
Spooning
Or, better than edible utensils, simply make the food in the shape of the utensil, as Heinz did with its new "spoon fries," spelled, annoyingly, Spoon Friez. Says Boing Boing:
Heinz have unveiled spoon fries that supposedly pair perfectly with ketchup. Heinz initially showcased the fries on national french fry day. Although their [sic] only available in the UK right now, I can't imagine it will be too long before I can wrap my gluttonous American hands around a pack.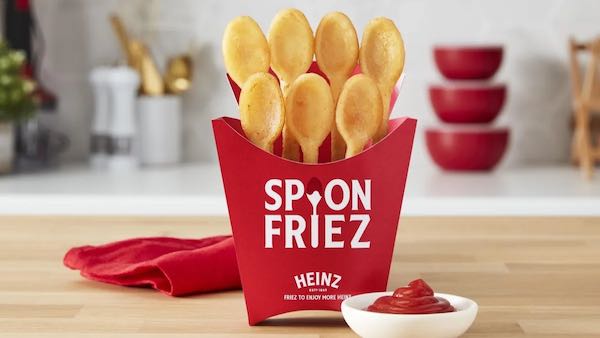 Chef and Emu: They're Cops
This Washington Post headline sounds like it would make a great buddy movie or TV series: "Emu and chef help stop driver fleeing crash site." And then team up to solve crimes!
The story (which would be the show's pilot episode) goes like this. Dean Wade, a chef at the Old Bell Hotel in Wiltshire, England, was at work when a drunk driver crashed into a nearby shop. Wade ran out, saw the female passenger scarper, while the impaired driver, "swaying and staggering," also fled, albeit unsteadily. A chase ensued.
Wearing his slip-resistant rubber kitchen clogs and chef's overalls, Wade chased the driver for 15 to 20 minutes, through bushes, allotments and gardens before the pair ended up at an animal sanctuary.
And this is where the two eventual buddies first meet.
"I could see this massive emu," Wade said. "I'm six foot tall and it was bigger than me." Wade said he could tell the bird, which was surrounded by its offspring, was likely to spring into defense if anyone intruded its enclosure.
"Mate, don't go in there," Wade warned the man, who he said ignored his advice, replying: "I can fight emus."
Although "I can fight emus" would be a great bumper sticker and perhaps an ironic tagline for the series, it alas was not true and the drunk driver was repeatedly and violently pecked. He eventually ran off toward the river while Wade flagged down a nearby police car.
Following Wade and the emu's successful partnership, the hotel and the animal sanctuary have also teamed up — striking a deal that sees staff deliver bucket loads of vegetable peelings from the kitchen to the animals each day in a bid to reduce food waste.
The WaPo gets a little cheeky:
The emu, despite its newfound fame, has retained a lower profile, with the wildlife sanctuary declining interviews but telling national broadcaster BBC that all its emus were unharmed and that they are "wonderful creatures."
There is also no truth to the rumor that the emu worked for Liberty Insurance.
Eight Legs to Hold You
There can be a very fine line separating "cool" from "creepy" and the idea of using reanimated dead spiders as robotic gripping claws walks that line. The Verge discusses the latest research in the field of "necrobotics" (there's a word to conjure with). First of all, why spiders?
while humans move their limbs using pairs of antagonistic muscles, like biceps and triceps, spiders' legs contain only a single flexor muscle that draws the leg inward. This is opposed by a hydraulic system: a chamber in the center of the spider's body (known as a prosoma) pushes out fluid to open the leg, with separate valves allowing the animal to control each limb independently. Incidentally, this is why spiders always curl up when they die; there's no pressure in the system to oppose the legs' flexor muscles.
OK, so how does this lend itself to anything practical, aside from a spider's ability to creep about?
the team from Rice University discovered they could artificially operate this hydraulic system simply by sticking a needle into a dead spider's prosoma, pushing air in and out to open and close the spider's legs like an arcade claw machine.
"It happens to be the case that the spider, after it's deceased, is the perfect architecture for small scale, naturally derived grippers," Daniel Preston of Rice's George R. Brown School of Engineering said in a press statement. The spiders can lift more than 130 percent of their body weight and run through 1,000 open-close cycles before the joints degrade.
Here's a video of it in action, which is certain to haunt your dreams:
This Week in Printing, Publishing, and Media History
July 25
1834: English philosopher, poet, and critic Samuel Taylor Coleridge dies (b. 1772).
1837: The first commercial use of an electrical telegraph is successfully demonstrated in London by William Cooke and Charles Wheatstone.
1965: Judas! Bob Dylan goes electric at the Newport Folk Festival.
1976: Viking 1 takes the famous Face on Mars photo.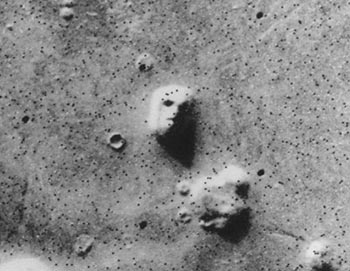 July 26
1502: German printer Christian Egenolff born.
1856: Irish playwright, critic, and Nobel Prize laureate George Bernard Shaw, born.
1887: Publication of the Unua Libro, founding the Esperanto movement.
1894: English novelist and philosopher Aldous Huxley born.
1928: American director, producer, screenwriter, and cinematographer Stanley Kubrick born.
1989: A federal grand jury indicts Cornell University student Robert T. Morris, Jr. for releasing the Morris worm, thus becoming the first person to be prosecuted under the 1986 Computer Fraud and Abuse Act.
July 27
1866: The first permanent transatlantic telegraph cable is successfully completed, stretching from Valentia Island, Ireland, to Heart's Content, Newfoundland. They could now communicate with each other to their heart's content.
1940: What's up, Doc? The animated short A Wild Hare is released, introducing the character of Bugs Bunny.
1938: Gary Gygax, creator of Dungeons & Dragons, born.
July 28
1844: English poet Gerard Manley Hopkins born.
1866: At the age of 18, Vinnie Ream becomes the first and youngest female artist to receive a commission from the United States government for a statue (of Abraham Lincoln).
July 29
1805: French historian and philosopher Alexis de Tocqueville born.
1818: French physicist Augustin Fresnel submits his prizewinning "Memoir on the Diffraction of Light", precisely accounting for the limited extent to which light spreads into shadows, and thereby demolishing the oldest objection to the wave theory of light.
1953: Canadian musician Geddy Lee (né Gary Lee Weinrib) born.
1958: U.S. President Dwight D. Eisenhower signs into law the National Aeronautics and Space Act, which creates the National Aeronautics and Space Administration (NASA).
July 30
Both English novelist and poet Emily Brontë (1818) and English singer-songwriter and producer Kate Bush (1958) born.
1909: English historian and author C. Northcote Parkinson, coiner of "Parkinson's Law," born. He would soon grow to fill the entirety of his crib.
1932: Premiere of Walt Disney's Flowers and Trees, the first cartoon short to use Technicolor and the first Academy Award-winning cartoon short.
2006: The world's longest running music show Top of the Pops is broadcast for the last time on BBC Two. The show had aired for 42 years.
July 31
1703: Author Daniel Defoe is placed in a pillory for the crime of seditious libel after publishing a politically satirical pamphlet, but is pelted with flowers.
1790: The first U.S. patent is issued, to inventor Samuel Hopkins for a potash process.
1919: Italian chemist and author Primo Levi born.