Your Friday Nostalgic Compilation of Dial-Up Modem Sounds
Either That Wallpaper Goes or I Do
Traditional wallpaper goes in and out of fashion and while it had been out of fashion for a few years now, perhaps it's on its way back. Via Print magazine, Yelp—the crowd-sourced review app/site—has partnered with home decor brand Chasing Paper to develop created printed wallpaper featuring popular small businesses.
The prints are made up of sketches by the New York City-based graphic designer and illustrator Amanda Giuffre, and each collection features iconic small businesses from New York City, San Francisco, and Austin. All of Yelp's contributions to the collaboration and a portion of Chasing Paper's proceeds will go back to supporting local businesses.
Yelp will donate their portion of the proceeds to local and small businesses as well, but they're also helping cover the expenses of the wallpaper installation for the first 30 folks that purchase panels of the limited-edition traditional wallpaper print and use Yelp's Request a Quote feature to select a home service professional.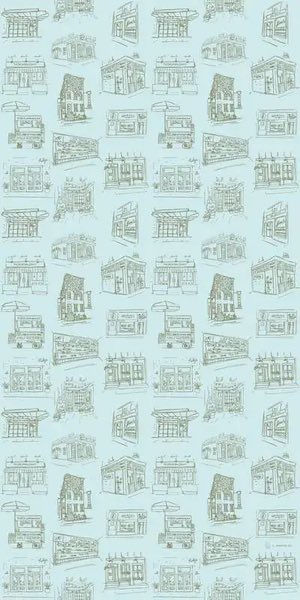 The businesses were selected by Yelp based on customer reviews. The New York businesses include Amy Ruth's, Ruby's, and Freeman's while San Francisco's include Shizen, Marufuku Ramen, and Green Apple Books.
RoboStores
The robot revolution continues apace—with robotic "stores on wheels" ready to chase you around malls, airports, and sporting events. Via Axios:
Tortoise, which makes what it claims is the first remote-controlled store on wheels, says it's getting big traction from companies that operate sports venues, airline terminals and supermarkets.
Tortoise's remote-controlled robots have been selling concessions at NBA and NHL games, and soon will be launching with MLB and the NFL.
They're wandering the Mall of America for Nickelodeon, selling popcorn, cotton candy and theme park tickets.
And they're mingling with office workers at San Francisco's Levi's Plaza, deployed there as an amenity by the development's owner, Jamestown, to lure people back to work.
They may proliferate faster than we would expect.
The robots work well at "any location where you have long lines, a lot of food traffic or a captive audience, or ideally some combination of the three," says Tortoise co-founder Dmitry Shevelenko.
How it works: Customers use a credit card to unlock a box on the Tortoise's back and take their chosen product. Each robot is steered and monitored remotely by humans at a Mexico City control center.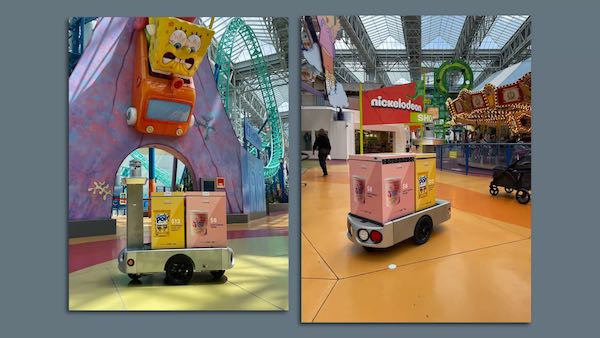 Amazon Style
Amazon continues its foray into physical locations and has now opened its first IRL clothing store. Called "Amazon Style," it is located in The Americana At Brand shopping complex in Glendale, Calif. Naturally, it is unlike any other clothing store—which may be a good thing. Says Gizmodo:
Shoppers at Amazon Style use an app to scan codes on items, which signals to an employee to grab the right size and color and send the clothes to either a fitting room or checkout counter.
…When you're in a fitting room, a large touchscreen panel on the wall gives you digital access to more clothing options so you can scroll through a "seemingly endless selection" while other shoppers impatiently wait for their turn to try on clothes. From the screen, you can request that additional clothes be brought for you to try on. There is also an app feature meant to replicate a personal shopper: you note your clothing preferences and Amazon will use machine learning algorithms to find looks that fit your style.
Interestingly, Amazon Style eschews the "Just Walk Out," cashierless payment system of its other physical stores. Rather, it uses the Amazon One palm recognition service—like fingerprint or facial recognition, it uses the unique shape and veins of your palm. (Perhaps ineffective for anyone who has stigmata.) For those not eager to hand over (as it were) biometric data to Amazon, shoppers can also use a standard card reader instead of the…palm reader.
Graphene-Enhanced Supercar!
Was it a good week for graphene news? It's always a good week for graphene news! From Graphene-Info:
Briggs Automotive Company (BAC) has started production of the new Mono R – a higher-performance, lighter and more advanced new generation of the Mono supercar. The new Mono R supercar will be distributed around the world and will be on display at a number of new global dealer partners situated in the USA, Singapore, and Germany.
Ah, but they buried the lede:
The Mono R includes 44 graphene-enhanced carbon composite body panels that have been restyled to give Mono R a more aggressive stance. The BAC website states: "Mono R is the first production car in the world incorporating revolutionary material graphene in its panels, contributing to a kerbweight of just 555kg. The pinnacle of cutting-edge innovation, R sets the bar for what's possible from technology in the supercar industry".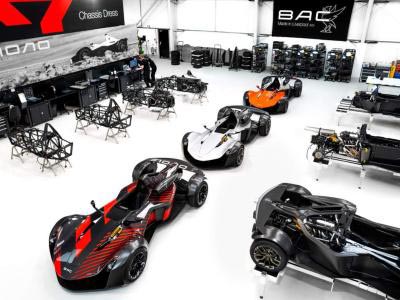 AI-Yi-Yi, Part the Infinity: Cross Words
Some years ago, participants in the American Crossword Puzzle Tournament had a new competitor: a computer program called Dr. Fill, which had been developed by Matt Ginsberg, an Oxford-trained astrophysicist. For a few years, Dr. Fill did OK, but not great, and human participants took to gloating when they beat the program—and there were even "I beat Dr. Fill" buttons being handed out: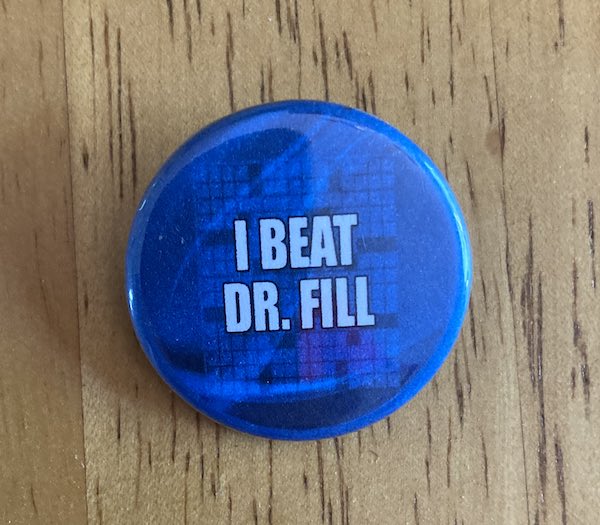 Technology improves (usually) and last year, though, the human gloating came to an end when Dr. Fill won the tournament. It may not have been the most accurate (it made three errors) but it did solve most puzzles in under a minute. (The tournament scores puzzles for both speed and accuracy.) The championship puzzle—usually the hardest of the hard—was solved by long-time ACPT finalist/champion Tyler Hinman (a human) in three minutes. Dr. Fill completed it correctly in 49 seconds. Dr. Fill was not eligible for the $3,000 prize, however. (Yet.)
Dr. Fill, though, now has its own competition: the Berkeley Crossword Solver, developed by Dan Klein, head of the Berkeley Natural Language Processing Group, and several of his students. Discover explains:
The Berkeley Crossword Solver's approach is straightforward. It begins with a neural questioning answering algorithm that produces candidate solutions for all the clues along with a score suggesting how good a solution it might be.
This algorithm is trained on a vast database of over six million question-answer pairs from historical crosswords dating back 70 years. It also uses an open-source natural language AI called GPT-2 to help with word segmentation.
Next, it uses these suggested answers to populate the grid. Without a perfect set of answers, this process is tricky because of numerous conflicts that occur, requiring a preference for one candidate solution over another.
The difference is that, unlike Dr. Fill—which is an algorithm that can correctly place words in a grid—the Berkeley Crossword Solver is an AI that understands the clues, even puns and other wordplay.
And while the Berkeley Crossword Solver is adept at traditional crosswords, it has problems with cryptic crosswords, so there is still some hope for humans. For now.
Missed Call
Fans of the original Superman TV series may recall that phone booths were the venue of choice for Clark Kent to change into his Superman outfit. By the 1978 Christopher Reeve movie, though, the full-size physical booths had been replaced by phone kiosks—a technological change played as a brief joke in the movie. Now, even those are no more, as NYC removes the last of its phone booths. Says NBC News:
Officials selected CityBridge to develop and operate LinkNYC kiosks, which offer services such as free phone calls, Wi-Fi and device charging. The city began removing street payphones in 2015 to replace them with the LinkNYC kiosks.
There are nearly 2,000 kiosks across the city, according to a map from LinkNYC.
Those with an interest in history can still find examples, though:
The last public pay telephone will be displayed at the Museum of the City of New York as part of an exhibit looking back at life in the city before computers.
And in about 30 years they'll replace the LinkNYC kiosks with whatever comes next—likely some kind of human/machine interface.
Got to Email a Man About a Horse
You've heard of outsourcing…what about "outhorsing"? If you visit Iceland, you can do exactly that, via the Iceland tourist bureau's new campaign, OutHorse Your Email. Essentially, so you can enjoy scenic Iceland and leave work behind, you can have an Icelandic horse respond to email. You can even pick the horse: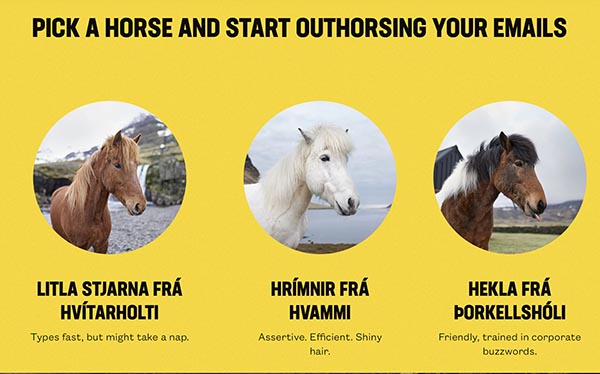 Now to get it to respond to Slack messages. (Would that be a Slackhorse?)
Sharkano
Forget tornadoes. How about, instead…a volcano…full of sharks. It's real.
Kavachi Volcano in the Solomon Islands is one of the most active submarine volcanoes in the Pacific. According to the Smithsonian Global Volcanism Program, the volcano entered an eruptive phase in October 2021 and satellite data showed discolored water around Kavachi on several days in April and May 2022.
… A 2015 scientific expedition to the volcano found two species of sharks, including hammerheads, living in the submerged crater. The researchers also found microbial communities that thrive on sulfur. The presence of the sharks in the crater raised "new questions about the ecology of active submarine volcanoes and the extreme environments in which large marine animals can exist," the researchers wrote in a 2016 Oceanography article, "Exploring the 'Sharkcano'."
There is even footage of the volcano erupting.
Kinda disappointing if you were expecting a bunch of sharks to fly out of the thing… Still, for fans of volcanic eruptions, it's pretty cool. The most fascinating aspect of the whole thing, is how various forms of life—several species of shark, crabs, and other critters—evolved to live in such a hot and acidic environment.
The Rock
There is a very slim chance this could be the last Around the Web—that is, if the Empire State Building-sized asteroid that is hurtling toward Earth changes course. Says LiveScience:
The asteroid, dubbed 7335 (1989 JA), orbits the sun once every 570 days or so, occasionally swooping a little too close to Earth for astronomers' comfort. On Friday (May 27), the rock will swing within about 2.5 million miles (4 million kilometers) of our planet — or nearly 10 times the average distance between Earth and the moon at about 10:26 a.m. EDT (2:26 UTC). That's too far away to witness with the naked eye, but you might be able to spot it with a really powerful telescope, according to CNET (opens in new tab). Or you can watch the asteroid pass by live on the Virtual Telescope Project (opens in new tab)'s website. The stream begins on Thursday (May 26) at 9:00 p.m. EDT (Friday, 1:00 a.m. UTC).
Granted, NASA fully expects the asteroid to miss, but have labeled it "potentially hazardous" because of its large size (1.1 in diameter) and close proximity to Earth's orbit.
Blessed Booze
We're not sure when hard seltzer became a thing, but if you want to protect your libations from the likes of Damien from The Omen, pick up some Sacred Seltzer, developed by Brooklyn Art Collective MSCHF.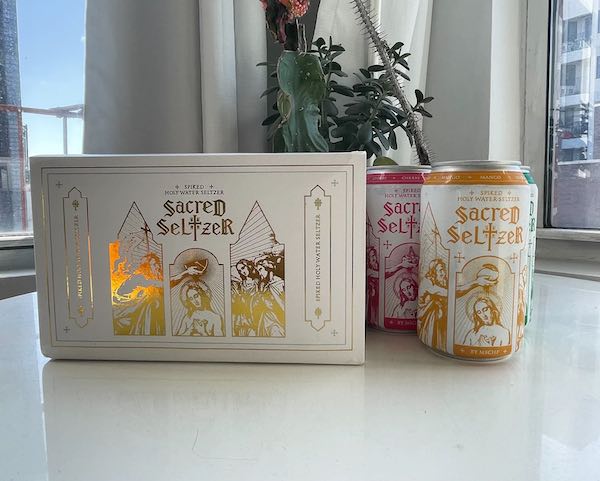 Says Input:
Sacred Seltzer is 95 percent holy water and five percent alcohol. Per its dedicated website, the water used to make the spiked seltzer was blessed according to official Catholic procedure on March 31 in Los Angeles. The actual brewing was done by Eliqs Brew Co., a Santa Monica-based company that specializes in beverages with personalized packing for events such as weddings or corporate gatherings.
They also did a taste test—it's hard seltzer, so obviously they're grading on a curve—and the first sentence here should give you some idea:
My true praise is reserved for the packaging, which is where Sacred Seltzer shines as another great stunt from MSCHF. The six-pack comes in a white box with metallic gold branding and is flush with religious imagery, including crosses and the sort of scenes you'd see in a church's windowpane.
Alas (if that's the word to use), they only made one batch and it has sold out.
Kiss
Alive
Do you wanna rock and roll all night and party every day—even after your demise? If so, good news! Nashville Casket Sales have unveiled the officially licensed Kiss Kasket. We kid you not: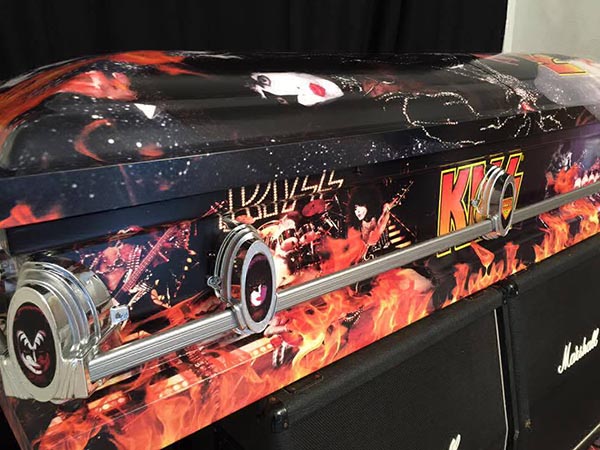 Caskets are wrapped in high quality car wrap material, are 20 gauge steel, non gasket and made in Tennessee USA.
A non-gasket casket? Go out "hotter than hell"!
Atwood for the Fire
We leave you this week with this video of author Margaret Atwood taking a flamethrower to special unburnable edition of The Handmaid's Tale. Explains Boing Boing:
The one-off book is made of a black Cinefoil dust jacket and white heat shield foil pages, with sections sewn with nickel wire, stainless steel head and tail bands, and bound using Kapton high temperature adhesive.
The book is being auctioned off by Sotheby's from May 23 to June 7, with proceeds going to benefit PEN America's work in support of free expression. The bidding currently stands at $48,000.
I've Seen All Good People
This Week in Printing, Publishing, and Media History
May 23
1752: English-American printer William Bradford dies (b. 1660).
1829: Accordion patent granted to Cyrill Demian in Vienna, Austrian Empire.
1906: Norwegian director, playwright, and poet Henrik Ibsen dies (b. 1828).
1911: The New York Public Library is dedicated.
1934: Electronic engineer and inventor of the Moog synthesizer Robert Moog born.
1995: The first version of the Java programming language is released.
May 24
1595: Nomenclator of Leiden University Library appears, the first printed catalog of an institutional library.
1683: The Ashmolean Museum in Oxford, England, opens as the world's first university museum.
1686: Polish-German physicist, engineer, and developer of the Fahrenheit scale Daniel Gabriel Fahrenheit born.
1830: "Mary Had a Little Lamb" by Sarah Josepha Hale is published.
1844: Samuel Morse sends the message "What hath God wrought" (a biblical quotation, Numbers 23:23) from a committee room in the United States Capitol to his assistant, Alfred Vail, in Baltimore, Md,, to inaugurate a commercial telegraph line between Baltimore and Washington D.C.
1895: American publisher and founder of Advance Publications Samuel Irving Newhouse Sr. born.
1941: American singer-songwriter, guitarist, artist, writer, producer, and Nobel Prize laureate Bob Dylan born.
1956: The first Eurovision Song Contest is held in Lugano, Switzerland.
1958: United Press International is formed through a merger of the United Press and the International News Service.
1963: American novelist, short story writer, and screenwriter Michael Chabon born.
May 25
1803: English author, poet, playwright, and politician, Secretary of State for the Colonies Edward Bulwer-Lytton born.
1803: American poet and philosopher Ralph Waldo Emerson born.
1878: Gilbert and Sullivan's comic opera H.M.S. Pinafore opens at the Opera Comique in London.
1895: Playwright, poet, novelist and aesthete Oscar Wilde is convicted of "committing acts of gross indecency with other male persons" and sentenced to serve two years in prison.
1898: American publisher, television game show panelist, and co-founder of Random House Bennett Cerf born.
1927: American soldier and author Robert Ludlum born.
1938: American short story writer and poet Raymond Carver born.
1953: The first public television station in the United States officially begins broadcasting as KUHT from the campus of the University of Houston.
1958: English singer, songwriter and musician Paul Weller born.
1977: May the 25th be with you: Star Wars is released in theaters.
2019: Towel Day 2019, annual celebration of the life and work of Douglas Adams and The Hitchhiker's Guide to the Galaxy.
May 26
1703: English politician and diarist Samuel Pepys dies (b. 1633).
1897: Dracula, a novel by Irish author Bram Stoker, is published.
1897: The original manuscript of William Bradford's history, "Of Plymouth Plantation" is returned to the Governor of Massachusetts by the Bishop of London after being taken during the American Revolutionary War.
1904: English singer-songwriter and actor George Formby born.
1926: American trumpet player, composer, and bandleader Miles Davis born.
1967: It was 2052 years ago today: The Beatles' Sgt. Pepper's Lonely Hearts Club Band is released.
May 27
1911: American actor Vincent Price born.
1912: American novelist and short story writer John Cheever born.
1925: American journalist and author Tony Hillerman born.
1930: The 1,046 feet (319 m) Chrysler Building in New York City, the tallest man-made structure at the time, opens to the public.
1933: The U.S. Federal Securities Act is signed into law requiring the registration of securities with the Federal Trade Commission.
1933: The Walt Disney Company releases the cartoon Three Little Pigs, with its hit song "Who's Afraid of the Big Bad Wolf?" Edward Albee likely saw it.
1934: American author and screenwriter Harlan Ellison born. (He had a mouth and probably did scream.)
May 28
1843: American lexicographer Noah Webster dies (b. 1758).
1849: English novelist and poet Anne Brontë dies (b. 1820).
1883: English-Welsh architect and designer of the Portmeirion Village Clough Williams-Ellis born. Be seeing you.
1908: English journalist, author, and creator of James Bond Ian Fleming born.
1936: Alan Turing submits On Computable Numbers for publication.
1945: American singer-songwriter, guitarist, and producer John Fogerty born, not on the bayou.
1961: Peter Benenson's article "The Forgotten Prisoners" is published in several internationally read newspapers. This will later be thought of as the founding of the human rights organization Amnesty International.
2014: American memoirist and poet Maya Angelou dies (b. 1928).