How do you make recycling interesting to college students? It's not through paper brochures and static posters. It's by using humor and augmented reality. At least, that's the experience of Salt Lake Community College (SLCC).
SLCC wanted to increase student participation in its recycling program. The school has 10 campuses throughout Utah, and sustainability is an important aspect of its mission. (One year, participation by faculty and students kept 956,364 lbs. of materials from going into the land?ll.) However, as you can imagine, getting students excited about recycling has been a challenge. How do you capture students' attention and get them engaged with something as mundane (at least in the mind of a college student) as recycling?
image8creations, a Salt Lake City AR agency, approached SLCC about incorporating augmented reality. It suggested adding AR holotwins (holographic twins) and 3D objects to its posters, flyers, and event materials. After all, college students live and die by their phones. Why not use the tool already in their hands to engage them?
The first step was to create an AR holotwin of Rhi Finlinson, SLCC's recycling coordinator, sharing the importance of recycling and encouraging students to get involved. To create the holotwin, Rhi was placed in front of a green screen to capture the video. The file was uploaded to image8creations' RealityBLU WorldViewAR platform, which returned a QR Code and a hyperlink that could be used in SLCC's print and digital marketing channels.
By scanning the "AR code" or clicking a link, students can place the holotwin in the world in front of them (as viewed through their phones) and learn about the program in a way that speaks directly to them. These codes have also been placed on the school's Facebook and Instagram pages, as well as on Rhi's LinkedIn page, with backup posts from image8creations.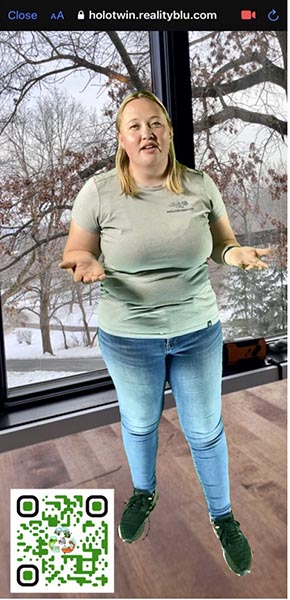 The holotwin of Rhi includes buttons that students can click on to learn more about the school's recycling and sustainability programs and sign up to become a Green Bruin (SLCC's recycling mascot) volunteer.
This is one of the benefits of AR over other print-to-mobile tools like QR codes. The person engaging in the experience doesn't have leave the AR experience to respond. They respond right from within the experience itself. This ability also lets the client tie any responses back to the AR code.
As secondary experiences, SLCC printed AR-fueled in-school banners, flyers, and cafeteria tabletops and distributed them to all campuses. These materials used humor and mystery to create engagement.
For these pieces, SLCC created a 3D object of a dancing Green Bruin that students could place in the room with them. Each piece had a fun headline such as, "Hey, You! Scan Me!" "I Dare You to Scan Me!" and "Why Doesn't Anyone Scan Me?" Once scanned, the AR code takes students to an experience featuring the Green Bruin, who dances in front of them like nobody is watching. "Don't just toss it in! No food or liquid in the bin. Na, na, na."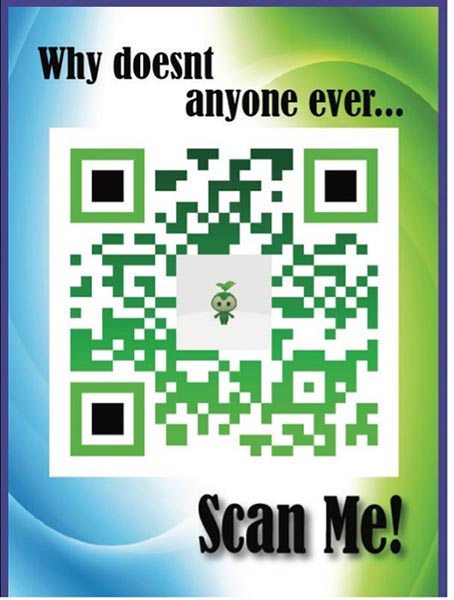 These AR codes have been placed on tabletops at new student recruitment events, as well. They have been added to flyers laid out on the tables and on small square cards for students to take home.
Wait! It's Actually Working?!?
According to image8creations, this approach is working. "Since the inception of the program, SLCC's recycling department has pulled a significant amount of feedback, interaction, and inquiries regarding both the AR experiences and the recycling program, including new signups for the Environmental & Sustainability Club," says Chanse Harris, co-owner of image8creations. "Previously, sign-ups had been zero!"
At open houses, Harris adds, SLCC has also seen increased student engagement with the SLCC Green Bruin and gotten feedback that what they are doing is "awesome."
"Previous tabling events showed difficulty keeping prospective students at the recycling table," she says. "With the introduction of the AR element, they linger at the booth longer and have started asking questions and participating in the booth activity (spin wheel). They are even standing in line to ask questions of Rhi."
Is AR the miracle pill to turn students into passionate recycling advocates? No, but it has proven to be effective in getting them to pay attention. Once SLCC has students' attention, it's up to them to keep it.