Two of the fastest growing applications for commercial printers are packaging and signage. Two of the most notable consumer trends are the appeal of sustainability and the desire of consumers to do business with brands that share their values, giving rise to the concept of "cause marketing." The convergence of these trends creates an opportunity for printers looking to differentiate and create value as they expand their services into these markets.
Recently, I ran across ChopBox, a boutique meat delivery service whose claim to fame is helping eliminate mass production of farming. In its marketing, ChopBox does a great job of framing up its product in terms of sustainability: "Since it is made to order and never frozen, it helps eliminate waste, making it a sustainable...product." With 72% of shoppers wanting to support brands that share their values, ChopBox getting its sustainability message front and center, alongside the value of its product, is a smart move.
ChopBox's commitment to sustainability extends to its packaging, as well. On its website, the company's sustainable packaging page talks about how its product packaging, as well as the insulation used to keep its products cool, are fully curbside recyclable. ChopBox also encourages customers to re-use the cold packs for personal use, and if not, it provides instructions for disposing of the interior contents of those cold packs and recycling the exterior plastic. A condensed version of this information also lives on each product purchase page under the "packaging" drop-down menu. (See the strip steak page.)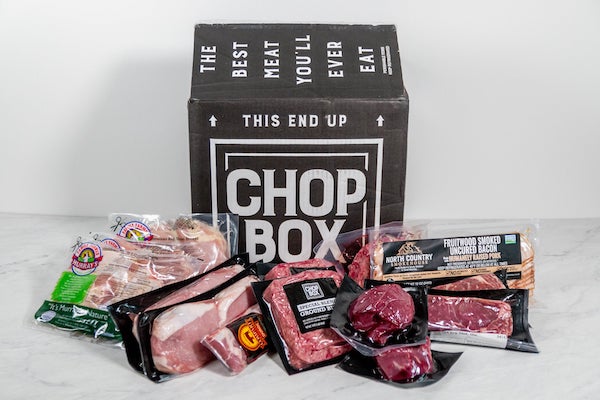 Source: ChopBox
All this to say that ChopBox has been proactive in weaving its sustainability message into its marketing everywhere…except, interestingly enough, its packaging/shipping containers. To me, this is a missed opportunity since these containers have the potential to greatly multiply the ChopBox message to the general public. That's why, in my own order, I looked carefully to make sure I hadn't missed it. Nope. The packaging just read, "ChopBox."
I see untapped opportunity here. Not only does on-the-box messaging have the opportunity to reach multitudes of people with a company's mission during its travels (much as nonprofits add missions-oriented messaging to the outside of their donor-focused envelopes), but when the package lands, as well. I'm sure that ChopBox welcomes the use of its products as corporate gifts, for example. For sustainability-minded companies, choosing to select gifts from similarly valued vendors is important. Having a sustainability messaging on the exterior of a gift box, therefore, where that message would be delivered front and center even before the gift is opened, would be a real positive. This is a design consideration, however, not a substrate consideration.
Another example is PackRite's paper-based signage substrates, including its Aqua-Rite substrate for outdoor signage. (Yes, this paper-based signage is 90-day rated, and it has even been tested by EcoPrint far beyond that rating in tough Maryland weather conditions). While this 100% recyclable signage is a great alternative to the inexpensive and ubiquitous Coroplast, users won't know this unless the designer includes this information in the sign itself. If a politician uses Aqua-Rite to promote his or her campaign, distributing signs printed on the substrate to individual homes and businesses, for example, or a fast-food restaurant chooses this option for its promotional signage alongside its drive-throughs, there is no way for downstream sign owners to know to recycle them unless a "100% recyclable" indicator is printed on the signs themselves.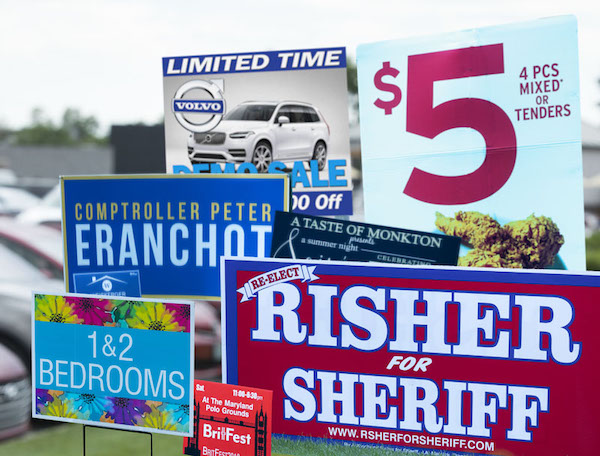 Source: PackRite
This reminds us that, even as more and more truly sustainable packaging and signage options are developed, it's not enough to spec them. It is still incumbent upon printers (and their clients) to incorporate sustainability messaging in their designs to ensure that the person responsible for disposing of these signs, packages, and mailers knows they are recyclable (or compostable) and knows what to do with them.
Other companies do seem to embrace this opportunity, and we can look to them for inspiration. Take Hero Packaging, an Australian start-up designing tough but fully compostable plastic mailers. Its mailers are offered both in small-volume packs, as well as custom orders of 10,000+ for commercial use. The backs of its mailers clearly state, "100% compostable, zero-waste bags" in large knock-out type that takes up perhaps 25% of the space on the back of the bag. You can't miss it.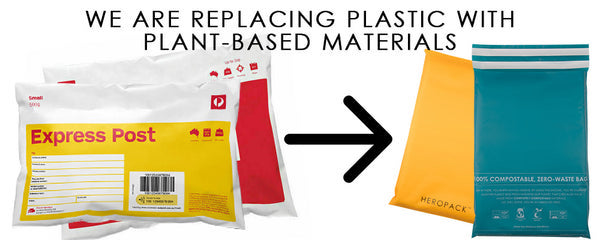 Source: Hero Packaging
TishWish, another company offering compostable mailers, has taken a similar strategy: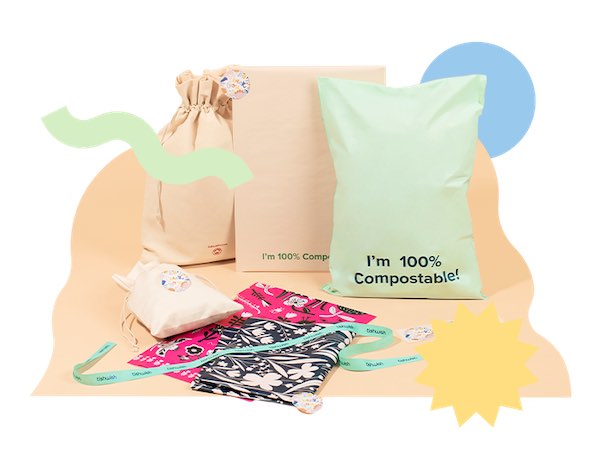 Source: TishWish
These examples show good business sense, as well as good marketing and environmental sense.
As the printing industry continues to respond to the business and consumer demand for more sustainable solutions, it's important to assess, not just the substrate choices made, but also the impact all along the lifecycle of printed and packaging, too. How will the substrate be disposed? Will the investment in a sustainable option alone achieve the desired goal? Or will additional steps, such as instructions incorporated into the packaging, signage, and mailer design need to be an integral part of the overall solution?