As we emerge from the COVID-19 pandemic and move into the endemic phase, many printers are taking stock of their businesses, asking, "What's next?" For some, the pandemic has been a time of great growth as they have found niches with unmet needs and reinvented themselves in ways that are tremendously profitable. For others, it has been a time of great struggle. Regardless, the What They Think LunchNLearn "Expanding Opportunities via Trade Brokering and Distributing" is dangling a carrot: maybe it's time to engage with a print distributor.
The LunchNLearn was moderated by Richard Romano and featured presenters Matt Bruno, executive vice president of BrandChain, formerly the Print Services and Distribution Association, and Greg Gill, incoming president of Brand Chain and the current president and CEO of ThumbPrint, a distributor with large brand clients such as Hertz, Delta, and GameStop.
The reason for the name change from the PSDA to BrandChain reflects a larger evolution in the industry. Successful distributors who used to focus on selling print work have evolved into single-source suppliers of a wide variety of products, both printed and nonprinted, from promotional products to PPE. The most successful distributors have become problem-solvers who engage with their clients at all level of the (you guessed it) brand chain.
"Historically, we've focused on the distributor (and we do still today), but the difference is that now we're bringing together all of the supply chain," explained Bruno. "We're not just looking at print or promo. We're saying that there is value to understanding the entire spectrum of the supply chain and offering the education, tools, and community to help our members [be successful across all of it]."
Indeed, ThumbPrint, which is a BrandChain member, refers to itself, not as a print distributor, but as a marketing, creative, print, promo, apparel, technology, distribution, logistical, and experiential company—something that Gill, who used to be a print shop owner, found possible only once he sold the company. "I took my print production knowledge and became a distributor, where I could focus on strategy and problem-solving," he said. "As we go out to clients, their biggest issues come down to things like how to run an event or how to launch a brand nationwide. It's not, 'I need a brochure.' Or, 'I want to order a branded mug or polo shirt.' It's, 'How can I get the metrics? How do I launch this brand? I'm opening all these offices—how do I put fences around spending?'"
This sounds much like where the printing industry was years ago when print service providers (PSPs) were being encouraged to be marketing services providers (MSPs). But the challenge for printers was, and remains, that this requires taking on a whole new set of skills and expertise while still maintaining the same production capabilities. It's kind of like training for two Olympic sports at the same time. Who has the bandwidth for that? Hence Gill's decision to sell his printing company to focus on marketing and brand chain management.
W2P: The Center of the Hub and Spoke Model
To be fully at the center of true brand chain management, the LunchNLearn presenters described, distributors are relying on technology—web-to-print portals—in a hub-and-spoke model. This is a huge opportunity for printers to join forces with distributors as one of the spokes.
While distributors offer value to companies of all sizes, many are finding that they have the greatest opportunities with larger companies with multiple locations and a high number of users, which can lead to brand management chaos. As of today, for example, ThumbPrint has built 127 individual web storefronts, has 45,000+ active users, and has created efficiencies saving clients an average of $437,000 each year.
This model delivers the depth that distributors need to get into larger accounts whose needs span far wider than any individual printer can offer. ThumbPrint builds in web-to-print technology, including online auditing, reporting, and inventory management, that allows its team to more deeply penetrate accounts with everything from commercial print to branded promotional items and augmented reality.
This model largely emerged, Bruno noted, as a result of the pandemic. "It started with companies calling a distributor saying, 'I've got a problem. I need to get labels, but also masks and hand sanitizer. [When they needed to order something new or unusual], the distributor is the first person they called because they had been able to get them everything else. We've seen some companies become tremendously successful this way."
Indeed, some companies (including ThumbPrint) saw their highest level of growth ever in 2020. "We probably moved about $9 million in PPE that year," Gill recalls. "At the beginning of March 2020, we knew nothing about that market, but we had a lot of clients reaching out to us. It was a market new to everyone, and they didn't know whom they could trust. We had to wade through a lot of relationships, and we learned a lot. What came out of that was some large opportunities with national brands. We helped them in pandemic-related areas, so they gave us opportunities in others."
In fact, Gill continues, ThumbPrint now has three clients that were all formerly PPE clients.
Changing Role of the Distributor
As the needs of companies have exploded, Gill explains, the role of the distributor has deepened. Distributors develop supply chains for clients who don't have the time to do it themselves. "Sole sourcing is a big thing today," notes Gill. "If you get a client, and because of your technology, they're willing to say, okay, I've got six suppliers right now, but I'm going to move this to you. We gather multitudes of business ranging from promo, print, and apparel to signage and medical scrubs because they want to run through a single portal."
Gill also points to the value of an organization like BrandChain, where networking and partnership-building are core to the value of membership.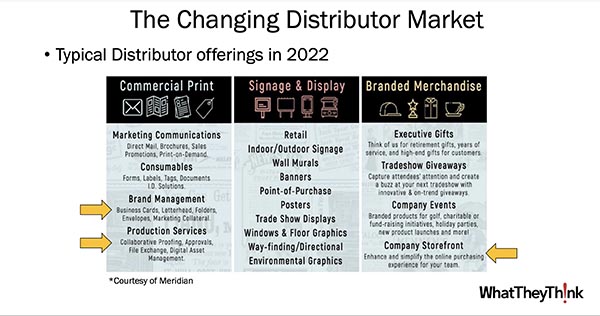 Commercial printers can win business from distributors, Bruno adds, by educating them about the value of their products and services to the distributor's end user. "I love this story from the pandemic from one of our members, which was how one of his [distilled spirits] customers was looking to get hand sanitizer out. So the distributor came up with this idea of putting hand sanitizer in the whiskey bottles. He was able to partner with a great label company [for this project], so while the distributor was getting the hand sanitizer, he was also developing the customer's label business. It's a great story."
The rest of the webinar focused on specific examples of the role of problem-solving, especially through the use of web-to-print dashboards to help clients monitor inventory and analyze data. "The electronic exchange of real-time data is one very critical reason that distributors are looking to connect with their print partners electronically," says Gill. "A lot of shops have 40-inch Heidelbergs. I'm looking for how can we connect [through technology]. What is our experience going to be? What information will be coming back to us? How can we collaborate on a job?"
When Gill says "partner," that's exactly what he means. He's had print manufacturers go on client calls with them and make the actual marketing pitch, depending on the situation.
"We don't go out looking to partnership with every printer. We're looking for printers that fit certain segments," he says. "We want to set them up to be successful and give them business that will make them profitable. Data is an important component of [winning that business]. Can you collect data? Can you put it in a discernible order and dashboard type? Can you offer displays that help our clients manage their spend? The clients that we deal with are spending millions of dollars, and they have to account for it. They want to know how can we display that."
Gill rounded out the webinar saying that he is seeing the most opportunities for distributors in the marketplace today that he has ever seen—"and I've been in this business since 1994," he said.
So if you're looking for business, perhaps partnering with a distributor is a good next step.