Sustainability is good for business, and an increasing number of printers are going public with their efforts. They know that their clients like to see them truly "walking the walk," not just in what they sell, but in what they do. Along these lines, I've been following EcoPrint/More Vang (Alexandria, Va.), and I love what the company is doing. Sure, it has sustainable printing as its business model, but the company lives out its values, too.
Earlier this year, for example, the company made a splash with its eco-video promoting its work with the Jane Goodall Institute, which is using its sustainable wall murals. While the video ultimately introduces viewers to DreamScape Terralon, which is made from 31% recycled water bottles, the short itself focuses powerfully on the challenge of single-use plastic in the oceans and the devastating impact these plastics have on marine life. The short was shown at a variety of film festivals, including Shore Rivers/Wild & Scenic Film Festival, AFI Silver/European Union Film Showcase, AFI Silver/ Latin American Film Festival, and DC Environmental Film Festival.
We see this passion in the company's blog, as well. While EcoPrint weaves in subtle promotion of its eco-friendly print solutions, the majority of its blog posts showcase the work of environmental organizations such as the Chesapeake Legal Alliance, the Phillips Wharf Environmental Center, and ShoreRivers, and bring attention to important issues like global warming, water cleanup, and legal support to protect the Chesapeake Bay watershed. Along the way, EcoPrint provides education on sustainable topics, such as the role of postconsumer waste in recycled paper, encouraging readers to participate in a "car-free day," and providing education on sustainable alternatives to Coroplast for promotional signs.
The goal of the blog isn't (specifically) to sell the company's services. It is to send a message and support its brand messaging: we care.
Even the company's 2022 calendar focuses on the mission, not sales. Titled "Protecting the Natural Beauty of the Chesapeake Bay," the calendar features the work of 13 environmental organizations dedicated to cleaning up the waterways of the Chesapeake Bay. These include the Chesapeake Conservancy, the LiveWater Foundation, and Ferry Cove Shellfish, among others, with text promoting their work and successes and encouraging recipients to support them.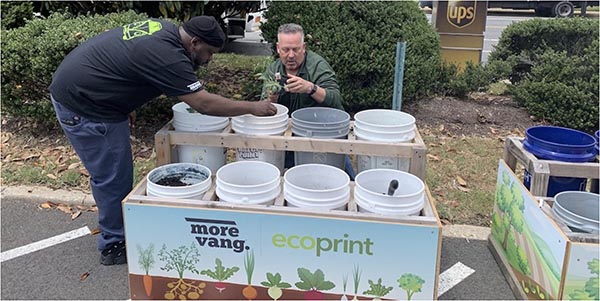 Creating a parking lot garden is one of many ways that EcoPrint walks the walk when it comes to sustainability…and communicates authenticity to its customers and prospects.
In its content marketing, EcoPrint does talk about its own efforts, too. But it's woven in, as a secondary message, rather than being a hard sell, and its customers and prospects can't miss the company's passion. On the inside front cover of its calendar, for example, it talks about efforts that many other printers do, as well, such as purchasing green energy and its extensive recycling efforts, but it also talks about other initiatives that most other printers don't:
In partnership with ForestPlanet, EcoPrint put on an e-waste collection event that gathered more than two tons of obsolete electronic material that otherwise would have ended up in a landfill or leaked toxic pollutants into local water tables.
Also in partnership with ForestPlanet, EcoPrint provided free bike tune-ups in one of the area's busiest and most beautiful parks. In all, it tuned up nearly 100 bikes and promoted ForestPlanet's reforestation successes to the community.
Since the inception of EcoPrint's partnership with Forest Planet, it has planted two trees for every print project ordered. By the end of 2021, these efforts resulted in the planting of 20,000 new trees.
The EcoPrint team jumped on bikes and participated in Shore Rivers' annual cycling event to raise money to safeguard the rivers and waterways across Maryland's Eastern Shore. Cumulatively, Team EcoPrint rode over 150 miles. In all, the event raised over $33,000.
This past summer, the company established a "bucket garden" in its parking lot. With nothing more than buckets, water, and soil, EcoPrint's little parking lot garden yielded a variety of produce, including tomatoes, hot peppers, sweet bell peppers, sweet banana peppers, and long red cayenne hot peppers.
Even EcoPrint's internal team takes sustainability seriously. Bobby Firestein, the company's VP, is so passionate about new sustainable substrates, for example, that he tested them in his own yard for more than 90 days.
I could go on, but you get the idea. What I love about this company is that it's sharing its passion about the environment in more ways than just in what it sells. Its customers and prospects can't miss the authenticity—that sustainability is truly a passion for this company and not just a business model.
Today, buyers want their vendors to put their branding behind important causes, whether that's social justice or the environment. Whatever cause their favorite companies and brands support, consumers want them to be genuine and authentic about it. Authenticity isn't something you can create on the spur of the moment by writing a blog post or two. It's something you have to live out, then communicate over time. In those communications, EcoPrint's model is a good one.