Your Friday Look at How Highlighters Are Made
I read 'six cases of Omicron' on my BBC news text, and initially wonder why I've ordered such a lot of weird wine.

— Kate Robbins (@KateRobbins) November 29, 2021
Hemp Day
In this space and elsewhere we have often referenced more sustainable materials to use for common applications. This week, we were introduced to the concept of Hempitecture. Say what? Hempitecture is a company that manufactures hemp-based building materials, such as HempWool, which can be used for insulation, among oyther things, and Hempcrete, a binder material used to create long-lasting biocomposites.
We work with architects, builders, engineers, and developers to build energy efficient, non-toxic, and carbon absorbing environments. We can help you use hemp based insulation materials on your next project.
A Wizard, a True Czar
Jack Dorsey is quitting Twitter to focus on his duties as advisor and court sorcerer of Tsar Nicholas II. pic.twitter.com/e4l7qDIomL

— Stephen Colbert (@StephenAtHome) December 1, 2021
Dollars to Donuts
Interestingly, since we started mocking mentioning NFTs in Around the Web, we seem to have attracted no small amount of NFT-related press releases to our Newsfeed address, most of which defy any kind of explanation. Such as: "DeNations Metaverse Collaborated With Donut Artist Jae-Yong Kim, Releasing Donut NFTs." OK. "Inedible donuts are created by the artist Jae Yong Kim. Now, he is about to introduce a digital donut NFT instead of ceramic donuts." Sounds like Krispy Kreme. Oh, but we kid…. "Every donut is baked, colored, and glazed by hand, so identical donuts cannot exist. The core motto of Kim's donut artworks and the fundamentals of NFT Generative Art share common values, non-fungibility…. DeNations will release a total of 25 digitalized Donut NFTs 'The Invincible Donuts: 25 Days of Colorful Journey' on 25 November 2021." What, we dare ask, is DeNations? "DeNations is a blockchain-powered metaverse platform where you can own nations, build cities/civilizations, and earn tokens. The ownership of core assets, nations, cities, and civilization, is represented by Ethereum NFT (Non-Fungible Token)." We're sorry we asked.
This Can't Be Good
Two bees opening Cap with the mind of Physics pic.twitter.com/HAGDqfls8L

— Physics & Astronomy Zone (@zone_astronomy) September 25, 2021
A Tolkien of Their Extreme
Some people have no sense of humor. Says the BBC: "Lord of the Rings creator JRR Tolkien's estate has successfully blocked a crypto-currency called JRR Token." Of course, it probably wasn't just the pun that cheesed off the orc-like lawyers: "Websites selling and promoting the crypto-currency, jrrtoken.com and thetokenofpower.com, featured rings, hobbit holes and a wizard like Gandalf." See? You gotta stop when you're ahead.
Seen and Not Seen
My family does album cover holiday cards every year... pic.twitter.com/y0kSlyCEGd

— Ben Taylor (@getbentCHI) November 26, 2021
Less Tar, More Filling
Was it a good week for graphene news? It's always a good week for graphene news! Graphene is hard at work fixing our roads. Says Graphene-Info:
UK-based Roadfill develops a technology that combines waste plastic with graphene that is used to repair roads, while cutting CO2 emissions and creating a circular economy. According to the company's research, its products reduce bitumen (heated petroleum) usage by up to 14%, and last on average 7X longer, which can cut costs for public bodies and businesses by up to 30%. The products can be more weather and pothole resistant, and give greater surface friction, reducing tyre fatigue and braking distances.
Roadfill (we can't help but keep reading that as "Roadkill") has started a crowdfunding campaign to raise funds. Although it has ended, the campaign raised more than £550,000 from more than 600 investors. You can still get a piece of the action at Seedrs if you want to invest.
Selective Memory
Where are you all? pic.twitter.com/tYy87ZdXtx

— ?????? ?????????? (@tlhicks713) November 27, 2021
The Advent of Advent Calendars
Christmas is coming, and even if you are not especially religious, there is one tradition—and one based on print—that anyone can get behind: the Advent calendar. For those not in the know, an Advent calendar is a printed calendar of the month of December, from the 1st to the 24th. Each day corresponds to a paper door, and each day, and the door is opened to reveal some kind of prize, such as a piece of chocolate or candy, a Bible verse (in more traditional versions), or even some kind of potent potable (in less traditional versions).
Mental Floss offers a history of the Advent calendar, which dates from the mid-19th century. In its earliest incarnation, German Protestants counted the days leading up to Christmas by making chalk marks on doors or lighting candles. ("Advent," by the way, from the Latin word for coming, has been celebrated since the fourth century and is technically marks the four-week period beginning on the Sunday nearest the feast day of St. Andrew the Apostle (November 30) through the following three Sundays. It's a bit more convenient these days to just consider it as starting on December 1 and leading up to Christmas.)
The earliest printed Advent calendar dates from the early 20th century.
Gerhard Lang is widely considered the producer of the first printed Advent calendar in the early 1900s. Around the same time, a German newspaper included an Advent calendar insert as a gift to its readers. Lang's calendar was inspired by one that his mother had made for him and featured 24 colored pictures that attached to a piece of cardboard. Lang modified his calendars to include the little doors that are a staple of most Advent calendars today, and they became a commercial success in Germany. Production stopped due to a cardboard shortage during World War II, but resumed soon after, with Richard Sellmer emerging as the leading producer of commercial Advent calendars.
Interestingly, President Dwight Eisenhower is credited with kicking off the US craze for Advent calendars, as during his Presidency, he was photographed opening an Advent calendar with his grandchildren.
There really is no particular restriction on what you can put behind the doors.
One of the most expensive Advent calendars to ever hit the shelves was a 4-foot, Christmas-tree shaped structure carved from burr elm and walnut wood available through Harrods in 2007. Each of the $50,000 calendar's 24 compartments housed a piece of organic chocolate from Green & Black, with proceeds going to support cocoa farmers in Belize.
Most of us do something a bit more modest. And the largest Advent calendar? Says Guinness:
the world's largest advent calendar was built in 2007 at the St. Pancras train station in London. The massive calendar, which measured 232 feet and 11 inches tall, and 75 feet and 5 inches wide, celebrated the reopening of the station following a renovation.
For those who are interested, Today.com presents the 50 best Advent calendars for 2021. Examples include the Charm Bracelet Advent Calendar, an official Harry Potter Advent calendar, 12 Days of Hot Sauce, Spotlight Oral Care's 12 days of dental hygiene, Godiva's Luxury Chocolate Advent Calendar (it'd be good to combine this with the Spotlight Oral Care one), and a number of Lego Advent Calendars. However, here in the Around the Web Cultural Accretion Bunker, we'll be counting the Yuletide down with the Jack Daniels Holiday Countdown Calendar. Uh oh—is it the 20th already? Oops.
We have not heard of (or looked for) such a thing, but it would not surprise us if someone came up with an electronic Advent calendar in which, behind each virtual door, was an NFT of some kind. We'll stick with the chocolate and booze.
Suspicious
This keeps happening. https://t.co/drcG0yzxLE

— (((Joshua Malina))) (@JoshMalina) November 28, 2021
Apostrophe to Apostrophes
In a recent Guardian column, David Mitchell laments what looks to be the waning days of the apostrophe.
Use of the apostrophe is declining. That's according to research from Lancaster University backed up by what anyone would guess was happening. I reckon it was all over as soon as you couldn't put them in web addresses. The future will only need one sort of dot, the techies decided. The comma is putting up decent resistance, but it's just a matter of time before we see the last of its hovering colleague. Please enjoy the correct punctuation of the itses in that sentence.
It may be just as well—so few people use it correctly. Mitchell continues.
But it fills me with dread. That's because I can apply all the apostrophe rules correctly and I can't do much else. I feel like a monk in a scriptorium who's had a vision of a photocopier. The Virgin Mary was copying her bum and laughing at him. It makes me a bit panicky. I still don't really know what TikTok is.
Let's not even talk about the semicolon, which even fewer people use correctly.
Not in the Pink
Human: we have a color named after you!
Salmon: really? is it silvery blue like my outsides?
Human: no, uh–
Salmon: wait why is it pink?
Human: ...
Salmon: WHY IS IT PINK

— Matthew Broussard (@mondaypunday) November 19, 2021
Chair Man
You may have heard the notion—or seen either the Mythbusters or QI episodes—about how two phone books, when shuffled together, are virtually impossible to pull apart, thanks to friction. Via Core77, this idea inspired design engineer Niklas Hagemann to come up with the "Shuffle Chair," or, essentially, "a paper chair held together by the friction between individual sheets of recycled paper." "With a single paper clip to stop the bottom two pages from unravelling, the chair is held together entirely by the friction between the pages (~500)," says Hagemann.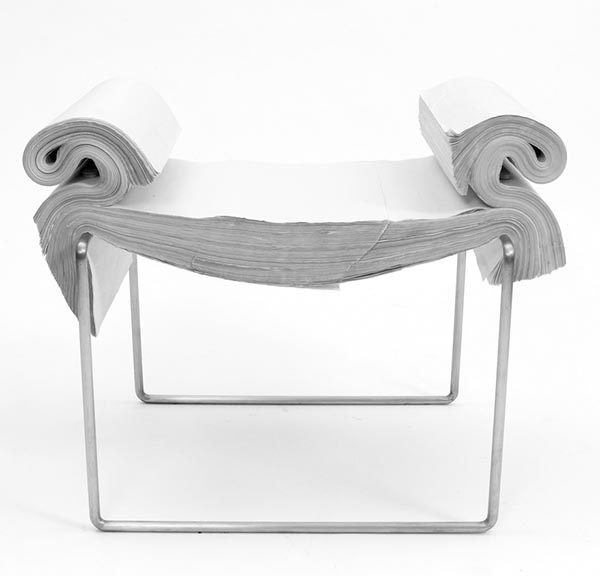 Edifice Complex
For when you've dated all the men pic.twitter.com/wbehxBZ46V

— Vitt (@Vitt2TsNoC) November 18, 2021
Eye-Yi-Yi
3D printing is certainly coming into its own and various 3D printing technologies are being used to print everything from auto parts, to gaming figurines, to food, to human organs. (Not that all those categories are mutually exclusive, of course.) Now, Steve Verze, a 47-year-old engineer from Hackney in East London, is the first-ever recipient of a 3D-printed prosthetic eyeball. Says CNN:
Moorfields Eye Hospital said in a press release Thursday that the prosthetic is the first fully digital prosthetic eye created for a patient. The eye is more realistic than other alternatives, and is designed to have "clearer definition and real depth to the pupil," the hospital said. Other prosthetic eyes consist of an iris hand-painted onto a disc that is then embedded into the eye socket. However, their design prevents light from passing into the "full depth" of the eye, the hospital added in the release.
The process is also less invasive, as a traditional prosthetic eye first requires that a mold be taken of the eye socket—and we can all imagine how hellish that would be. However, in for a 3D prosthetic eye, the socket is scanned digitally. They also scanned Verze's functioning eye, to ensure that they looked the same—although having two different colored eyes would be pretty cool, in a David Bowie kind of way. Scaled up, this could revolutionize The Residents' costumes.
And for Many Reasons
My nephew just said "my favorite oldies band is Blink-182" so I put his ass out on the street.

— roxane gay (@rgay) November 25, 2021
AI-Yi-Yi, Part the Infinity: Abandon All Hope
When last we checked in with our old friend Ai-Da, the AI-based robot artist, she was being detained in Egypt as her camera-based eyes made the authorities question whether she was a spy. Perhaps a few weeks in the pokey gave her some time to think about her career, because she now is dabbling in poetry. Gizmodo updates us her new vocation:
In a first for robot-kind, Ai-Da gave a public performance of poetry "she" created in commemoration of famed Italian poet Dante Alighieri. The event took place Friday at the University of Oxford's Ashmolean Museum as part of an exhibit honoring the 700th anniversary of Dante's death.
Basically, Ai-Da was fed the entire text of Dante's three-part "Divine Comedy" and then used her various algorithms to come up with her own riff on Dante. Such as:
We looked up from our verses like blindfolded captives,
Sent out to seek the light; but it never came
A needle and thread would be necessary
For the completion of the picture.
To view the poor creatures, who were in misery,
That of a hawk, eyes sewn shut.
OK, then. According to gallerist Aidan Meller, one of Ai-Da's creators, Ai-Da's language model is so advanced that she can produce as up to 20,000 words in 10 seconds. (That's nothing; she should try writing for a show daily.)
While her human handlers do engage in some "restrictive editing" of her content, overwhelmingly the words and sentence structure in her poetry are entirely AI-generated….In an interview with CNN, Meller said that Ai-Da's ability to imitate human writing is "so great, if you read it you wouldn't know that it wasn't written by a human."
Depends on the human, really.
Signs of the Times: In for It
Hot Panini is in big trouble pic.twitter.com/fZu5hbaXpF

— Pigpen (@MasonWills) November 20, 2021
The Birds and the Bots
This may be the next step for Ai-Da.
Via CNN, this can't be good: "The US scientists who created the first living robots say the life forms, known as xenobots, can now reproduce -- and in a way not seen in plants and animals."
What could possibly go wrong?
Formed from the stem cells of the African clawed frog (Xenopus laevis) from which it takes its name, xenobots are less than a millimeter (0.04 inches) wide. The tiny blobs were first unveiled in 2020 after experiments showed that they could move, work together in groups and self-heal.
Is it a robot or is it an organism? It's not as clear-cut a distinction as you might think.
"Most people think of robots as made of metals and ceramics but it's not so much what a robot is made from but what it does, which is act on its own on behalf of people," said Josh Bongard, a computer science professor and robotics expert at the University of Vermont and lead author of the study.

In that way it's a robot but it's also clearly an organism made from genetically unmodified frog cell."
The xenobots' method of reproduction is called "kinetic replication" and is something that occurs at the molecular level but has never been seen in whole cells or organisms.
With the help of artificial intelligence, the researchers then tested billions of body shapes to make the xenobots more effective at this type of replication. The supercomputer came up with a C-shape that resembled Pac-Man, the 1980s video game. They found it was able to find tiny stem cells in a petri dish, gather hundreds of them inside its mouth, and a few days later the bundle of cells became new xenobots.
At what point will they start painting and composing poetry?
All Maps Amazing and Terrible, Part the Infinity
Map of the internet in 1969 pic.twitter.com/aAEpX7EhCe

— Amazing Maps™ (@amazingmap) July 24, 2021
Electricity consumption in Europe in 1507 pic.twitter.com/9YFlFkeGJO

— Terrible Maps (@TerribleMaps) September 11, 2017
Grill Us a Steak, You're the Piano Man
Do you like barbecue? Pianos? Driving around? Well, thanks to Craftsman Handy Geng, you can indulge all three with his homemade rolling piano cart that grills food while the keys are being struck. Says Laughing Squid:
He built a frame for the grill around the piano, added in the heating coils under the keys, and attached it all to a tricycle frame. Geng put skewers of meat atop the grill and as soon as he began playing, the rig started rolling, and the meat began to cook.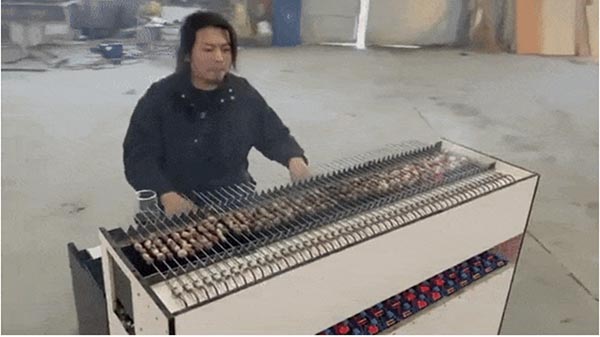 So, to request your required level of doneness, you'll need to specify anywhere from "etude" to "concerto."
Here is a video showing how he made it:
Employment Report
Google Announces Most Searched Term Of Year Is Once Again 'Nervous Breakdown Hate Life Hate Job How To Get New Life' https://t.co/SAyCMlhccJ pic.twitter.com/3TfqbVJo3j

— The Onion (@TheOnion) November 28, 2021
Keep Away
We could certainly have used this last year, but alas it may still remain a viable product. It is of course a "social distancing zapper." Even in the Before Times, people tended to get too close for comfort. Now, you can gently electrocute them to keep them at bay.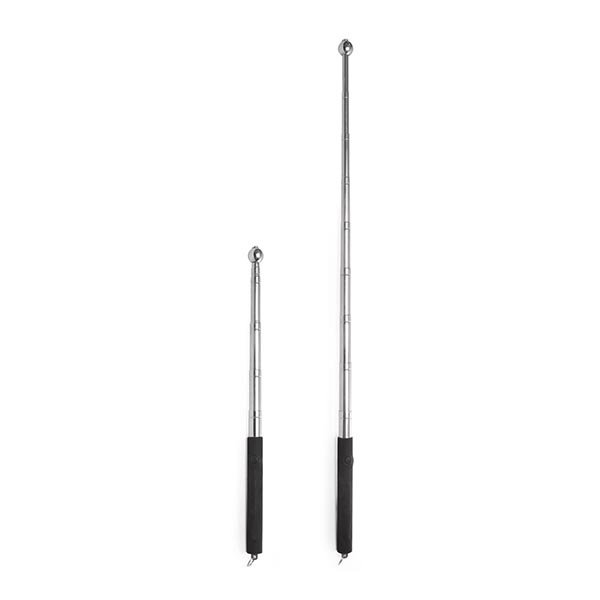 Watch with wonder as the Social Distance Zapper extends from one foot folded to five feet extended! Keep the anti-maskers at bay with just three LR44 batteries to power this 4.5 v zapper.
The Good Old Days
Everything. Nothing. No one could reach us unless we wanted them to. We were free. https://t.co/OXPSM1Iz6z

— Lauren Hough (@laurenthehough) November 30, 2021
This Week in Printing, Publishing, and Media History
November 22
1819: English novelist and poet George Eliot (née Mary Ann Evans) born.
1869: French novelist, essayist, and dramatist, Nobel Prize laureate André Gide born.
1928: The premier performance of Ravel's Boléro takes place in Paris.
1935: The China Clipper inaugurates the first commercial transpacific air service, connecting Alameda, California with Manila.
1963: English novelist and philosopher Aldous Huxley dies (b. 1894).
1977: British Airways inaugurates a regular London to New York City supersonic Concorde service.
1995: Toy Story is released as the first feature-length film created completely using computer-generated imagery.
November 23
534 BC: Thespis of Icaria becomes the first recorded actor to portray a character onstage.
1644: John Milton publishes Areopagitica, a pamphlet decrying censorship.
1888: American comedian and musician Harpo Marx (né Adolph Marx) born.
1889: The first jukebox goes into operation at the Palais Royale Saloon in San Francisco.
1924: Edwin Hubble's discovery, that the Andromeda "nebula" is actually another island galaxy far outside of our own Milky Way, is first published in The New York Times.
1936: Life magazine is reborn as a photo magazine and enjoys instant success.
1963: The BBC broadcasts the first episode of An Unearthly Child (starring William Hartnell), the first story from the first series of Doctor Who, which is now the world's longest running science fiction drama.
November 24
1713: Irish novelist and clergyman Laurence Sterne born.
1859: Charles Darwin publishes On the Origin of Species.
1877: Anna Sewell's animal welfare novel Black Beauty is published.
1962: The influential British satirical television program That Was the Week That Was is first broadcast.
November 25
1915: Albert Einstein presents the field equations of general relativity to the Prussian Academy of Sciences.
1952: Agatha Christie's murder-mystery play The Mousetrap opens at the Ambassadors Theatre in London. It will become the longest continuously-running play in history.
1968: American novelist, critic, and essayist Upton Sinclair dies (b. 1878).
1974: English singer-songwriter and guitarist Nick Drake dies (b. 1948).
November 26
1789: A national Thanksgiving Day is observed in the United States as proclaimed by President George Washington at the request of Congress.
1863: United States President Abraham Lincoln proclaims November 26 as a national Thanksgiving Day, to be celebrated annually on the final Thursday of November.
1912: American journalist Eric Sevareid born.
1917: The Manchester Guardian publishes the 1916 secret Sykes-Picot Agreement between the United Kingdom and France.
1919: American author and publisher Frederik Pohl born.
2003: The Concorde makes its final flight.
November 27
8 BC: Roman soldier and poet Horace dies (b. 65 BC).
1809: The Berners Street hoax was perpetrated by Theodore Hook in the City of Westminster, London.
1839: In Boston, Massachusetts, the American Statistical Association is founded, against all odds.
1852: English mathematician and computer scientist Ada Lovelace dies (b. 1815).
1924: In New York City, the first Macy's Thanksgiving Day Parade is held.
1942: Guitarist Jimi Hendrix born.
November 28
1628: English preacher, theologian, and author (Pilgrim's Progress) John Bunyan born.
1814: The Times of London becomes the first newspaper to be produced on a steam-powered printing press, built by the German team of Koenig & Bauer.
1859: American short story writer, essayist, biographer, historian Washington Irving dies (b. 1783).
November 29
1832: American novelist and poet Louisa May Alcott born.
1877: Thomas Edison demonstrates his phonograph for the first time.
1972: Atari releases Pong, the first commercially successful video game.
2001: English singer-songwriter, guitarist, and music producer George Harrison dies (b. 1943).
November 30
1667: Irish satirist and essayist Jonathan Swift born.
1835: American novelist, humorist, and critic Mark Twain (né Samuel Clemens) born.
1900: "Either that wallpaper goes or I do": Irish playwright, novelist, and poet Oscar Wilde dies (b. 1854).
1947: American playwright, screenwriter, and director David Mamet born.
1979: Pink Floyd's The Wall is released.
1982: Michael Jackson's Thriller is released. It will become the best-selling record album in history.
December 1
WHOA. Today is 12-1-21, which reads the same forwards and backwards. This literally will not happen again for 100 years, which if you think about it, is not at all interesting.

— (((Joshua Malina))) (@JoshMalina) December 2, 2021
1913: Ford Motor Company introduces the first moving assembly line.
December 2
1939: New York City's LaGuardia Airport opens. Has not been upgraded since.
1971: The Soviet space program's Mars 3 orbiter releases a descent module. It lands successfully but loses contact. It is the first man-made object to land softly on the surface of Mars.
December 3
1857: Polish-born British novelist Joseph Conrad (né Józef Teodor Konrad Korzeniowski) born.
1894: Scottish novelist, poet, and essayist Robert Louis Stevenson dies (b. 1850).
1910: Modern neon lighting is first demonstrated by Georges Claude at the Paris Motor Show.
1994: The PlayStation developed and marketed by Sony Computer Entertainment is released in Japan.
December 4
1732: English poet and playwright John Gay dies (b. 1685).
1791: The first edition of The Observer, the world's first Sunday newspaper, is published in the U.K.
1875: Austrian-Swiss poet and author Rainer Maria Rilke born.
1881: The first edition of the Los Angeles Times is published.
1965: The Grateful Dead makes its first concert performance under that name (they had been founded as The Warlocks).
1993: American singer-songwriter, guitarist, and producer Frank Zappa dies (b. 1940).
December 5
1791: Austrian composer and musician Wolfgang Amadeus Mozart dies (b. 1756).
1901: American animator, director, producer, and screenwriter Walt Disney born.
1901: German physicist and Nobel Prize laureate Werner Heisenberg born. Of that there is no uncertainty.