Your Friday Rhythmic Remix of a Squeaky Glove Compartment Playing Light Jazz
The White Stuff
USA Today reported that scientists at Purdue University have created the world's whitest paint. ("How white is it?!") It's so white that it reflects 98.1% of solar radiation while at the same time emitting infrared heat. Since the paint absorbs less heat from the sun than it emits, "a surface coated with this paint is cooled below the surrounding temperature without consuming power." In other words, "Using this new paint to cover a roof area of about 1,000 square feet could result in a cooling power of 10 kilowatts. 'That's more powerful than the air conditioners used by most houses,' [Xiulin Ruan, a professor of mechanical engineering at Purdue] said." The idea is to use this paint to reduce the need for air conditioning and the electrical power it requires.
The secret of the super-white paint is barium sulfate, which is used in very high concentrations and at different particle sizes. The researchers are currently in the process of partnering with a company to commercialize their paint.
Color My Brain
We spend so much of our time talking about and working with color, but how many of us who are not Print Geeks truly understand how the brain processes color? Via Laughing Squid, this helpful animation from the American Museum of Natural History explains how and why we perceive color(s).
Color My Moon
It took 10 years for the photographer to capture these 48 colors of the Moon. pic.twitter.com/1yoGiylA98

— ?????? ??????????(@tlhicks713) September 22, 2021
On the GO
Was it a good week for graphene news? It's always a good week for graphene news! Scientists are closer than ever to understanding an essential mystery of graphene oxide (GO). Says Graphene-info:
The oxygen atoms in GO are normally attached in a rather chaotic way. At elevated temperatures, however, the oxygen atoms form more organized structures – by themselves. This process of 'self-organization' was found to drastically improve various properties of GO – for example, its electrical conductivity.
The graphene community has been aware of this for a while, but until recently could only demonstrate it via computer simulations. Now, using electron microscopy, they have been able to actually observe it in real life.
"This all adds up to a key finding that gives us a deeper understanding of the properties of GO – and it might play a key role in bringing it a step closer to real-world applications such as sustainable water filtration, hydrogen generation and many more," [Dr. Rakesh Joshi at UNSW] says.
GO for it!
Risky Business
Writing directly into the CMS is the journalistic equivalent of riding a motorcycle without a helmet, isn't it?

— Eric Michael Garcia (@EricMGarcia) September 22, 2021
Wigging Out
Whether you are follicly challenged or just having a bad hair day (or, more seriously, are undergoing chemotherapy), new options for the head abound. Sure, we've all seen folks with green hair, but why not go truly green with the living, growing plant wig. This site explains how to create a live, sedum-based wig. Why sedum?
Sedum is a really hardy ground cover that, once established, can tolerate heat, drought, and other environmental stressors. There are many different kinds of sedum, but they all share certain characteristics—like super fleshy leaves and an aptitude for growing just about anywhere.
Like…on a wig, which leads us to one of the strangest quotes we've ever cut and pasted (which is saying something):
Provided you regularly water the rooting areas of your wig and give the whole thing plenty of sunlight, new roots eventually should penetrate the tulle/nylon wraps as well as the wig cap itself. You'll be left with a rather sturdy, living wig—one which may even require trimming from time to time. (And one which will likely flower in the spring!)
Let's hope the roots don't penetrate right into the skull, although that would make a good premise for a Stephen King novel.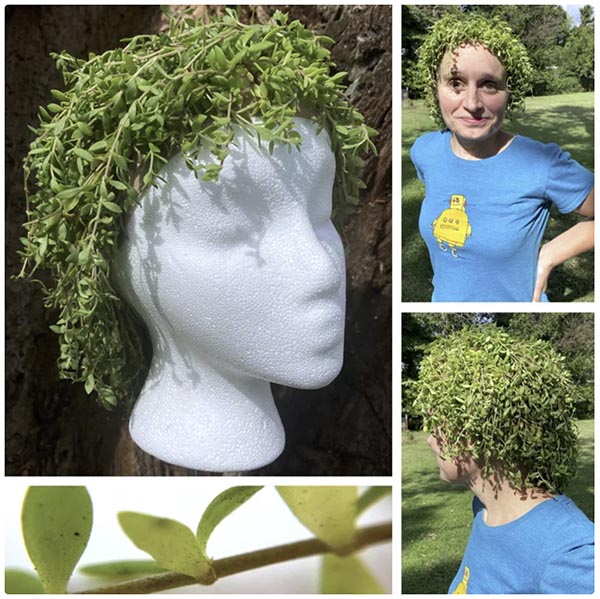 A fruit or vegetable-based living wig would be even cooler, although probably a bit impractical.
Light Up My Plants
Here's something that would really enhance the living growing wig: glowing plant leaves. Says MIT News:
"We wanted to create a light-emitting plant with particles that will absorb light, store some of it, and emit it gradually," says Michael Strano, the Carbon P. Dubbs Professor of Chemical Engineering at MIT and the senior author of the new study. "This is a big step toward plant-based lighting."
And how did they do it?
Using specialized nanoparticles embedded in plant leaves, MIT engineers have created a light-emitting plant that can be charged by an LED. After 10 seconds of charging, plants glow brightly for several minutes, and they can be recharged repeatedly.
This is the latest development in the new field of "plant nanobionics,"* which aims to give plants new features by embedding different types of nanoparticles in them.
This film can absorb photons either from sunlight or an LED. The researchers showed that after 10 seconds of blue LED exposure, their plants could emit light for about an hour. The light was brightest for the first five minutes and then gradually diminished. The plants can be continually recharged for at least two weeks, as the team demonstrated during an experimental exhibition at the Smithsonian Institute of Design in 2019.
The goal is to develop plant-based lighting that is brighter and lasts longer—perhaps being suitable for indoor lighting, helping reduce electrical use. Or, again, really juicing up the living, growing wig.
*As opposed to plant nanabionics, whereby one's grandmother would go to flower shows and surreptitiously snip bits of the exhibits and grow them at home. (Really!)
Fashion Don't
An interesting TikTok on the US addiction to fast fashion being a nightmare elsewhere in the world like Ghana pic.twitter.com/cWiamnWTSj

— Dear Ashley... (@asj519) September 19, 2021
Those Are Nice Shoes
Bloomberg had an interesting story this week about an ongoing project at Nike to develop sneakers tailored for people with disabilities that make it difficult to put on and lace up traditional sneakers. Thus, the Go FlyEase, the result of Nike's attempts to make a sneaker that's easy to put on and take off.
Instead of lying flat on the ground, the shoe has a band that squeezes it so its sole bends in the middle, creating an unusually large opening for a person's foot. Just slide your toes down into the gap and press down with your heel, and the band contracts to close the shoe into its proper shape and hold the foot firmly in place.
The effort goes back almost 20 years.
Nike's work in this vein began in earnest during the mid-2000s, when Tobie Hatfield, who now runs design and special projects, started tinkering with custom gear for a colleague who'd suffered a stroke. The focus on ease of use coalesced in 2012, when Hatfield read a letter from a teenager with cerebral palsy who wanted to be self-sufficient but couldn't tie his shoes. Three years later the first FlyEase hit the market in the form of a LeBron James high-top that used a wraparound zipper to open up the rear of the shoe.
It's not perfect, of course, but early users have given it high marks.
Making Book
Let's go tripping merrily back to the early days of computing, to a time when learning how to use hardware and software wasn't a Google search or a message to Adam Dewitz away. This was the 1980s and the Golden Age of the computer book—and, even better, those cool 1980s/90s computer book cover graphics. And those fonts! Well, take a little trip back with this gallery of old computer book covers. How many of those did you have? How many do you still have!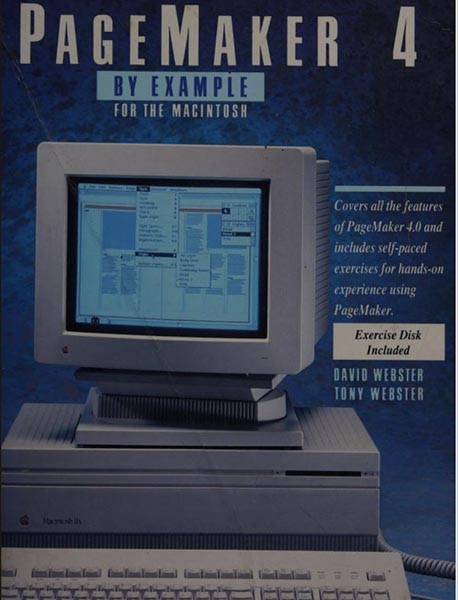 Signing in the Drain
I am signing in Bath today. Pretty much the exact opposite of singing in the shower.

— Richard Osman (@richardosman) September 22, 2021
AI-Yi-Yi, Part the Infinity: Movie Posters
So it seems that synthetic imagery (aka "GAN Art") is tout le rage. Essentially, this is a kind of neural network (AI) that generates images from a text prompt. If anyone wants to take a deep dive into the VQGAN+CLIP text-to-image paradigm, have at it. For our more meager purposes here, we were amused to see what kind of movie posters it would create based on a brief text description of the movies. If you check out this gallery, you can try to guess what the movie is before clicking the answer.
See if you can guess what this is ostensibly a poster for: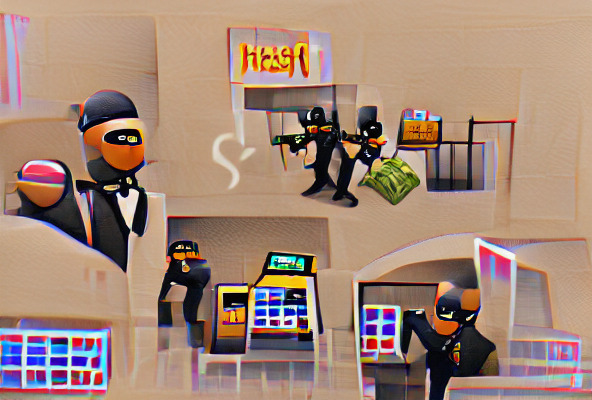 The answer is at the end of this week's Around the Web.
Bad Moon Rising
Nobody* saw this coming.

*Literally everyone who studies AI and automation saw this coming. https://t.co/opm9XiBskf

— Jake Williams (@MalwareJake) September 20, 2021
Card Carriers
Recent attendance at a live sporting event that required proof of vaccination led us to notice something: the nonstandard size of the official COVID-19 Vaccination Record Card makes it a bit of a challenge to carry around. It doesn't fit into a wallet, and smushing it into one's pocket seems like a bad idea*. So, via Core 77, enter Etsy shops, where clever designers are coming up with stylish vax card holders.
We kind of like this offering from HenneysBoutique, which is a wallet that supports both the vax card and a proper passport, useful when traveling abroad.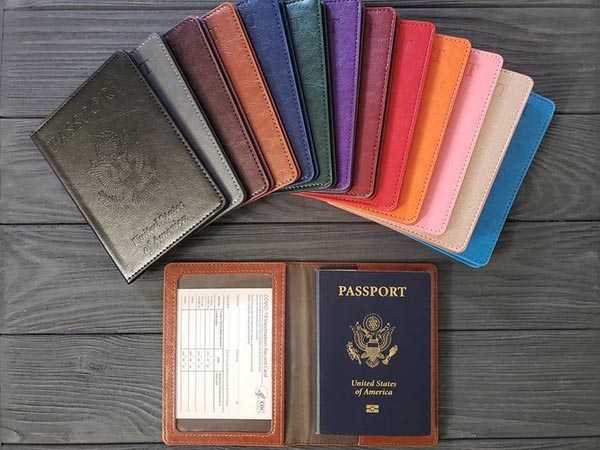 *It turned out the venue (located in NY state) accepted the state's official Excelsior Pass proof of vaccination iPhone app, but not every state has such an app, we suspect.
Kern, Kern, Kern
I will say, I do prefer this Halloween variant over the traditional... https://t.co/MeQxsETzS8

— Marc Bernardin (@marcbernardin) September 16, 2021
Wormsign!
Do you love worms? Of course, we all do. And the more fictional the worm, the better. (How's that for a smooth intro?) Anyway, for all you vermiphiles out there, Boing Boing helpfully links to an extensive list of fictional worms—and there are more of them than you would think. They date back to 12th-century Scotland and the legend of the Worm of Linton, which was said to be "In length three Scots yards and bigger than an ordinary man's leg." (It bears mentioning that "worm" comes from "wyrm," which was the Old English word for "serpent.") At any rate, check it out for all your worm needs.
My First Vlog
This is depressing on many levels pic.twitter.com/sTo4hh0qFu

— Dylan Viner (@dylanviner) September 18, 2021
Holy Guacamole!
Italian artist and teacher Daniele Barresi, based in Australia, specializes in carving elaborate designs into all manner of fruits and vegetables, and, via Laughing Squid, has expanded his palette to include the avocado. "The soft, creamy center of the fruit encased inside a durable shell provides the perfect pallet [sic] for Barresi's imagination."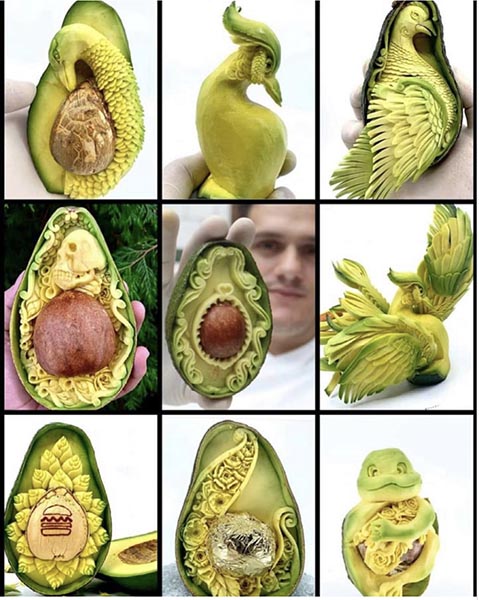 Veggie Tales
The USDA recommends adults eat between five to nine servings of fruits and vegetables per day pic.twitter.com/Mb2LesKWNt

— Carrie Courogen (@carriecourogen) September 22, 2021
Butt Out
Finally this week, we close out with an unwelcome addition to the roster of "smart devices," one which we are perfectly happy being "dumb." That is the toilet, and The Guardian warns us of the impending era of the "smart toilet," and the headline introduces us to the worst neologism we've come across in a while: "The smart toilet era is here! Are you ready to share your analprint with big tech?" No, but thanks for asking.
As the co-founder of Coprata, [Sonia] Grego is working on a toilet that uses sensors and artificial intelligence to analyse waste; she hopes to have an early model for a pilot study ready within nine months. "The toilet that you have in your home has not functionally changed in its design since it was first introduced," she says, in the second half of the 19th century. There are, of course, now loos with genital-washing capabilities, or heated seats, but this is basic compared with what Grego is envisaging. "All other aspects of your life – your electricity, your communication, even your doorbell – have enhanced capabilities."
And those are bad enough. The goal of the smart toilet is to analyze…er, what goes into it and identify health problems, make nutritional recommendations, and other supposedly benevolent functions. The article devolves into far too much description than we care for, certainly over lunch, but suffice it to say, smart toilet researchers believe we are ready for our loos to generate our "analprint" (oy). But can we keep the data secure? You bet your ass—literally.
Shaky
After OutKast sang "Shake it like a Polaroid picture," Polaroid released this statement: "Shaking or waving can actually damage the image."

There's a brand new QI tonight and it's our SHADY & SHAKY show with Sandi, Alan, @eshaanakbar, @JohnBarrowman and @VictoriaCoren! BBC2 10pm pic.twitter.com/dp7ys4DsBn

— Quite Interesting (@qikipedia) September 23, 2021
This Week in Printing, Publishing, and Media History
September 20
1878: American novelist, critic, and essayist Upton Sinclair born.
September 21
19 BC: Roman poet Virgil dies (b. 70 BC).
1934: Canadian singer-songwriter and poet Leonard Cohen born.
1937: J. R. R. Tolkien's The Hobbit is published.
1866: English novelist, historian, and critic H. G. Wells born.
1947: American author and screenwriter Stephen King born.
September 22
1789: The office of United States Postmaster General is established.
1791: English physicist and chemist Michael Faraday born.
1888: The first issue of National Geographic magazine is published.
1991: The Dead Sea Scrolls are made available to the public for the first time by the Huntington Library.
September 23
1911: Pilot Earle Ovington makes the first official airmail delivery in America under the authority of the United States Post Office Department.
1889: American journalist, publisher, and co-founder of The New Republic Walter Lippmann born.
1889: English novelist, short story writer, and playwright Wilkie Collins dies (b. 1824).
1889: Nintendo Koppai (later Nintendo Company, Limited) is founded by Fusajiro Yamauchi to produce and market the playing card game Hanafuda.
1909: The novel Le Fantôme de l'Opéra (The Phantom of the Opera), by Gaston Leroux, is published as a serialization in Le Gaulois.
1926: American saxophonist and composer John Coltrane born.
1930: American singer-songwriter, pianist, and actor Ray Charles born.
1949: American singer-songwriter and guitarist Bruce Springsteen born.
Wow—what a day for musical births!
1962: The Lincoln Center for the Performing Arts opens in New York City.
2002: The first public version of the web browser Mozilla Firefox ("Phoenix 0.1") is released.
September 24
1852: The first airship powered by (a steam) engine, created by Henri Giffard, travels 17 miles (27 km) from Paris to Trappes.
1896: American novelist and short story writer F. Scott Fitzgerald born.
1906: U.S. President Theodore Roosevelt proclaims Devils Tower in Wyoming as the nation's first National Monument. (The aliens would arrive 71 years later.)
1936: Muppet creator Jim Henson born.
1991: American children's book writer, poet, and illustrator Dr. Seuss (né Theodor Seuss Geisel) dies (b. 1904).
September 25
1690: Publick Occurrences Both Forreign and Domestick, the first newspaper to appear in the Americas, is published for the first and only time.
1897: American novelist, short story writer, and Nobel Prize laureate William Faulkner born.
1906: Leonardo Torres y Quevedo demonstrates the Telekino, guiding a boat from the shore, in what is considered to be the first use of a remote control.
1912: Columbia University Graduate School of Journalism is founded in New York City.
1929: English actor and screenwriter Ronnie Barker born.
1951: American actor and producer Mark Hamill born.
1956: TAT-1, the first submarine transatlantic telephone cable system, is inaugurated.
September 26
1888: Poet, playwright, critic, and Nobel Prize laureate T. S. Eliot born, not with a bang, but a whimper.
1905: Albert Einstein publishes the third of his Annus Mirabilis papers, introducing the special theory of relativity.
1910: Indian journalist Swadeshabhimani Ramakrishna Pillai is arrested after publishing criticism of the government of Travancore and is exiled.
1969: Abbey Road, the last recorded album by The Beatles, is released.
1973: Concorde makes its first non-stop crossing of the Atlantic in record-breaking time.
Oh, and the AI movie poster up above is for Ocean's Eleven, apparently.