Limited fabric choices, larger print run minimums, and inefficient production practices hampered on-demand direct-to-fabric printing in the past, but digital textile printing has reinvented itself with the emergence of pigment technologies.
With the advent of inline pretreatment, pigment printing on textiles is becoming very appealing to print service providers.
With digital pigment printing, a large portion of waste is mitigated because post-treatment processes like steaming and washing are eliminated.
By Mike Bertini
Introduction
What products do you think of when pigment on-demand digital printing is mentioned? If you're like most, DTG (direct-to-garment) will come to mind for wearables like T-shirts, hoodies, and hats. Internet sales have reached record levels over the past twelve months, and consumer demand for personalized imprinted products is increasing. Digital pigment technologies helped shape the customization culture that is prevalent among many of today's online shoppers, and this technology is now making its way into textile DTF (direct-to-fabric)—fueling a revolution among textile printers.
In the R2R (roll-to-roll) space, on-demand orders have traditionally been fulfilled using dye-sublimation transfer, and in some cases reactive and acid printing. Limited fabric choices, larger print run minimums, and inefficient production practices requiring post-treatment have hampered digital on-demand DTF printing in the past. Now, with the emergence of pigment technologies, digital textile printing is reinventing itself. Inline pretreatment, sustainable processes that eliminate the need for post-treatment, and an ease of use that opens the door for a wider variety of fabrics are among the driving forces of this revolution. As a result, print applications that offer greater personalization choices for consumers are beginning to dominate the on-demand textile landscape. Pigment opens the door for new selling opportunities that print service providers (PSPs) and retailers have been waiting for, including fast fashion, sportswear, and home décor products like bedding and linens.
Inline Pretreatment
One of the driving factors contributing to the rise of pigment digital textile printing is the invention of inline pretreatment on-press. This eliminates the need for purchasing pretreated fabrics or pretreating material in-house prior to printing. In addition to reducing labor and pretreatment equipment costs, inline pretreatment offers the operator greater control over a variety of factors, including color gamut, wash-fastness, and hand feel. All of these characteristics are determined, at least in part, by the amount of pretreat that is applied to specific fabric types. Most PSPs choose not to pretreat fabrics in-house because it is difficult to apply consistent amounts of pretreat across the whole width and length of fabric. The results can be unpredictable, and are often not worth the time and risk. With the advent of inline pretreatment, however, pigment printing on textiles is becoming very appealing to PSPs. For a real-world example, Kornit Digital's Presto S features inline FOF (fixation-on-the-fly) that interlaces fixation simultaneously with the ink dot-for-dot as it is being jetted onto the fabric. This eliminates the need for pretreating 100% of the fabric prior to or during printing.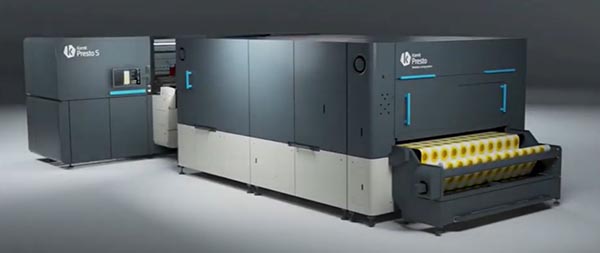 Kornit Digital's Presto S
Sustainability
Growing concerns about sustainability have had a major impact on the digital printing landscape. The textile/fashion industry is the second largest polluter in the world, contaminating waterways while also wasting a tremendous amount of water in the process. It is estimated that nearly 20% of industrial water pollution comes from textile finishing and printing mills. With digital pigment printing, however, a large portion of this waste is mitigated because post-treatment processes like steaming and washing are eliminated. Although dye-sublimation transfer doesn't use post-treatment steaming or washing, it accounts for a large amount of paper waste, which is also bad for our environment. Pigment ink is polymerized inline through a tunnel dryer and doesn't require any additional treatments after it is cured. In addition to eliminating water pollution and paper waste, this greatly reduces energy consumption brought on by additional equipment.
Consumers are becoming increasingly aware of the environmental impact that the textile industry represents, and savvy manufacturers are taking notice. The future of textiles will include more supply chain transparency as brands begin marketing eco-friendly production practices. Regarding the fabric printing portion of the process, digital pigment is leading the way. One such example is Reggiani's TERRA line of pigment digital textile printers, which feature different models and print speeds that offer inline polymerization.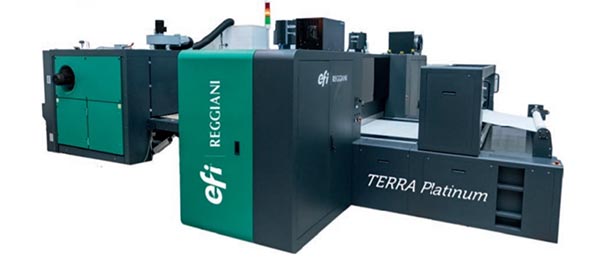 EFI Reggiani's TERRA Platinum
Ease-of-Use
On-demand digital printing presents a set of challenges that high volume analog printing does not—mainly pre-press and on-press settings and adjustments. Whether it be file RIP, fabric choice, or machine settings (in-feed, printer, and out-feed adjustments), time is money. With short runs, PSPs can find themselves spending more time loading files and fabrics than actually printing. Critical to the evolution of digital textile printers was the ability to change fabrics and files on the fly with minimal downtime. Advanced workflow automation and printer technologies are enabling PSPs to print short runs with minimal downtime, allowing for more profitability. Industrial in-feed and out-feed systems automatically adjust to the roll width, tension, length, and stretch so the operator can seamlessly switch between fabrics. Additionally, automatic printhead height adjustment and sticky belt technology ensures consistency without any wrinkles or fabric movement during printing. It should also be remembered that for PSPs to print a wide variety of fabrics on demand, the availability of these fabrics from suppliers is a critical part of the supply chain. As pigment on-demand textile printing continues to grow, blank fabric availability will be just as important as blank t-shirts and apparel availability are for DTG printers. One such provider is Top Value Fabrics, which offers a wide variety of textiles for apparel, industrial, and home décor. As pigment digital on-demand printing continues to grow, the number of fabric suppliers stocking goods year-round will likely grow with it.
The Bottom Line
Consumer demand for personalization and customization will continue to grow amidst an e-commerce boom with no forseeable end in sight. Virtual marketplaces are fueling on-demand textile products, due in large part to pigment ink technologies. Not only is this good for consumers, it's even better for our environment. This textile revoltion is not expected to show signs of slowing anytime soon—on the contrary, digital pigment technologies will likely redefine how textile production is planned and executed over the next decade. This shift offers a great many benefits, and smaller runs, greater speed-to-market, eco-friendliness, and lower inventory risk are just a few of them.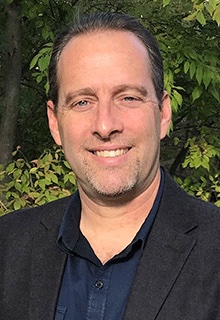 Mike Bertini is the Director of Textile and Direct-to-Garment/Direct-to-Fabric Printing at Keypoint Intelligence. His responsibilities include conducting market research, market forecasting, custom consulting, strategy/planning engagements, and creating editorial content and reports pertaining to digital textile printing. Prior to joining Keypoint Intelligence, Bertini served as Senior Product Manager, DTG at Life Is Good Clothing Co. His accomplishments at Life Is Good include spearheading a new textile digital printing facility including budget, layout, process flow, P&L, ERP implementation, and quality assurance standards.