Your Friday Lion Learning How to Open a Car Door
"Friends" ended in 2004 and had a reunion this week, which means the cicadas think it was on the whole time

— Jill Twiss (@jilltwiss) May 29, 2021
Seeing the Forest for the Signs
Most of you reading this have probably never heard the name Virgil "Bus" Carrell, but if you have ever done a road trip across the U.S., you've probably seen his work. Atlas Obscura has a nice feature on Carrell, who was a ranger with the U.S. Forest Service. Starting in the 1930s as District Ranger for Mt. Hood's Clackamas River area, he won Ranger of the Year in 1949, and 10 years later was promoted to the agency's head office in Washington, D.C. In the 1950s, road trips were becoming the rage, and the Forest Service began to realize that its signage program needed upgrading, and Carrell was put in charge of those efforts. (Carrell chose as his assistant an artist named Rudy Wendelin who, in 1944, had worked on a fire prevention campaign for the agency and created the character of Smokey Bear.) Carrell dove into the project, reviewing current National Forest Service sites. Says Atlas Obscura:
Carrell developed a philosophy summed up in his essay "Signs to Complement Natural Beauty." It reads like Sun Tzu's The Art of War for forest signs: "A sign does not have to be the gaudiest, the biggest, and the most colorful to be the best one," and "The text should develop no more than one topic and have a warm tone."
It was Carrell's ideas to use the quirky trapezoids and retro lettering that immediately identify a national park or other monument.
Carrell had no formal design training, but he understood that the project to create signage for Forest Service properties coast to coast called for something special. Carrell and his team would create what he called a "family of shapes," each sign an individual but clearly related to the others. For example, signs marking the Continental Divide are shaped like bow ties, as if two trapezoids were joined in the middle, but sport the same colors as the asymmetrical trapezoids welcoming you to scores of National Forests, and smaller symmetrical trapezoids at trailheads.
The agency took is new branding seriously—and still does.
Today, the design and implementation of the agency's signs are carefully prescribed in Sign and Poster Guidelines for the Forest Service, which outlines everything from sign maintenance to approved colors. It's over 600 pages long.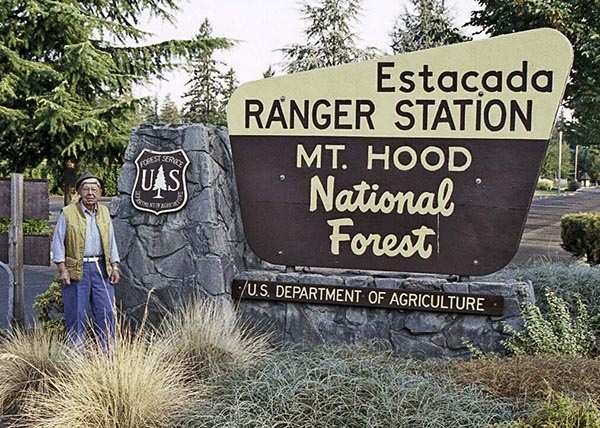 Virgil "Bus" Carrell with one of his iconic signs. Photo by Bud Unruh.
So if you are traveling out and about this summer and happen upon one of his iconic signs, pause for a moment to consider the legacy of Virgil "Bus" Carrell and his contribution to signage.
More Signs of the Times
when your elevator promises to follow COVID rules but then looks the other way pic.twitter.com/fCHKjMUEfi

— Dan Diamond (@ddiamond) May 30, 2021
The Fabric of Our Lives
A recent report by Lux Research notes, "The textile supply chain and collection infrastructure must be developed side by side with textile recycling and be supported through multiple initiatives, including reuse, takeback programs, and municipal support. Textile collection and sorting technologies will make or break the economics of apparel recycling."
Read the executive summary here.
Deepish Thoughts
Thank god I've never been this high. https://t.co/oCZFTWdTRH

— Charlotte Clymer ???‍??(@cmclymer) June 1, 2021
Typo Graphy
Here at WhatTheyThink, we are hardly immune from the occasional typo—but then no publication ever is, especially not newspapers. "If anyone wanted to construct a machine for the production of error, a newspaper would probably be it," wrote Ian Mayes, the Guardian's first readers' editor. As part of the Guardian's 200-year anniversary celebration, they fondly looked back at some of their best (and worst) typos and other errors.
Readers were informed that the 2003 spring season at the Royal Shakespeare Theatre in Stratford-upon-Avon would feature "The Taming of the Screw". Anyone spluttering over their morning muesli at this point might have reached for Glaxo's "controversial treatment for irritable bowl syndrome", as we once had it.
If further proof were needed of the havoc one missing letter can produce, among the highlights expected at Glastonbury 2010 was the group Frightened Rabbi. "[That] should have been the Scottish band Frightened Rabbit," deadpanned the next day's corrections column.
This is a good one:
the Guardian carried an article from Finland's Helsingin Sanomat newspaper, giving a byline to Jatkuu Seuraavalla Sivulla, which a reader advised was not the author's name but the Finnish for "continued on the next page".
… And, so, it seems fitting to end near to where we began, with a note published by Mayes in the corrections column of 26 January 1999: "The absence of corrections yesterday was due to a technical hitch rather than any sudden onset of accuracy."
Pastaland
Little known fact about Badlands is that the layered rocks were so loved by early Italian explorers, it inspired them to create the dish known as "lasagna." The dish's many layers represent the different layers of sedimentary rock in the park. #AprilFools
NPS Photo/J. Ellis pic.twitter.com/CTP8KR24OV

— Badlands Nat'l Park (@BadlandsNPS) April 1, 2021
Wooden It Be Nice
Via Laughing Squid, Canadian chemistry buff NileRed continues in his attempts to turn a piece wood transparent. Basing his new attempt on a paper called "Optically Transparent Wood from a Nanoporous Cellulosic Template: Combining Functional and Structural Performance" and published in the journal Biomacromolecules, he came closer to what he was trying to achieve.
The final result was honestly way better than I ever thought it would be and I was really happy with how it turned out. It technically still isn't perfect but I think that's kind of a good thing. I think all the slight imperfections on the surface actually make it look more like a piece of wood and less just like a slightly hazy piece of plastic.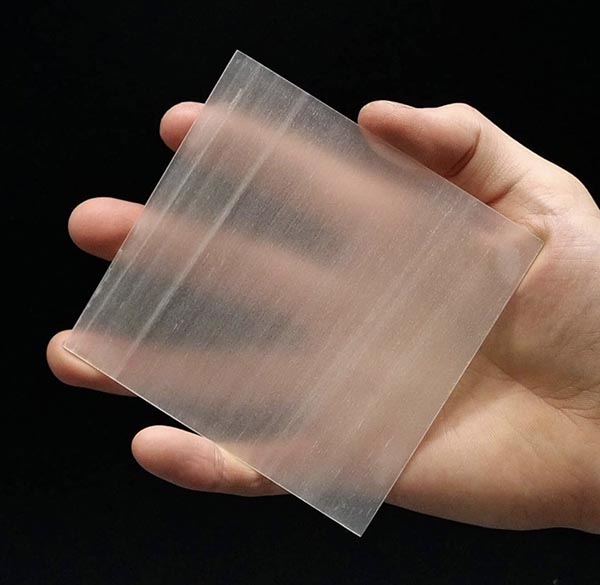 Why wood would one want to do this? Says the Biomacromolecules study: "Lightweight and strong transparent wood is a potential candidate for lightweight low-cost, light-transmitting buildings and transparent solar cell windows."
It's a Cookbook!
The first Italian recipe book was created in the 15th century and contained recipes such as "How to dress a peacock with all its feathers, so that when cooked, it appears to be alive and spews fire from its beak."

— Quite Interesting (@qikipedia) April 1, 2021
Wooden It Be Nice, Part II
From making existing wood transparent to the latest attempts to print wood via 3D printing. From Core77:
Early attempts at 3D printing wood were clumsy, but the manufacturing technology has come a long way. A startup called Forust--which is a subsidiary of Desktop Metal, whose binder jetting 3D printing techniques we looked at here--has devised a way "to make high-volume wood 3D printing affordable, reliable, and sustainable [by] applying the speed, precision and quality of binder jetting to produce strong, lightweight wood components derived from two wood waste streams - sawdust and lignin."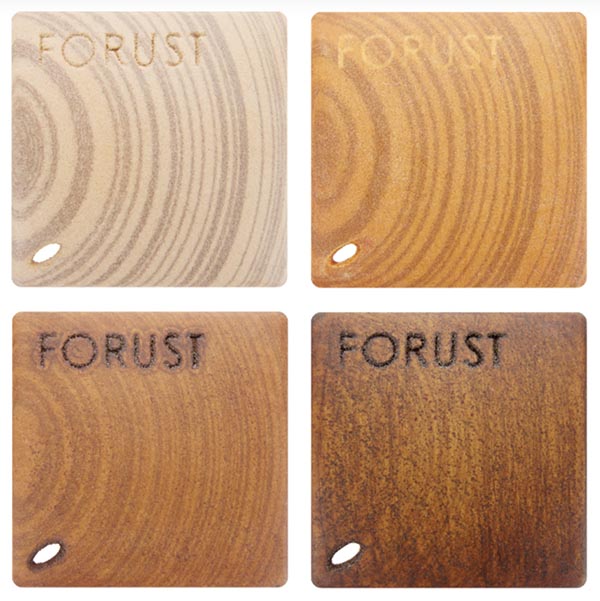 The company says the resultant prints can be worked with regular tools, will accept common fasteners and will even take finish. They also say they can "mimic a wide variety of wood species [including] oak, teak and walnut."
Quackers
me: I can't decide what to have

waiter: what about the duck?

duck: I'll have lasagna

— john (@mrjohndarby) April 3, 2021
Metamorphosis
We owe a lot to Max Brod, a friend of author Franz Kafka. Kafka implored Brod to burn all his manuscripts and other writings after his death. Happily for us all, Brod recognized the literary merit in his friend's work (very few of Kafka's stories and none of his novels were published in his lifetime) and instead had them published, allowing Kafka to posthumously become one of the major figures of 20th-century literature. Brod also had a vast collection of Kafka's letters, story drafts, sketches, and other materials which he eventually donated to the National Library of Israel.
Now, via the BBC, this collection of Kafka-iana has been digitized, restored, and is now available online.
The digitised collection includes three draft versions of Kafka's story Wedding Preparations in the Country, a notebook in which he practiced Hebrew, and hundreds of personal letters, sketches and travel journals.
Travel journals? Yes; when Kafka and Brod traveled around Europe in 1910 and 1911, they hatched a plan to write and publish a series of travel guides which they were going to call "On the Cheap." At the time, there was very little like Fodor's (let alone TripAdvisor) that reviewed and rated hotels and restaurants and provided other practical information—or, more to their point, kept travelers from getting ripped off in "tourist traps." Neither of them had the funds to get very far with the idea, though. (This from Reiner Stach's Kafka: The Early Years, part of Stach's three-volume biography of Kafka.) Who wouldn't love the idea of a Kafka-written travel guide?
Mack the Knife?
16th century knives featuring sheet music on them, so guests can sing together at the end of the meal. Each knife appears to have a different line of harmony to the others. pic.twitter.com/uLsjOCqFNa

— Filippo Lorenzin (@fi_lor) March 19, 2021
Driven Crazy
Well, this sounds annoying. From Gizmodo:
Because being bombarded with roadside signage while taking a leisurely Sunday drive isn't enough, Ford has patented a new system that uses a vehicle's cameras to detect billboards and then pull them up on a car's infotainment display as inescapable in-vehicle advertisements.
Granted, the initial premise was not a bad one:
What billboards aren't great at is providing detailed information like a phone number, an address, or a website, as even large signage often isn't visible long enough for a driver or passenger to memorize important details. That's the problem Ford is trying to solve with this new system it's patenting—although the larger potential here is concerning.
Ford is trying to leverage all the cameras that cars have now to allow the billboard content to be visible to drivers (or, preferably, non-driving passengers) longer. But:
Ford could potentially even work with advertising agencies, or the companies responsible for billboards, so that upcoming advertisements would be provided ahead of time to train the system so it could better recognize what it's seeing, and even provide customized URLs or additional content that loads as a result. You might be driving by a billboard hawking a Whopper, and the passengers in the vehicle could be given the option to watch a Burger King ad. The key words being "given the option," because one day that might not be the case.
A Fine Mesh
Hello, it's Amazon here, you have one week to opt out of sharing your internet with everyone, but I'm sure you love this so why would you? Have a great day! https://t.co/h5qwiIeMYe

— Internet of Shit (@internetofshit) June 2, 2021
Moozart
Via the New York Times, a Danish cattle farm has entered into a unique partnership: the Scandinavian Cello School. In an attempt to replicate the efforts of the Wagyu cows of Japan, which, it is said, produce such tender meat because they are highly pampered, farm owners Mogens and Louise Haugaard have enlisted the school's cellists to serenade the cows.
Beginning in November 2020, a boom box playing Mozart and other classical music in the Haugaard barn has serenaded the cows daily. About once a week, Shaw and any students in residence have come over for a live performance.
Although it remains unclear whether their new listening habits have affected the quality of the cows' meat, the farmer noted that the animals come running whenever the musicians show up, and get as close as possible while they play.
"Classical music is very good for humans," Haugaard said. "It helps us relax, and cows can tell whether we're relaxed or not. It makes sense that it would make them feel good too."
Sway
Dinner at an exclusive restaurant last night with the great-great-great grandson of Handel. That name still opens doors.

— Richard Osman (@richardosman) June 2, 2021
Cereal Killer
Do you have trouble making cereal? Wish you could have a robot manage the complex assembly involved in adding milk to cereal? Well, good news! Via The Verge, Kellogg's has partnered with Chowbotics (makers of the "Sally" salad robot) to create the Bowl Bot, a "cereal robot."
You interact with it via a touchscreen to select through your dairy bases (milk or yogurt), combinations of cereals and granolas, and toppings like fresh fruit or cocoa nibs. Kellogg's also offers custom pre-designed combinations of cereals at a higher price if something like the "Hawaii 5-0" (Frosted Mini-Wheats, Bear Naked Fit Triple Berry Granola, pineapple, coconut, and mango) sounds better than what you can come up with on your own.
It is being launched at University of Wisconsin-Madison and Florida State University (as you can guess, it's designed for student use), although we cringe at the thought of something called "food DRM."
It does also seem like a way to further nickel-and-dime students through a kind of "food DRM." Each college will handle its meal plans differently, but I'd be pretty annoyed if my unlimited cereal-for-dinner lifestyle got saddled with $3-per-bowl microtransactions.
Signs of Trouble
Uh-Oh pic.twitter.com/sYNPBuFWev

— Eric Alper ?? (@ThatEricAlper) May 31, 2021
"Aeschylus, Look Out!"
From AP, in Florida (where else?), a 71-year-old passenger in a car driving on I-95 suffered a unique automotive injury: she was struck by a flying turtle that smashed through the windshield, causing a gash in her forehead. Her injury was not especially serious, but the turtle got off easy. "[I]t just had a few scratches on its shell and was released back into the nearby woods." Why was the turtle hurtling through the air to begin with? No, it was not Gamera: "The turtle was likely crossing the interstate and got knocked into the air by another vehicle."
When driving in Florida, always make sure to wear your shell.
Lost in Translation
[gentle, incessant humming noises]

???????????????????????????? ????????????

[some overarching thoughts on the political and cultural developments of the past seventeen years (THREAD, 1/73)]

— Ariel Edwards-Levy (@aedwardslevy) May 27, 2021
Allergy
A couple of weeks ago, we linked to a "cicada cookbook." However, we pass along this recent FDA warning:
Yep! We have to say it!

Don't eat #cicadas if you're allergic to seafood as these insects share a family relation to shrimp and lobsters. https://t.co/UBg7CwrObN pic.twitter.com/3qn7czNg53

— U.S. FDA (@US_FDA) June 2, 2021
All part of the service here at Around the Web.
Bugged
I'm going to out you 17 years from now if you make the same cicada jokes.

— (((Joshua Malina))) (@JoshMalina) June 1, 2021
Jello
Do you like both Jell-O molds and lamps? Well, good news! Via Boing Boing, Bay Area artist Elrod's Mexakitsch collection comprises Jell-O molds are actually functional lamps.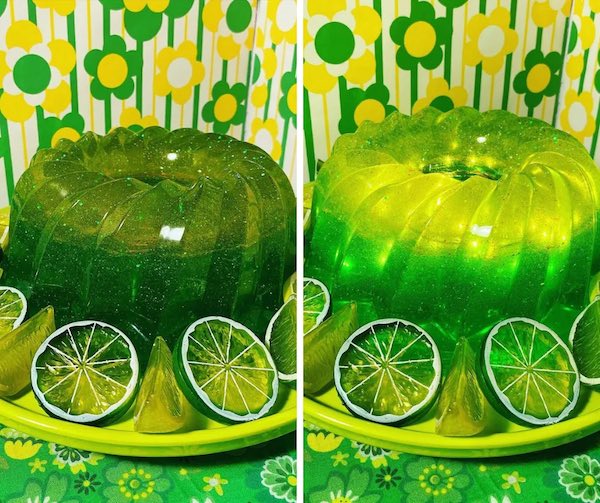 She also does parfait sculptures and even a deviled egg clock.
This Week in Printing, Publishing, and Media History
May 31
1669: Samuel Pepys records the last event in his famous diary, due to failing eyesight.
1790: The United States enacts the Copyright Act of 1790, the country's first copyright statute.
1819: American poet, essayist, and journalist Walt Whitman born.
1894: American comedian, radio host, game show panelist, and author Fred Allen (né John Florence Sullivan) born.
2005: Vanity Fair reveals that Mark Felt was "Deep Throat."
June 1
1495: John Cor, a Scottish monk and servant at the court of James IV, records the first known batch of Scotch whisky.
1857: Charles Baudelaire's Les Fleurs du mal is published.
1872: American publisher, founder of the New York Herald James Gordon Bennett, Sr. dies (b. 1795).
1890: The United States Census Bureau begins using Herman Hollerith's tabulating machine—the first "computer"—to count census results. They may still be using it.
1936: English illustrator and animator Gerald Scarfe born.
1980: Cable News Network (CNN) begins broadcasting. And thus begins the decline of newspaper circulation.
June 2
1840: English novelist and poet Thomas Hardy born.
1896: Guglielmo Marconi applies for a patent for his wireless telegraph.
June 3
1140: The French scholar Peter Abelard is found guilty of heresy.
1889: The first long-distance electric power transmission line in the United States is completed, running 14 miles (23 km) between a generator at Willamette Falls and downtown Portland, Ore.
1924: Czech-Austrian lawyer and author Franz Kafka dies (b. 1883).
1929: American game show host and producer Chuck Barris born.
1961: American lawyer, academic, author, and founder of the Creative Commons Lawrence Lessig born.
1965: The launch of Gemini 4, the first multi-day space mission by a NASA crew. Ed White, a crew member, performs the first American spacewalk.
June 4
1783: The Montgolfier brothers publicly demonstrate their montgolfière (hot air balloon).
1876: An express train called the Transcontinental Express arrives in San Francisco, via the First Transcontinental Railroad only 83 hours and 39 minutes after leaving New York City. (Insert your own Amtrak joke here.)
1907: American actress Rosalind Russell born. Russell starred with Cary Grant in His Girl Friday, one of the best—and funniest—newspaper movies ever made.
1917: The first Pulitzer Prizes are awarded. Laura E. Richards, Maude H. Elliott, and Florence Hall win the first Pulitzer for biography (for Julia Ward Howe); Jean Jules Jusserand wins the first Pulitzer for history for his work With Americans of Past and Present Days; and Herbert B. Swope receives the first Pulitzer for journalism for his work for the New York World.
June 5
1851: Harriet Beecher Stowe's anti-slavery serial, Uncle Tom's Cabin, or Life Among the Lowly, starts a ten-month run in the National Era abolitionist newspaper.
1910: American short story writer O. Henry dies (b. 1862).
1919: American-Swiss author and illustrator Richard Scarry born.
1947: American singer-songwriter and violinist Laurie Anderson born.
1956: Elvis Presley introduces his new single, "Hound Dog," on The Milton Berle Show, scandalizing the audience with his suggestive hip movements.
2012: American science fiction writer and screenwriter Ray Bradbury dies (b. 1920).
June 6
1756: American soldier and painter John Trumbull born.
1799: Russian author and poet Alexander Pushkin born.
1875: German author, critic, and Nobel Prize laureate Thomas Mann born.
1892: The Chicago "L" elevated rail system begins operation.
1933: The first drive-in theater opens in Camden, N.J.
1946: American bass player and songwriter Tony Levin born.
2016: English playwright and screenwriter; works included Equus and Amadeus Peter Shaffer dies (b. 1926).