Got an opinion? Can't wait to share it? You might want to keep it off your business social media platforms. A new study from Savings.com found that 50% of Americans are more likely to boycott a brand due to their political positions than they were just one year ago. While the study looked specifically at retail sales, people are people. The same buyers who boycott consumer brands because of their political positions are the same buyers who are likely to look unfavorably on B2B brands they disagree with, too.
This struck me as I recently evaluated my own activity on LinkedIn. When you want to know more about someone (say, before you hire them or take them on as a client or vendor), you want to find out whom you are dealing with. So you not only look at their LinkedIn profile (what they want you to see), but also their "activity" (which they may not be thinking about you seeing). Their "activity" isn't just what they are consciously and intentionally posting. It's everything they've shared or commented on, too. Yes, everything. You can learn a lot about people by reading their comments on other people's posts.
Business Facebook pages have a similar transparency. From a business perspective, Facebook is used in a more casual way than LinkedIn. It allows us to show off our more personal sides. You wouldn't post about your favorite coffee brew on LinkedIn, but you'll share it on Facebook. You'll talk about the human side of your company, its employees, and you. Because it's more casual, however, it can be tempting to use these platforms to get too personal and promote personal perspectives. There are certain of my peers in the industry whose political opinions I am intimately familiar with...and probably shouldn't be. We live in a very polarized country. I often wonder how much those opinions are impacting their business, whether they realize it or not.
Here are some of the results of the Shoppers.com study, "Politics' Growing Impact on Brands and Consumers in 2021." It is based on a survey of more than 1,000 consumers across the United States.
In 2020, one in four American shoppers (over 50 million) stopped purchasing from a brand due to their support of a presidential candidate.
More than one in three American shoppers (over 65 million) stopped purchasing from a brand due to COVID-19 policies, poor customer service, and/or mistreatment of employees.
Nearly one in four Americans stopped purchasing due to "controversial comments."
Large percentages of consumers say brand politics will influence their decisions in the future.
47% said they're more likely to spend money on brands whose politics align with their own.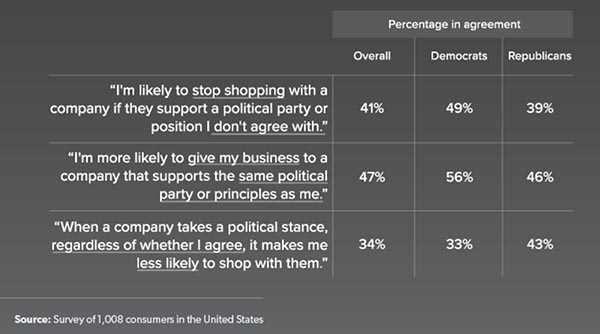 While studies have also come out showing that consumers want brands to comment on social issues, Shoppers.com found that more people are likely to stop shopping with a brand over social policy they disagree with (23%) than are likely to shop shopping with a brand because it had chosen to remain silent (12%).
So be careful, not just about what you post on your social media accounts, but also what you comment on. Remember that political rant you went on three years ago in a comment on your college roommate's LinkedIn page? Even though your roommate now lives in Germany and works for the mechanical engineering industry — yup, that comment is in your "activity" page, too. Your customers, colleagues, and competitors can all see it. ("We all see it... We all see it...")
As Savings.com sums up: "Our data shows that while deep divides exist along partisan lines, the average person is more likely to spend money with brands that share their views than they are to punish ones that don't. And there's reason to believe this phenomenon will deepen and expand, as few people say they became less concerned about the intersection of business and politics in 2020."