Your Friday Sabbath Cover Played on a Harp Guitar
Just a reminder of the golden rule of journalism: when a headline is in the form of a question, the answer is always "NO" pic.twitter.com/25azZVW1vJ

— Stephen Fry (@stephenfry) May 6, 2021
Head out on the Highway
As we start traveling more—and driving further distances—we will be refamiliarizing ourselves with highway signs. One thing you may notice as you drive from place to place—and this has been happening for a while—is that there seem to be two different typefaces used on highway signs. This isn't inadvertently bad or inconsistent design, but is a gradual transition to a new font.
This week, Vox explains this in an interesting video about the typography of highway signs. It was originally standardized in the 1950s and used the typeface cleverly called Highway Gothic, "born out of an initiative from the California Department of Transportation to develop a clearer and more flexible standard for highway signs." For example, similar looking letters need to be more easily distinguished from each other—think of the capital I and lowercase ls in Illinois, for example. If you're trying to read a highway sign at 65+ mph, you don't want ambiguous typography sending you off the wrong exit.
However, as highway signage has been using new substrates to improve reflectivity—and there are strict standards regarding highway sign reflectivity—the problem of "halation" has arisen. That is, at night, headlights bouncing off signage lettering causes a halo effect around each letter, which can "plug up" lowercase letters like e's and a's and make them look like o's, as well as other issues—a problem more acute for elderly drivers (of which there are more on the road these days than 20 years ago). So in the 1990s, a team of researchers developed a new typeface for highway signs called Clearview that opens up the letters to compensate for halation.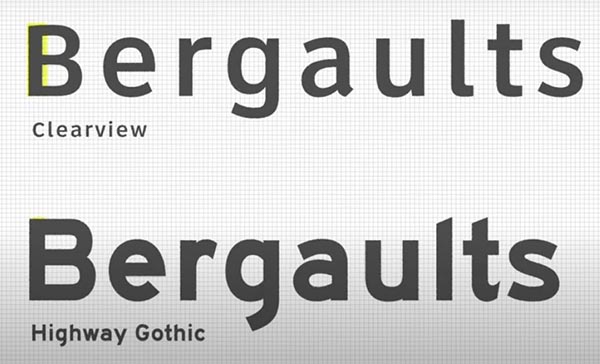 Studies have shown a 16% improvement in recognition with Clearview over Highway Gothic. This translates into a driver traveling at 65 mph having an extra 1–2 seconds to make a decision based on sign information. So in 2004, the feds approved Clearview to be implemented on an optional basis—usually when signs were being replaced or new signs were being erected.
Not everyone agreed that Clearview was better—at least on lighter-colored signs than the green ones—and the mix of typefaces sometimes caused confusion. As a result, the future of Clearview is not…clear.
When you're out and about this summer, see which you prefer.
A New Connections Series? Yes, Please!
I am VERY EXCITED to announce a project @davidmcraney and I have been working on with the great science historian James Burke. Here it is.

Want to make this a reality? Then we need your help. Spread the word and tell all the streaming services you want it! pic.twitter.com/5iLvtPqSCl

— Joe ?????? Hanson (@DrJoeHanson) May 3, 2021
Job Security
Our New Hampshire correspondent and Mount Monadnock Media Maven points us to a cybersecurity expert who chronicled his adventures in publishing and self-publishing his books.
Now I am exploring new models for my own books. Last year, for the first time, I contracted with a printer to produce Security Yearbook 2020. I live in Michigan within an hour of Ann Arbor, which, only a few years ago, was the capital of book printing in the United States. Edward Brothers Malloy was the most well known. There has been consolidation in the printing business around the world. But it is still a competitive market. In high volumes your typical paperback cost less than a dollar to print. If you get multiple quotes from printers the primary factor that determines your total investment is the shipping cost from the printer to your warehouse (or your garage if you are doing fulfillment yourself.)
Pen Is Mightier
"Careful or you'll end up in my novel." pic.twitter.com/nsSM1eC49h

— Chuck Sambuchino (@ChuckSambuchino) March 12, 2021
Carbon Black
Remember Naomi Campbell's lockdown Pangaia sweatshirts? No, nor do we, but apparently they were a thing. Says Vogue:
Pangaia's recycled- and organic-cotton sweatshirts and sweatpants stood out from the pandemic-time softwear competition thanks to the material descriptions printed on them. Logos that aren't really logos, the sans serif labels appear on the chest or at the hip, and though the writing is small, the message is loud and clear: Style and sustainability are both important to me. Those little text blocks became so popular, in fact, the young company compressed its five-year financial plan into one.
And they are actually an interesting thing, as they feature printed labels using ink made from air pollution. In other words, carbon emissions are converted into something called "Air Ink," which was developed by Graviky Lab founder Anirudh Sharma. How does this work?
The first step in the Air-Ink manufacturing process is capturing PM 2.5, a particulate pollutant harmful to human health that's produced by industrial machines. Once collected, the PM 2.5 goes through a filtration process that removes toxins, and it's transformed into a pigment that replaces carbon black, which can be variously used for ink, dye, or paint. Apart from improving the air quality in the factories where the pollution is being captured and cutting down on the CO2 that would otherwise be created by producing carbon black, what's beautiful about it is that "it's the blackest black," says Parkes.
… Each kilogram of Air-Ink screen-print ink will mitigate 800 grams of CO2 footprint. That's baby steps, yes, but Pangaia is not just a direct-to-consumer brand. "Our business model is about expanding to really change the industry," Parkes says.
You could say that Pangaia is trying to make the Earth move.
LinkedOut
Every time I check LinkedIn I feel like I walked into the wrong conference room at a hotel.

— J. Elvis Weinstein (@JElvisWeinstein) April 29, 2021
Keep on Cheugling
Are you cheugy? Hope not! As reported by Taylor Lorenz at the New York Times and cited in Rolling Stone, "cheugy" (pronounced chew-gee) is a term used to describe an aesthetic that is somewhere between basicness and cheesiness, or anything that seems hopelessly out-of-touch or trying too hard. The good news? Un-cheugy is a word, too! NYT explains it refers to, "thrifting, making your own clothes, handmade products, Levi's jeans, Birkenstocks, home decor not found at Target."
So which are you?
And Seven Times More Often
A dog sniffing the air at seemingly nothing is his version of checking his phone

— Patrick Monahan (@pattymo) May 2, 2021
Phoning It On
No one use payphones anymore, but old, disused phone booths still remain in many cities, such as New York. And one problem with having old, disused phone booths dotting the landscape is that no one bothers to change out the ads, which could be decades old at this point. Enter Art in Ad Places an artist collective that replaces ads—such as those in or on unused phone booths—with fresh artwork and PSAs in various New York City neighborhoods. Says Laughing Squid:
The collective works with local, national, and international guest artists. One such guest artist is Charlie Todd, founder of Improv Everywhere and a good friend of Laughing Squid, who partnered with fellow artist Abe Lincoln Jr. to "improve" a lottery advertisement inside an old phone booth in Manhattan.
Says Art in Ad Spaces:
Art in Ad Places is a response to the belief that money can buy access to eyeballs, no matter the message. It is a small effort to clean up public space: Instead of ads making people feel inadequate, let's fill our lives with art that makes people feel… anything else. We are a team of artists and fans of art who believe that our public spaces would be better if we got rid of billboards, or replaced their messages with artwork and PSAs.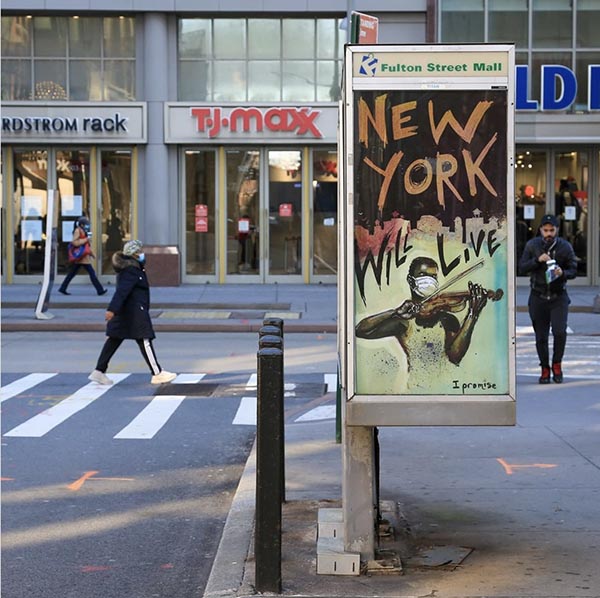 Graphic Novel
Every day, we inch closer to living in a comic book. https://t.co/pWRGHmVNsG

— Matt Fuller (@MEPFuller) May 4, 2021
Spies Like We
This sounds like something out of Get Smart, but would you believe that the CIA has a style guide? Apparently, the CIA was overly concerned with their agents using proper grammar in reports and other documents. Called Directorate of Intelligence Style Manual & Writer's Guide for Intelligence Publications, it was basically the AP Style Guide for spies. (We don't know how the CIA stands on the serial comma; hopefully they don't follow AP in this regard.) At any rate, Mental Floss offers some highlights:
"The Preamble to the U.S. Constitution is out of bounds grammatically when it speaks of a more perfect Union, and, as the common saying puts it, a woman cannot be somewhat pregnant."
… "Evidence is not a synonym for information or reporting. For the most part, avoid the word and get on with the analysis. Such phrases as available evidence indicates are essentially meaningless."
"Nonconventional refers to high-tech weaponry short of nuclear explosives. Fuel-air bombs are effective nonconventional weapons. Unconventional means not bound by convention. Shirley Chisholm was an unconventional woman."
They also offer lengthy lists of hackneyed phrases, pretentious words, and redundancies. We may adopt this style guide.
Semicolonoscopy
Her book on the colon is twice as good

— Stephen Fry (@stephenfry) May 3, 2021
Cancel My Subscription to the Resurrection
We are not even remotely convinced that everything-as-a-subscription is a particularly good idea (don't get us started on software subscriptions) and of course the Internet of Things has spawned all sorts of silly subscription-based products. Jalopnik goes off on a motorcycle safety vest that requires a subscription:
Motorcycling isn't exactly the safest way to spend your time, but modern technology has managed to make it far safer than ever before, with advancements like clothing with integrated airbags helping to make crashes much more survivable. Modern technology has also given motorcycling the soul-crushing reality of a motorcycle airbag vest that only works if your monthly don't-die-in-a-wreck subscription is up-to-date.
That sounds pretty horrible, but if you click through and read the vest maker's FAQs, it's not quite as dystopian as they make it sound:
If I don't want a monthly or annual subscription, can I still get this airbag vest?
Answer: You can purchase the vest and algorithm service outright and not have to worry about subscriptions.
If I suspend/pause my subscription and forget to reactivate it, will the vest still detect a crash and inflate
Answer: No, because in the first place you won't be able to turn it on into ride-ready status before your ride. It will not "trick" you into thinking it's active when it is not, because the LED indicators will warn you that it's not active. If you ignore the LED indicators warning you that the airbag isn't active, you can't expect it to work when you're not actively subscribed.
If I'm subscribed monthly and miss a payment or my credit card expires, will the airbag suddenly stop working?
Answer: No. In&motion will reach out with a 30-day warning prior to your payment method expiration. After expiration or missed/forgotten payment, In&motion gives you a 30-day grace period during which the airbag functions completely the same. You will receive notifications about the missed payment. After the 30-day grace period, the airbag will stop detecting crashes until payment is resumed. You will not be able to turn on your airbag vest into ride-ready status after the 30-day grace period, so you won't unknowingly ride with a non-functioning vest, unless you choose to ignore the LED indicators warning that it isn't active.
Why this thing needs to be connected to anything other than the wearer is a whoke other question.
Nor Any Drop to Drink
I am not cut out for this modern world, especially one where touchscreens have replaced the reliable technology of a "handle" in bathrooms—and where you can't wash your hands because "internal storage running out" means "applications & system functions may not work well" pic.twitter.com/WjsbyJV9O7

— Dr. Steven W. Thrasher (@thrasherxy) April 29, 2021
Zoom Zoom
We have recorded our share of "Zoom fails" over the past year or so—from people Zooming from their bathrooms with nude spouses showering in the background, to unremovable cat filters (our favorite), to a doctor Zooming into a court trial while in the middle of surgery. Now, apparently, Zooming while driving has become a thing (we've unfortunately been in meetings where this has happened), but, via Gizmodo, one purportedly clever politician tried to use a Zoom background to hide the fact that he was in fact driving while participating in a Zoom call.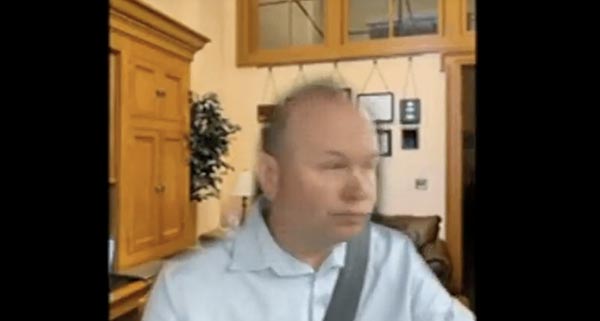 First of all, he's wearing a seatbelt. Granted, we've had our share of rickety desk chairs over the years, but never one that required a seatbelt. Second, if you watch the video, he keeps glancing around furtively and quickly—keeping an eye out for the UPS guy, no doubt. But then the reason this is rather ironic is:
Andrew Brenner, a state senator in Ohio, is getting some heat for driving while participating in a Zoom call earlier this week. The Ohio Senate is currently taking up a bill that would create additional penalties for distracted driving.
Birdnet
In 2009, a South African IT company showed that it was 25 times faster to send a 4GB SD card 50 miles by carrier pigeon than it was to use the country's national internet provider Telkom.

— Quite Interesting (@qikipedia) May 1, 2021
Infinite Pastabilities
Back in March, we cited the latest in pasta shape research, and it's good to know that new developments in pasta technology just keep coming. This week, Gizmodo had a story about a new kind of flat pasta that can change shape as it's cooked, the idea being to cut down on packaging waste.
By incising grooves on a flat pasta made of standard semolina flour, the team was able to cook two-dimensional pastas into three-dimensional shapes. Wavy pastas, boxy pastas, wing-shaped pastas, and ring-shaped pastas—a diversity of noodles could be made based on the grooves impressed onto the flat surfaces.
… The team suggests that packing flat pastas that transform into larger-volume shapes only when cooked will reduce the amount of packaging necessary to move the millions of tons of pasta consumed each year… The team estimates such food designs could reduce the amount of packaging needed for a pasta box by 59% to 86%, based on calculations they did on the volumes of different pasta boxes. Shipping and transportation costs could also be reduced.
The new pasta is not ready for commercialization yet, but we will be eager to try it here in the Around the Web Test Kitchen. The video link on Gizmodo shows that they're pretty entertaining to watch while they're unfurling.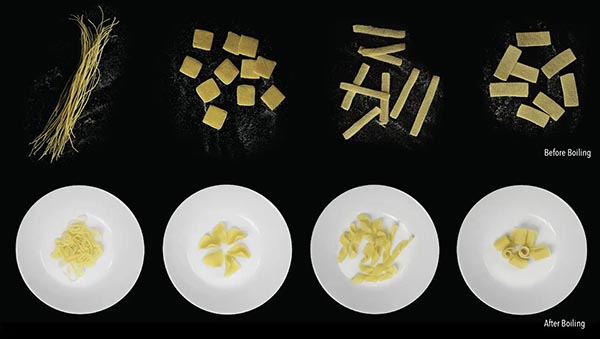 A Fine Line
"Corporate social media accounts run by interns trying hard to strike a balance between edgy, woke and fired" will be recognised as its own art form in the future.

— Alex Kaschuta (@kaschuta) April 30, 2021
Have Fish, Will Travel
Do you often (or ever) have a need to carry around live fish? Well, if so, good news! An inventor in Japan has invented what Core77 is calling "a sort of attaché case for live fish."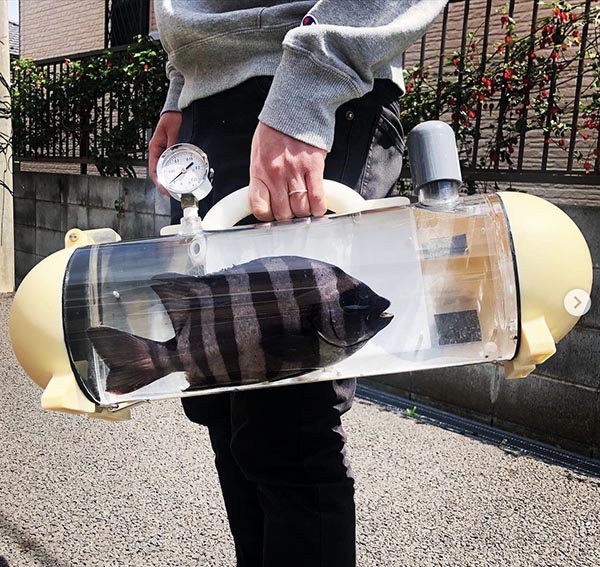 "It is divided into two units, a water tank and a main body. When you put fish in it, remove the water tank, store the fish, then connect it to the main body and turn on the power. It feels like you can carry it around, so it's relatively easy to use. Oxygen supply and water temperature maintenance are possible."
Perfect for taking your emotional support grouper fish on you next flight—although we question whether TSA would allow this…
Don't Take Steps
I have a Fatbit. It tells me to sit down and have chocolate. https://t.co/I7mQkzKgbl

— Eric Idle (@EricIdle) April 21, 2021
Actually, It Is Unusual
Congratulations to Sir Tom Jones who, at 80, has become the oldest male to have a number one record on the UK album chart. He beat out Bob Dylan who, at 79, topped the chart last summer with Rough and Rowdy Ways. He has 12 years to catch up to Dame Vera Lynn, whose greatest hits album topped the chart in 2009 when she was 92. (Vera Lynn passed away last year, so she's out of contention.) Said the BBC:
His latest record finds him once again re-interpreting some old favourites - from weather-worn ballads like The Windmills of Your Mind, which won the Oscar for Best Song in 1969; to more obscure choices, like Terry Callier's nine-minute tale of rebirth and redemption, Lazarus Man.
On the Tip of your Tongue
Acquired taste = Wait until you're older and more tastebuds are dead.

— J. Elvis Weinstein (@JElvisWeinstein) April 22, 2021
Drop Trou
Did you know that today is No Pants Day? Yes, every May 7, people are encouraged to go out and about sans pants.
No Pants Day is an unofficial holiday that occurs on the first Friday of May. Celebrated mostly in the United States, it calls for participants to spend their day without wearing pants in public. Participants are encouraged to act as if not wearing pants is a normal thing to do.
(If you're in the UK, you may interpret this a little differently.)
Actually, this year's No Pants Day has been associated with a particular cause, for which cartoonists have banded together to get the word out. Says Boing Boing:
COVID has decreased the amount of donations to clothing charity services as well as limited those in need from being able to get used clothes. No Pants Day is being used as a clothing drive with the help of cartoonists.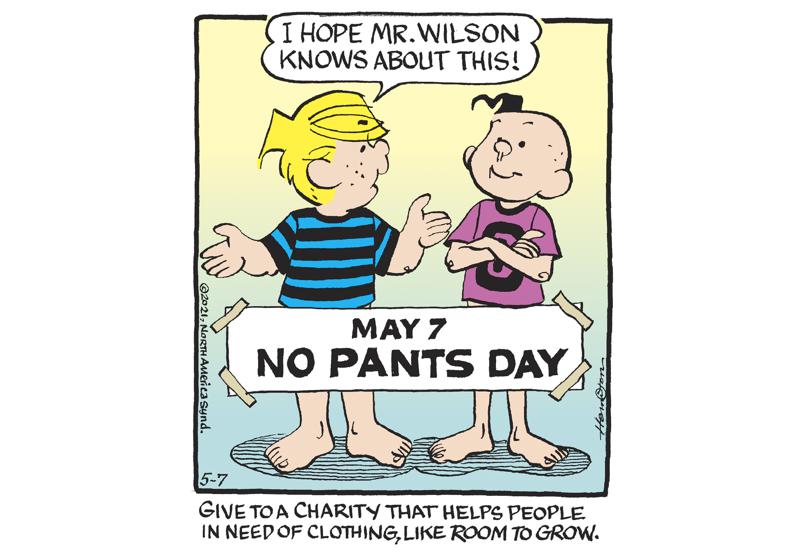 By the way, don't interpret No Pants Day in both the US and UK senses simultaneously. Ya gotta wear something, at least in public.
Career Opportunities
Remember being a kid and how you really wanted to grow up and contribute something meaningful to the world? We were so great. https://t.co/DK35uZFMAl

— @ACNewman (@ACNewman) March 23, 2021
This Week in Printing, Publishing, and Media History
May 3
1469: Italian historian and philosopher Niccolò Machiavelli born.
1913: Raja Harishchandra, the first full-length Indian feature film is released, marking the beginning of the Indian film industry.
1935: American businessman and founder of the Ronco Company Ron Popeil born. But wait! There's more!
1952: The Kentucky Derby is televised nationally for the first time, on the CBS network.
1957: Walter O'Malley, the owner of the Brooklyn Dodgers, agrees to move the team from Brooklyn to Los Angeles.
1958: Danish-English comedian, author, and radio host Sandi Toksvig born.
1959: English actor, director, and screenwriter Ben Elton born.
1960: The Off-Broadway musical comedy The Fantasticks opens in New York City's Greenwich Village, eventually becoming the longest-running musical of all time.
1965: Welsh actor and comedian Rob Brydon born.
1973: The 108-story Sears Tower (now officially the Willis Tower) in Chicago is topped out at 1,451 feet as the world's tallest building.
1978: The first unsolicited bulk commercial email (which would later become known as "spam") is sent by a Digital Equipment Corporation marketing representative to every ARPANET address on the west coast of the United States.
May 4
Happy 5/4, everyone! pic.twitter.com/mWUXedLsZ3

— Brad Farberman (@BradFarberman) May 4, 2021
1939: Israeli journalist and author Amos Oz born.
1953: Ernest Hemingway wins the Pulitzer Prize for The Old Man and the Sea.
1959: The 1st Grammy Awards are held.
1972: The Don't Make A Wave Committee, a fledgling environmental organization founded in Canada in 1971, officially changes its name to "Greenpeace Foundation."
May 5
1809: Mary Kies becomes the first woman awarded a U.S. patent, for a technique of weaving straw with silk and thread.
1813: Danish philosopher and author Søren Kierkegaard, born.
1835: The first railway in continental Europe opens between Brussels and Mechelen.
1864: American journalist and author Nellie Bly born.
1866: Memorial Day first celebrated in United States at Waterloo, N.Y.
1891: The Music Hall in New York City (later known as Carnegie Hall) has its grand opening and first public performance, with Tchaikovsky as the guest conductor.
1905: The trial in the Stratton Brothers case begins in London, England; it marks the first time that fingerprint evidence is used to gain a conviction for murder.
1912: Pravda, the "voice" of the Communist Party of the Soviet Union, begins publication in Saint Petersburg.
1927: Semi-colon lovers' national holiday; To the Lighthouse by Virginia Woolf is first published.
1943: English actor and screenwriter Michael Palin born.
1959: English singer-songwriter and guitarist Ian McCulloch born.
2001: American publisher, creator of CliffsNotes Clifton Hillegass dies (b. 1918).
2020: The National Telecommunications Commission issued a cease and desist order to ABS-CBN to stop the operations of its free TV and radio stations one day after their 25-year congressional franchise was expired.
May 6
1536: King Henry VIII orders English-language Bibles be placed in every church. In 1539 the Great Bible would be provided for this purpose.
1835: James Gordon Bennett, Sr. publishes the first issue of the New York Herald.
1840: The Penny Black postage stamp becomes valid for use in the United Kingdom of Great Britain and Ireland.
1862: American essayist, poet, and philosopher Henry David Thoreau dies (b. 1817).
1889: Typographer, known for work on Times New Roman font, Stanley Morison born.
1915: American actor, director, producer, and screenwriter Orson Welles born.
1940: John Steinbeck is awarded the Pulitzer Prize for his novel The Grapes of Wrath.
1949: EDSAC, the first practical electronic digital stored-program computer, runs its first operation.
1960: American singer-songwriter and guitarist (They Might Be Giants) John Flansburgh born.
May 7
1539: Italian printer Ottaviano Petrucci dies (b. 1466).
1711: Scottish economist, historian, and philosopher David Hume born.
1812: English poet and playwright Robert Browning born.
1824: World premiere of Ludwig van Beethoven's Ninth Symphony in Vienna, Austria.
1840: Russian composer and educator Pyotr Ilyich Tchaikovsky born.
1846: The Cambridge Chronicle, America's oldest surviving weekly newspaper, is published for the first time in Cambridge, Mass.
1952: The concept of the integrated circuit, the basis for all modern computers, is first published by Geoffrey Dummer.
May 8
1880: French novelist Gustave Flaubert dies (b. 1821).
1886: Pharmacist John Pemberton first sells a carbonated beverage named "Coca-Cola" as a patent medicine.
1912: Paramount Pictures is founded.
1920: American graphic designer and director Saul Bass born.
1926: English environmentalist and television host David Attenborough born.
A very happy 93rd birthday to Sir #DavidAttenborough! ??
As good a day as any to remember when he was upstaged by a bird... ????pic.twitter.com/VOuK5LqjGO

— BBC (@BBC) May 8, 2019
1926: American comedian and actor Don Rickles born.
1937: American novelist Thomas Pynchon born.
1980: The World Health Organization confirms the eradication of smallpox. (Well, for now, anyway...)
1984: American publisher, co-founder of Reader's Digest Lila Bell Wallace dies (b. 1890).
1985: American author and critic Theodore Sturgeon dies (b. 1918).
1988: American science fiction writer and screenwriter Robert A. Heinlein dies (b. 1907).
May 9
1911: The works of Gabriele D'Annunzio are placed in the Index of Forbidden Books by the Vatican.
1958: Alfred Hitchcock's film Vertigo has world premiere in San Francisco.
Anything catch your eye "around the Web"? Share it with us at [email protected].