Your
Sunday

Friday Robert Fripp and Toyah Willcox's "Ace of Spades"

The legendary King Crimson guitarist and his wife's "Sunday Lockdown Lunch" videos have been required watching during the Year of COVID.
Still feeling good about my bracket... pic.twitter.com/mMWTumDcQo

— Zack Snyder's Jonathan Nicholson (@JNicholsonInDC) March 19, 2021
Paperlate
There's been a growing trend, again, of outsourcing newspaper printing in an effort to cut costs. But as printing moves farther and farther away from the point of distribution, it means earlier deadlines, sometimes as early as 4pm. That means that a lot of local news either doesn't get reported by these vital local communications vehicles or it's really old news by the time it hits people's doorsteps. This story from the Poynter Institute notes: "For some observers, each closing matches a death-of-newspapers narrative. It certainly marks an end of an era for the craft of printers and other plant employees, easily overlooked by reporters and editors who do their own work elsewhere."
Disappointed
imagine how disappointed john philip sousa was when he showed up for the first day of march madness

— Ariel Edwards-Levy (@aedwardslevy) March 20, 2021
Techtiles
There was a time when if you were said to dress "smart" that meant you were stylish or fashionable. Obviously, that has been said of few of us here at Around the Web, but that may change, as "smart clothing" is evolving rapidly. Says Gizmodo:
Researchers from MIT CSAIL, however, say they've developed "tactile electronics" that feel like normal clothes but can also detect movement.
The researchers have created a special type of fiber that can tell how a person is moving by sensing pressure and turning that pressure into electrical signals. These textiles are machine-knitted, and the smart fibers are interspersed with regular clothing fibers so what you end up with is a soft, stretchable fabric that can be molded into various shapes. And because of the way the fabric is created, the smart fibers can be easily incorporated into mass-produced clothing.
Ah, but we read Cary Sherburne and Debbie McKeegan regularly and mass-produced clothing is going, er, out of fashion. They continue:
Using that fabric, the researchers then created several prototypes of socks, vests, gloves, and even a robot sleeve. Because the smart fibers are pressure-sensitive, they can be used to map different types of motions. In a video, the researchers demonstrate that the "smart socks" can determine if a person is squatting, lunging, walking, or walking down a flight of stairs. Meanwhile, the vest can detect whether a person is resting a hand on their chest or leaning into a couch.
Why is this information useful? Maybe not for everyday uses, but for athletes or folks in physical therapy, it could prove highly useful.
For instance, if you're working out, your smart socks could tell you if you're allocating your weight properly for a particular exercise. Or if you're a slouchy person, your vest or shirt could analyze your posture and give you suggestions on how to improve.
(The eternal question: if they were smart, would they be socks? We continue.) Serious coaches stress proper form when performing various strength movements, which is vital not only to get the most out of an exercise but also to avoid injury.
There are other potential uses:
A more, shall we say, dystopian use might be to give robots "skin" so they can feel things the way we do.
We're not sure we would wish that on a robot.
Good Time
"Had"? https://t.co/At61PJqqKG

— Tolkien Negro (@marcbernardin) March 21, 2021
More Tales from the Crypto
John Cleese has decided to have a bit of fun with the whole nonfungible token madness and maybe make a few bucks in the process. From The Verge:
"The world has gone terminally insane," Monty Python's John Cleese told Vanity Fair on the topic of getting into NFTs. So naturally, the comic actor known for silly walks is now selling a ludicrously expensive NFT of his own: a Vonnegut-esque drawing of the Brooklyn Bridge made on an iPad Pro. It's listed on OpenSea and the auction ends in 10 days.
Bidding started at $100 and has now made its way up to nearly $36,000. Cleese won't let his masterpiece go for that cheap, though. Cleese said he wants $69.3 million for the piece, suggesting the illustration won't sell unless someone bids at least that much.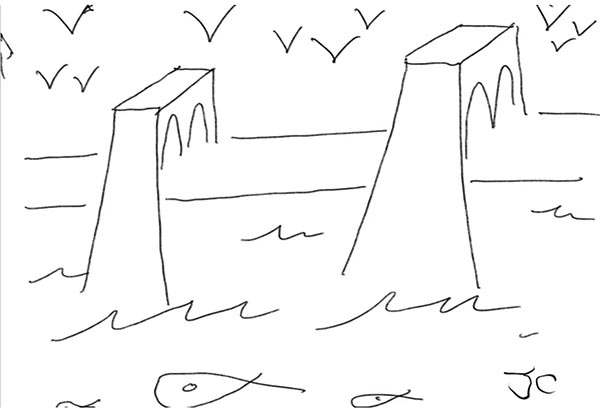 Bad Time
Time made a hypey crypto cover and is selling it as an NFT https://t.co/YcsWoqCbV8 pic.twitter.com/SFkUmRNBnT

— The Verge (@verge) March 22, 2021
Green Calls
As if one didn't need a good reason to turn off video during a Zoom call, a new study out of Purdue University suggests that it may be environmentally beneficial to do so. Says Science Daily:
A new study says that despite a record drop in global carbon emissions in 2020, a pandemic-driven shift to remote work and more at-home entertainment still presents significant environmental impact due to how internet data is stored and transferred around the world.
Just one hour of videoconferencing or streaming, for example, emits 150-1,000 grams of carbon dioxide (a gallon of gasoline burned from a car emits about 8,887 grams), requires 2-12 liters of water and demands a land area adding up to about the size of an iPad Mini.
But leaving your camera off during a web call can reduce these footprints by 96%. Streaming content in standard definition rather than in high definition while using apps such as Netflix or Hulu also could bring an 86% reduction, the researchers estimated.
The study was published in the journal Resources, Conservation & Recycling.
Big Plans
USPS Announces 10-Year Plan To Deliver Letter https://t.co/3ya4kZT9tI pic.twitter.com/HdwFzldrfV

— The Onion (@TheOnion) March 23, 2021
Pound of Flesh
The UK's new decidedly fungible £50 note pays tribute to computing pioneer Alan Turing. Says The Verge:
Alan Turing, whose work laid the groundwork for the invention of the modern computer, will be the face of the UK's new £50 note when it goes into circulation by the end of 2021. Turing will replace Matthew Boulton and James Watt, the pioneers of the steam engine who share the current £50 note, and will join former prime minister Winston Churchill, writer Jane Austen, and artist JMW Turner who are the faces of the new £5, £10, and £20 notes.
… The Bank of England chose to feature Turing after a public consultation that saw 227,299 submissions that nominated 989 different scientists. To qualify, an individual needed to be real, deceased, and they needed to have contributed to the field of science in the UK. From these nominations, the bank's advisory committee drew up a shortlist of 12 scientists including physicist Steven Hawking, and Ada Lovelace and Charles Babbage, the latter of which are two earlier computer science pioneers. The final decision of which person to use was made by the governor of the Bank of England Mark Carney.
Turing had a bit of a, shall we say, problematic relationship with the British government. As for the note itself:
When the new note is introduced it will complete the UK's transition to new banknotes that are made out of polymer rather than paper. The new notes are designed to last longer and also include new security features designed to prevent counterfeiting. However, their introduction has also proved controversial due to the use of tallow, an animal byproduct, in their construction.
So if you're vegan, you'll probably want to use Apple Pay. It's still in development, but here is a concept image of what it could look like:
It seems quaint to be talking about new banknotes as we swiftly move to an all-digital economy.
DeJoy to the World
Did the Post Office return Louis DeJoy's letter to Santa when he was a kid or something?

— J. Elvis Weinstein (@JElvisWeinstein) March 23, 2021
Art Opening
If you're a museum forced to close during lockdown, what do you do? Well, if you are the Palazzo Strozzi in Florence, Italy, you apply a 3D mural to the outside of your building that resembles a fissure in the façade, showing offer the art inside. It was created by French street artist and photographer JR, who calls his work "The Wound." (Via Laughing Squid.)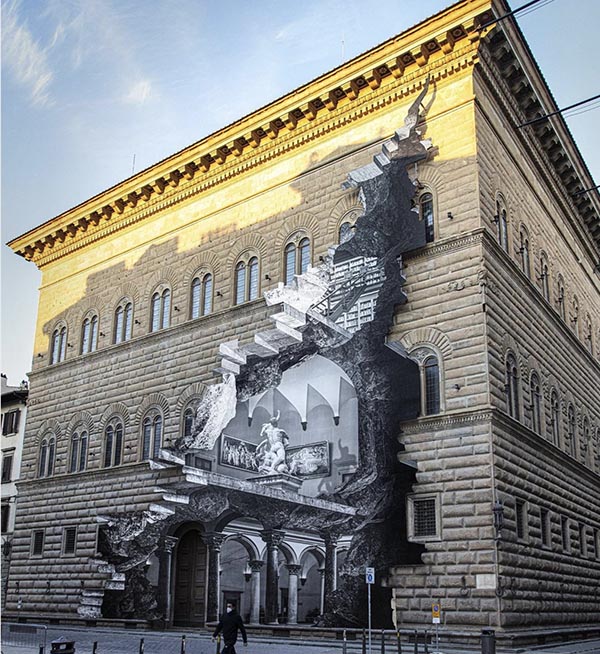 Eat the Press
So there are toys of Japanese monsters giving press conferences to apologize for destroying cities.

And I want one. pic.twitter.com/He3kJoIkhZ

— Michael Warburton (@mikewarburton) March 20, 2021
They Might Be Book Publishers
If you had told anyone who listened to the Brooklyn-based duo They Might Be Giants when they released their first album in 1986 that the band would still be going strong in 2021, they would have simply said "Don't let's start." And yet They are about to release their latest project, a book/CD combination. (There is a bit of irony in that as one of the first bands to sell music digitally in the late 1990s they now decidedly embrace physical media.) At any rate, the new project is a hardcover book called BOOK.
A 144-page cloth-bound hardcover art book of full-color photography, as well as original TMBG lyrics graphically set in the style of poetry concrete by world-famous designer Paul Sahre on an IBM Selectric typewriter from the early '70s. The featured lyrics are selections from BOOK, a forthcoming EP, My Murdered Remains, and I Like Fun. Inside every book of BOOK there is a copy of the musical album BOOK on an indestructible compact disc, and everyone who orders the book of BOOK will get an instantaneous download on release day.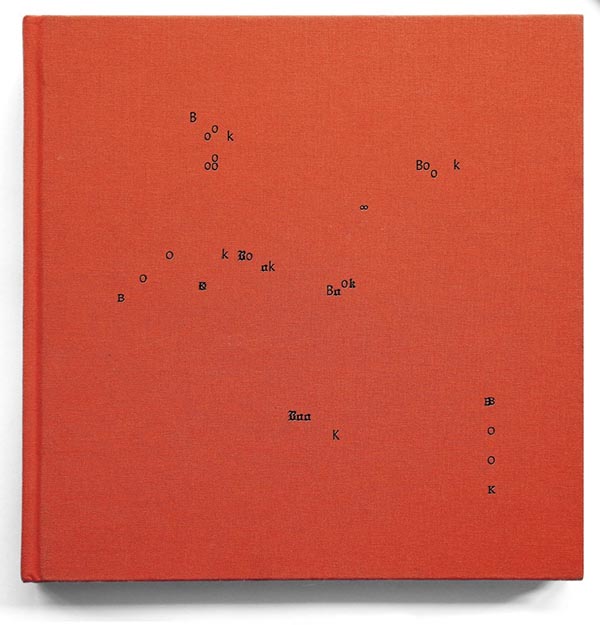 Not as Good as the Original
Honestly, far from the best book in the series. https://t.co/6bd8jxJjRc

— Peter Sagal (@petersagal) March 20, 2021
Glass Spider
David Bowie, eat your heart out. Over at Laughing Squid, artist Nikita Drachuk of Glass Symphony "creates gorgeous but slightly creepy handblown spiders of various species. Each delicate arachnid is so stunningly realistic that it seems likely that at least one of them will strike."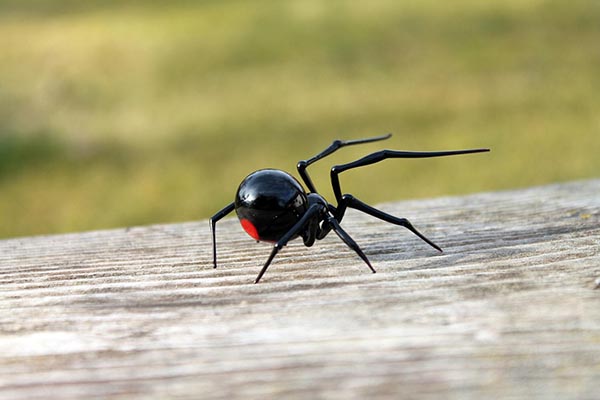 This and more are available on Darchuk's Etsy store. If spiders aren't your thing, she also has other handblown glass critters, such as octopi and various kinds of sea slugs.
Change of Pace
I'm so sick of bummer think pieces.
How about:
- New study shows that insomnia prevents cancer
- Crying for hours is good for your skin, sobbing takes off 5 years
- 10 unproductive people who became billionaires

— Ophira Eisenberg (@OphiraE) March 22, 2021
Star Signs
Are you a fan of embroidery? Astronomy? Electronics? If all three apply to you, then you'll love this video in which Becky Stern describes how to create light-up constellation embroidery.
Relativity
My brain:
1970 was 30 years ago
1990 was 10 years ago
1995 was 10 years ago
2000 was 10 years ago
2010 was 10 years ago
2016 was a couple years ago
2017 didn't happen
2018 was 2 years ago
2019 was last year
2020 was last year
2021 it's only January pic.twitter.com/UJCaJlP3Do

— Julie Benson (@TheJulieBenson) March 18, 2021
Using Their Noodle
Well, it's good to see that pasta shape research continues apace. From Core77:
Pashman, host of the Cooking Channel's "You're Eating it Wrong," author of the book "Eat More Better," and host of podcast "The Sporkful," designed cascatelli--that's Italian for "waterfall"--to get top marks in his trinity of required pasta qualities.
Those qualities are, apparently, sauceability (how well pasta sauce adheres to the shape), forkability (how easy it is to get the shape on your fork), and (oh, now they're just making stuff up) toothsinkability (how satisfying it is to sink your teeth into it).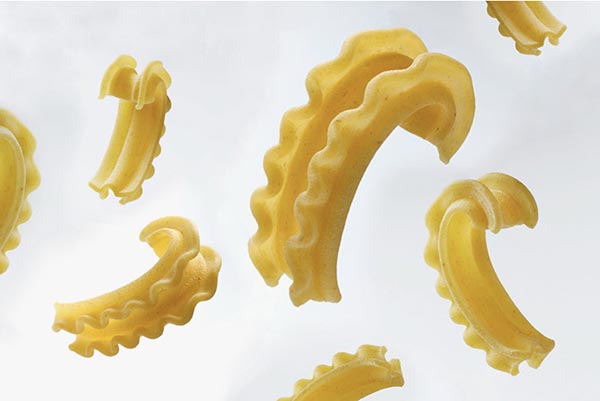 Pashman worked with New-York-based Sfoglini Pasta to get the new shape into production, and it's been a huge hit: 16-ounce boxes and four-packs are completely sold out, with only 5-lb bulk bags available--and there's an 8-week shipping period.
A Fine Meth
Ironically, that's a downer. https://t.co/H3oxgnIixn

— J. Elvis Weinstein (@JElvisWeinstein) March 18, 2021
This Week in Printing, Publishing, and Media History
March 22
1765: The British Parliament passes the Stamp Act that introduces a tax to be levied directly on its American colonies. (Spoiler alert: it didn't go well.)
1832: German novelist, poet, playwright, and diplomat Johann Wolfgang von Goethe dies (b. 1749).
1887: American actor Chico Marx born.
1931: Canadian actor William Shatner born.
2020: Indian Prime Minister Narendra Modi announces the country's largest ever self-imposed curfew, in an effort to fight the spread of COVID-19.
March 23
1842: French novelist Stendhal (né Marie-Henri Beyle) dies (b. 1783).
1857: Elisha Otis's first elevator is installed at 488 Broadway New York City.
1910: Japanese director, producer and screenwriter Akira Kurosawa born.
1965: NASA launches Gemini 3, the United States' first two-man space flight (crew: Gus Grissom and John Young).
March 24
1693: John Harrison, English carpenter and clock-maker, invented the Marine chronometer. (Harrison was the subject of Dava Sobel's excellent book Longitude.)
1721: Johann Sebastian Bach dedicated six concertos to Margrave Christian Ludwig of Brandenburg-Schwedt, now commonly called the Brandenburg Concertos, BWV 1046–1051.
1834: English textile designer, poet, and author William Morris born.
1874: Hungarian-Jewish American magician and actor Harry Houdini (né Ehrich Weiss) escaped from the womb.
1882: American poet and educator Henry Wadsworth Longfellow dies (b. 1807).
1905: French novelist, poet, and playwright Jules Verne dies (b. 1828).
1909: Irish playwright and poet John Millington Synge dies (b. 1871).
1907: The first issue of the Georgian Bolshevik newspaper Dro is published.
1949: English singer-songwriter, bass player, and producer Nick Lowe born.
1958: Elvis Presley is drafted in the U.S. Army.
March 25
1811: Percy Bysshe Shelley is expelled from the University of Oxford for publishing the pamphlet The Necessity of Atheism.
1881: Hungarian pianist and composer Béla Bartók born.
1925: American short story writer and novelist Flannery O'Connor born.
1931: American journalist and activist Ida B. Wells dies (b. 1862).
1939: American screenwriter and producer D. C. Fontana born.
1957: United States Customs seizes copies of Allen Ginsberg's poem "Howl" on obscenity grounds.
1995: WikiWikiWeb, the world's first wiki, and part of the Portland Pattern Repository, is made public by Ward Cunningham.
March 26
1484: William Caxton prints his translation of Aesop's Fables.
1812: A political cartoon in the Boston Gazette coins the term "gerrymander" to describe oddly shaped electoral districts designed to help incumbents win reelection.
1827: German pianist and composer Ludwig van Beethoven dies (b. 1770).
1830: The Book of Mormon is published in Palmyra, N.Y.
1859: English poet and scholar A. E. Housman born.
1874: American poet and playwright Robert Frost born.
1892: American poet, essayist, and journalist Walt Whitman dies (b. 1819).
1911: American playwright, and poet Tennessee Williams born.
1931: American actor Leonard Nimoy born.
1959: American crime novelist and screenwriter Raymond Chandler dies (b. 1888).
1969: American novelist John Kennedy Toole dies (b. 1937).
1973: English playwright, actor, and composer Noël Coward dies (b. 1899).
1980: French linguist and critic Roland Barthes dies (b. 1915).
1996: American engineer and businessman, co-founder of Hewlett-Packard David Packard dies (b. 1912).
March 27
1845: German physicist, academic, and Nobel Prize laureate Wilhelm Röntgen born.
1869: American publisher and politician, and 65th Mayor of New York City James Harper dies (b. 1795).
1931: English author and playwright Arnold Bennett dies (b. 1867).
2006: Ukrainian-Polish author Stanis?aw Lem dies (b. 1921).
2012: American poet essayist and feminist Adrienne Rich dies (b. 1929).
March 28
1836: German-American brewer and founder of the Pabst Brewing Company Frederick Pabst born.
1842: First concert of the Vienna Philharmonic Orchestra, conducted by Otto Nicolai.
1868: Russian novelist, short story writer, and playwright Maxim Gorky born.
1994: Romanian-French playwright and critic Eugène Ionesco dies (b. 1909).
Anything catch your eye "around the Web"? Share it with us at [email protected].