Your Friday View from a GoPro Inside a Dishwasher
Fully vaxxed and ready to make a bunch of plans I immediately regret upon realizing I have to get dressed, leave the house and talk to people!

— Kristin Nicholson (@circlekdc) April 25, 2021
License to Grill
Newspapers as BBQ starters? Is that the main reason for subscribing? This extensive global study examines how and why "old" media (and the rituals and practices connected to them) tend to be stubbornly persistent—yes, even during periods when "new" media are ascendant. And their use doesn't always have anything to do with consuming content!
And, truth be told, we do actually know someone who specifically went out and bought a newspaper just to have something to lay down over the kitchen floor while cleaning the oven.
A Day in the Life
Love the way people say morning is the best time to exercise while you're still feeling 'fresh'. I start the day feeling like utter shit then steadily mentally and physically deteriorate until it's time to go to bed.

— alistair green (@mralistairgreen) April 27, 2021
Daydream Believer
This week, The Hustle (which, in the 1970s, we were encouraged to do) pays tribute to the forgotten inventor of one of the most successful and necessary office supply products ever. Her name was Bette Nesmith (later Bette Nesmith Graham) and in the 1950s was a single mother living in Texas working as a secretary. Two factors would eventually lead her to become a multimillionaire: her bad typing skills and a new typewriter hitting the market.
At the time, IBM had just come out with a new line of electric typewriters that were faster than previous models and used carbon film ribbons.
But as Graham soon learned, the invention had several downsides:
The sensitive keypad lent itself to more typographical errors.
The carbon ribbons made these errors impossible to erase without leaving smudges all over the paper.
Graham had to find a way to fix her numerous typos. Soon, an idea struck.
She also used to paint window displays so decided to develop a painting technique to fix typos. She Googled went to the library and looked up how to make tempera, a water-based paint. (This is not to be confused with tempura; one can make some terrible mistakes…) Anyway, she mixed some white-colored liquid in her blender, poured it into an empty nail polish bottle, took it to work, and effectively painted over her typos. She initially wanted to keep it a secret, but her coworkers soon learned of it and wanted some.
By 1957, Graham was selling 100 bottles per month to her colleagues.
To meet demand, she turned her garage into a mini packing plant, paying her son and his friends $1/hour to fill the little glass bottles and affix them with handwritten labels. She called her product "Mistake Out."
She soon began improving the quality, manufacturing it in bulk, and trying to get wholesalers interested. In 1958, she filed for a patent and changed the name of the product to the one we may remember from back in the Typewriter Age: Liquid Paper.
By 1964, the production of Liquid Paper grew 10x, to 5k bottles/week; in 1967, the company notched its first $1m in sales (~$8m today).
Graham spent heavily on advertising, showcasing her product during prime-time TV programs like The Tonight Show and in Glamour and Fortune magazine spreads. Sales grew in tandem with exposure.
In 1975, she moved Liquid Paper into a 35k-square-foot automated facility in Dallas that pumped out 25m bottles/year.
… Facing ailing health in 1979, she sold Liquid Paper to Gillette for $47.5m ($173m today), plus royalties on every bottle sold for the next 2 decades.
She would pass away six months later.
Her company was a highly progressive one, featuring such then-unheard-of amenities as on-site child care, wheelchair-accessible facilities, tuition reimbursement, and a racially integrated staff.
Liquid Paper is still around; it's now owned by Newell Brands, which also owns Rubbermaid, Sharpie, and Elmer's glue.
Oh, and she left one other lasting legacy: her son Michael Nesmith, who would go on to fame and fortune of his own in The Monkees.
So the next time you make a typo, think about the days when correcting them wasn't as easy as just hitting the Delete key—and drink a toast to Bette Nesmith Graham, the inventor who revolutionized typing.
Justice
Today my chunky-fingered typing has somehow caused autocorrect to assume that I intended to write "trial by wombat", and now I can think of no finer mode of justice.

— The Secret Barrister (@BarristerSecret) April 26, 2021
Even More Signs of the Times
Last year, WhatTheyThink began tracking the various kinds of COVID warning signs and graphics that had emerged during the pandemic, but editorial and news photographer Matthew Chattle, via the BBC, has been photographing all the COVID signage he has come across in London, the goal being to help document a "significant period of history." He now has more than 270 of them.
"The first few pictures were almost taken for fun, but this very quickly became a project I knew I had to pursue more seriously," Matthew explains.
"We are living through a significant period of history and these signs and symbols represent one aspect of it: keep your distance. These signs are as much a part of this period as are pictures of hospitals or rainbows in windows."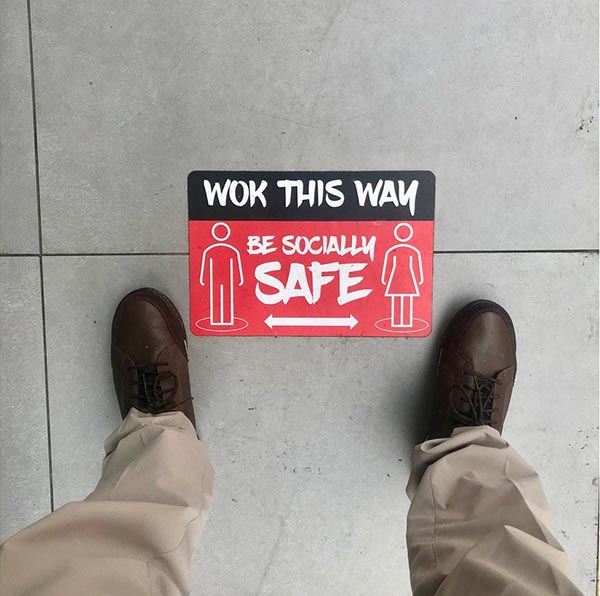 An Unfortunate Series of Words
"Just about everything in this world is easier said than done, with the exception of systematically assisting Sisyphus's stealthy cyst-susceptible sister," which is easier done than said." LEMONY SNICKET

— Quite Interesting (@qikipedia) April 25, 2021
High Flight
Do you like the Pantone Matching System? Do you also like beer? If so, good news! The Spanish graphic designer Txaber has made prints of beer can redesigns, using the Pantone color that best matches the color of the beer.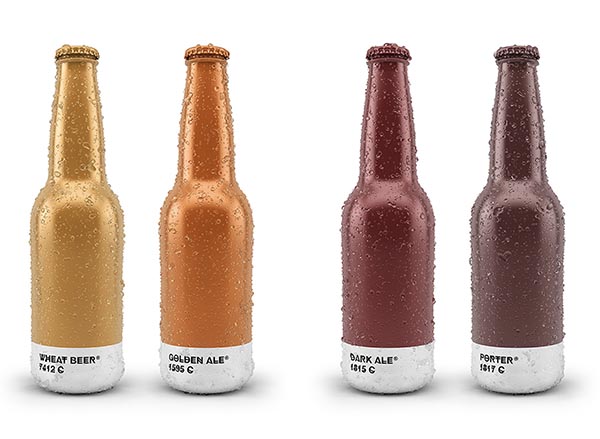 It's a Fine Line
Creepy or Cool? Consumers Sound Off on Personalization Techniques https://t.co/rTJYuyFlwG pic.twitter.com/eXLq7teklH

— Ben Brausen (@BenBrausen) April 26, 2021
Loose the QR Codes!
Interesting headline on Gizmodo: "Man Banned From Carrying 'Loose QR Codes' After Altering Covid Check-In Signs." Why?
A man in the Australian state of South Australia was arrested Wednesday after allegedly placing his own QR codes on two official covid-19 check-in signs, according to police in South Australia. The man was granted bail with one very specific condition: He can't carry "loose QR codes" anywhere.
Apparently, the malicious codes sent users to an anti-vaccination website.
Sing Along
You can sing "this tweet has been deleted" to "these boots were made for walking" just so you know, just to help

— Jessica Ellis (@baddestmamajama) April 23, 2021
Cover Stars
Via Core77, illustrator Tomer Hanuka who also teaches at the School of Visual Arts (SVA) in NYC, gave his students an assignment: design a post-pandemic cover for The New Yorker magazine. And they certainly rose to the occasion.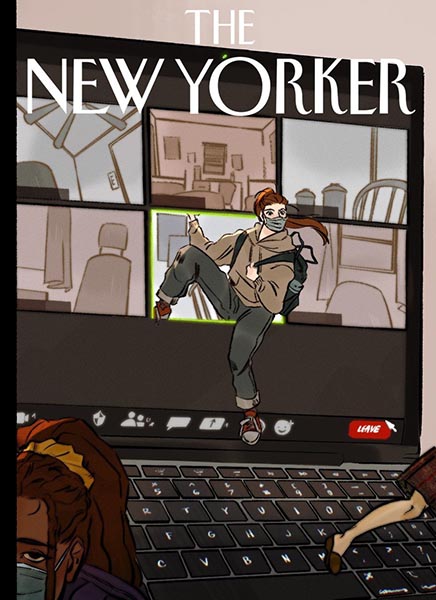 Never Stopped Them Before
Austin Powers could never get made today. Everyone would be like "they made that movie already."

— Daniel Spenser (@DanSpenser) April 22, 2021
Tube Power
Maybe because we're simple people or perhaps because we are obsessed with dental hygiene, we were very impressed by a new high-tech toothpaste tube that lets you extract every last bit of toothpaste. It's based on a new coating, called LiquiGlide, first demonstrated by researchers at MIT back in 2012. Says Gizmodo:
Today LiquiGlide, the company spun out of MIT's Varanasi Research Group to develop ways to manufacture and commercialize the technology, announced a new $13.5 million round of funding. But more importantly for consumers, the company also revealed a new partnership with Colgate, which will be introducing a new recyclable toothpaste container that leverages LiquiGlide so that every last drop of the product can be squeezed out with minimal effort.
If you have ever injured yourself trying to get the last molecule of toothpaste out of the tube, this is a very welcome development.
Or Perhaps Otto Correct
'The Banksy of Grammar' is a Bristol man who sneaks out at night to correct grammatical errors on shop fronts and street signs.

— Quite Interesting (@qikipedia) April 27, 2021
Unnatural Geography
We've all heard of "deepfakes," where people in images or videos are replaced by someone else. (Interestingly, Wikipedia tells us that the term comes from a combination of "deep-learning" and "fake," referring to the use of machine learning or AI to create the fake.) While deepfakes involving people are bad enough, The Verge warns us that deepfake satellite imagery may be something to worry about.
geographers are concerned about the spread of fake, AI-generated satellite imagery. Such pictures could mislead in a variety of ways. They could be used to create hoaxes about wildfires or floods, or to discredit stories based on real satellite imagery. (Think about reports on China's Uyghur detention camps that gained credence from satellite evidence. As geographic deepfakes become widespread, the Chinese government can claim those images are fake, too.) Deepfake geography might even be a national security issue, as geopolitical adversaries use fake satellite imagery to mislead foes.
Then again, fake maps are not a new thing. (You may remember a couple of months ago when we wrote about the "fake" town of Agloe, N.Y. that appeared on maps) In fact, lying with maps dates back millennia.
Humans have been lying with maps for pretty much as long as maps have existed, they say, from mythological geographies devised by ancient civilizations like the Babylonians, to modern propaganda maps distributed during wartime "to shake the enemy's morale."
PSA
Good Saturday Morning.. ?? pic.twitter.com/BN73JrxCkS

— Scoot ?? (@ImpeachmentHour) April 24, 2021
Going Bananas
Here's a new term to add to your lexicon: "banana artist." And yet, that's what the coronavirus turned the UK's Anna Chojnicka into—a hitherto unheard of side effect of the virus. Says CBC:
in March 2020 when she became sick with a suspected case of coronavirus and was self-isolating at her London, England home, she started to go "a little bit stir crazy."
"The result was banana art," Chojnicka told As It Happens guest host Nil Koksal. "It's now been almost 400 bananas."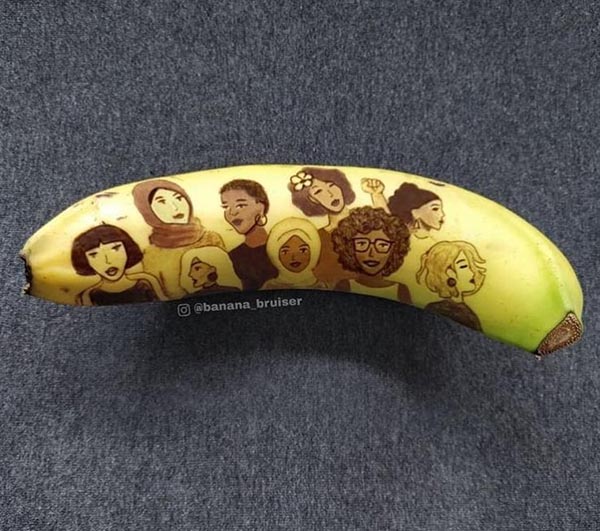 Essentially, she bruises the bananas to create elaborate images. "'I don't use a pen or paint or anything,' she said. 'It's purely by using the peel of the banana.'"
Her tool of choice is a seam ripper, but she said any pointed implement will do. After she draws by pressing into the banana peel, causing it to oxidize or bruise, the marks become darker over time, and she uses that effect to create different shades.
"I don't ... press harder to create a darker line or anything. It's all done in timing," she said.
"You start with the parts that you want to be the darkest first and then you wait for that to get darker and then you do the slightly lighter parts next."
Ah, Memories
Sweat-Drenched Woman Types Frantically As Countdown Threatens To Release Temporarily Reserved Show Tickets https://t.co/BfiTPA9X7f pic.twitter.com/pX2axcivVx

— The Onion (@TheOnion) April 28, 2021
Lowering Kane
The honeymoon had to end someday: the purported "greatest movie ever made" Citizen Kane just lost its "100% Fresh status" on Rotten Tomatoes. And the walls came tumbling down! Adds Boing Boing:
The site added a negative review to the 115 positive ones already there—one published 80 years ago by the Chicago Tribune's Mae Tinée, a collective pseudonym then used by the paper's film critics. (Matinée, geddit?)
What did they say about it?
"It's interesting. It's different," writes the Tribune. "In fact, it's bizarre enough to become a museum piece. But its sacrifice of simplicity to eccentricity robs it of distinction and general entertainment value."
So what is now the greatest movie ever made, at least according to the Tomatometer? "The disgraced classic now languishes behind perfect-score films such as 1984's The Terminator and 1995's Godzilla Vs. Destroyah, movies about which no credible authority has ever posted a negative opinion." Come on, Chicago Tribune! You owe us!
Oh, Oscar
My cousin @NickDavisProds has just reminded the family that @MankFilm now has won more Oscars than Citizen Kane.

— Ben Mankiewicz (@BenMank77) April 26, 2021
Burning the Candle at Any End
Here is some food for thought. A reader asks the NY Times: "Where does a candle go when it burns, anyway? Is it healthy to be breathing in melted candle particles? How concerned should I be?
Wax is made of hydrogen and carbon. When a candle burns, the hydrogen and carbon from the wax combine with the oxygen in the air to become carbon dioxide and water vapor. Most of the matter in the candle ends up as these two gases.
… Aneta Wierzbicka, a scientist at Lund University in Sweden who studies indoor air pollution, has conducted a number of experiments to measure particle emissions from candle flames. "Candles, in homes without tobacco smoking, are among the most powerful indoor sources of particles, followed by cooking," she told me.
She said that constant exposure to these tiny particles can lead to cardiovascular and respiratory diseases. For people who burn candles occasionally, the fire hazards are probably a bigger concern than the air pollution. But she said that if people burn a lot of candles on a daily basis, it's worth taking steps to minimize exposure to airborne particles.
So Sting was taking quite a risk when shooting the video for "Wrapped Around Your Finger."
Overpackaged
This box contains a SIM card. pic.twitter.com/f23reei6Y0

— Maisie Hitchcock (@MaisieHitchcock) April 28, 2021
The Doctor Is In
For people of a certain age and warped temperament, Sunday nights meant one thing: The Dr. Demento Show, a syndicated radio program in which the titular doctor spent a few hours spinning comedy and novelty records—"The Purple People Eater" by Sheb Wooley, "Transfusion" by Nervous Norvus, "The Curly Shuffle" by Jump 'N the Saddle (yes, we are looking through the track listings of the three Dr. Demento CD compilation sets we happen to have here in the Around the Web Cultural Accretion Bunker). The Dr. Demento Show was also where a young "Weird Al" Yankovic got his first big break.
This week, Mental Floss had a retrospective on the good doctor (né Barry Hansen). After college, Hansen moved to LA and got a job at local radio station KPPC (later the mighty KROQ) as a DJ originally hired to play oldies.
During one early broadcast, Hansen played a morbid tune titled "Transfusion," about teenagers getting into an auto accident. A station employee said someone would have to be "demented" to play it, and Hansen's radio persona was born.
He began getting requests for more and more comedy songs and the Dr. Demento Show was born. Moving to KMET, the show was syndicated nationally in 1974 (those in the Boston area may remember it aired on the AOR station WCOZ—"Kick-Ass Rock'n'Roll!"—a pretty edgy tagline for the early 1980s).
"My audience was quite young in those days—lots of high school kids. That's how the show became popular: Monday morning conversations about songs I'd played the night before, some of which were scandalous for various reasons."
Hansen's program wound to a close in 2010, when fewer radio listeners made specialty programming a harder sell. Hansen still releases a weekly show via his website. And in 2018, some Dr. Demento fans contributed to a Hansen tribute album, Dr. Demento Covered in Punk, which featured luminaries such as Joan Jett, William Shatner, and Yankovic covering popular punk songs.
Alone in a Tin Can
Family Statement on Passing of Astronaut Michael Collins pic.twitter.com/6OAw7CzFaz

— Michael Collins (@AstroMCollins) April 28, 2021
The New York Times has an extensive obituary. Collins was also one of the best writers about space.
"I have been places and done things you simply would not believe. I feel like saying: I have dangled from a cord a hundred miles up; I have seen the earth eclipsed by the moon, and enjoyed it. I have seen the sun's true light, unfiltered by any planet's atmosphere. I have seen the ultimate black of infinity in a stillness undisturbed by any living thing.
"I do have this secret," he added, "this precious thing, that I will always carry with me."
This Week in Printing, Publishing, and Media History
April 26
1564: Playwright William Shakespeare is baptized in Stratford-upon-Avon, Warwickshire, England (date of actual birth is unknown). Much ado about nothing?
1785: French-American ornithologist and painter John James Audubon born.
1889: Austrian-English philosopher and academic Ludwig Wittgenstein born.
1970: The Convention Establishing the World Intellectual Property Organization enters into force.
1989: People's Daily publishes the April 26 Editorial which inflames the nascent Tiananmen Square protests.
2019: Marvel Studios' blockbuster film, Avengers: Endgame, is released, becoming the highest grossing film of all time, surpassing the previous box office record of Avatar.
April 27
1667: Blind and impoverished, John Milton sells the copyright of Paradise Lost for £10. (He never regained it.)
1791: American painter and inventor Samuel Morse born.
1882: American poet and philosopher Ralph Waldo Emerson dies (b. 1803).
1896: American chemist and inventor of nylon Wallace Carothers born.
1981: Xerox PARC introduces the computer mouse.
April 28
1926: American novelist Harper Lee born.
1948: Igor Stravinsky conducted the premiere of his American ballet Orpheus at the New York City Center.
1973: The Dark Side of the Moon by Pink Floyd, recorded in Abbey Road Studios, goes to number one on the US charts, beginning a record-breaking 741-week chart run.
April 29
1863: American publisher and politician William Randolph Hearst born.
1953: The first U.S. experimental 3D television broadcast showed an episode of Space Patrol on Los Angeles ABC affiliate KECA-TV.
1968: The musical Hair opens at the Biltmore Theatre on Broadway.
1980: English-American director and producer Alfred Hitchcock dies (b. 1899).
1986: A fire at the Central library of the City of Los Angeles Public Library damages or destroys 400,000 books and other items.
1996: The off-Broadway musical Rent opens on Broadway at the Nederlander Theatre.
April 30
1897: J. J. Thomson of the Cavendish Laboratory announces his discovery of the electron as a subatomic particle, over 1,800 times smaller than a proton, at a lecture at the Royal Institution in London.
1927: Douglas Fairbanks and Mary Pickford become the first celebrities to leave their footprints in concrete at Grauman's Chinese Theater in Hollywood.
1938: The animated cartoon short Porky's Hare Hunt debuts in movie theaters, introducing Happy Rabbit, an early version of Bugs Bunny.
1939: NBC inaugurates its regularly scheduled television service in New York City, broadcasting President Franklin D. Roosevelt's N.Y. World's Fair opening day ceremonial address.
1993: CERN announces World Wide Web protocols will be free.
May 1
1753: Publication of Species Plantarum by Linnaeus, and the formal start date of plant taxonomy adopted by the International Code of Botanical Nomenclature.
1786: In Vienna, Austria, Mozart's opera The Marriage of Figaro is performed for the first time.
1840: The Penny Black, the first official adhesive postage stamp, is issued in the United Kingdom.
1971: Frank Romano's national holiday—Amtrak (the National Railroad Passenger Corporation) takes over operation of U.S. passenger rail service.
1999: SpongeBob SquarePants premieres on Nickelodeon after the 1999 Kids' Choice Awards.
2002: OpenOffice.org releases version 1.0, the first stable version of the software.
May 2
1519: Italian painter, sculptor, and architect Leonardo da Vinci dies (b. 1452).
1611: The King James Version of the Bible is published for the first time in London, England, by printer Robert Barker.
1885: American actress and gossip columnist Hedda Hopper born.
1895: American playwright and lyricist Lorenz Hart born.
1952: The world's first ever jet airliner, the De Havilland Comet 1 makes its maiden flight, from London to Johannesburg.
1955: Tennessee Williams wins the Pulitzer Prize for Drama for Cat on a Hot Tin Roof.
2000: Rand McNally's national nightmare—President Bill Clinton announces that accurate GPS access would no longer be restricted to the United States military.
2012: A pastel version of The Scream, by Norwegian painter Edvard Munch, sells for $120 million in a New York City auction, setting a new world record for a work of art at auction.
Anything catch your eye "around the Web"? Share it with us at [email protected].