Nurturing the customers that you already know is a safe and often solid strategy, but it's important not to remain in this lane for too long.
Nearly half of the PSPs that responded to a recent survey plan to increase their lead generation budgets in 2021.
As you focus on a lead generation program for 2021, it is essential to understand the people you seek as customers.
By Karen Kimerer
Introduction
Do you remember what your lead generation program looked like back in the day? If you were like many businesses, generating interest in your offerings likely depended on daily cold calling or knocking on the doors of random companies. Sometimes it meant collecting business cards in a fishbowl at an event, and then hoping that the card owners were more interested in your products and services than the chance to win an iPod! At best, a lead generation system of the past could be described as organized chaos.
Lead generation has taken many forms over the years. Capturing the interest of today's self-directed buyers involves leveraging resources that go above and beyond feet on the street. Perhaps this is why nearly half of the print service providers (PSPs) that responded to a recent survey plan to increase their lead generation budgets in 2021. We'll talk more about that in a bit.
Then vs. Now: What Has Changed?
Sales professionals and marketers in our industry are rising to the challenges of today's business climate. According to several polls and studies that were conducted throughout 2020, the vast majority of sales organizations shifted their focus to strengthening existing relationships with their customer base when seeking opportunities for growth. Nurturing the customers that you already know is a safe and often solid strategy, but it's important not to remain in this lane for too long.
The process of achieving revenue growth is complex. It requires discipline, wisdom, goals, and a willingness to abandon our prior convictions of comfort. In its most modern sense, lead generation is not always at the forefront of initiatives in our industry. Times have changed, and astute business owners have taken note of changes and are moving forward with a fresh approach. Research conducted this month by KL Kimmerer & Associates reveals that half of PSPs are investing in finding new prospects by increasing their lead generation budgets in 2021.
Figure 1. Changes to Lead Generation Budget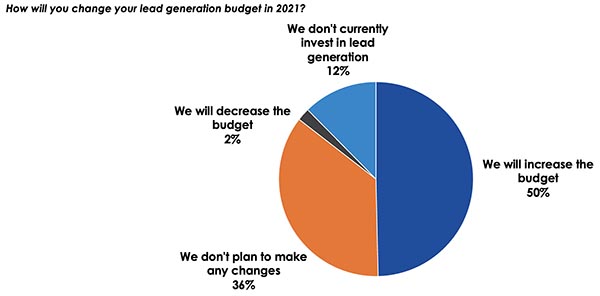 N = 145 Total Respondents
Source: Marketing & Sales Research for PSPs; KL Kimerer & Associates 2021
The ability to look back provides contrast and enables us to create a vision for our business while also defining specific goals. In Think Again: The Power of Knowing What You Don't Know, bestselling author Adam Grant states, "If knowledge is power, knowing what we don't know is wisdom."
Here's a great example. Before COVID hit, we didn't know that all those networking events that were once such a reliable source for lead generation would become nearly impossible to leverage for a time. Even now, with vaccines being distributed, it will likely be quite some time before we're all comfortable gathering in masses once again. For too long, PSPs have focused on live interactions with others to nurture their lead generation programs. This is not surprising, since it usually took only moments to determine if any given lead that you met in person would be a good fit for your business. Although I'm certainly not suggesting that we abandon networking events altogether, current wisdom suggests that a more balanced approach would be a better strategy. We might have always captured leads in a specific way in the past, but that singular method was shattered when face-to-face meetings became impossible, albeit temporarily. The ongoing health crisis has opened the door to explore new, more cost-effective ways to generate leads.
What Exactly IS a Lead?
Before going any further on the topic, it makes sense to clarify what a lead is. After all, would you set aside two or three business days to fly across the country and attend a networking event for the sole possibility of maybe generating a lead? Not likely. When it comes to lead definition, though, a tension exists in just about every conversation between sales and marketing organizations—each entity has its own definition.
According to Webopedia, lead generation is a marketing activity designed to curate a list of potential clients. The definition further states that leads are people with some form of interest in your products and services. This sounds simple enough…so why can it be so painfully difficult to generate high-quality leads?
In today's fast-paced world, we couldn't be competitive without technological advancements in equipment, software, and automation. In addition to improvements on the shop floor, each type of advancement also plays a vital role in lead generation. Although uncovering better and faster ways to do business is always important, there's one thing we must never forget—leads are people! Leads don't buy your offerings…people do. Therefore, as you focus on a lead generation program for 2021, it is essential to understand the people you seek as customers. What do they need? Where do they engage with products and services like yours? How do they want to interact with you and your marketing efforts? A few more defining questions include:
What markets or industries do you best serve?
What problems do you solve for your intended audience?
Who is buying your products and services?
What are their research habits?
Where are they located?
How are they trying to solve their problems today?
What changes have they made to their business processes?
What value can you provide to these customers?
What channels do they engage?
The answers to these questions will guide you forward so you can establish a clear lead generation program that goes beyond an automated marketing funnel. This will smooth out the seams in your sales process and make it more productive. Companies that are not mindful of the people behind the leads will waste valuable lead generation resources and experience little to no return. A strategy that focuses solely on the process of getting people into a system will always fall short.
The Bottom Line
Lead generation has taken an important seat at the table and should be a key area of focus as you develop your sales and marketing strategies for 2021. A successful program will have many dependencies. Next week, in part two of this article, we'll consider the top four tools that PSPs use to generate interest from people that they hope to call customers.
Karen Kimerer of Keypoint Intelligence has experienced the many challenges of expanding current market opportunities and securing new business. She has developed a systematic approach to these opportunities, addressing the unique requirements of becoming a leader in our changing industry. She is well-versed in 1:1 marketing, web-to-print, direct mail, book publishing, supply chain management, data segmentation, channel integration, and photo products.