As I stood in line at the pharmacy today, my attention was captured by the packaging of a medical device hanging by the counter. What caught my eye wasn't the imagery. It wasn't the style of the packaging. It was the use of social media proof. Yes, there was a big—like, big, impossible to miss big—reference to Amazon reviews right on the box.
I've written about using social proof in print before, but I'm not sure I've actually seen it done. So this was really cool.
From where I was standing, I was looking at one of the side panels of the box. There was a lot of text, but what grabbed my attention was the large lettering in the center: "Independent Online Reviews." The words hovered over a set of boxes with the Amazon logo, the number of reviews of the product on Amazon, and the product's rating—4.6 out of 5 stars. Below these was one of the five-star reviews, word for word, including the reviewer's first name.
For a moment, I forgot that I was standing in a line at CVS. It was if I had been transported to my office in front of my computer looking at Amazon's website. The logo was Amazon's logo. The font and review stars were Amazon's, too. It was marketing's version of teleportation.
The result was brilliant. The product was not the type of thing the average person would consider purchasing. It wasn't sexy, and it was expensive (and, frankly, a little gross). But the reviews were so powerful that I was drawn in anyway. Suddenly, I was wondering whether I should buy a product that, apart from the review information staring at me at eye level, I otherwise never would have even considered. This is the power of online reviews. Except, it wasn't online.
This company took the power of positive online customer reviews, including the power of the Amazon brand, and ported them over to the physical package—and why not? Reviews are in the public domain, so when you have positive reviews, why not take advantage of them?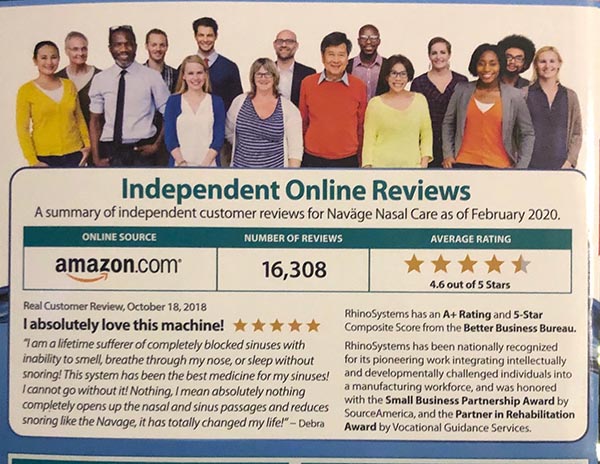 Just research "social proof" or "importance of online reviews" and you'll see why. There are tons of research out there that tell a consistent story. Consumers trust other consumers more than they trust advertisers, and positive customer reviews and social media referrals play a huge role in which products they research and buy.
Here are just three for starters:
In one study, 97% of participants said customer reviews factor into their buying decisions, and 92% hesitate to make a purchase when there are no customer reviews. (Fan & Fuel)
88% of customers put as much weight on online reviews as they would on personal recommendations. (Search Engine Land)
On average, reviews produce an 18% uplift in sales. (E-Consultancy)
Why should the benefits of positive reviews be restricted to online channels? Reviews posted on Amazon, Google, Yelp, and Yahoo! can be used on any printed product such as brochures, flyers, in-store displays... and packaging. They are a powerful tool. This marketer used them to great effect. You (and your customers) can, too.