According to Keypoint Intelligence's latest Software Investment Outlook Study, European print service providers took an average of 3,500 print orders per month, or about 117 per day.
The most implemented automation methods do not necessarily generate the biggest financial rewards.
Job onboarding remains a significant barrier to automation.
By Mark DiMattei
Introduction
Many traditional production processes are not ideal for today's faster-paced print manufacturing environments due to additional, costly touchpoints that can cause print service providers (PSPs) to struggle with modernizing their workflows. Workflow automation can help many organizations make the transition to more modern methods, and this automation will remain important as the industry shifts from custom manufacturing to smart print manufacturing (SPM). SPM combines advanced technologies (e.g., cloud computing and data analytics) with the latest manufacturing processes (e.g., lean manufacturing and mass customization) to fully optimize print production. Since it is a prerequisite for most SPM initiatives, automation should be paramount for many PSPs.
Automation Leads to Growth
Ongoing changes in the printing industry continue to stress production processes and workflows. The growth in digital on-demand printing, combined with the ever-increasing popularity of online ordering, has greatly increased the number of print orders—often at lower print volumes—that a PSP must manage and produce. According to Keypoint Intelligence's latest Software Investment Outlook Study, European print service providers took an average of 3,500 print orders per month, or about 117 per day. As such, it should come as no surprise that one-third of European and over half of North American PSPs stated that dealing with a high number of small jobs was a primary challenge for their current workflow.
To accommodate the growing number of smaller jobs, many businesses have turned to automation software. When examining PSPs that reported growth over the past five years as well as their expectations for 2020 and 2021, we found that growing companies also reported the highest levels of workflow automation.
Money-Saving Automation Methods
The software solutions used for ink optimization have a clear ROI—Keypoint Intelligence's European respondents saw an annual financial benefit of around €10,233 ($12,409). Even so, the most implemented automation methods do not necessarily generate the largest financial rewards. For instance, PSPs who integrated with their customers' ordering systems for automated job creation reported an annual financial benefit of €8,400 ($10,143), but only 4% of respondents had implemented that type of solution. PSPs would do well to determine which automation initiatives can help them across more than just the immediate, more apparent benefits of processing jobs in a faster or more organized manner.
Figure 1. Annual Financial Benefits of Prepress Automation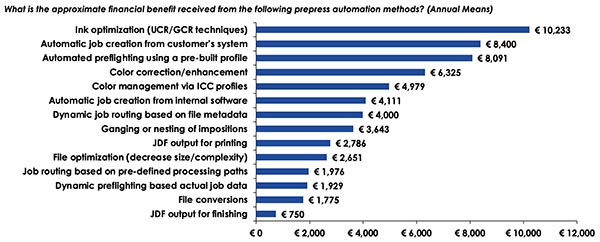 N varies: Base: Respondents in Europe who use these prepress automation methods (Monthly values calculated to yearly)
Source: European Software Investment Survey; Keypoint Intelligence 2021
The Challenges Associated with Job Onboarding
Unfortunately, job onboarding remains a significant barrier to automation because PSPs are more likely to offer their customers high-touch methods for placing orders (e.g., phone, email, and direct sales). The challenges associated with these methods are as follows:
Increased labor costs to receive orders due to the additional client interaction required for receiving and transposing critical details.
The need to re-key information into a print MIS solution or similar software, which can increase the potential for errors when quoting the order or other processes down the line.
More reliance on print shop employees to turn unstructured information into the details required for production.
Building a flexible, structured, and digitized job onboarding process is critical for all PSPs. The best job onboarding methods enable ease-of-use and constant access for customers while also capturing the critical details required to quote and ultimately produce the job. The digitally captured details can then be used to onboard the job and automate the remaining production tasks—ultimately removing any more physical touchpoints, minimizing errors, and saving costs through automation.
The Bottom Line
Keypoint Intelligence's ongoing research has uncovered increasing levels of automation among global firms, which is a positive indicator that some PSPs will soon be ready for the shift in automation that enables smart print manufacturing. Although much progress has been made, there are some steps that must occur to enable the next level of automation. First, the right processes must be organized such that work can be completed with minimal effort. Second, any and all processes that can be automated should be. Third, advanced technologies must be applied when available to bring intelligence (augmented and artificial) to the entire print manufacturing ecosystem.
Mark DiMattei is the Manager of Keypoint Intelligence's Publishing, Editing, and News department. In this capacity, he oversees the formatting, editing, and publication cycles for many different types of deliverables. He also assists in the production of blogs, analyses, research reports, and multi-client studies.