Although COVID-19 certainly accelerated the trend toward digitization, many businesses expect this shift to continue even after the pandemic subsides.
About 78% of the IT decision-makers that participated in Keypoint Intelligence's research expected to see an increase in the share of employees who work from home at least semi-permanently.
When Keypoint Intelligence asked firms about the newly adopted practices they believed would stick at their companies in the future, more frequent virtual meetings were a top response.
By Christine Dunne
Introduction
Much has been said about the acceleration of business process digitization during the COVID-19 pandemic. Some of the digital processes that were implemented out of necessity when the pandemic hit will likely persist even once the pandemic has subsided. This article discusses the implications of business process digitization and cites recent research from Keypoint Intelligence to explore considerations for the future.
The Digital Transformation is Well Underway
In late 2020, Keypoint Intelligence conducted a survey of IT decision-makers in the US entitled How COVID-19 is Changing Office Constellations. According to the results of this study, the highest percentage of survey participants (38%) indicated that the pandemic had forced digitized workflows within their companies, and many of these would persist in the long term. Another 15% of respondents admitted that they didn't have a clearly defined digital transformation strategy, but many of these firms might very well find themselves moving forward with their own digital transformations out of necessity.
Figure 1. Digital Transformation Strategy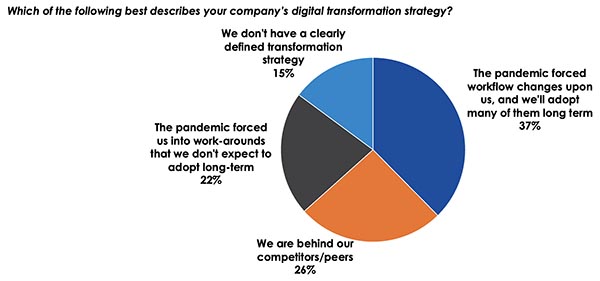 N = 302 IT Decision-Makers in the United States
Source: How COVID is Changing Office Constellations; Keypoint Intelligence 2020
Respondents to Keypoint Intelligence's survey expect many changes as a result of the digital transformation. Although COVID-19 certainly accelerated these trends, many businesses expect them to continue even after the pandemic subsides.
More Flexible Working Conditions
About 78% of the IT decision-makers that participated in Keypoint Intelligence's research expected to see an increase in the share of employees who work from home at least semi-permanently. Although many businesses and professionals were forced into a remote workflow during the lockdown stage of the pandemic, many months have passed since then. In some cases, the ability to work from home at least occasionally can make employees equally if not more productive than they would be in a full-time office environment.
Without commuting times and typical office distractions, employees can have more time to focus on their work. At the same time, however, the stubbornly persistent pandemic has forced many young children into hybrid or remote learning conditions. Some would argue that the presence of children—and the tasks associated with remote learning or homeschooling—are infinitely more distracting than any office-based emergency. Meanwhile, others believe that homebound employees with children at home will have the flexibility to make up their hours at different points throughout the day. One thing is for sure, though—businesses recognize that most of their employees will appreciate having the option to work from home if they choose, and will be more productive if granted the freedom of choice.
Print Will Become More Strategic
Persistent workflow changes will likely have many employees printing much less than they used to. According to Keypoint Intelligence's research, post-pandemic office print volumes are expected to be 13% lower than pre-pandemic print volumes. Businesses with 250+ employees expect to see the greatest decline in printing habits. This may reflect the reduced number of employees in traditional office environments, and even those who continue coming to the office will likely choose to do so less frequently than they once did. In addition, digital workflows and cloud services have become the norm for many office workers, and these have further reduced the need to print.
Office workers who do choose to print will increasingly do so for more strategic purposes, such as for marketing campaigns where print is deemed an effective means for capturing the attention of a target audience. Print will also remain prevalent in certain document-intensive sectors, including healthcare and education, where patients or students will often benefit from having access to hard copy materials.
Online Meetings Will Continue
While many people have likely developed "Zoom fatigue" at this point of the pandemic, online meetings are expected to continue even after the virus has been eradicated. When Keypoint Intelligence asked firms about the newly adopted practices they believed would stick at their companies in the future, more frequent virtual meetings were a top response. With no travel or dedicated meeting rooms required, virtual meetings can save money and time. Furthermore, the normalization of video conversations has given employees and clients a more personal mode of interaction than audio calls.
For all their benefits, though, online meetings have a dark side—now that it's so easy to schedule these meetings, some professionals are finding themselves inundated with meeting requests that can hamper productivity and interfere with one's ability to focus. Walking down the hall to consult with an office-based colleague for five minutes has become impossible during the pandemic, so more and more people are being pulled into virtual meetings that will seldom last only five minutes. In addition, some would argue that video calls are a very poor substitute for in-person conversations.
A Growing Need for Simplicity
In consumer tech, subscription-based services like Netflix and Amazon Prime have been popular for some time because they offer a simple way for users to digitally access entertainment, make purchases, and more. Many of these services, which can be purchased and cancelled with a click of a button, have seen increased adoption during the pandemic. This is completely unsurprising as people have less access (at least temporarily) to in-person experiences like frequent trips to brick-and-mortar retail locations and movie theaters.
As consumers become more accustomed to these user-friendly cloud services, they are increasingly seeking out similar solutions in their work lives as they interact with business technology vendors and suppliers. For instance, today's consumers are more apt to want a print management solution that can be purchased online, adjusted as needed (e.g., for number of users), and/or cancelled at any time.
Other Technology Trends
Technology trends like increased attention to and investments in cybersecurity, sustainability, and artificial intelligence (AI) are also driving new workflows—and this trend is expected to continue post-pandemic. Several printer manufacturers are already clearly attuned to these trends, and they are using them as the foundation for new product and service innovations. Xerox's investment in AI and HP's ability to remotely send security updates to home printers are just two examples.
The Bottom Line
The pandemic has accelerated the move toward digital business processes in many companies. Although many of these changes were forced by necessity at the time, over one-third of the organizations that Keypoint Intelligence surveyed expect these shifts to be maintained even after the pandemic subsides. As we emerge from the pandemic (hopefully sooner rather than later), we will likely see increased working from home, more strategic printing practices, continued online meetings, a greater focus on user-friendliness in product and service design, and more efficient workflows.
Christine Dunne is a Consulting Editor for Keypoint Intelligence's Office Technology & Services Group. Her responsibilities include responding to client inquiries, conducting market research and analysis, and providing coverage of industry events. Ms. Dunne has written extensively about search engine optimization and pay-per-click advertising.