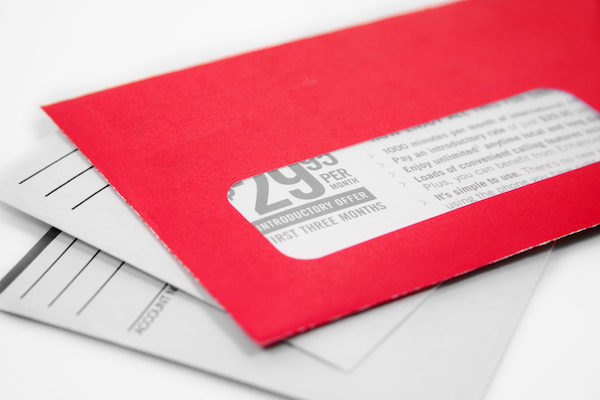 One of the topics I cover that often receives the most interest is direct mail retargeting. This is a fast-growing market, and I'm seeing more and more printers offering it. Prices are coming down, too. One printer advertises that it can provide direct mail retargeting for less than $1 per card.
What's behind this growth? In a recent webinar, "Let's Talk About Data: A Tutorial on the Value of Personalization," hosted by Printing Impressions, Liz Miller, vice president and principal analyst at Constellation Research, opened by citing two really interesting numbers. Of all the types of martech stacks, she said, the second fastest growing category is data, with 25.5% YOY growth. The first, with 35% YOY growth as of April 2020—hold onto your seats—is print. Yes, print is the fastest growing martech stack, followed by data.
"It's like we woke up one day and said, 'We can use print with this!'" said Miller.
These two data points don't have a direct connection to direct mail retargeting, but the combination of the two does help to explain why we're seeing more and more of it. Direct mail retargeting is getting easier.
One of the providers of direct mail retargeting is LSInc. It calls its direct mail retargeting service "Boomerang Direct," generating direct mail pieces based on what consumers view on a customer's website. Its pieces can be generated, in full compliance with privacy regulations, within hours. Even if the visitor does not provide his or her address, LSInc. uses a proprietary workflow to match that visitor with his or her postal address. Website visitors receive fully personalized postcards, with matched incentives, driving them back to the customer's website or nearest retail location.
Customers include Harry & David, Talbot's, Ashley HomeStore, and Wells Fargo, among others.
Another provider of direct mail retargeting is SG360°. In the webinar, Melanie De Caprio, director of marketing at SG360°, discussed Go Inspire's fascinating study "The Abandoned Cart Reactivation Gap," which found that the conversion rate of retargeted direct mail bests that of email retargeting by 113.5%. While the dollars per sale are roughly the same, De Caprio explained, direct mail's 2X conversion rate means that the revenues from these campaigns are roughly double those of email only. (So, for the right campaigns, get as many abandoned shopping cart conversions from email retargeting as you can, then follow up with direct mail retargeting for non-responders.)
One of the clients for which SG360° has been sending direct mail retargeting is Geico. The insurance company uses direct mail retargeting to follow up with website visitors who request online quotes but don't follow through. The retargeting postcards remind website visitors that their online quotes are still available and highlight the contact information of their local agent to complete the process.
Another provider of direct mail retargeting is ModernPostcard. It calls its direct mail retargeting services Modern iO and boasts the ability to match 50% of website visitors to their postal addresses.
To show just how powerful this channel is, Modern Postcard posted a link to a profile of one of its customers, Blue Canoe, written for Inc. magazine. Blue Canoe offers a boutique product—organic, eco-friendly clothing made in the United States—and competes in the extremely competitive online women's apparel market. Blue Canoe's customers are extremely loyal, but it's capturing them in the first place that's a challenge. All but the tiniest fraction (3%) of e-commerce traffic is anonymous and unconverted, making acquiring new customers a tough road. While many e-commerce companies use digital retargeting, nearly one-third (30%) of consumers use ad-blocking software. Even when they don't, the majority have become expert at tuning out digital advertising. Enter postcard retargeting.
Many printers think direct mail retargeting is too expensive for their customers. But the word from Blue Canoe's CEO, Laurie Dunlap, shows that this is changing. Dunlap describes her cost per conversion as so low that the company is seeing 8x return on its ad spend overall. "When I factor in lifetime value, it's 19x return," she says.
Dunlap also finds that 80% of customers are new customers, and because her customers tend to be loyal, those new customers have even greater value.
Put all this together and you see formerly niche direct mail retargeting emerging as a mainstream approach. The more case studies, articles, and customer testimonials we read and hear, the more we see this market gathering steam. So get out the popcorn. This will be fun to watch.