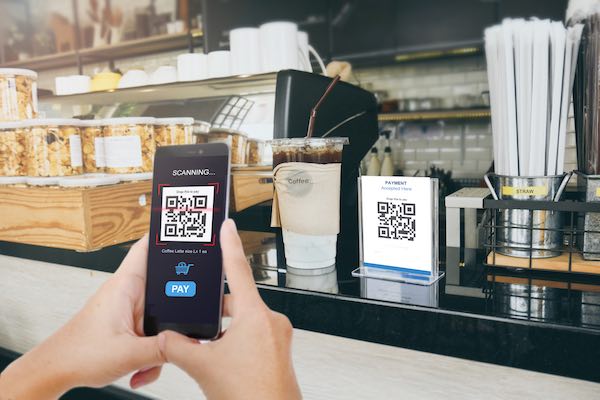 Is the COVID-19 pandemic fueling a rise in the use of QR codes? Yes, and for a simple reason—they provide a safe, touchless way to communicate between businesses and their customers and prospects. It's a way businesses can say, "We care about your safety," while continuing to engage consumers and provide them with a full array of services.
Are you rolling your eyes? "Here we go again. I thought we'd moved past this." Yes, we're talking about it again. This time, it's a little different.
In the past, we've talked about QR codes from a marketing perspective. Did they, or did they not, provide a marketing benefit? Adoption (or lack thereof) was driven by consumer attitudes and behavior and marketers' ability (or lack thereof) to provide compelling reasons to scan them. This time, the pandemic is putting its finger on the scale. Safety, as much as marketing benefit, is entering the equation.
All aspects of retail are evolving into touchless activities. Order your groceries online and have them delivered. Order your lunch through the mobile app, pay for it in your car, and wait for the restaurant employee to bring it out to you. Check in at the doctor's office using...a QR code.
QR codes are becoming one more way for businesses to provide contactless service. I see them everywhere, including at my doctor's office. Scan the code and do the check-in on my phone instead of at the kiosk where dozens of other people had recently stood, touched the glass and breathed on the keys. Suddenly, a QR code never looked so good.
Others clearly agree. Here are some data from a 2020 poll by MobileIron, a mobile-centric security platform:
84% of people have scanned a QR code at some point.
32% have scanned a QR code in the past week and 26 have scanned one in the past month.
In the last six months, 38% of respondents have scanned a QR code at a restaurant, bar or café; 37% have scanned a QR code at a retailer; and 32% have scanned a QR code on a consumer product.
58% of respondents want to see QR codes used more broadly in the future.
43% plan to use a QR code as a payment method in the near future.
In addition, the poll found that more than half of respondents (54%) have seen an increase in QR code usage since the COVID pandemic started and 67% agree that "QR codes make life easier in a touchless world."
Granted, there are security risks with QR codes, and marketers are encouraged to take security precautions for certain applications. But for the average marketer just wanting to give people options for looking at menus or obtaining discount codes from the sides of their popcorn boxes at the movie theater, that's not really an issue.
We are seeing a rise in the addition of QR codes on everything from food packaging to table tents in restaurants. They are everywhere now, and once people grow accustomed to using them, as long as marketers provide value on the back end, they are likely to continue doing so.
QR codes always provided a value pathway from print or digital channels to marketing content. Maybe it just took a pandemic to get more people to realize it.