Your Friday 1920s Gangsta's Paradise
I just realized that because we won't be seeing family for Thanksgiving we can watch the MST3K marathon instead of football. Nerd win.

— Amy (@mystiquetrash) November 15, 2020
Cold, Hard Cashmere
Money laundering. Aside from occasionally leaving a $20 in a pair of pants before putting them in the washer, few of us have any experience with money laundering activities (which is a good thing). Indeed, a classic scene from the show Breaking Bad features Walter White's co-conspiratorial wife looking up "money laundering" on Wikipedia. Anyway, it turns out that knitwear can be laundered in both senses of the term.
We mention this because according to a report from ACAMS, the Association of Certified Anti-Money Laundering Specialists, the knitwear industry is particularly susceptible to money laundering activities. As an example, a provider of cashmere fibers or yarns in Afghanistan might sell its product to a knitwear manufacturer for an extremely low price, and get paid the rest off the books. The manufacturer then can book a sale at full price and account for an influx of illicit money, in an accounting process that makes money laundering hard to detect.
A trade database, created by a business professor at the Florida International University can help detect this fraud.
License to Print Money
Speaking of illicit financial activities (and Breaking Bad), ever wonder how they print money for movies and TV shows? Well, via Boing Boing, Insider has a short video look at movie money.
Hollywood cash can be as detailed and as authentic-looking as real money—but only printed on one side. However, that stipulation only came after a bit of a fiasco when a prop house printed $1 trillion for the movie Rush Hour II. The money was so realistic (and double-sided) that some people working on the movie nicked it and spent it, or tried to. This did not sit well with the Secret Service, which confiscated and burned all the fake money, and then destroyed the digital files used to produce it. It had cost the prop house $100,000 to print the $1 trillion, which is a very strange kind of inflation-adjustment.
The World Turned Down Under
In the Australian production, Burr shoots Hamilton clockwise. https://t.co/43l5GhZdJ7

— (((Joshua Malina))) (@JoshMalina) November 9, 2020
Top Tech
Hoisted from our own Newsfeed, Lux Research has released a new report that looks at the "top emerging technologies to watch in 2021." "Foresight 2021" ranks the technologies and trends that will change the world over the next decade. The top one to watch is autonomous vehicles ("Level 4 and 5 autonomous vehicles will transform mobility and logistics by removing the need for a driver behind the wheel of a vehicle"—consider us skeptical about this). Then there is natural language processing—"Powering devices like voice assistants, machine translation, and chatbots." A sneak preview of our coming robot overlords.
A Day at the Beach
It's my Roomba's birthday so I'm bringing him to the beach and I'm just gonna let him go crazy

— jon drake (@DrakeGatsby) November 15, 2020
Skeleton Key
Was it a good week for graphene news? It's always a good week for graphene news!
Estonian startup Skeleton Technologies is reportedly developing a graphene-enhanced "SuperBattery" that can be charged in just 15 seconds, and can go through hundreds of thousands of charge-recharge cycles without degrading. It was also reported that Skeleton recently signed a €1 billion letter of intent with a leading automotive manufacturer to bring the technology to market, most likely in 2023 according to Taavi Madiberk, founder and chief executive of Skeleton.
After the Storm
Alert AtWer JerrytheMacGuy points us to the annual Bulwer-Lytton Awards for "the (intentionally) worst in fiction writing." The Grand Prize winner this year was Lisa Kluber of San Francisco, Calif., with:
Her Dear John missive flapped unambiguously in the windy breeze, hanging like a pizza menu on the doorknob of my mind.
J the MG also pulled out some dishonorable mentions:
She sauntered into his smoke-filled office with legs that, although they didn't go quite all the way to heaven, definitely went high enough for him to see that she was a giraffe. —Jarrett Dement, Eau Claire, Wis.
"Master Wlfindermx sauntered across the Plains of Teflandous towards the city of Gjorgturc carrying the mythical Blade of Vulbertrian, once owned by Lord Leszsoriog," wrote the author, who wanted to make the life of the audiobook narrator a living hell. —Robert Greer, Queen Creek, Ariz.
"As sheriff, I had handled most of the Dwarf gang, having shot Sleepy, Bashful and Sneezy, strung up Grumpy and Dopey and disemboweled Happy, but Doc, since you got away, I'm sending Happy's entrails to you, until we meet again." —Arlen Feldman, Colorado Springs, Colo.
"In Gertrude's experience lovemaking was always bittersweet, or at least it had been until one fateful night when Chaz, the seductive man behind the concession stand blessed her with the salty-sweet bliss reminiscent of both true romance and quality kettle corn." —Julie Winspear, Washington, D.C.
The Bulwer-Lytton Fiction Contest was founded by Professor Scott Rice in 1982 and is sponsored by the English Department at San Jose State University. It is described as "a whimsical literary competition that challenges entrants to compose opening sentences to the worst of all possible novels." It is named for Edward Bulwer-Lytton whose 1830 novel opens with:
It was a dark and stormy night; the rain fell in torrents—except at occasional intervals, when it was checked by a violent gust of wind which swept up the streets (for it is in London that our scene lies), rattling along the housetops, and fiercely agitating the scanty flame of the lamps that struggled against the darkness.
Fans of old comic strips may recall that the opening line was repeatedly nicked by beagle and aspiring novelist Snoopy in Peanuts.
Another Word for Crash
A truck loaded with thousands of copies of ROGET'S THESAURUS crashed yesterday losing its entire load. Witnesses were stunned, startled, aghast, taken aback, stupefied, confused, shocked, rattled, paralyzed, dazed, bewildered, mixed up, surprised, awed, and dumbfounded! pic.twitter.com/7VZoBARvbC

— Doc (@DocAtCDI) November 11, 2020
Horseplay
J the MG also points us this week to a hitherto unknown (to us) comic strip called "Dark Side of the Horse" by a cartoonist called Samson. The strip often features typography gags. If you like jokes about Bodoni, check out Wednesday's installment.
Black Mirror
Oh, how we tend to look at the past through the lens of the present. Over at Vice:
Peter Russell and his partner were strolling through the Neue Pinakothek, the museum of 18th and 19th century art in Munich, when they saw her.
She's walking down a path, seemingly unfocused on what's coming around a slight bend: a rosy-cheeked boy on one knee with a pink flower at the ready for wooing her. Her gaze is, for the moment, frozen downward at a slight angle, focused on a small object she cradles with both hands...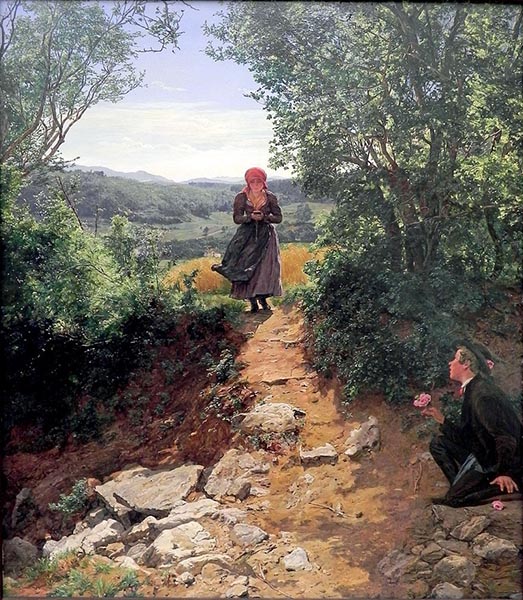 The painting is called "The Expected One" and was painted by Austrian painter Ferdinand Georg Waldmüller in 1860. And the object in question is not a 19th-century smartphone, but rather a prayer book, and she is off to church.
"What strikes me most is how much a change in technology has changed the interpretation of the painting, and in a way has leveraged its entire context," said Russell, who now occasionally blogs about culture and writes poetry.
The Best Kind of Meeting
November 13, 2020
Behind the Seams
Whilst seamless jeans are not likely to be a thing any time soon, Jeanologia, Adobe, Color Digital, and CLO are at least aiming for a seamless jeans designing experience.
The integrations allow for brands and designers to achieve the flawless workflow they've desired by optimizing the entire 3D design process from start to finish and enabling them to sustainably create digital designs that are an exact 1:1 representation of the physical end product.
Temporary Signage
Trees swallowing Trespassing Signs pic.twitter.com/LQCmsupYK3

— Diane Doniol-Valcroze (@ddoniolvalcroze) November 19, 2020
Into the Valley of Death...Maybe
Depicting a dirt road strewn with cannonballs, one of the earliest and most iconic war photos is Valley of the Shadow of Death, taken by Roger Fenton on April 23, 1855, during the Crimean War—the first war that had ever been documented using photography.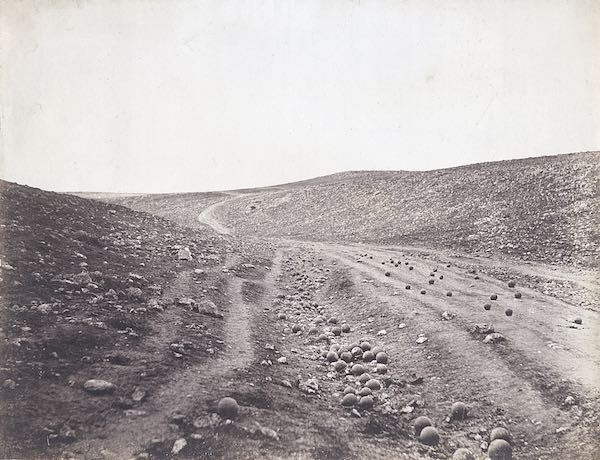 In 2007, filmmaker Errol Morris went to Sebastopol, where Fenton shot Valley of the Shadow of Death (and a number of other images), prompted by the discovery of a second Fenton photo, identical in almost every way to Valley of the Shadow, with one exception: it was missing the cannonballs strewn on the road. The question Morris had was: which one came first? Was the cannonball image (called "On" by Morris, as in "on the road") shot first, then the cannonballs cleaned off the road before shooting the second image (called "Off")? Or was "Off" shot first and the cannonballs added before "On" was taken? And, in either case, why? Was one of the first iconic photos of war in fact staged—an accusation made by Susan Sontag, a comment which triggered off Morris. So that was the rabbithole Morris went down, chronicling his journey in a three-part article for the NY Times.
After a trip halfway around the world, visiting the site itself, conducting many interviews with historians and photography experts, and performing detailed photo analysis (or as much as could be done with a photo taken when photography was in its infancy), Morris could come to no conclusion as to which came first. (It's safe to say that the only thing that could be ruled out was Photoshopping.)
It turned out, though, that there was enough evidence buried in the image to draw a conclusion, which Morris later found. So which was it? Well, you can read the above-linked Times article, or watch this short documentary about Morris's obsession. (Or you can scroll to the end of this week's Around the Web.)
Southwest Did It First
New United Ultra Economy-Class Tickets Lets Passengers Get Dragged Behind Plane By Giant Rope https://t.co/q0vLl6S2QN pic.twitter.com/ppOGrab0It

— The Onion (@TheOnion) November 12, 2020
Inkjet Insmell
We've linked in the past to colognes and perfumes that let people smell like old books or bookstores. Now we bring you fragrances that smell like inks.
This feature focuses on two of my favorite colognes, 2 Man by CdG and Encre Noire by Lalique. The 2 Man actually lists Japanese sumi ink as one of it's base notes, while Encre Noire (translates to "Black Ink") is meant to evoke the dark, heavy, inkiness of black ink. Both fragrances do a great job at accomplishing what they are meant to. Below you'll find a brief review of each fragrance and an explanation on how it relates to the ink that it's drawn inspiration from.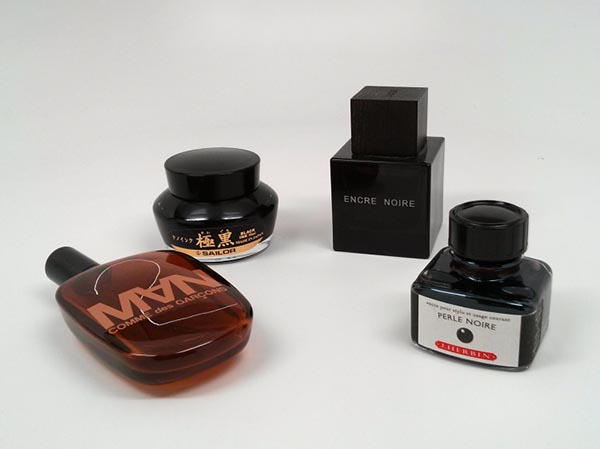 This could be a good sideline for inkjet ink manufacturers. "Between love and madness lies...Inkjet Obsession."
Leaving in a Huff
Says Axios: "BuzzFeed to buy HuffPost in all-stock deal"
BuzzFeed has agreed to buy progressive news website HuffPost from Verizon Media in an all-stock deal, the companies announced Thursday.
Why it matters: HuffPost was once one of the most-trafficked news websites on the internet, but an over-reliance on social media distribution and a lack of strategic vision stripped the site of relevance in recent years.
After Bar
Rising Coronavirus Cases Force Chicago To Set Up Temporary Bars In Hospitals https://t.co/VHrpf1ei7Q pic.twitter.com/AIYBM6clTm

— The Onion (@TheOnion) November 13, 2020
Pillow Talk
Apparently, there was a 15-second spot that aired on a recent SNL advertising Arby's turkey pillow. Well, it seems it was not a faux commercial. It's a real thing, for reasons passing understanding. Even more bizarrely, it's sold out. But, then again, it's perfect for anyone spending Thanksgiving alone.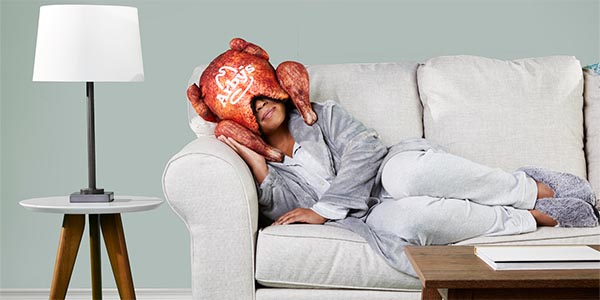 Around the Block
Douglas Adams once wrote, "Time is an illusion. Lunchtime doubly so." Turns out he may have been right, at least if The Block Universe Theory is right:
It's a theory that the passing of time is an illusion. That all moments - past, present and future - are happening all at once.
If you've ever tried to finish writing an article with Slack open it certainly can feel like that.
Your birth. Your death. Reading this sentence. These "nows" are all frozen in an unchanging, four-dimensional block of existence.
...just how many great thinkers concede that the theory is as good as any we've got - and then move right along. Without pausing to reflect on all the astounding implications of life in the block.
We're out on the week and off next week, so take our Thanksgiving hiatus to contemplate the block.
This Week in Printing, Publishing, and Media History
November 16
534: Justinian I, who was an Eastern Roman (Byzantine) emperor in Constantinople, approves and publishes the second and final revision of the Codex Justinianus.
1889: American director, producer, and playwright George S. Kaufman born.
1904: English engineer John Ambrose Fleming receives a patent for the thermionic valve (aka the vacuum tube).
1914: The Federal Reserve Bank of the United States officially opens.
1938: LSD is first synthesized by Albert Hofmann from ergotamine at the Sandoz Laboratories in Basel.
November 17
1749: French chef Nicolas Appert born. He invented the principle of canning.
1790: German mathematician and astronomer August Ferdinand Möbius born. (It's not true that his life had no beginning and no end.)
1839: Oberto, Giuseppe Verdi's first opera, opens at the Teatro alla Scala in Milan, Italy.
1944: College basketball coach Jim Boeheim born.
1947: American scientists John Bardeen and Walter Houser Brattain observe the basic principles of the transistor, a key element for the electronics revolution of the 20th century.
1968: Viewers of the Raiders–Jets football game in the eastern United States are denied the opportunity to watch its exciting finish when NBC broadcasts Heidi instead, prompting changes to sports broadcasting in the U.S.
November 18
1787: French physicist and photographer, and inventor of the daguerreotype, Louis Daguerre, born.
1865: Mark Twain's short story "The Celebrated Jumping Frog of Calaveras County" is published in the New York Saturday Press.
1883: American and Canadian railroads institute five standard continental time zones, ending the confusion of thousands of local times. Well, it was about time.
1928: Release of the animated short Steamboat Willie, the first fully synchronized sound cartoon, directed by Walt Disney and Ub Iwerks, featuring the third appearances of cartoon characters Mickey Mouse and Minnie Mouse. This is considered by the Disney corporation to be Mickey's birthday.
1963: The first push-button telephone goes into service.
November 19
1909: Austrian-American theorist, educator, and author Peter Drucker born.
1916: Samuel Goldwyn and Edgar Selwyn establish Goldwyn Pictures.
1954: Télé Monte Carlo, Europe's oldest private television channel, is launched by Prince Rainier III.
1955: National Review publishes its first issue.
1959: The Ford Motor Company announces the discontinuation of the unpopular Edsel.
1967; The establishment of TVB, the first wireless commercial television station in Hong Kong.
1998: Vincent van Gogh's Portrait of the Artist Without Beard sells at auction for US$71.5 million.
2006: Nintendo's first video game console with motion control, the Wii, is released.
November 20
1805: Beethoven's only opera, Fidelio, premieres in Vienna.
1908: British-American journalist and author Alistair Cooke born.
1924: Polish-American mathematician and economist, and coiner of the term "fractal," Benoit Mandelbrot born.
1936: American novelist, essayist, and playwright Don DeLillo born.
1969: The Plain Dealer publishes explicit photographs of dead villagers from the My Lai Massacre in Vietnam.
1985: Microsoft Windows 1.0 is released.
November 21
1676: The Danish astronomer Ole Rømer presents the first quantitative measurements of the speed of light.
1694: French historian, playwright, and philosopher Voltaire (né François-Marie Arouet) born.
1783: In Paris, Jean-François Pilâtre de Rozier and François Laurent d'Arlandes, make the first untethered hot air balloon flight.
1877: Thomas Edison announces his invention of the phonograph, a machine that can record and play sound.
1898: Belgian painter René Magritte born.
1902: Polish-American novelist and short story writer, Nobel Prize laureate Isaac Bashevis Singer born.
1905: Albert Einstein's paper that leads to the mass–energy equivalence formula, E = mc², is published in the journal Annalen der Physik.
1969: The first permanent ARPANET link is established between UCLA and SRI.
November 22
1819: English novelist and poet George Eliot (née Mary Ann Evans) born.
1869: French novelist, essayist, and dramatist, Nobel Prize laureate André Gide born.
1928: The premier performance of Ravel's Boléro takes place in Paris.
1935: The China Clipper inaugurates the first commercial transpacific air service, connecting Alameda, California with Manila.
1977: British Airways inaugurates a regular London to New York City supersonic Concorde service.
1995: Toy Story is released as the first feature-length film created completely using computer-generated imagery.
Anything catch your eye "around the Web"? Share it with us at [email protected].
Roger Fenton spoiler alert: "Off" was taken first, and "On" was taken second. What will probably forever remain a mystery is who specifically put the cannonballs on the road between shots and why.