Your Friday Exploding Paper in a Hydraulic Press
Who would have thought the Hydraulic Press YouTube channel could be so entertaining!
God, I love the first night of Election Week. So festive. We broke out the traditional stress ball garlands and I'm going to carve the Xanax in about 20 minutes.

— Patton Oswalt (@pattonoswalt) November 4, 2020
He Writes Letters
Brandon Woolf is a professor as well as a performance artist, and he recently "staged" writing pick-me-up letters on a Brooklyn sidewalk. Says the New York Times:
Mr. Woolf, 37, doesn't work for the post office; he's a performance artist with a doctorate, on the full-time faculty of New York University. In addition to teaching two courses via Zoom and directing the Program in Dramatic Literature for undergraduates, he is currently doing a sidewalk piece called "The Console." That's shorthand for "consolation."
Inspired by the somewhat antiquated tradition of writing condolence notes, Mr. Woolf helps draft letters to be mailed in the box a few feet from his makeshift desk, on the corner of Fourth Street and Prospect Park West. Now in its fourth week, "The Console," which he describes as "post-dramatic theater," will continue through Monday. It's timed to coincide with "the heightened anxiety" surrounding the election, he said.
Eau de Livre
Have you ever wanted to smell like a bookstore? Well, who hasn't? (Of course, these days, we're not supposed to be getting close enough for anyone to notice.) Anyway, Powell's Books (the bookstore, not the books themselves) is releasing its own fragrance, "Powell's By Powell's" that simulates the olfactory ambiance of the bookstore.
Store officials said they surveyed customers about what they missed while the store was temporarily closed by the pandemic. It's not the books. It's the smell.
"Powell's by Powell's" will be released November 1, and is available for preordering on Powells.com, officials said. It will also be available at all Portland store locations on November 27.
Burning Down the Bleak House
Sometimes when I'm trying to plot a novel and agonising over plausibility it helps to remember that there is a character in Dickens who spontaneously combusts.

— Jonathan Coe (@jonathancoe) October 12, 2020
The Pen Is Mightier
The Hydraulic Press people up top found out how mighty paper can be, but the pen is just as mighty, albeit in other ways. We take them for granted these days, and they're almost literally a dime a dozen, but when the first ballpoint pen appeared on the market in 1945, it sold for $12.50 ($180 today, adjusted for inflation). There were some who would gladly have paid that to avoid messy fountain pens.
The BBC has an interesting history of the ballpoint. Although the Reynolds International Pen Company was the first to sell them in the US, and while the invention is commonly attributed to Hungarian-Argentinian inventor László Bíró (which is why ballpoints are commonly called "biros" in the UK), the first patent for a ballpoint pen was granted in 1888 to American lawyer John J. Loud, who "wanted an ink pen which would be able to write on rougher materials such as wood and leather as well as paper."
Loud's pen was indeed able to write on leather and wood, but it was too rough for paper. The device was deemed to have no commercial value and the patent eventually lapsed.
Various inventors tried to improve on Loud's design in the coming decade, but none were able to take it into production until Bíró in the 1930s. A journalist in Hungary, Bíró used fountain pens daily and was very familiar with their drawbacks.
What made the ballpoint a success wasn't just the rolling ball tip, but the ink it had to use.
László turned to his brother, Gy?rgy, a dentist who was also a talented chemist. László had realised the ink used in fountain pains was too slow to dry and needed something more like the ink used on newspapers. Gy?rgy came up with a viscous ink which spread easily but dried quickly. What's more, the pen used far less ink than the spotting, dripping fountain pens.
World War II intervened and Bíró, who was Jewish, fled to Argentina, which is where his "biromes" first went on sale. Alas for Bíró, "American businessman Milton Reynolds was visiting Buenos Aires and was impressed with the new pen – he bought several, and on return to America set up the Reynolds International Pen Company to market a new design. Crucially, the Reynolds design had enough changes to sidestep László Bíró's patent."
Wrote David Sax in the book The Revenge of Analog:
The ballpoint pen was the equivalent of today's smartphone. Before then, writing was a stationary act that had to be done in a certain environment, on a certain kind of desk, with all these other things to hand that allowed you to write.
What the ballpoint pen did was to make writing something that could happen anywhere. I've written in snow and rain, on the back of an ATV and in a boat at sea and in the middle of the night," says Sax.
And say what you want about ballpoints, but they "don't drain batteries, they don't require plugging in in the middle of nowhere, and even the tightest pocket can accommodate them. 'It only fails if it runs out of ink,' Sax adds."
(Don't You)

Forget About Me

Over at Journalism.co.uk, a discussion of "unpublishing." That is, when should news stories or other content be deleted?
Editors are increasingly faced with requests to unpublish news content. It could be from a young person haunted by a silly but highly SEO-friendly mishap from years ago now struggling to apply for university or a job. Or maybe a reader with mental health issues made more severe because of a published story.
This wasn't much of an issue when print was all there was, since except for the occasional hoarder (or someone who owns a printing museum), print newspapers tended not to hang around very long and back issues were confined to musty library archives or microfilm. Now, everything lives forever on the Internet, and WhatTheyThink still frequently gets inquiries and comments on stories that are 10 years old.
What we unpublish - as well as what we publish - depends on our lived experience. It is gatekeeping in reverse. When we ponder what to unpublish, it is because we rarely give proper thought to what we do publish and why.
Do we want to cover every drink-driving story or use the most unflattering photo of somebody? Can we foresee how publishing a story can impact someone with fragile mental health?
Perhaps making better editorial decisions up front would eliminate the need to unpublish afterwards.
Whatever the editorial decisions, requests to unpublish news content are on the rise and so are the calls for some kind of industry standard. Although some organisations have in-house guidelines, most newsrooms do not have formal rules on how to deal with these requests. One of the reasons is the lack of data that could help us analyse and keep track of unpublishing decisions....
Dwyer defines unpublishing as "the act of deleting factual content that has been previously published online in response to an external request prompted by personal motivations such as embarrassment or privacy concerns".
This brings in another question: what is the information's lifespan? Can a publisher hide an article from the public but make it available to its journalists should the information prove valuable in the future?
Maybe after-the-fact editing would be a better alternative than completely unpublishing, which would be especially useful for a story that contained the sentence, "One solution that Dwyer talks about would be a collaboration between newsrooms and legal bodies to help determine when unplublishing is justified."
Yes, "unplublishing" is rarely justified.
Horse Play
Absolutely furious and demanding a refund. Quite clearly shows an entire horse. pic.twitter.com/R1pcCs3Rku

— Andrew Hunter Murray (@andrewhunterm) October 1, 2020
To Baldly Go...
Obviously this stuff will get better, but we're still bemused by some of the teething problems new technology can have, such as this story in Gizmodo: "AI Camera Mistakenly Tracks Referee's Bald Head Instead of Soccer Ball."
Dead Meat
Russian oligarch nicknamed the 'Sausage King' killed in sauna with crossbow https://t.co/BwZ3Vfqe4I

— BBC News (World) (@BBCWorld) November 2, 2020
From the album Nebratska. https://t.co/OLigy9OO5d

— Steven Hyden (@Steven_Hyden) November 2, 2020
My Morning Coffee Jacket
Taiwanese company COOR officially launched its Kickstarter campaign for its 3-in-1 outdoor jacket manufactured from Singtex coffee yarn technology. Designed to be everlasting, "the last jacket you'll ever need," combines leading performance technology with bio-based fabrics and multifunctional 3-in-1 design.
"Coffee yarn" is in fact made from "upcycled coffee grinds." Interesting idea, but some of us shouldn't wear this jacket after 5 pm or we'll be up all night, or at least until they come out with a decaf version.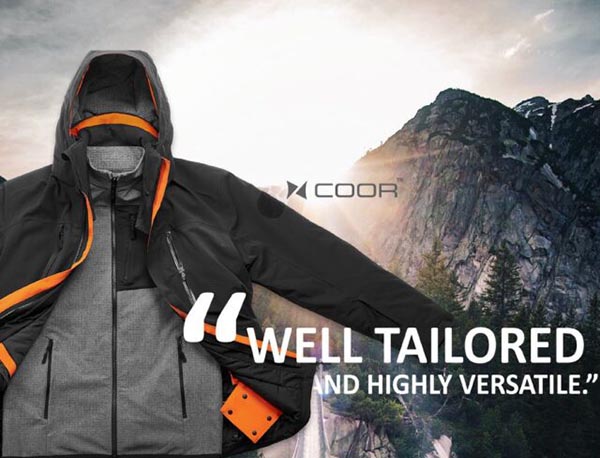 Hmm...you can wear this jacket after daubing on a little of Powell's By Powell's and maybe you can smell like a bookstore café.
DefeXtiles
One day, researchers at the MIT Media Lab watched a broken 3D printer erratically ejecting plastic. Like any good researchers, they got an idea from it. They discovered that a) not only could they replicate that erratic extrusion on a home 3D printer, but b) they could use it to create a light, flexible fabric-like material. Says Gizmodo:
Jack Forman, a graduate student at MIT's Media Lab, turned these defective prints—called DefeXtiles—into a tulle-like "quasi-textile" that can even be used in clothing.
In fact, Forman created a pleated, wearable skirt by printing it in one piece from a standard printer. When pulled open, the skirt is completely wearable and, dare I say, quite fashionable.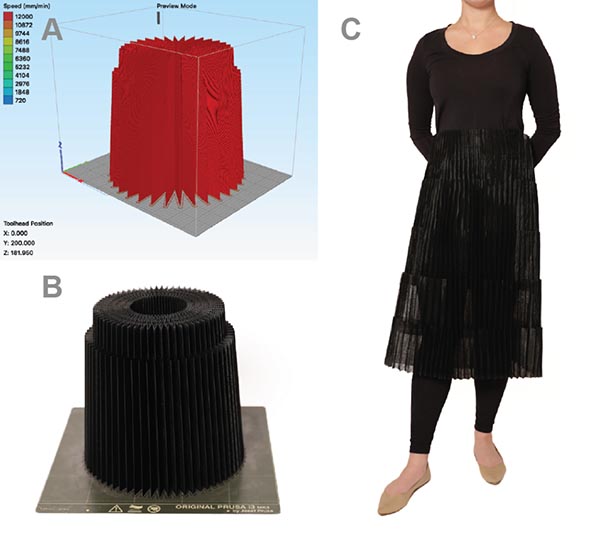 "A particularly exciting future direction is leveraging DefeXtiles to produce low-cost and effective customized surgical meshes that better reinforce organs and tissue after surgery," said Forman. "3D-printed surgical implants have already been studied with promising results. Additionally, if loaded with antibiotics, such as ciprofloxacin HCl, the degradation would slowly release the antibiotic, preventing infection. Another feature is that the mechanical properties of the mesh could be tuned to match that of the tissue being supported."
Temi Or Not Temi?
Fave AI transcription mess up today: "on a certain salami" (should be "in a certain cell line")

— Abby Olena (@abbyolena) October 28, 2020
Picture Yourself
It's not the weirdest idea for a theme park, but fans of the late PBS painting guru Bob Ross may want to make the trek to Muncie, Ind., for, says the New York Times, the "'Bob Ross Experience,' a $1.2 million permanent exhibit and painting workshop series in the city where the beloved television host filmed his show from 1983 to 1994, and inspired generations of fans with his yes-you-can positivity."
Fans dressed as the painter sampled iced tea — a signature that he sipped between takes — and tried to recreate "Gray Mountain," a vibrant landscape from 1992, in a workshop led by a certified Ross instructor. Revelers meandered along a winding boulevard in a costume parade, with winners receiving Bob Ross bobbleheads, complete with miniature brush and bucket.
Aggronym
Due to an embarrassing set of initials, in 2009 Wisconsin Tourism Federation gave up and changed its name to Tourism Federation of Wisconsin.

— Quite Interesting (@qikipedia) November 4, 2020
Free Love
Skullmapping is a Belgian art collective run by Filip Sterckx and Antoon Verbeeck, Sterckz in particular specializes in "experiments with projection mapping...resulting in poetic art installations in which he projects video and animation on sculptures." In "Rubens Cupid," part of an at installation at the Brussels airport for Toerisme Vlaanderen, the titular cherub escapes his painting and flies around the airport.
Arthouse Muppets
31 days of #ArthouseMuppets, evening edition! #16: Uncle Deadly and Crazy Harry in Harold P. Warren's MANOS: THE HANDS OF FATE. Mixed media on 8.5 X 11" bristol board. #Muptober pic.twitter.com/RnqE0LEvBf

— Bruce McCorkindale (@brucemccorkinda) October 17, 2020
Whale of a Tail
Who says art can't be practical? Via Core 77, a train in Spijkenisse, near Rotterdam, failed to stop at the end of an elevated track. It crashed through a stop block and shot off the end of the platform. However: "The only thing that prevented the leading car from taking a 10-meter nosedive was a fortuitously placed sculpture shaped like a massive whale tail."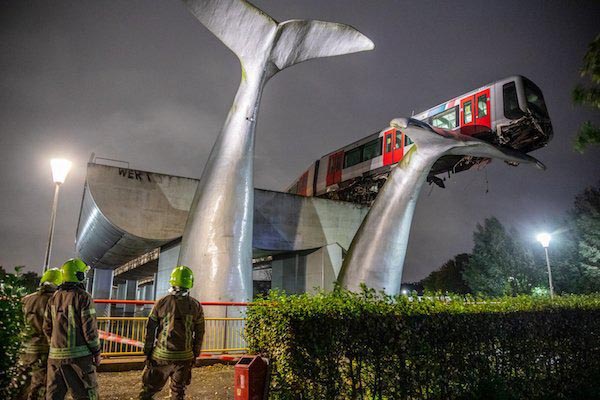 Image: KC Digital Marketing
Here's the kicker: the sculpture, created by architect Maarten Struijs in 2002,is actually called "Saved by the Whale's Tail." Even more improbably, it is made of plastic. "I am amazed that it is so strong," Struijs told The Guardian. "When plastic has stood for 20 years, you don't expect it to hold up a metro train."
Tunnel Vision
stupid of them to send a train down there before finishing the tunnel pic.twitter.com/UaL1veiHUS

— Alice Campbell Davis (@alicescrambled) July 31, 2020
Security Leeks
People can sure be paranoid: "A member of the public told Police Scotland they thought they could see a masked man in Provost Watt Drive carrying an item shaped like a machete on Thursday evening." What was it really? "Officers attended the scene and said CCTV showed a man in a shop buying a mask and leeks."
Whoever phoned in the report should never attempt to make cock-a-leekie soup.
Overs
City Enters Phase 4 Of Pretending Coronavirus Over https://t.co/ylH8CLa0RW pic.twitter.com/2qnNb5hclC

— The Onion (@TheOnion) August 4, 2020
Headline of the Year
This Guardian headline is perhaps the perfect metaphor for 2020: "New York City man falls into sinkhole full of rats." Yep: "Shoulders was waiting for a bus in the Bronx when suddenly the concrete beneath his feet cracked open and he plummeted into a hole." That would have been right about March 17...
Auto Correct
Tried to text the word "dumpling" and my phone autocorrected to "dumpster fire" and if that isn't a metaphor for 2020 I don't know what is.

— Kimberly Girling (@kimberlygirling) November 4, 2020
This Week in Printing, Publishing, and Media History
November 3
1838: The Times of India, the world's largest circulated English language daily broadsheet newspaper, is founded as The Bombay Times and Journal of Commerce.
November 4
1922: British archaeologist Howard Carter and his men find the entrance to Tutankhamun's tomb in the Valley of the Kings.
November 5
1499: Publication of the Catholicon, written in 1464 by Jehan Lagadeuc in Tréguier, the first Breton dictionary and the first French dictionary.
1857: American journalist, author, reformer, and educator Ida Tarbell born.
1885: American historian and philosopher Will Durant (The Story of Civilization) born.
1959: Canadian singer-songwriter and guitarist Bryan Adams and, 1974, American singer-songwriter and guitarist Ryan Adams born. The coincidence cuts like a knife.
2007: Android mobile operating system is unveiled by Google.
November 6
1814: Belgian-French instrument designer and inventor of the saxophone Adolphe Sax born.
1869: In New Brunswick, New Jersey, Rutgers College defeats Princeton University (then known as the College of New Jersey), 6–4, in the first official intercollegiate American football game.
1935: Edwin Armstrong presents his paper "A Method of Reducing Disturbances in Radio Signaling by a System of Frequency Modulation" to the New York section of the Institute of Radio Engineers—basically inventing FM radio.
1947: Meet the Press, the longest running television program in history, debuts.
1958: American actor, puppeteer, producer, comic, and screenwriter Trace Beaulieu (Mystery Science Theater 3000) born.
November 7
1665: The London Gazette, the oldest surviving journal, is first published.
1837: In Alton, Ill., abolitionist printer Elijah P. Lovejoy is shot dead by a mob while attempting to protect his printing shop from being destroyed a third time.
1874: A cartoon by Thomas Nast in Harper's Weekly is considered the first important use of an elephant as a symbol for the United States Republican Party.
1897: American director, producer, and screenwriter Herman J. Mankiewicz (Citizen Kane) born.
1913: French novelist, philosopher, journalist, and Nobel Prize laureate Albert Camus born.
1914: The first issue of The New Republic is published.
1929: The Museum of Modern Art opens to the public in New York City.
1943: Canadian singer-songwriter and guitarist Joni Mitchell born.
1967: U.S. President Lyndon B. Johnson signs the Public Broadcasting Act of 1967, establishing the Corporation for Public Broadcasting.
1994: WXYC, the student radio station of the University of North Carolina at Chapel Hill, provides the world's first internet radio broadcast.
November 8
1602: The Bodleian Library at the University of Oxford is opened to the public.
1847: Irish novelist Bram Stoker (Dracula) became undead born.
1898: Canadian-American actress and singer Marie Prevost born. (Despite the story in Kenneth Anger's Hollywood Babylon—and a song by Nick Lowe—Prevost did not end up being eaten by her dog.)
1918: German typographer and calligrapher Hermann Zapf born.
1972: HBO launches its programming, with the broadcast of the 1971 movie Sometimes a Great Notion, starring Paul Newman and Henry Fonda.
1973: The right ear of John Paul Getty III is delivered to a newspaper together with a ransom note, convincing his father to pay US$2.9 million
Anything catch your eye "around the Web"? Share it with us at [email protected].