Your Friday Watching Grass Grow
If you're teaching American Lit this semester and don't assign The Masque of the Red Death are you even doing your job?

— Joseph Darowski (@JDarowski) September 22, 2020
P(r)esto!
Earlier this month, we mentioned ZENB Veggie Snacks whose packaging contains plantable seeds, and our own Eric Vessels planted them. In our new Around the Web feature, "Basil Watch," we bring you this update: as if watching grass grow weren't exciting enough, up from the soil comes fresh basil.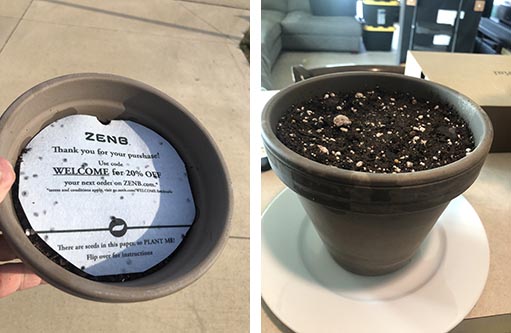 These Onions Today
My favourite, criminalized onions. pic.twitter.com/s3G6mh4GNj

— Duncan MacMaster: The Internet's Sweetheart (@FuriousDShow) September 19, 2020
Boiled Beef?
There is a bizarre yet intriguing crime wave happening in Canada. From The Guardian: "Police in Canada believe a sophisticated network of criminals is targeting transport trucks across the country, after seven hot tubs and C$230,000 (US$175,000) worth of beef were stolen in a brazen daylight theft."
Now that's a quarantine party.
What a Heel
I love this quote. https://t.co/o8HBixEd68

— Jonathan Coe (@jonathancoe) September 5, 2020
Silk Sensors
It seems every week there is some new development in the field of wearables. This week, silk-based inks can be used to create textile-based sensing devices. From Scientific American:
researchers at Tufts University's Silklab say their new silk-based inks can respond to, and quantify, the presence of chemicals on or around the body. Silk's ability to "act like a protective 'cocoon' for biological materials" means the necessary sensing and color-changing compounds can be added to the ink without losing their function, says Fiorenzo Omenetto, a biomedical engineer at Silklab and senior author of a new paper on the technology published in July in Advanced Materials.
Blending In
Good camouflage clothes are hard to find.

— Gary Delaney (@GaryDelaney) September 20, 2020
Stormy Weather
Says The Weather Channel: "Tropical Storm Beta Floods Houston Area; Standing Water Closes Interstate, Highways."
You think that's bad, wait until the tropical storm gets a stable release.
Grass Bubble
The covid lawnmower was 60 years ahead of its time. pic.twitter.com/EDXNsX0SUw

— Super 70s Sports (@Super70sSports) September 18, 2020
Postcards from the Edge
Postcards are quaint items these days, and even those of the "Having a wonderful time, wish you were here" variety have unfortunately been replaced by Instagram or Facebook posts. However, in the early 20th century, postcards were ubiquitous; indeed, they were kind of the text messages of their day, as people sent jokes, gossip, or other messages back and forth via postcards.
One vestige of this bygone era turned up a few weeks ago, where a postcard that was mailed in 1920 was delivered to a Michigan woman. Says CNN:
The card reads:
"Dear Cousins,
Hope this will find you all well. We are quite well but mother has awful lame knees. It is awful cold here. I just finished my history lesson and am going to bed pretty soon. My father is shaving and my mother is telling me your address. I will have to close for a night. Hope grandma and grandpa are well. Don't forget to write us - Roy get his pants fixed yet."
It was signed by Flossie Burgess.
Vital information, to be sure, but this was actually what postcards were used for back in the day—and we contend that they remain vastly superior to Facebook. (By the way postcard postage was 1¢ in 1920.)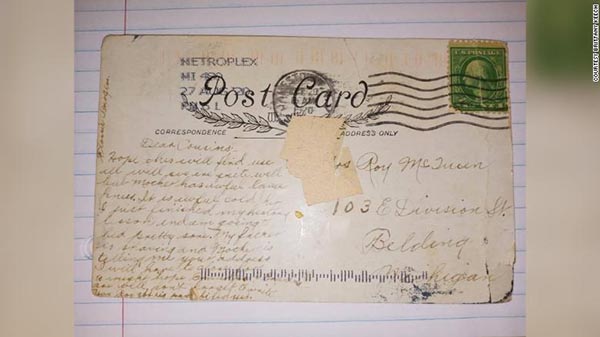 So what delayed the card?
A spokesperson for the Postal Service told CNN affiliate WXMI that "in most cases these incidents do not involve mail that had been lost in our network and later found. What we typically find is that old letters and postcards -- sometimes purchased at flea markets, antique shops and even online -- are re-entered into our system. The end result is what we do best -- as long as there is a deliverable address and postage, the card or letter gets delivered."
Foto Finished
While we're on the subject of old media (but then when aren't we?), how many of you remember Fotomat? Back in the 1970s, they were about as iconic as McDonald's Golden Arches. Fotomat was a chain of drive-up photo processing "huts" located predominantly in shopping plaza parking lots. If you had film that needed developing, and this was the heyday of the Kodak Instamatic camera (and way before digital photography, natch), you drove up and dropped your film off, it was sent to a photolab, and was usually ready the next day. Fotomat also sold film, but it was a pretty simple business model. At its height, there were 4,000 Fotomats in existence.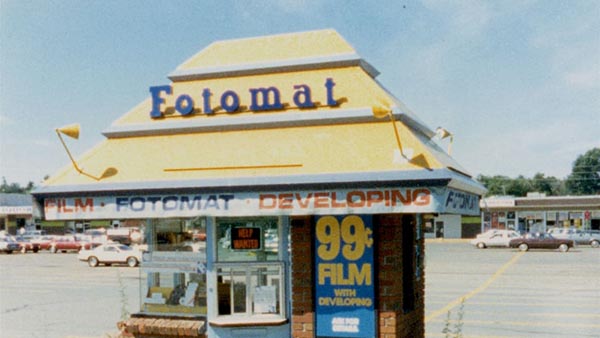 We recently came across a history of Fotomat at Mental Floss. Like McDonald's, the idea was thought up by one party but was acquired by someone with more business savvy who turned it into an American institution (for a time). In this case, wealthy aviator Preston Fleet took a simple idea and ran with it.
The concept of a kiosk where people could easily drop off and pick up film that would be ready overnight originated in Florida, where Charles Brown opened the first location in 1965. After buying Brown's stock shares and arranging for a royalty, Fleet and Graham founded the Fotomat Corporation in 1967, with Graham president and Fleet vice-president. The concept grew quickly, boasting 1800 sites in its first 18 months of operation.
From Fotomat employees' standpoint, it wasn't always a lot of fun. Given their location in often crowded parking lots, it was not unusual for cars to back or plow into the kiosks, employees had to adhere to a strict dress code (which unfortunately involved hot pants), and the huts had no bathrooms.
Alas, Fotomat was, as they say, a victim of its own success. Locations started to be built too close to each other, cannibalizing sales, while at the same time, drug stores and supermarkets started offering photo developing services. But the final death knell was the advent of one-hour photolabs. In the early 1980s, as a last-ditch effort, Fotomat tried getting into the then-burgeoning video rental market, but to no avail.
Fleet and Graham had sold their shares of the business some years earlier and got into all sorts of shady dealings. Fleet wrote a "Shakespeare denier" book, insisting that William Shakespeare wasn't the author of all those plays.
As for the Fotomat locations themselves: Following the company's collapse, many were repurposed into other businesses. Some became coffee shops; others morphed into watch repair kiosks, locksmith huts, windshield wiper dealers, or tailors. Presumably, none of the owners who took over mandated their employees wear hot pants.
Voice Wreck Ignition
When your transcription program turns "people have already moved beyond it" to "I mean nipples already binary"

— Abby Olena (@abbyolena) September 22, 2020
Or it turns "We're the biggest printer in the Southeast" into "We're the biggest predator in the Southeast."
Turned Off by the Television
If you're having trouble with your broadband going out abruptly and can't figure out why, make sure your neighbor doesn't have a really old TV, as the residents of a Welsh village discovered. Every morning at 7 a.m. precisely, the village of Aberhosan, Powys, lost its broadband. This went on for 18 months—even after all the cables were replaced. Finally, the problem was found. Says the BBC:
Engineers walked around the village with a monitor called a spectrum analyser to try to find any "electrical noise" to help pinpoint the problem.
"At 7am, like clockwork, it happened," said Mr Jones.
"Our device picked up a large burst of electrical interference in the village.
"It turned out that at 7am every morning the occupant would switch on their old TV which would, in turn, knock out broadband for the entire village."
The TV was found to be emitting a single high-level impulse noise (SHINE), which causes electrical interference in other devices.
Mr Jones said the problem has not returned since the fault was identified.
...
The embarrassed householder promised not to use the television again.
Happy Daze
That would be great. A character called Fontsy. He's always referring to fonts. His catchphrase is he shows the letter 'a' in a different font and then puts his thumbs up and goes "A!" https://t.co/PSRBfOM3pd

— Tim Vine (@RealTimVine) September 17, 2020
To Boldly (and Italically) Go Where No One Has Gone Before
If you're a fan of both science fiction and typography—and we know we are—one book you need to get is Typeset in the Future by Dave Addey, a deep dive into the typography and design of sci-fi movies and TV shows. It is based on his blog of the same name, and a post on Star Trek fonts caught our nerdular attention this week—in particular, a font inconsistency in the opening titles of the second and third season which we are embarrassed to admit some of us never noticed in how many decades of watching Star Trek:
The problem here is obvious, isn't it? Unlike the Es in "SHATNER" and "LEONARD," the ones in "DEFOREST KELLEY" have straight corners, not curved ones: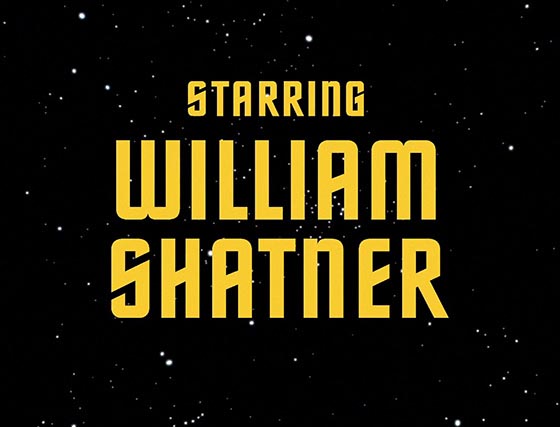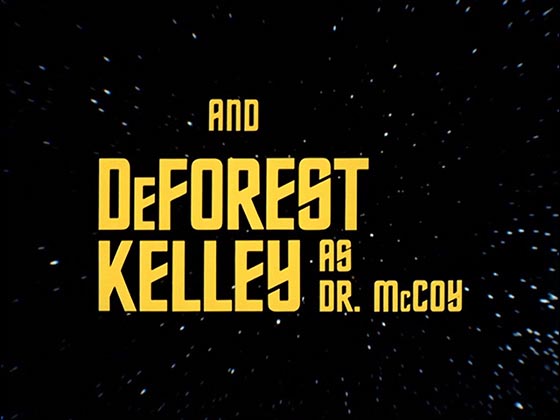 He also looks at the new Star Trek typeface created in 1977 for The Motion Picture (aka The Motionless Picture) and the return of the 60s typeface when the J.J. Abrams reboot films were made in the 2000s, adding:
If you've ever doubted the power of type to aid recognition, note that the teaser poster for Star Trek Beyond features the word "BEYOND" in metallic, beveled, extruded Star Trek, without feeling the need to add the actual words "STAR" or "TREK." The presence of the Enterprise and the use of an iconic font were deemed more than sufficient to identify the franchise. (Although it would have worked far more effectively if they'd remembered to curve the E.)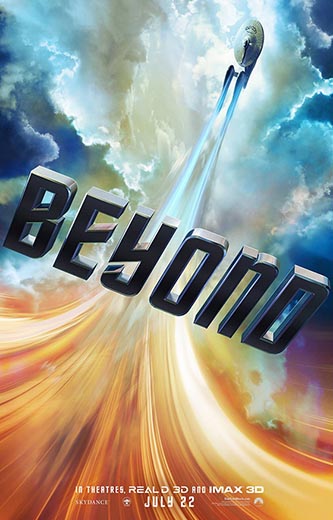 Rocky Mountain High
One burning question we know you have long had is: what is the best time zone to live in? For those who like to get an early jump on the day before others are stirring (or emailing or Slacking), Eastern Time is ideal. (By the way, we contend that "Sweet Home Alabama" would be a much more valuable song if the lyrics mentioned that Alabama was on Central Time.)
An argument could be made—and in fact has been—that Mountain Time is the best of all possible time zones.
Returning to Mountain time doesn't just mean turning my watch back: It means calving myself free of the schedules that set the nation's agenda; it means a more humane relationship to the passing of the hours.
...
For the rest of the country, the fact that people actually live there seems somewhat inexplicable — especially when they find themselves in the improbable position of placing a call to Denver or Salt Lake City. "Wait," these coastal suits are forced to ask their assistants, "what time is it there again?" Whenever I'm back home, I delight in being slightly askew from the daily rhythms of white-collar productivity — two hours behind New York, one ahead of San Francisco — and how that translates into a feeling of freedom from the liabilities of membership in civil society.
We think this is about more than the time zone.
Still, We Bet it Was Worth It
Video: Detroit driver arrested after successfully jumping over drawbridge https://t.co/4CsQdVK2X9

— philip lewis (@Phil_Lewis_) September 19, 2020
Route of All Evel
For those of us who were kids in the 1970s, no hero loomed larger than Evel Knievel, the gaudily dressed daredevil who put Snake River Canyon on the map, and for whom jumping a drawbridge would have been child's play. And some of us, in the days before video games (and after we wiped out trying to jump various items on our bikes) recall having hours of fun with the Evel Knievel Stunt Cycle—which, gloriosky!, has recently been revamped and re-released.
The Evel Knievel Stunt Cycle creates so much force that it can jump a ramp anywhere between 3'-10'. In some extreme cases, we've seen 15' with modifications to the stunt bike.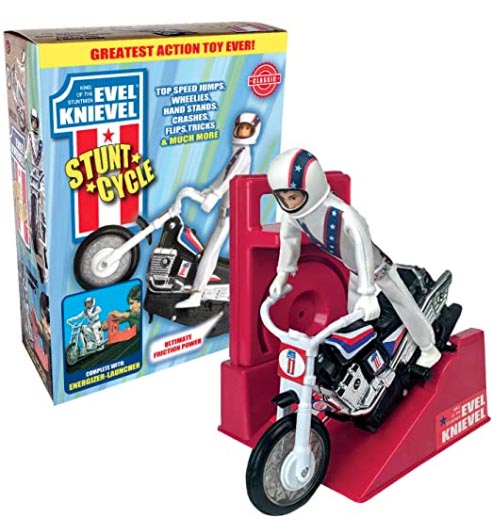 It doesn't even need batteries.
Bird Brained
This has made me laugh far more than it should. pic.twitter.com/CITtwFLshM

— Kate Prior (@doctorwibble) September 21, 2020
Nut Bar
During lockdown, it's good to have a little hobby or activity to keep you occupied. You know—jigsaw puzzles, home repair, constructing an elaborate outdoor bar for squirrels. It's good to— Wait...what? Well, yes. Says CNN: "'The Nutty Bar,' which is attached to his backyard fence in Hilliard, looks just like a real bar, and even has a range of nuts on tap....Lucky squirrels who find their way to the bar get to choose from seven different nuts named after beers: Cashew Dunkel, Peanut Pilsner, Almond Ale, Walnut Stout, Sunflower Saison, Pecan Porter and Pistachio Pale Ale."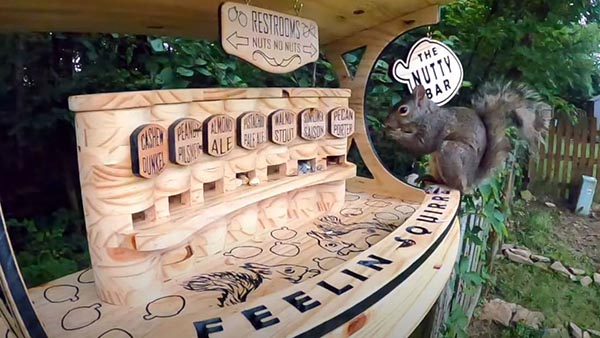 Actually, it's not as nutty (as it were) as it sounds:
Dutko said he built it to help his neighbor with her bird-watching hobby.
"The whole reason I even started to make this is because my neighbor bird watches with her daughter and told me all of the squirrels keep getting in her way," Dutko told CNN. "I didn't even tell her what I was going to do, I just built it and put it back there and when she saw it, she just started cracking up."
Ah, but what kind of bar snacks do you serve with nuts? Of course: Nut Beers.
What's In a Name
Only one way to find out. https://t.co/0LxFu1lhbG

— Richard Osman (@richardosman) September 14, 2020
Poll Dancing
As a public service, and as Election Day approaches, we remind you that wearing politically charged apparel is a violation of electioneering laws. Our New Hampshire correspondent and Mount Monadnock Media Maven points to one consequence of wearing inappropriate apparel to one's polling place. Via the New Hampshire Union Leader, meet the "Topless Voter."
The woman, who ripped off her T-shirt after objections that it was too political to wear inside the Exeter polls, said she has no regrets.
When told she would have to remove it to vote, that's exactly what she did.
The story adds that she was braless.
She said she kept on her mask because removing it would have been "unhealthy."
"The mask stayed on, as did my pants and my shoes," she said.
Whew!
This Week in Printing, Publishing, and Media History
September 21
1937: J. R. R. Tolkien's The Hobbit is published.
1866: English novelist, historian, and critic H. G. Wells born.
1947: American author and screenwriter Stephen King born.
September 22
1789: The office of United States Postmaster General is established.
1888: The first issue of National Geographic magazine is published.
1991: The Dead Sea Scrolls are made available to the public for the first time by the Huntington Library.
September 23
1911: Pilot Earle Ovington makes the first official airmail delivery in America under the authority of the United States Post Office Department.
1889: American journalist, publisher, and co-founder of The New Republic Walter Lippmann born.
1889: Nintendo Koppai (later Nintendo Company, Limited) is founded by Fusajiro Yamauchi to produce and market the playing card game Hanafuda.
1909: The novel Le Fantôme de l'Opéra (The Phantom of the Opera), by Gaston Leroux, is published as a serialization in Le Gaulois.
1926: American saxophonist and composer John Coltrane born.
1930: American singer-songwriter, pianist, and actor Ray Charles born.
1949: American singer-songwriter and guitarist Bruce Springsteen born.
Wow—what a day for musical births!
1962: The Lincoln Center for the Performing Arts opens in New York City.
The one part of the future they never imagined was the "Skip Intro" button. https://t.co/QH1BJUOkf5

— J. Elvis Weinstein (@JElvisWeinstein) September 23, 2020
2002: The first public version of the web browser Mozilla Firefox ("Phoenix 0.1") is released.
September 24
1852: The first airship powered by (a steam) engine, created by Henri Giffard, travels 17 miles (27 km) from Paris to Trappes.
1896: American novelist and short story writer F. Scott Fitzgerald born.
1906: U.S. President Theodore Roosevelt proclaims Devils Tower in Wyoming as the nation's first National Monument. (The aliens would arrive 71 years later.)
1936: Muppet creator Jim Henson born.
September 25
1690: Publick Occurrences Both Forreign and Domestick, the first newspaper to appear in the Americas, is published for the first and only time.
1897: American novelist, short story writer, and Nobel Prize laureate William Faulkner born.
1906: Leonardo Torres y Quevedo demonstrates the Telekino, guiding a boat from the shore, in what is considered to be the first use of a remote control.
1912: Columbia University Graduate School of Journalism is founded in New York City.
1929: English actor and screenwriter Ronnie Barker born.
1951: American actor and producer Mark Hamill born.
Star Wars theme https://t.co/kDFfXSOsYQ

— Carl Newman (@ACNewman) September 16, 2020
1956: TAT-1, the first submarine transatlantic telephone cable system, is inaugurated.
September 26
1888: Poet, playwright, critic, and Nobel Prize laureate T. S. Eliot born, not with a bang, but a whimper.
1905: Albert Einstein publishes the third of his Annus Mirabilis papers, introducing the special theory of relativity.
1910: Indian journalist Swadeshabhimani Ramakrishna Pillai is arrested after publishing criticism of the government of Travancore and is exiled.
1969: Abbey Road, the last recorded album by The Beatles, is released.
1973: Concorde makes its first non-stop crossing of the Atlantic in record-breaking time.
September 27
1825: The world's first public railway to use steam locomotives, the Stockton and Darlington Railway, is ceremonially opened.
1840: Iconic cartoonist Thomas Nast born.
1962: Rachel Carson's Silent Spring is published, inspiring an environmental movement and the creation of the U.S. Environmental Protection Agency.
1998: The Google internet search engine retroactively claims this date as its birthday.
Anything catch your eye "around the Web"? Share it with us at [email protected].