Your Friday Moment of Serenity
Is it September already? Man, if feels like Memorial Day was only a few years ago.

— Frank Conniff (@FrankConniff) September 1, 2020
Love Letters
A typography-based love story from the Museum of Printing. From the Boston Globe:
John Adriance proposed to his typography-loving girlfriend, Daniela German-George, after concocting the perfect plan to surprise her with help from the Museum of Printing in Haverhill.

German-George, a senior Lesley University graphic design student from Lowell, shared her love for the museum with Adriance after she visited with her class in 2016. By combining her passion for typography, their special language of sharing love letters, and one special night, he asked the museum to help him plan the moment they would never forget.

Understanding that his fiancée-to-be would prefer a more intimate experience, Adriance, who lives in East Hampstead, N.H., scheduled a private showing, reserving the museum for two hours on the evening of Aug. 13. Museum President Frank Romano was happy to oblige.
Added the Museum:
"The Museum was happy to assist John in orchestrating this memory as they start down the road sharing their lives together," said the museum in a statement. "This was the first time that the Museum of Printing … had been used for such a romantic purpose."
The couple has yet to set a date, but are looking at August 2021.
A Bit Tacky Though
Typographic tombstone pic.twitter.com/9uEzWNPLs8

— Face37 | F37 Foundry (@_Face37) August 31, 2020
When I Type My Masterpiece
Meet James Cook, a "typewriter artist."
This is vol. 2 of the production of my typewriter art from various scenes around the Essex countryside in the summer of 2020. The three "typicitions" were drawn from observation at the historic Layer Marney Tower, Tollesbury Marina and Thaxted Parish Church. These drawings were typed on my 73" Silverreed 200 and I managed to get through a couple of ribbons on these pieces of work!
Keeping Tabs
What keeping 30 tabs open in your browser looked like in the Renaissance.

[Le diverse et artificiose machine del capitano Agostino Ramelli. Agostino Ramelli. 1588. Wing folio ZP 539 .R143] #bookwheel #earlymodern #renaissance #italy #reading pic.twitter.com/K5eaxqZGQN

— Newberry Library (@NewberryLibrary) September 2, 2020
Ecosensor
Sustainability, active climate control, exquisite touch, and extreme performance co-habiting in a single fabric? Too good to be true? Not according to Asahi Kasei, who has launched ECOSENSOR™, a 100% recycled polyamide fabric the company claims lives up to its heritage of sustainability.
Same as it Ever Was
There is water at the bottom of the ocean. https://t.co/D942yqVfuQ

— Michael McKean (@MJMcKean) August 31, 2020
It's Alive!
Says CNN: "Canadian-Iranian designer Roya Aghighi wants you to imagine that your shirt is alive." Well, go long enough without washing it and you won't need to imagine it. We continue.
Working with a group of scientists at the University of British Columbia (UBC), she has invented a living, biodegradable fabric named Biogarmentry. Made from algae, the biofabricated textile photosynthesizes, which purifies the air around it.
UBC claims it's the first living and photosynthesizing textile, and has fashioned the material into a sheer, cloak-like garment. While prototypes like these are still in the early stages of research and design, and far from mass production, they challenge the fashion industry to reimagine ways it can reduce its colossal carbon footprint through alternative fabrics.
Sorry, Wrong Portland
This website pic.twitter.com/7BKccH6qFk

— Portland Press Herald (@PressHerald) September 1, 2020
Clickable Paper
No, not Ricoh's AR technology for printed materials, but actual interactive, clickable paper. Says Gizmodo:
Engineers at Purdue University have created a printing process by which you can coat paper or cardboard with "highly fluorinated molecules." This then makes the coated paper dust, oil, and water-repellent, meaning you can then print multiple circuit layers onto the paper without smudging the ink. According to a paper the engineers published in Nano Energy, these "triboelectric areas" are then capable of "self-powered Bluetooth wireless communication." That's science-speak to say that paper printed and coated in this way doesn't require external batteries as it generates electricity from contact with a user's finger.
A killer app for this would be so-called "smart packaging," since the process would work on paper and paperboard.
Purdue's innovation is particularly interesting as it eliminates the need for external power sources, which makes applications like smart packaging less theoretical. That said, it'll probably be a while before you can print your own paper Bluetooth keyboard.
No Whey
If enough people eat cottage cheese we can achieve curd immunity.

— J. Elvis Weinstein (@JElvisWeinstein) August 31, 2020
Cabin Fever
Do you miss the experience of a long-haul flight whilst sitting in coach? No, nor do we, not by any stretch of the imagination. But for those who do, there is a new game called Airplane Mode that is cheekily billed as "the only flight simulation game where players can experience the intense excitement of being an economy class passenger on a long-haul flight."
It was developed by New York-based game developer Hosoji Auji and is being published by AMC Games. Says CNN:
Though the game isn't expected to be released until later this year, there's a trailer offering a taste of what players can expect. It kicks off with one of the more annoying things about flying most of us have experienced.
The player is watching an inflight movie when the pilot disrupts the show with a long-winded announcement over the PA system. Then, passengers experience random mishaps ranging from turbulence and delays to bad Wi-Fi.
The good news? "Crying baby not guaranteed on every flight."
School for Cats
Lil girl teaching her cats how to draw a flower pic.twitter.com/us767Hg0LQ

— Welcome To Nature (@welcomet0nature) September 1, 2020
Final Course
In our Friday data feature, we look at retail sales, which are up, despite the fact that major retailers have been declaring bankruptcy in droves. In a related article at Yahoo! Finance, major restaurant chains have also been declaring bankruptcy.
There have now been nine bankruptcies of outright restaurant chains or operators of franchises since early April (graphic below). With each month that has passed, the filings have become prominent as restaurants struggle with weak traffic after being allowed to reopen by states, piles of debt and sky-high rent. Besides California Pizza Kitchen, the other two high-profile names include children's fun house Chuck E. Cheese and Wendy's and Pizza Hut franchisee NPC International.
A scary chart: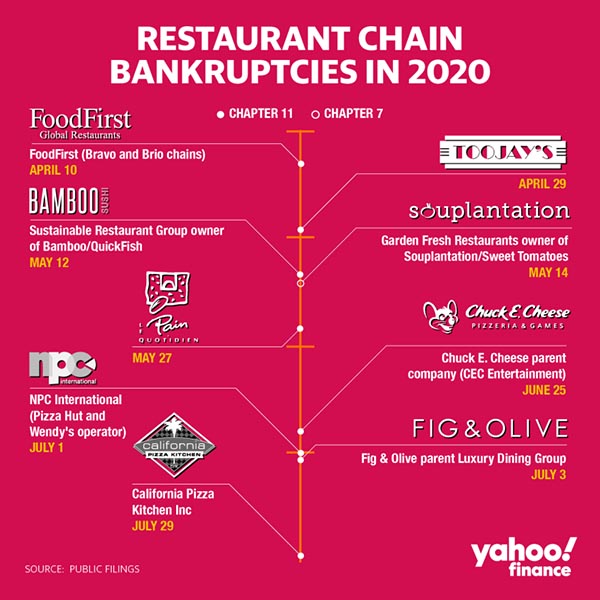 We mourn Souplantation. California Pizza Kitchen...not so much.
Bear In Mind
Explaining genetics through gummybears pic.twitter.com/vdO4jga26e

— Jay Van Bavel (@jayvanbavel) August 28, 2020
Tech Adoptions
Over at The Big Picture, Barry Ritholtz passes along a cool chart from Our World in Data that tracks the adoption rate of a wide variety of technologies—or how quickly they go from being disruptive to being essentially invisible, or at least taken for granted. It ultimately shows how the rate of adoption has been accelerating. For example, "[i]t took nearly a century for the flush toilet to approach 80% household penetration. Electricity took 30 years to get to 80%; Refrigerators 20 years; cell phones 15 years; Social media 12 years."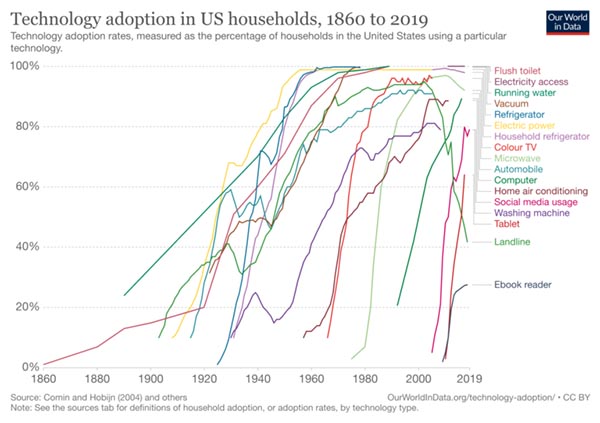 These new technologies represent not a small incremental move forward, but a wholesale stampede into a brave new and different world. Usually better, occasionally not — I am looking at you, Facebook — but still a world that would be unrecognizable to someone from just 30 years ago.
Missed the Point
You can't have been on twitter for very long ?? it's literally the whole website https://t.co/zwCfUcdu7K

— Jason Manford (@JasonManford) August 30, 2020
Putting Your Life on the Line
More and more municipalities are adding dedicated bike lanes as well as electric vehicle charging stations, and both are welcome. However, on one particular stretch of road in Los Angeles, they installed both—and either no one thought it through properly, or they really hate bicyclists. From Core77: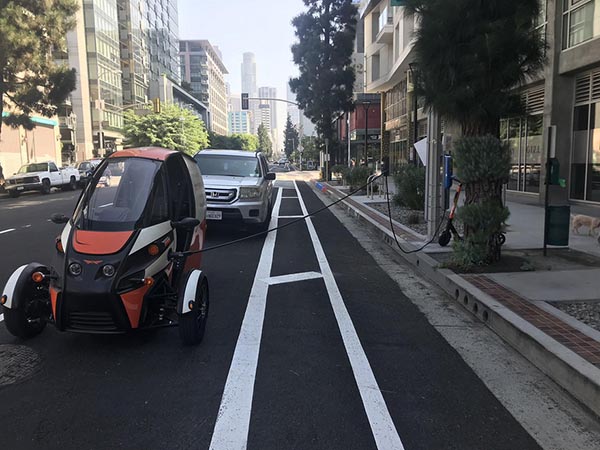 Garroted and electrocuted—a twofer!
They Needed a Study?
this must be because of our nostrils https://t.co/aGjArFHhMI

— Emo Philips (@EmoPhilips) August 25, 2020
No. Just No.
"Anti-procrastination smart glasses"? Really? (We'd be inclined to say this is a sign of the coming Apocalypse, but we've had no shortage of those this year.) Anyway, says The Verge:
The difficulty of staying focused in an age of distractions is one of those annoyingly accurate cliches. (I checked my phone three times just writing this paragraph.) But a startup named Auctify has what it claims is the solution: smart glasses that use AI to monitor what you're looking at and nudge you to pay attention. Depending on your worldview, it's the product of your dreams or a productivity-hacking nightmare.
The glasses are called Specs, and they launch today on Indiegogo. The premise is simple: a camera built into the frame of Specs uses machine learning to identify what you're looking at, whether that's a laptop, book, or a fellow human being. It records this data and sends it to a connected app where users can take action in a number of ways.
We'll refrain from making the obvious joke (for a change).
Rye Comment
Right, because all bread is digital now. https://t.co/RRG6xsQTSa

— Michael McKean (@MJMcKean) September 3, 2020
Vegan Bars
Looking for a healthy snack? Why not try ZENB Veggie Snacks? "The bars taste like vegan food that is good for you." Their mission is not only to promote healthy snacking, but also to help reduce food waste:
through the use of more of the whole vegetable — including the core, peel, seeds, and stem — our snacks are providing an easier way to eat veggies while also promoting food waste reduction
The packaging is also embedded with seeds—just plant it in the ground and grow your own herbs.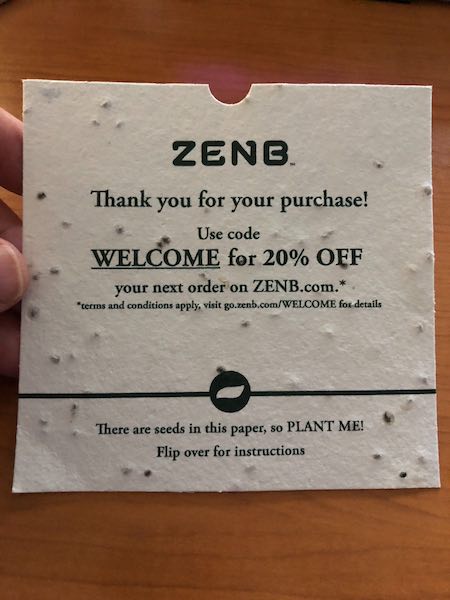 Vegan Bats
We're not sure this is the best year for this, but at least they'd be appropriate if Ozzy Osbourne came trick-or-treating to your house.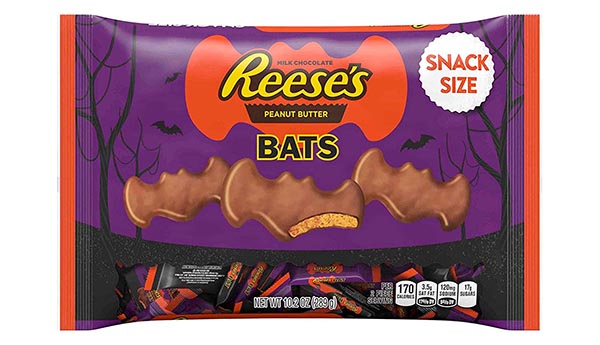 Make sure to bite the head off first.
Old Age Home Alone
Hey guys, wanna feel old?

I'm 40.

You're welcome.

— Macaulay Culkin (@IncredibleCulk) August 26, 2020
This Week in Printing, Publishing, and Media History
August 31
1895: German Count Ferdinand von Zeppelin patents his navigable balloon. It went over like a...well, actually it went over rather well (for a bit).
1897: Thomas Edison patents the Kinetoscope, the first movie projector.
1944: English illustrator Roger Dean born.
September 1
1878: Emma Nutt becomes the world's first female telephone operator when she is recruited by Alexander Graham Bell to the Boston Telephone Dispatch Company. (Appropriately, Lily Tomlin was born on this same day in 1939. The over-50-year-olds out there will get the connection.)
September 2
1752: Great Britain, along with its overseas possessions, adopts the Gregorian calendar.
1963: The CBS Evening News becomes U.S. network television's first half-hour weeknight news broadcast, when the show is lengthened from 15 to 30 minutes.
September 3
1802: William Wordsworth composes the sonnet "Composed upon Westminster Bridge, September 3, 1802."
1967: Dagen H in Sweden: Traffic changes from driving on the left to driving on the right overnight.
September 4
1888: George Eastman registers the trademark "Kodak" and receives a patent for his camera that uses roll film.
1908: American novelist, short story writer, essayist, and poet Richard Wright born.
1951: The first live transcontinental television broadcast takes place in San Francisco, from the Japanese Peace Treaty Conference.
1972: The Price Is Right premieres on CBS. As of 2019, it is the longest running game show on American television.
1998: Google is founded by Larry Page and Sergey Brin, two students at Stanford University.
September 5
1977: NASA launches the Voyager 1 spacecraft. Voyager 1 (like the other voyager probes) contained what was called the "Golden Record," a gold-plated audio-visual disc that contains photos of the Earth and its lifeforms, scientific information, spoken greetings from people such as the Secretary-General of the United Nations and the President of the United States, a medley of "Sounds of Earth" (the sounds of whales, a baby crying, and waves breaking on a shore, in case aliens are into New Age music), and a collection of musical works by Mozart, Blind Willie Johnson, Chuck Berry, and Valya Balkanska. In 2013, Voyager 1 became the first manmade object to leave the Solar System.
1929: American comedian and actor Bob Newhart born, who did more for the telephone than Alexander Graham Bell.
1945 (not the Year of the Cat): Scottish singer-songwriter and guitarist Al Stewart born.
1946: Tanzanian-English singer-songwriter and producer Freddie Mercury born.
September 6
1642: England's Parliament bans public stage-plays.
1928: American novelist and philosopher Robert M. Pirsig (Zen and the Art of Motorcycle Maintenance) born.
1943: English singer-songwriter and bass player Roger Waters born.