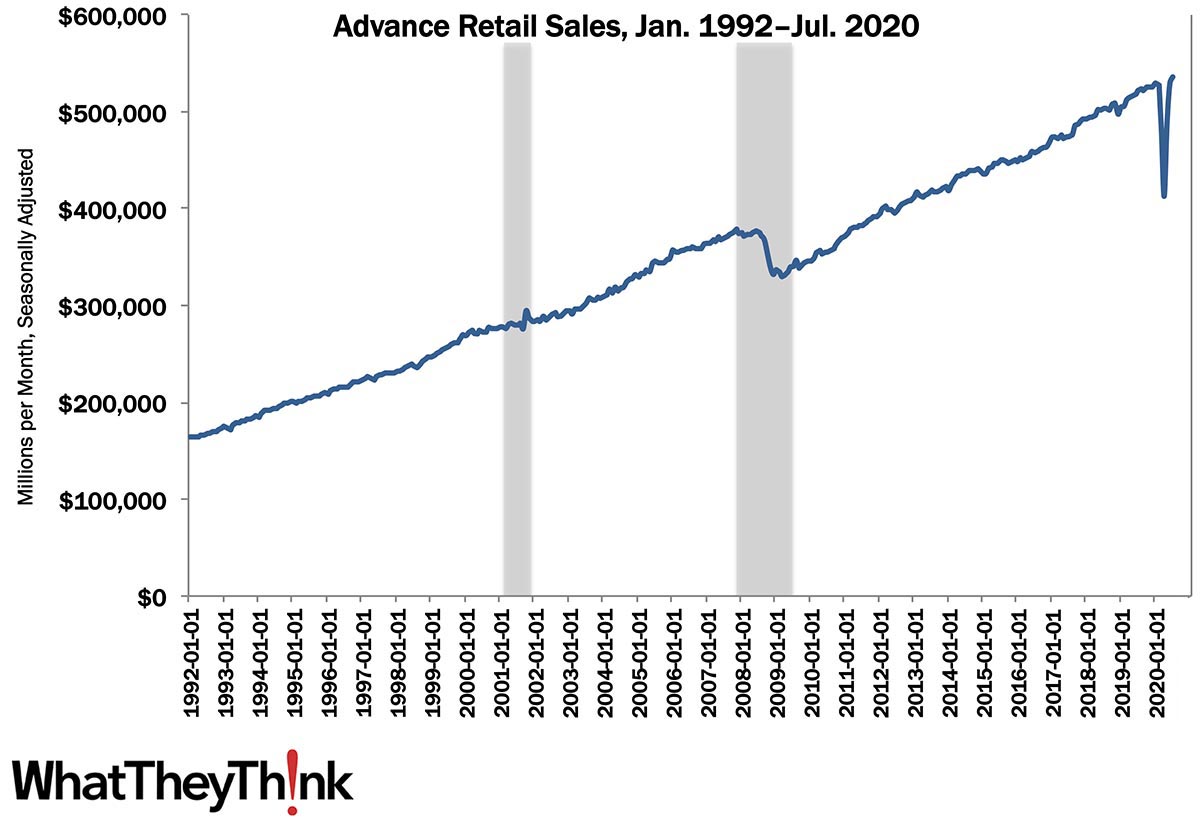 Source: Census Bureau. Shaded areas indicate recessions.
The Census Bureau recently released its monthly report on retail sales, and after a dramatic plummeting in April, July retail sales were $536.0 billion, up 1.2% from June (seasonally adjusted), and 2.7% above July 2019. If you back out gasoline, retail sales were up 0.9% in July.
So it looks like retail sales are experiencing a "V-shaped" recovery, although we note that not everyone is a fan of using letters to represent economic trends. Writes Barry Ritholtz at Bloomberg:
it was wrong to dumb down something as intricate as the economy to a letter of the alphabet or some other symbol. The correct thing to do was to use prior recoveries as an historical guide while acknowledging our inability to accurately forecast the future. Why, we could even add numbers to those words, explaining probabilistic assessments and possible future outcomes that are so superior to predictions!
Still, he goes on to add that perhaps—and this doesn't just apply to retail sales but the economy in general—we are experiencing a K-shaped recovery:
This description of the economy fairly captures the two separate paths of the recovery. The line heading upward symbolizes those parts of the economy that have benefited from pandemic: Technology (Apple Inc., Alphabet Inc., Microsoft Corp.), general merchandise retailers (Target, Walmart), entertainment (Netflix Inc., Walt Disney Co., YouTube), Biotech and Pharmaceuticals (Moderna Inc., Johnson & Johnson & Johnson, Merck & Co., Pfizer Inc., AstraZeneca PLC) work from home firms (Slack Technologies Inc., Zoom Video Communications Inc.) and online retailers (Amazon.com Inc., Shopify Inc.).
The line heading downward symbolizes, well, pretty much everyone else.
K, then.
The retail sales data seem to paint a rosier picture than may be warranted. The notion of a "retail apocalypse" has been discussed for the past several years and as recently as last January (before...you know) Forbes asked "Is the retail apocalypse over?" (Spoiler alert: no.) The last six months (and has it only been six months?!) have only accelerated trends in retail that were set in motion some time ago, and a recent story at Yahoo! Finance sums up some high-profile bankruptcies: "It's getting outright ugly in retail ahead of the critical fall shopping season." The chart they included was a little scary: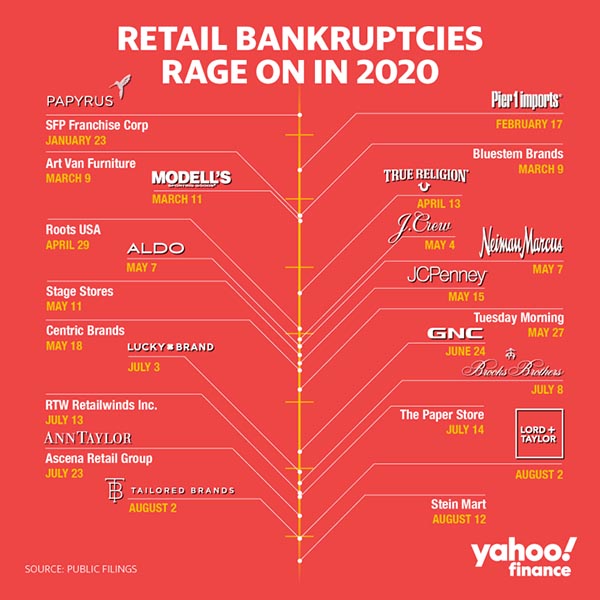 (Back-to-school shopping was always a major fall event, but this year no one is sure what to expect.)
Of course, retail's woes are not solely due to the pandemic; again, retail has been on the ropes for years and the pandemic has only accelerated its demise. We dwell on retail because it is a substantial print-buying segment, and print businesses that predominantly serve the retail market will experience a trickle-down effect. Still, not all retail is such dire straits. Grocery stores, general purpose big box stores like Walmart and Target, home improvement stores like Home Depot and Lowes, and a few others have been essential businesses and often upsettingly crowded. And, of course, there is Amazon.
Even among the retail stores that have survived, certain parts of the "customer experience" have changed. Curbside pickup has proven to be popular (order and pay online, then swoop in and pick up in person)—and that may, like other trends, outlive the pandemic. This will negatively impact the need for things like interior graphics, but create more demand for exterior graphics.
And then, if you want to talk about the pandemic accelerating a trend that was already in motion, look at e-commerce as a percentage of retail: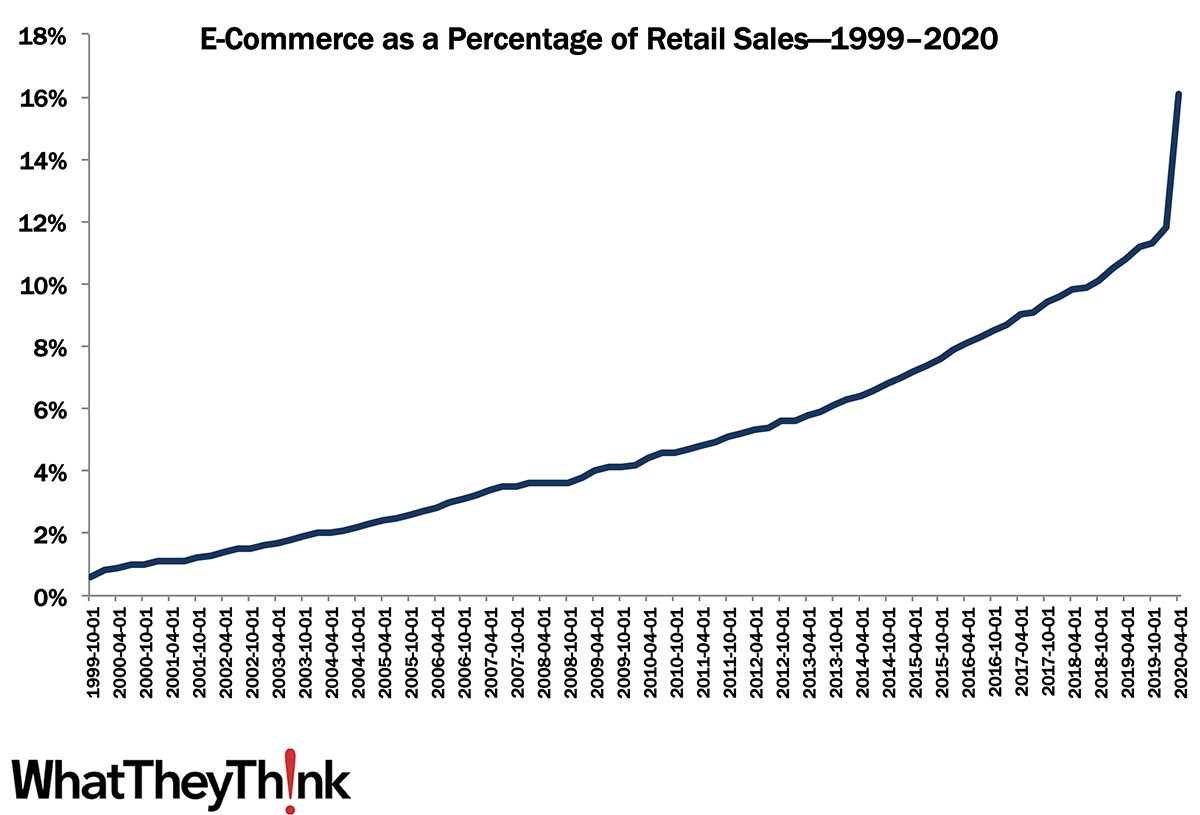 Source: Census Bureau
And that was only through the end of Q2!
So it's worth keeping an eye on retail trends.