Between quarantine and travel risks, it is difficult to plan big vacations or holidays. Instead, people are opting to stay local. Recently, we were able to spend a few days in Western Massachusetts and get back to nature. With social distancing in mind, we went to restaurants and a brewery. I was inspired by how restaurants are reimagining the dining experience and using QR codes to engage with customers.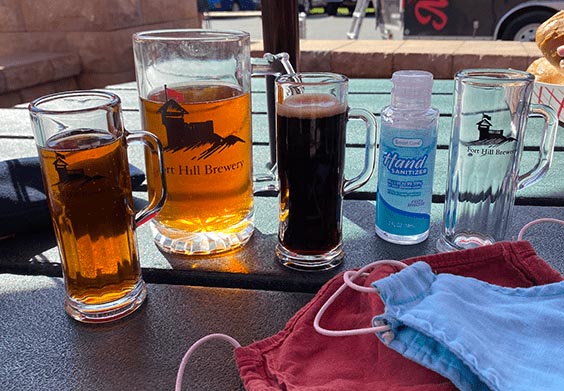 Between quarantine and travel risks, it is difficult to plan big vacations or holidays.
QR Codes Make a Comeback
Many designers are familiar with QR codes, which have been around for a while. These little block types of bar codes are found on everything from bottles, packaging, computer parts, and much more. Inspired by board games, and developed in 1994, QR codes have been around for a while but never took off as a consumer-facing tool.
Years ago, you needed a particular app to look up the QR code. It became just one more app people had to download on their limited size phones. Technology has caught up, and today you don't require a particular app or any extra steps. The QR code can be used easily with one hand. Easy peasy!
QR Codes as Menus
In Massachusetts (like in many other states), restaurants need to provide patrons with a single-use menu. This can be challenging for business owners and add to printing costs. Most restaurants use laminated menus that they can easily wipe down. Other restaurants like Island Creek Oysters have beautiful menus printed on offset that they can push through their on-site printer to fill in the days' specials creating an elegant singular experience.
On my recent travels, I saw many restaurants utilize QR codes as a way to limit or eliminate paper menus.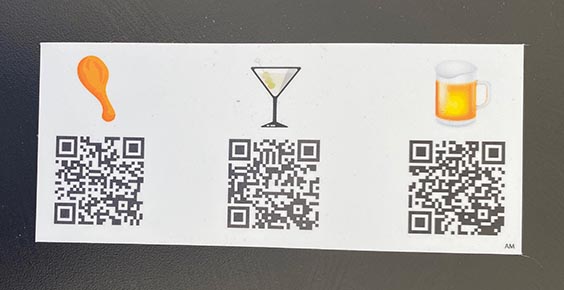 Three QR Codes from Hangar Pub—each takes you to a different website, including their Untapped beer list.
We visited the Hangar Pub & Grill in Amherst, which, by the way, has great wings and beer. Like most restaurants, outdoor seating is not their standard setup, but at the end of the table was a sticker with three icons and QR cards.
Open up your mobile, and either hover over it with a camera, and you can see the codes light up and show three links. One link took me to their website menu. The menu page is a standard PDF; it would have been better though with a clean scroll in one direction, but it was easy enough to navigate. The second link took me to their cocktail menu—the same type of PDF and moving about on the screen experience.
The third QR code took me to their beer menu. Now, this is where it gets interesting. Beers change seasonally, and my husband loves beer so much he tracks it with an app called Untapped. Instead of showing another PDF, the QR code linked to the restaurant's Untapped account, showing what seasonal beers they offered. You could read about the beers and my husband could select his beer and record it in the app.
We also visited the Yarde Tavern. They were not as sophisticated with the stickers but had a QR printed for each table to access the menu. The overall experience did not have the slickness that Hangar had, but it was easy to see the menu. More and more people will expect a seamless QR experience as part of the dining experience. It's about engaging and supporting the restaurant clients' needs.
I recently did a webinar on "Strategy Planning Best Practices: How to Address in COVID Times." In it, I gave examples of how COVID-19 has changed the consumer's experience. In 2019, 60% of US consumers stated they had "no need" for touchless pay and preferred the traditional payment method. People in the US simply did not see value in touchless payment systems. Since COVID, touchless pay is up over 20%. Today 46% of consumers use touchless payment systems, and if you are under 35, it is over 50%. This is the last piece of the puzzle. The Hangar and the Yarde could have an additional QR code that would allow me to pay online and have that touch-less experience.
These are the basics, but we can think bigger and have some fun.
Distancing Dots
Distancing Dots are the circles you see on floors of checkouts and stores. They mark the six-foot distance recommended by the CDC. There is nothing stopping companies and restaurants from putting the QR codes on those too. I could be standing in the queue, scan a QR code, and have it take me to a video message from the owner or chef on how to make a signature dish, or a video of the employees saying thank you for your patronage, or videos on next week's specials. The videos would keep customers engaged and provide a hook to keep customers coming back.
Cashdesk is a restaurant app that leverages QR codes. They offer end-to-end QR codes and a touch-less experience. There are other solutions too, like Quickorders, and more.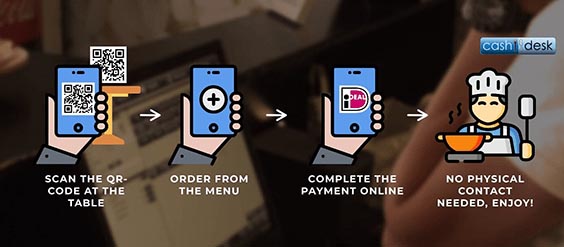 The Benefits of QR Codes During COVID
While QR codes have been slow to take off in consumer applications, they now offer a lot of benefits to both businesses and customers. They:
Reduce communication errors—the patron orders him- or herself, which helps operational efficiencies.
Engage patrons with other activities—"sign up for a newsletter," e.g.
Support Social Distancing—demonstrating concern for patrons' well-being.
Support touchless payments—reducing any physical contact with staff and providing a quick payment option. Plus, this helps turn over tables faster for the restaurant (and allows more time for cleaning).
Remember, just because you use QR codes does not mean patrons don't support the staff. The same features restaurants use, buy the back a beer, or tip your bartender or waiter, or line items that can be added to the system. The displays can ask how well the experience was and recommend a tip based on that experience (doing the calculations too).
Even if your business is at half dining capacity, that same QR code can help with curbside pickup. Add a small sticker to the bag, taking the reader to Yelp! to post a review. The goal is to simplify the experience and help your customers get there.
Bringing It Full Circle
QR codes can be used in many different ways by restaurants and other small businesses. If someone visits your business and signs up for a newsletter or discount, a quick, personalized postcard can be sent to the patron. On the postcard could be a QR code that takes them to next week's special and a link to reserve a table or use a QR code to create a coupon or raffle with a discount or a prize.
The examples I gave focus on restaurants, but the same ideas apply to hotels, cafés, and other hospitality businesses. Businesses have to balance the new world of COVID regulations with survival. Creating an engaging way to interact with patrons on-site or afterward sounds like a small thing, but these are hooks to keep your customers coming back.
This article was provided by Colorkarma. Colorkarma focuses on design for execution by bringing together unique perspectives on design and manufacturing to ensure a smooth execution on your creative vision the first time. Our mission is to be the leading resource for the creative community providing educational content, industry news, design tips, and best practice advice from industry leaders. More info at Colorkarma.com.