Not now, mural. pic.twitter.com/RLMJ7yG6wN

— Josh Gondelman (@joshgondelman) July 29, 2020
Farewell, Folio:
The venerable Folio: magazine has succumbed to the times. BoSacks eulogizes one of the publishing greats—and points out the COVID was only a small part of the problem.
Part of the answer for FOLIO: was vendor consolidation. In the mid-2000s many companies were spending serious dollars with FOLIO:, and there were in those days dozens of printers trying to reach the print publishing industry. That revenue stream went from lucrative to zero almost overnight. Other sectors of the industry also dropped out of sight. Gone were the fulfillment companies, telemarketing companies, and investment banks. Gone too was the revenue from the many reprint companies. Add to that the shrinking number of media companies. Years of magazine closures and layoffs left fewer brands and fewer people to enter the awards business and attend their events.

It is all a reflection of the realignment of the content distribution business formally known as publishing.
Still, the world keeps spinning 'round.
What does it mean? Everything and nothing, is my answer. The world will go on, and the publishing industry will go on too. Eventually new organizations and new trade publishers will grow and arise from the ashes of the old publishing community. You've heard me say a dozen times that entrepreneurs hate a vacuum. When the dust settles, there will be a huge trade vacuum that needs filling.
This is the Only One of These We're Doing
I have a joke about the structurally iridescent colour of ????????????????????????????????
berries, but it's a bit polarising. pic.twitter.com/ZFwrKCl8lG

— Alice Campbell Davis (@alicescrambled) July 25, 2020
Bobble Bath
Looking for a unique, personalized gift to give for a birthday, Christmas, or just some random occasion? No, nor were we. But if you are, why not try a handmade personalized bobblehead?
They are ageless mini caricature sculptures that can suit any occasion or any theme. They are hand-crafted works of art in the likeness of any bride and groom, friend, co-worker or family member. Choose from over 1,000 poses, give this one-of-a-kind gift today, and rest assured that you will be remembered forever!
Not fondly, but remembered.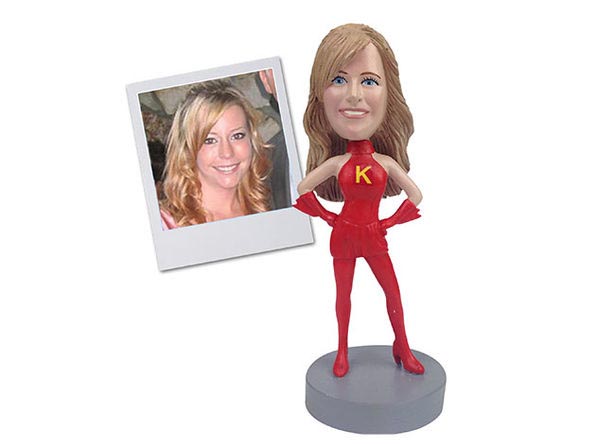 Those Were the Days
Just seen an advert with the tagline 'Experience Coconut Hydration'. Imagine what we'd have thought if someone had said that in 1982. See also 'I've dropped my phone in the toilet'. #ThingsWeDidntSayIn1982

— Richard Osman (@richardosman) July 21, 2020
Teed Off
Much has been made, here and over on our Textiles & Apparel page (and during this week's webinar), about the poor environmental record of the fashion/textile industry. One group of activists has developed a new concept that tries to solve a major sustainability problem: promotional products like T-shirts and tote bags. Says Core77:
Today's textile industry in general uses many non-renewable materials to make garments that have over a 50% chance of being worn and then discarded in under a year. The total amount of pollution that stems from textile production is second only to the oil industry and is greater still than that of transportation—the short shelf life of promotional products means promotional products' contributions to the trash heap are considerable and turnover into the landfill incredibly high.
Enter Tee Tag, a concept developed by Johanna Brämersson and Kjersti K. Fretland of the Oslo School of Architecture and Design after extensive research into the textile industry.
The team's research led to the idea for Tee Tag, a rental business concept that offers re-brandable workwear for campaigns and events. The idea behind the product system is for companies to send in promotional wears printed by Teetag using a more sustainable printing method; once a campaign has ended, apparel can then be recycled to use for another customer's event.

Tee Tag's chosen method for printing t-shirts allows graphics to be removed and shirts reused. The designers came up with using an environmentally friendly ink developed by the company Refinity that can be applied by hand or with a digital printer. The ink is removed by soaking, rinsing and re-soaking in a water and detergent mix, followed by a normal wash. It will leave no trace and the t-shirt can be reused.
This is just a concept at this stage, but it's this kind of thinking that can perhaps help the textile industry reinvent itself.
Holy 'Mole!
I'll never look at an avocado the same way again.?? Simply stunning work. pic.twitter.com/9Rnr2ef404

— George Takei (@GeorgeTakei) July 29, 2020
Stairing Contest
CNN asks: "Is this double-decker seat the future of airplane travel?"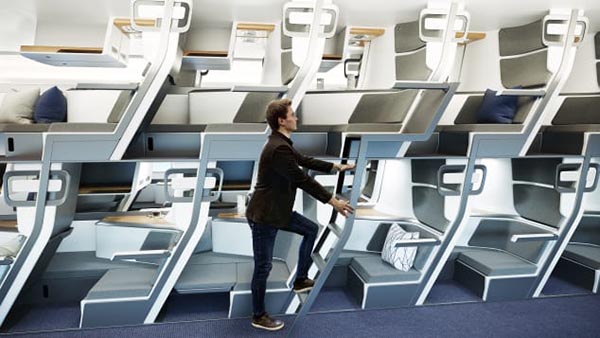 A design that reconfigures airplane cabins with double-decker lie-flat seats in premium economy is being touted as a possible solution for fliers looking for more protection from the spread of Covid-19.

Zephyr Seat is the vision of designer Jeffrey O'Neill, who reckons the isolation from fellow passengers that his creation will offer could be a game changer in the wake of the pandemic.
What is this "airplane" of which you speak?
Muppet Movies
Cinemas across France, Germany and China have been seating stuffed toys between groups to ensure proper social distancing. pic.twitter.com/CvIfyzsUYM

— Quite Interesting (@qikipedia) July 25, 2020
Pods Is Pods
Here's an interesting idea that appears to be a crowdsourcing hit: the PrintPod, a handheld printing device that will print on (it looks like) any surface or object. You roll it across the surface rather like a glue stick. "A rolling sensor on the bottom detects how fast you're moving, and the unit figures out how much ink to put down accordingly," says Core77.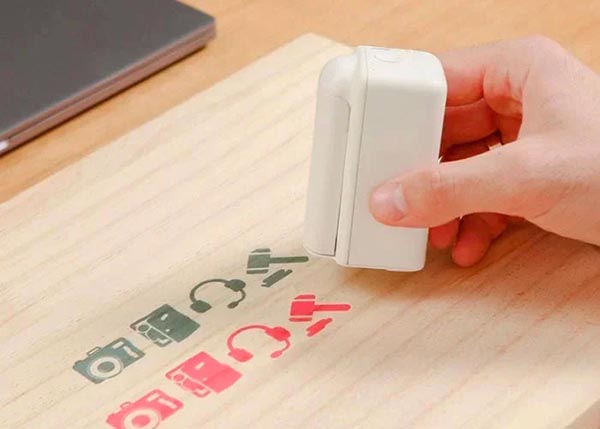 Over at Kickstarter, it is up to $160,096—and the goal was only $10,000. "Create low-cost custom logos in small batches, glide easily over documents, products, or any object that requires durable, non-removable markings." Could be useful for (very) short-run specialty printing. (The TeeTag folks might even approve.)
Pod People
We've already got 2 or 3 sci-fi movies going. https://t.co/x3UuKNioe7

— J. Elvis Weinstein (@JElvisWeinstein) July 28, 2020
We've Seen That Movie
Here's a headline that gave us pause. Over at The Guardian: "Scientists successfully revive 100m-year-old microbes from the sea."
Really, guys? Is that something you really want to be doing...IN 2020!?!
Gee, That's a Shame
Face masks are breaking facial recognition algorithms, says new government study https://t.co/3ADhoZiCyv pic.twitter.com/jTvWPXcSwv

— The Verge (@verge) July 28, 2020
Out of Order
Not very many people under a certain age know what a "phone booth" is anymore, but over in Britain, the red phone box is a cultural icon, and have actually been adopted and adapted to new uses. Says the Yorkshire Post:
Across Yorkshire, 410 phone boxes have now been taken over and transformed, into libraries, art galleries, museums and stores, with just 401 still traditionally taking calls.

As neighbours have rallied around the adoption cause over recent years, they say its symbol still stands at the heart of communities."

...

The number of calls made from public telephone boxes has fallen by 90 per cent in a decade, BT says, as rising numbers of people use a mobile phone.

When it comes to adoptions, villagers in Marton cum Grafton were the pioneers, opening the first mini-library in 2010 with many more communities following suit.

...

In Scarborough, the seafront's last red box was adopted last year, transformed into what may be the world's smallest heritage centre for tourists to visit.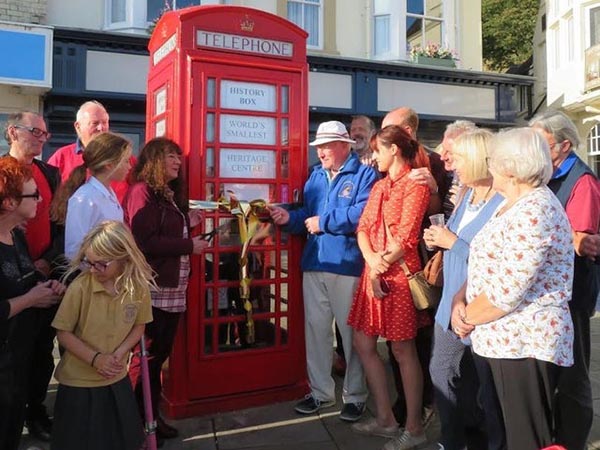 There was a similar concept in the US. For years, in New York City, phone booths had been converted into public lavatories.
Here's a fun bit of trivia. The designer of the red phonebox, Giles Gilbert Scott, went on to (much) bigger things: he co-designed the similarly iconic (if only for Pink Floyd fans) Battersea Power Station in London.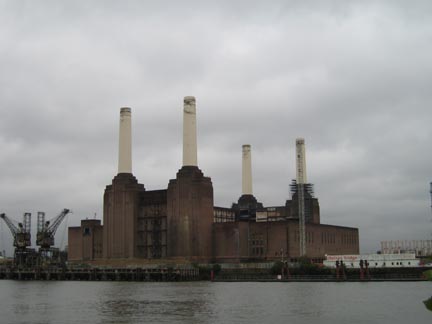 The Tweet of Dorian Gray
I have a painting in the attic that trends instead of me.

— J. Elvis Weinstein (@JElvisWeinstein) July 30, 2020
The Washington Ghost
Here's an upcoming book that is on our shortlist: Ghosting the News: Local Journalism and the Crisis of American Democracy by Margaret Sullivan. Says the NY Times:
What do you call it when a hedge fund buys a local newspaper and squeezes it for revenue, laying off editors and reporters and selling off the paper's downtown headquarters for conversion into luxury condos or a boutique hotel?

The devastation has become common enough that some observers have resorted to shorthand for what collectively amounts to an extinction-level event. One former editor calls it a "harvesting strategy"; Margaret Sullivan, in her new book, "Ghosting the News," calls it "strip-mining." Like the climate emergency that Sullivan mentions by way of comparison, the decimation of local news yields two phenomena that happen to feed off each other: The far-reaching effects are cataclysmic, and it's hard to convince a significant number of people that they ought to care.
Local journalism serves (served?) a very important purpose: government watchdog.
Advertisers may have been peddling baubles or junk food, but their cash funded serious journalism — the kind that could afford to send a reporter to, say, every municipal board meeting. "People knew that," the former editor of the once mighty Youngstown Vindicator told Sullivan, "and they behaved." This watchdog function had tangible benefits for subscribers and nonsubscribers alike. "When local reporting waned," Sullivan writes, "municipal borrowing costs went up." Local news outlets provide the due diligence that bondholders often count on. Without the specter of a public shaming, corruption is freer to flourish.

...

Sullivan surveys the alternative models that have sprung up in response to journalism's ecosystem collapse. There's the nonprofit reporting outfit ProPublica, and a "news brigade" of volunteer journalists in Michigan.
Sullivan's current employer is The Washington Post, which was bought by Jeff Bezos. While Sullivan writes that Bezos has been hands-off since the acquisition, other billionaires who thought it would be fun to run a newspaper have not been. "The casino magnate Sheldon Adelson bought the well-respected Review-Journal in Las Vegas, which was known for its investigative pieces on the casino industry, and leaned on its staff to produce puff pieces about his properties instead. Adelson turned the watchdog into a lap dog."
Gone with the F*ing Wind
My forever vibe is Olivia de Havilland cursing her way through a blooper reel. pic.twitter.com/8P5ApTAQy4

— Caitlin Rose (@TheCaitlinRose) July 26, 2020
Everything is Awful
So, what would be the perfect food for 2020? There are many options (Steak-umms come to mind, thanks to the weird dichotomy of their strangely compelling Twitter feed contrasting with their general inedibility), but we'd have to go with the utterly awful sounding (and even worse looking) Hot Dog Rice Krispies Treats (surely, the word "Treats" is added solely for irony).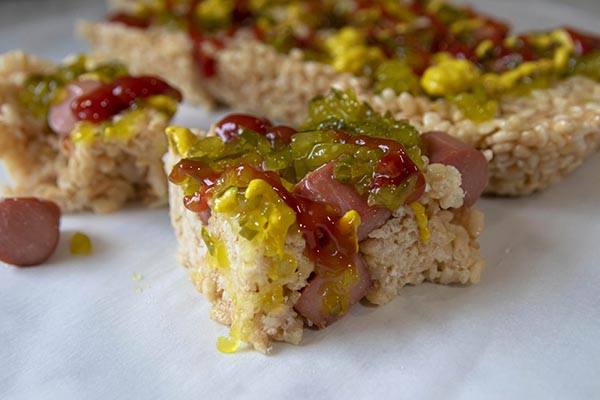 Mal appetit!
This Week in Printing, Publishing, and Media History
July 27
1866: The first permanent transatlantic telegraph cable is successfully completed, stretching from Valentia Island, Ireland, to Heart's Content, Newfoundland. They could now communicate with each other to their heart's content.
1940: What's up, Doc? The animated short A Wild Hare is released, introducing the character of Bugs Bunny.
1938: Gary Gygax, creator of Dungeons & Dragons, born.
July 28
1844: English poet Gerard Manley Hopkins born.
1866: At the age of 18, Vinnie Ream becomes the first and youngest female artist to receive a commission from the United States government for a statue (of Abraham Lincoln).
July 29
1805: French historian and philosopher Alexis de Tocqueville born.
1818: French physicist Augustin Fresnel submits his prizewinning "Memoir on the Diffraction of Light", precisely accounting for the limited extent to which light spreads into shadows, and thereby demolishing the oldest objection to the wave theory of light.
1953: Canadian musician Geddy Lee (néGary Lee Weinrib) born.
1958: U.S. President Dwight D. Eisenhower signs into law the National Aeronautics and Space Act, which creates the National Aeronautics and Space Administration (NASA).
July 30
Both English novelist and poet Emily Brontë (1818) and English singer-songwriter and producer Kate Bush (1958) born.
1909: English historian and author C. Northcote Parkinson, coiner of "Parkinson's Law," born. He would soon grow to fill the entirety of his crib.
1932: Premiere of Walt Disney's Flowers and Trees, the first cartoon short to use Technicolor and the first Academy Award-winning cartoon short.
2006: The world's longest running music show Top of the Popsis broadcast for the last time on BBC Two. The show had aired for 42 years.
July 31
1703: Author Daniel Defoe is placed in a pillory for the crime of seditious libel after publishing a politically satirical pamphlet, but is pelted with flowers.
1790: The first U.S. patent is issued, to inventor Samuel Hopkins for a potash process.
1919: Italian chemist and author Primo Levi born.
1965: British author and creator of Harry Potter J. K. Rowling born.
August 1
1774: British scientist Joseph Priestley discovers oxygen. (What had everyone been breathing before that?)
1819: American novelist, short story writer, and poet Herman Melville born.
1965: Frank Herbert's novel Dune was published for the first time. It was named as the world's best-selling science fiction novel in 2003.
1981: MTV begins broadcasting in the United States and airs its first video, "Video Killed the Radio Star" by The Buggles.
August 2
1790: The first United States Census is conducted.
1870: Tower Subway, the world's first underground tube railway, opens in London, England, United Kingdom.
1924: American novelist, poet, and critic James Baldwin born.
1932: The positron (antiparticle of the electron) is discovered by Carl D. Anderson.
2018: Apple Inc. becomes the first U.S. company to be valued at over $1 trillion.